We may earn money or products from the companies mentioned in this post.
(Last Updated On: September 10, 2020)
15 Easy and Delicious Vegan Pantry Recipes
These easy vegan pantry recipes are perfect for beginners and experts alike.
Eating vegan can be super delicious and simple to do, and you don't need any weird or hard-to-find ingredients!
I've compiled a list of 15 recipes of mine with ingredients that can be kept for long periods of time right in your pantry, fridge or freezer!
That way no matter what is going on, you have the ability to make tasty and delicious vegan recipes for breakfast, lunch, dinner and dessert.
If you're also needing some pantry-friendly snacks to keep on hand, I use Prana for organic, vegan trail mixes, fair-trade chocolate barks, dry-roasted coconut chips and sweet and salty mixes sent right to your door.
Keep reading to learn about these easy pantry recipes and enjoy!
Easy Vegan Pantry Recipes: Breakfast
There's simply nothing better than a freshly homemade cinnamon roll.
The smell they create while baking fills your home with cinnamon-sweet aromas surrounded by delicious yeast-risen dough.
The best part is the ingredients are very simple and keep for a long time, and there's never a bad time to make cinnamon buns!
They are great for breakfast or dessert, and I've yet to meet someone who doesn't want a cinnamon roll anytime of the day!
These homemade vegan chocolate-chip pancakes are ridiculously fluffy and flavorful!
They're made with very basic pantry ingredients and a heaping scoop of dairy-free chocolate chips!
You'll be shocked how fluffy these pancakes get thanks to a little baking powder and apple cider vinegar, no eggs needed.
Perfect for breakfast or midnight cravings, these simple pancakes are ready in no time!
Making your own bread is such a budget-friendly and great habit to get into.
I've recently started making my own bread every week and it's a huge game-changer!
Not only is the homemade bread so crispy on the outside and soft on the inside, it's completely vegan and has only 5 ingredients!
You just can't beat the quality of homemade bread, and I love knowing exactly what ingredients are in my food.
This is easily one of the most delicious and affordable pantry recipes you can make!
Another great thing to keep in your pantry at all times is some homemade granola ingredients!
Great for breakfast just with some plant milk, or decked out with some coconut yogurt, berries and chocolate.
It's also a great way to hearty up a smoothie in a smoothie bowl!
This delicious and healthier granola has oats, almonds, quinoa and flavors of vanilla, maple and cinnamon – I also added sweet dates.
This granola is so crunchy and flavorful, I love it for breakfast or an afternoon snack!
These soft and ultra-fluffy vegan buttermilk biscuits are completely irresistible.
Made with a simple homemade dairy-free buttermilk and super pantry-friendly ingredients.
These are absolutely delicious with a spread of vegan butter, jam, or as part of a breakfast sandwich!
I've also made these into vegan biscuits and gravy using tempeh, a very comforting way to start the day!
Delicious Vegan Pantry Recipes: Meals
Lentils and rice are the perfect pantry-friendly dry goods to keep on hand, they have a long shelf life and are super hearty.
This dahl recipe has so much flavor, protein, healthy fat and carbs – a nicely balanced meal that tastes like comfort food!
With flavors of garlic ginger, chili, cumin, turmeric, onion and creamy coconut milk, you're in for a super flavorful dish.
This is an easy and incredibly delicious pantry recipe that's ready in no time.
Another great pantry ingredient is canned chickpeas!
They are super hearty and packed with protein, and they are my very favorite bean because they soak up all the flavors you cook them in.
This recipe has similar flavors to the dahl, but also has lemon, and a mix of spices called garam masala.
It's a great way to spice things up without any super complicated ingredients, and you can always make your own basic garam masala spice mix with some cumin, cinnamon, nutmeg, cloves, coriander, cardamon and pepper.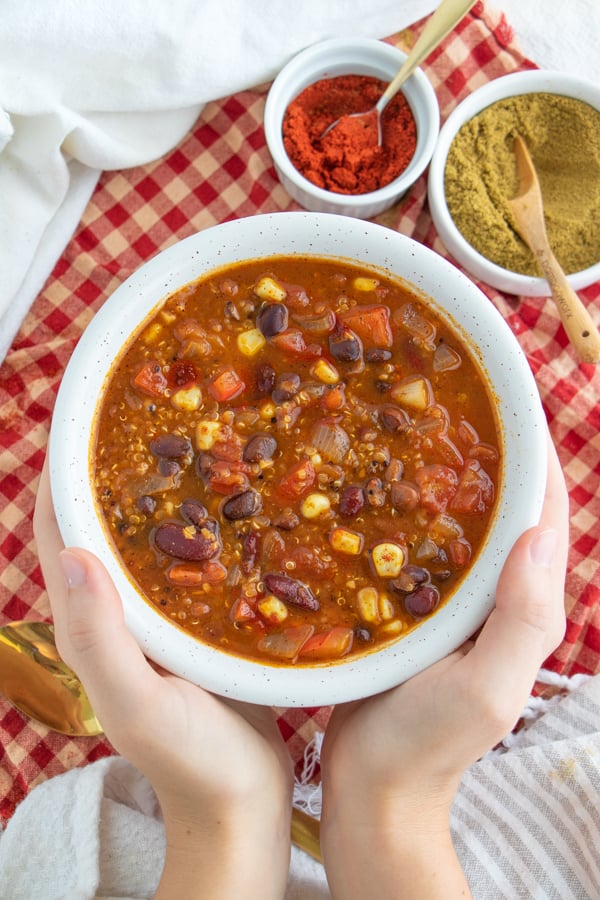 I can't think of a more hearty and comforting pantry dish than a big pot of fresh chili!
This chili not only has three types of beans, but also quinoa, peppers, corn, onion, spinach, tomatoes, and plenty of spices.
But don't worry if you don't have the entire list of fillings, a simple base of beans can be added to with whatever you have that is complimentary.
This is personally my favorite chili recipe ever, and I love serving some avocado on top if I have it!
Soft pretzels are arguably one of the tastiest bread recipes you can make, ever.
The buttery, unique pretzel flavor is so tasty, and you can keep most the ingredients right in your pantry!
I love having pretzels as a snack, alongside soup or as an appetizer, there's really never a wrong time though.
I'm always in the mood for soft pretzels, and they're also super fun to make!
These lentil sloppy joe's are perfect for a no-fuss, one-pot meal when you're short on time.
This recipe has delicious flavors of smoked paprika, chili, cumin, oregano, tomato and a hint of coconut sugar.
I served mine with some red onion, but you can always just have the lentils on a hamburger bun and call it a night!
I also added a pepper to the mix, I love to sneak in veggies whenever I can, and it also adds a nice texture!
Sweet Vegan Pantry Recipes: Dessert
Snickerdoodle cookies are a great go-to cookie recipe when you need something sweet from your pantry.
They are such a unique cookie, but the trick is really just adding some cream of tartar and cinnamon to the dough!
These cookies are so fun and easy to make, and also make your home smell just amazing.
Their iconic fluffy texture and cinnamon-sweet taste is always a crowd-pleaser!
Have you ever tried a berry crisp?
It's a base of berries mixed with lemon, vanilla, a hint of sugar and a slight thickener (I used a dash of flour).
Then it's topped off with a delicious oat topping that is mixed with brown sugar, vegan butter, cinnamon and flour.
It gets SO crispy in the oven and makes a buttery, ultra-comforting, fruity, cookie-like dessert!
I literally can't get enough of this berry crisp, and I love how easy it is to assemble!
I also use frozen berries so I can always have this recipe on hand!
What better vegan pantry recipe is there to make from your pantry other than banana bread?
The best ever way to use up any ripe bananas you might have lying around, combined with comforting flavors of vanilla, cinnamon, nutmeg and chopped walnuts!
This bread is so delicious and simple to make, I love making this bread over and over again.
I like serving mine with some coconut yogurt and berries!
Another super pantry-friendly treat are these oatmeal raspberry bars!
The soft oatmeal base is mixed with vanilla, maple, brown sugar and a bit of oil and baking powder.
I also add 1/2 of a banana for some flavor and to help with binding!
Then I just use raspberry jam from a jar.
The trick is to sprinkle some of the base on top and brush it with some oil so it gets crunchy, it adds a great texture to the soft bars!
There's no better way to start or end my day than with a big cinnamon latte, and don't worry, you can always make it decaf!
This recipe is made with wholesome ingredients like cinnamon, vanilla and syrup, mixed together with plant milk and strong coffee or espresso.
I love using whole ingredients in my lattes instead of syrups, I find the taste to be so much stronger and more true to the flavor.
I also froth the milk a bit for a traditional foamy latte made right from home!
Pin this for later!