We may earn money or products from the companies mentioned in this post.
(Last Updated On: May 1, 2023)
Easy Vegan Berry Crisp Recipe
This simple vegan berry crisp is ready in no time and so comforting and delicious!
It's one of the easiest desserts to make ever, you just mix, pour and bake!
Perfectly paired with some yummy vegan vanilla ice cream and you've got the perfect fruity treat.
Best Cranberry and Blueberry Crisp Ever
While mixed berries are usually associated with summer, you can also make these fall inspired by simply adding cranberries!
I used a combination of blueberries, blackberries, strawberries and cranberries.
I also added a pinch of cinnamon to the oatmeal crisp and it was so perfect.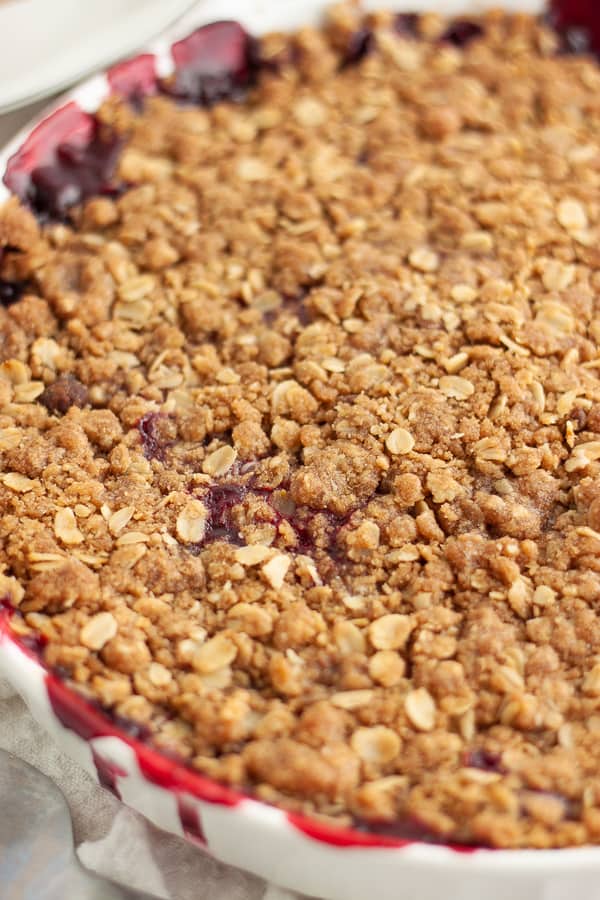 I just love baked oatmeal treats, especially with so many flavorful berries.
If you're in need of a quick and tasty dessert, this is the recipe for you!
It's also easily made vegan by simply using vegan butter, and pairing it with some dairy-free ice cream (I used vanilla coconut milk!).
How to Make Vegan Mixed Berry Crisp
Preparing the Filling and Crisp
When you're ready to make this yummy baked dessert, start by preheating your oven to 350 degrees and mixing your berries with the vanilla, lemon juice and sugar.
If you're using frozen berries (which are so great to use year-round), you'll want to let them thaw and then remove any excess moisture.
If you're in a hurry, you can run the berries under warm water in a strainer until they warm up!
Then add the flour and coat evenly. Transfer the berries to a non-stick sprayed baking dish (roughly 9×13 for a pan) and set aside.
Next, add your flour, cinnamon, brown sugar, salt and oats to a bowl and mix well. Toss in your chilled and cubed vegan butter and cut it in with a fork or a pastry cutter until it is combined and clumpy!
Baking Mixed Berry Crisp
Sprinkle your oatmeal crisp evenly over the berries and lightly press down.
Bake for about 45 minutes, until the top is a golden brown and the berries are nice and bubbly!
Allow to cool a bit before digging in – it will be very hot!
Then you're done! Add some vanilla ice cream on top and enjoy!
I like adding it while the crisp is still a bit warm so the ice cream melts a little.
Quick Oatmeal and Berry Dessert Recipe
I love all things crisps, crumbles and cobblers!
I love making crisps though because I love baked oats (which is what makes them a crisp and not a cobbler, which is more like a biscuit or pie dough on top).
Try my Vegan Strawberry Rhubarb Crumble next for more fruity desserts!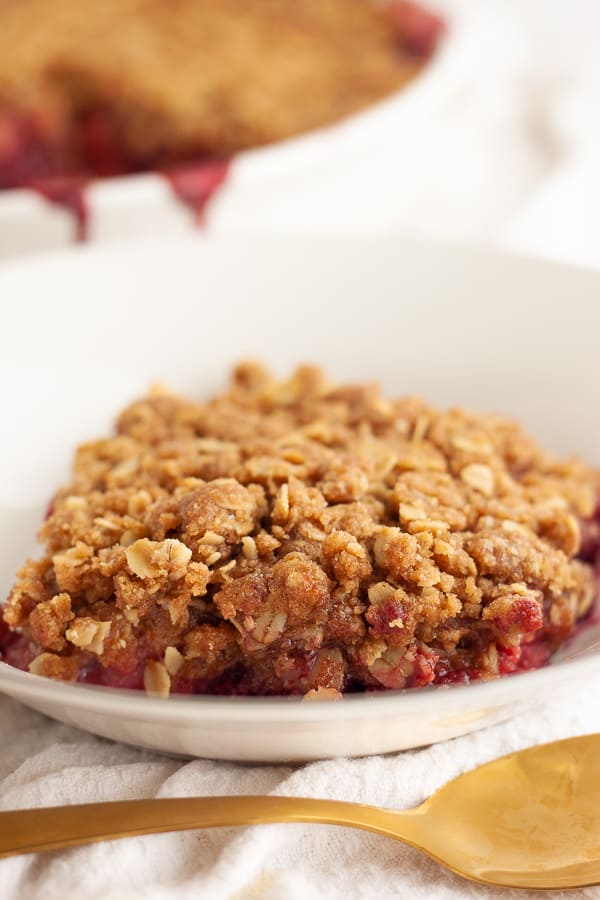 This recipe is:
Sweet

Quick

Easy

Baked

Delicious

Fruity

Crispy
Try these other baked vegan treats!
Pin this for later!
Vegan Berry Crisp
This yummy vegan berry crisp has tons of mixed berries flavored with vanilla, and a crispy oat crumble topping with a dash of cinnamon!
Ingredients
For the Crisp
1 1/4 Cup Oats
1 Cup Brown Sugar
3/4 Cup Vegan Butter, chilled
1/2 Tsp Salt
For the Filling
6 Cups Mixed Berries
1/4 Cup Sugar
2 Tbsp Lemon Juice
Instructions
Preheat oven to 350 degrees.
Mix together all filling ingredients*. Pour into an oven-safe baking dish sprayed with non-stick spray or vegan butter.
For the crisp topping, mix together the oats, flour, brown sugar, cinnamon and salt. Cube the chilled vegan butter and as well.
Cut the butter into the mixture using a fork or a pastry cutter until it has a sandy consistency.
Crumble over the berries evenly and lightly pat down.
Bake for 45 minutes, or until lightly golden brown on top, the berries will also be bubbly when it is done.
Enjoy with dairy-free ice cream!
Notes
*If using frozen berries, just be sure to let them thaw and remove any excess moisture. You can also run them under warm water and strain them to speed up the process.
Nutrition Information:
Amount Per Serving:
Calories:

314