We may earn money or products from the companies mentioned in this post.
Healthy Dairy Free Oat Bars
There's nothing quite like delicious baked oatmeal bars with a fruity spread on top.
Not to mention the way it fills your house with a sweet fruity aroma while baking.
Oatmeal is super filling, but sometimes you don't have the time to sit down and make a bowl, and the instant oatmeal packs are usually filled with processed sugar, fat, and scary additives. These all natural bars will fill you up with all natural goodness!
These on-the-go raspberry oat bars are the ideal weekday breakfast – just make a batch or two on Sunday night and enjoy it all week long (experiment with different fruit spreads to switch it up too)!
Warm and Tasty Comfort Food
While I usually choose chocolaty over fruity, these oatmeal bars are absolutely incredible – the raspberry and oat combo is a match made in heaven!
I've been on a (vegan) fig newton-type craze lately, which inspired me to make a more healthy fruity baked treat. These did not disappoint and are even better and healthier!
Making Vegan Raspberry Oatmeal Bars
The key to making a great oat bar is the whole oat/ oat flour combo – it makes the texture more hearty and interesting.
To make the base, preheat your oven to 350 degrees and place half your oats (1 1/2 cups) into a coffee grinder or blender, and process until they become a flour-like consistency. Add this, the whole oats, coconut sugar, baking powder and salt to a bowl and mix well.
In another bowl place the 1/2 banana inside and squish with a fork until all the moisture is released and there are no chunks left. To this, add the syrup and vanilla and combine. Add these wet ingredients into the dry and mix well.
Grab your 8×8 baking dish (I recommend lightly oiling the inside of the dish to ensure they won't stick), and squish down the oatmeal mixture evenly, reserving about 1/2 cup for the topping.
Now scoop in your fruit spread and evenly distribute it. Take your remaining oatmeal mixture and crumble it over the top, lightly pressing it down so it cooks evenly.
At this point, I brushed on a tiny bit of oil, and some raw sugar. This step is optional, but it gives the top a nicer crunch, light brown color, and the raw sugar gives it more flavor (and… it's pretty).
Bake for about 25-30 minutes or until a light golden brown color. Make sure you let them cool completely before cutting and digging in so they retain their shape!

C
heap Crowd-Pleasing Treat
Oats are one of the cheapest things you can buy, especially in bulk, and you probably have the other ingredients already in your kitchen. Add a couple dollars for the fruit spread (or make your own!) and you have a ridiculously budget-friendly breakfast or dessert!
They are also super aesthetic and you could easily take these to a potluck, on a hike, or bake them in a pinch for brunch with friends!

This recipe is:
Cheap

Healthy

Delicious

Fruity

Chewy

All Natural

Sweet
If you're looking for more sweet treats, try my Vegan Vanilla Cupcakes or Vegan Blueberry Cheesecake!
Pin this for later:
Yield: 9-12 Bars
Raspberry Oat Bars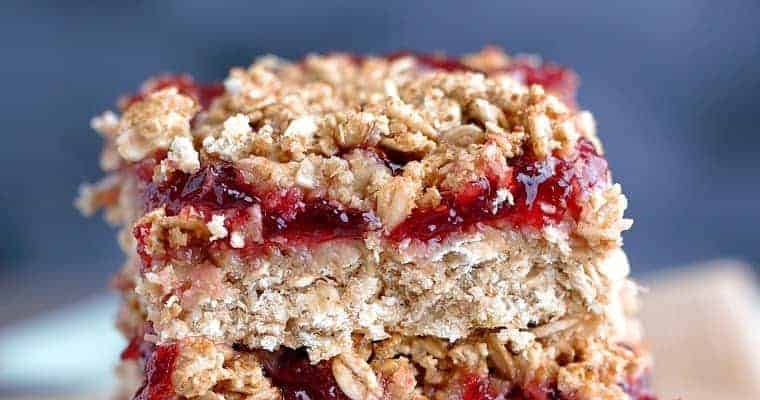 Sweet and chewy oatmeal bars with a rich raspberry filling, topped with crunchier granola on top! These are great for breakfast or dessert!

Prep Time 15 minutes

Cook Time 25 minutes

Total Time 40 minutes
Ingredients
3 Cups Rolled Oats
1/2 Ripe Banana
1 Tsp Baking Powder
1 Tsp Vanilla Extract
1/3 Cup Maple Syrup
2.5 Tbsp Coconut Sugar
Dash Salt
10 oz Raspberry Fruit Spread
Optional: Extra Coconut or Raw Sugar and a Few Drops of Oil*
Instructions
Preheat oven to 350 degrees.
Grind 1 1/2 cups of the rolled oats into a flour using a coffee grinder (or just substitute regular flour here).
Add rolled oats, ground oats, baking powder, coconut sugar and salt in one bowl and mix well.
In a separate bowl, squish the 1/2 banana with a fork until there are no chunks, and stir together with the maple syrup. and vanilla extract
Add wet ingredients to dry and mix until everything is combined well.
Add mixture (but set aside 1/2 cup for topping) to a oiled or non-stick 8x8 baking dish and squish down evenly.
Add fruit spread in an even layer, then crumble on remaining oat mixture. If you want the top layer to be a bit crunchier and more flavorful, brush on a bit of oil and coconut sugar or raw sugar.
Bake for 25-30 minutes, or until the top begins to brown and the fruit spread is all bubble. Allow to cool completely before cutting into, and enjoy!
Notes
*To sprinkle on top before baking to make the top layer crunchier
Nutrition Information:
Yield:
9-12
Serving Size:
1 Bar
Amount Per Serving: Calories: 162

Vegan baking can seem intimidating, but it's actually super simple and fun! Here's a great article to get you started: A Guide to Vegan Baking