We may earn money or products from the companies mentioned in this post.
(Last Updated On: April 30, 2023)
Healthy Low Fat Granola
If you are looking for a healthy, budget-friendly breakfast idea, this homemade granola recipe is just what you need!
It's super filling, made with some of the cheapest ingredients you can get like oats and almonds, and can be stored in an air-tight container for weeks!
I love loading up on these ingredients in the bulk section of grocery stores to always have them on hand!
Make it on Sunday nights for a yummy breakfast for your whole family all week long!
All Natural Granola with No Refined Sugar
Lots of recipes call for white or brown sugar, but I always love to use maple syrup when I can! The more natural the better.
I also find that it helps the granola get crunchy, especially since this recipe only has 2 teaspoons of oil.
I served mine with frozen mixed berries, vanilla coconut-milk yogurt, almond milk, quinoa pops (which are a great cereal in themselves) and some dark chocolate!
Making Homemade Baked Granola
This is one of those one-pot recipes you will love to use on a busy day, or as a meal-prep breakfast for the week!
All you do is add everything to a mixing bowl (I add my dates in later), stir together and bake for 25-30 minutes.
Make you sure mix it every 5-10 minutes in the oven to help it bake evenly and to avoid burning.
Once they're done you can serve it immediately, just give it about 5 minutes to cool. I like mine warm and right out of the oven!
Baked Quinoa Granola
I love using uncooked quinoa in my granola because it gets super crunchy, adds some protein, and looks pretty too! It was my favorite combination with the rolled oats and sliced almonds!
The great thing about making your own granola is that it's MUCH cheaper to make your own, and you can make it in bulk and store the leftovers (double this recipe if you'd like!).
Also, you can customize it with your favorite additives, try chocolate chips, goji berries, pumpkin seeds – anything you'd like!
If you're looking for a completely oil free and fat free granola recipe, I've tried this one from Simple Vegan Blog and it's awesome, and only uses maple syrup and water.
This recipe is:
Crunchy

Crispy

Sweet

Filling

Hearty

Fruity

Healthy

Cheap
If you're looking for some more delicious vegan breakfast recipes, try my:
Vegan Chocolate Chip Pancakes, or
Strawberry Stuffed French Toast
Pin this for later!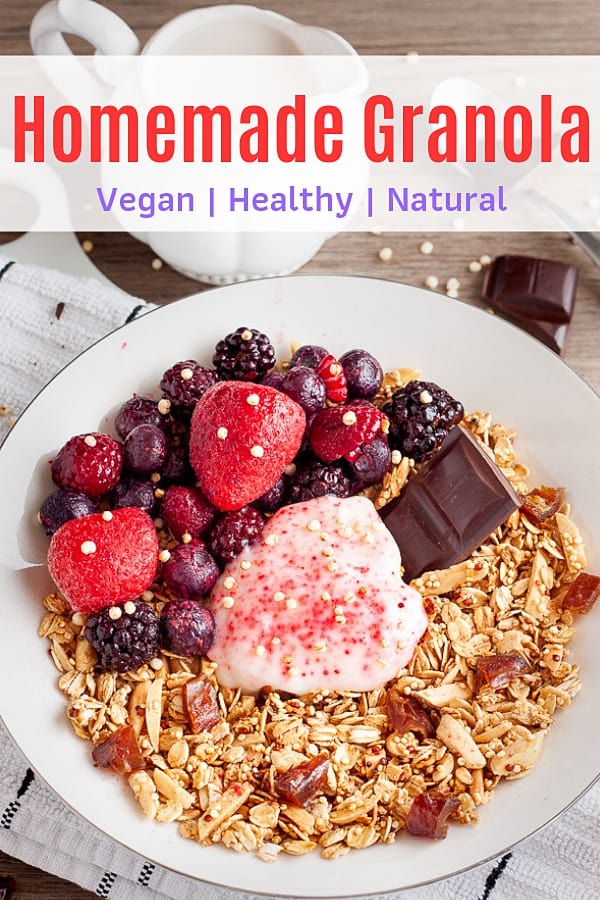 Homemade Granola
All natural crunchy homemade baked granola with low fat and no refined sugars. Made with flavors of vanilla and almond for the perfect healthy breakfast!
Ingredients
1/2 Cup Chopped Dates
2 Tsp Oil* (I used grapeseed)
Dash Salt
Instructions
Preheat oven to 350 degrees.
Add all ingredients except dates to a mixing bowl and combine. Line a baking sheet with parchment paper or aluminum foil, pour in oat mixture evenly and squish down to flatten it out.
Bake for 25-30 minutes, stirring every 5-10 minutes to avoid burning, or until golden brown and crunchy.
Mix in chopped dates and serve with toppings of choice!**
Notes
*If you don't want to use oil, you can substitute with 1/4 cup peanut butter
**Store in an airtight container up to 2 weeks
Nutrition Information:
Amount Per Serving:
Calories:

214