We may earn money or products from the companies mentioned in this post.
Latte for Coffee Drinkers
I'm a big, big coffee drinker, and this cinnamon latte does not disappoint. There was a time I tried to wean off of it, but now that I moved back to Chicago there's just no way, I love it too much and it keeps me warm!
That being said, I've been experimenting with a bunch of different latte combinations, and this is the one you all voted for the most on my Instagram! (@plant.well)
I was pleasantly surprised with it – I've always hated flavored syrups because I feel like they taste so artificial, so I usually opt for using whole, natural ingredients. It's also way healthier this way!
I usually love café au lait's (just coffee and steamed milk), but sometimes you have to switch it up. This cinnamon latte is not overly-sweet and still gives a strong coffee flavor, as well as a caffeine boost!
Hand Steamed Latte
I actually got an espresso machine for Christmas, and I love it so much! It makes my life so much easier. However, for this recipe I wanted to make it more accessible for those who don't have one, and a wand steamer is MUCH cheaper and works really well.
I usually always recommend natural plant-milks without any additives, but to be honest, brands like Silk or Almond Breeze give you way more foam, and I'd recommend them just for lattes if you want them foamy.
The wand-steamer is super easy to use. I start by heating up my milk in the microwave or over the stove, then you want to place the tip beneath the surface of the milk, turn it on, and let it swirl, slowly pulling up as needed to keep the foam rising.
Once you have as much foam as you want, take out the wand and let the milk sit so the foam separates from the milk more, then take a large spoon and block the foam from coming out of the cup as you pour the milk into the coffee and flavorings. Then just scoop out your foam and place it on top.
It may sound tricky if you haven't done it before, but it's super easy with some practice.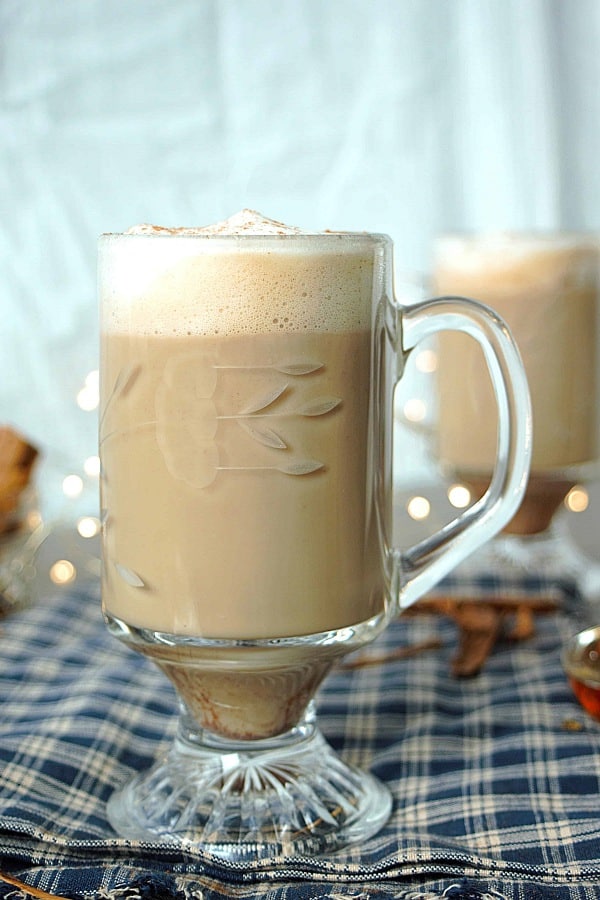 This recipe is:
Warm

Sweet

Caffeinated

Delicious

Foamy

Comforting
If your looking for some snacks to go along with this latte, try one of my sweet treat recipes:
Best Vegan Peanut Butter Cookies or
Flourless Sweet Potato Brownies


Pin this for later!
Yield: 1 Latte
Cinnamon Latte
Organic cinnamon and vanilla stirred together with fresh coffee, a tad of maple syrup and perfectly steamed almond milk. Perfection!

Prep Time 5 minutes

Cook Time 5 minutes

Total Time 10 minutes
Ingredients
1 Cup Almond Milk (or preferred plant milk)
1/4 Cup Strong Coffee or 1-2 Shots of Espresso
1/4 Tsp Ground Cinnamon
1/2 Tsp Vanilla Extract
3-4 Tsp Maple Syrup
Instructions
(You can use an espresso machine according to directions if you have one, but here is how I make it with just a steam wand and a microwave!)
Add cinnamon, vanilla and maple syrup to your mug. Add coffee and stir until well combined.
Microwave milk for 1 minute.
Place steam wand into milk and turn on, slowly bring it to the top of the milk until it starts to swirl, and continue until desired amount of foam is reached.
Allow to rest for a couple minutes for the foam to further separate, then take a large spoon to hold back the foam as you pour the milk into the coffee mixture.
Scoop out the foam and place on top of the milk and top with cinnamon. Enjoy!
Nutrition Information:

Amount Per Serving: Calories: 184