We may earn money or products from the companies mentioned in this post.
(Last Updated On: November 21, 2021)
Best Ever Vegan Chili Recipe
This homemade vegan chili recipe is packed with so much flavor!
It has veggies, three kinds of beans, corn, peppers, tomatoes, and quinoa.
The quinoa is really the secret ingredient in this recipe, it makes the soup that much heartier and adds even more protein.
This one pot chili recipe is perfect anytime, and it's on the table in no less than 30 minutes!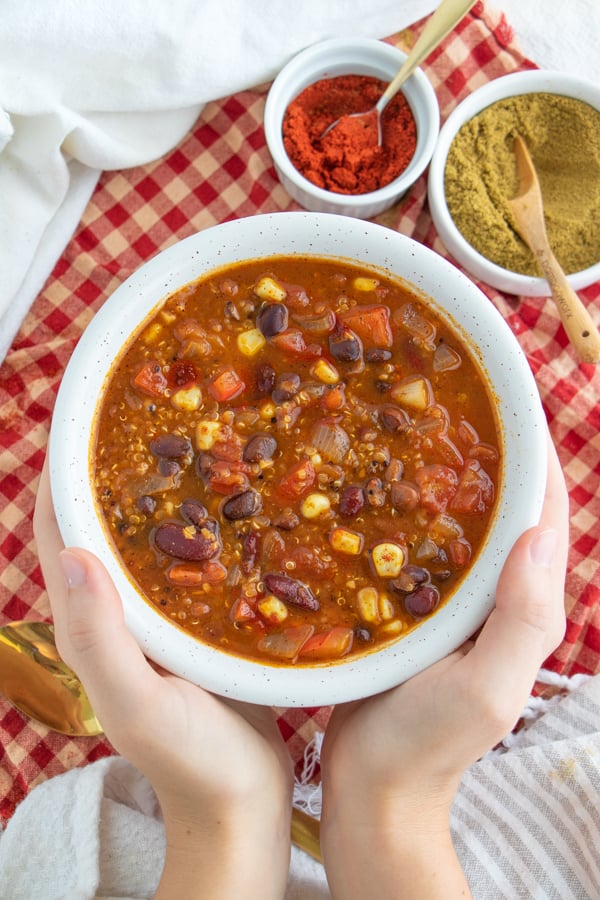 This vegan chili is one of my most favorite comfort foods to make.
When I'm in need of something quick and fuss-free that's warming and hearty, this chili is a no-brainer!
A delicious one-pot recipe that simmers all the ingredients and flavors together with minimal effort on my part – perfection!
Easy Quinoa and Black Bean Chili
This yummy chili has three types of beans: black beans, kidney beans and pinto beans.
It also has corn, peppers, tomatoes, quinoa and spices like chili powder, cumin and smoked paprika.
These flavors combine perfectly with the onion, garlic and veggie stock base, creating a soup that's healthy and full of flavor.
Another thing I love about this recipe is that the ingredients are very pantry friendly.
Canned beans, quinoa, veggie stock and spices can be kept in the pantry, and any corn or other veggies of choice can be frozen.
It's so convenient and the only thing you really need that's fresh is onion and garlic (if you're feeling extra lazy, sometimes I even sub these for dried powders so I don't have to chop anything!).
If you're looking for a similar recipe, my Vegan Stuffed Peppers are stuffed with many of the same ingredients and baked to perfection!
How to Make Vegan Chili
Cooking the Base
To start making this yummy soup, start by placing the olive oil, chopped onion, garlic and pepper into a large pot over medium heat.
Cook for 5-8 minutes, or until the onion is translucent, stirring occasionally, and that's your base!
Cooking Vegan Chili
Now add the remaining ingredients all at the same time (except for the corn).
Give it a good stir and cover.
Bring to a boil and then reduce heat to low and let it simmer for 15-20 minutes, or until the quinoa is soft and has cracked open.
Finally add the corn and cook another minute or two to heat through, and it's done!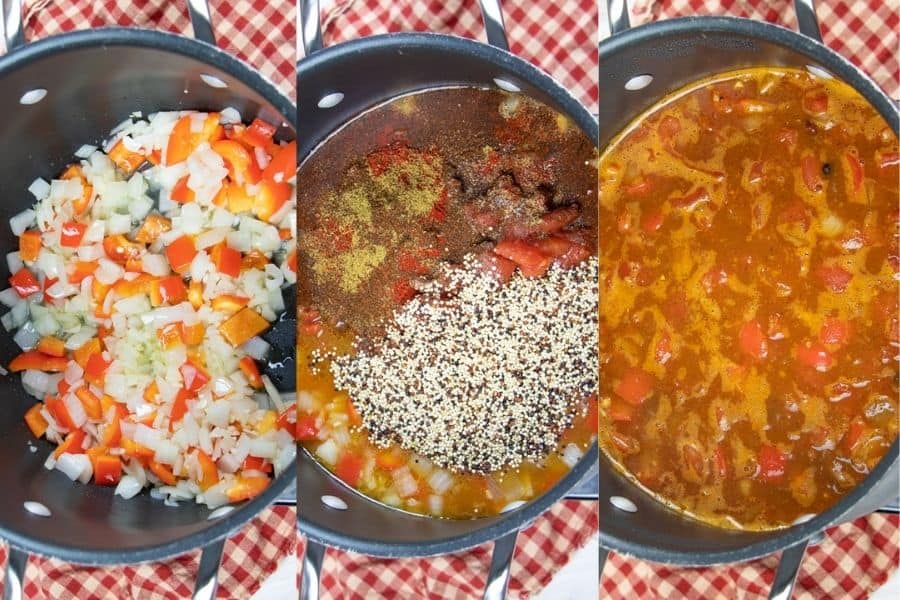 Serving Vegan Chili
This chili is delicious served plain, or you can add toppings like avocado, green onion, dairy-free sour cream, crumbled chips, dairy-free cheese or nutritional yeast for an extra cheesy flavor!
Easy and Delicious Vegan Chili Recipe
This easy soup recipe is a staple in my house, and especially during the colder winter months.
There's nothing more warming and comforting than a fresh bowl of homemade chili!
Also, it's even better on day two and three after all the flavors have marinated together!
I would eat this up by days four or five though for best taste.
This recipe is:
Homemade

Healthy

Delicious

Vegan

Vegetarian

High Protein

Comforting

Easy to Make
Check out these other comforting vegan recipes:
Vegan Sweet Potato Corn Chowder
Butternut Squash and Fennel Soup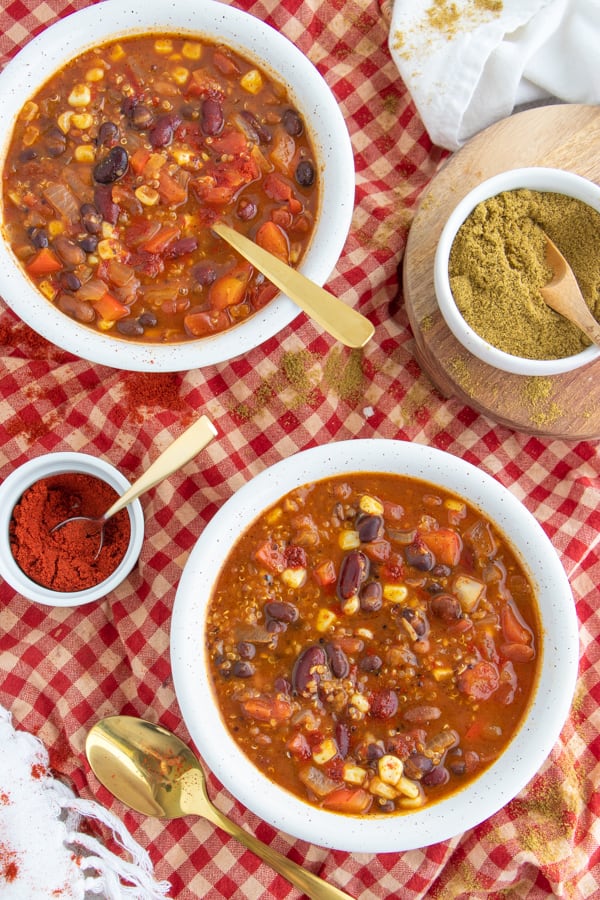 Pin this for later!
Vegan Chili Recipe
The best ever vegan chili recipe packed with flavor, quinoa, beans and corn. Easy to make and perfectly comforting and delicious.
Ingredients
4 Cups Veggie Broth
1 Medium Yellow Onion
8oz Frozen Corn
1 Can Kidney Beans
1 Can Black Beans
1 Can Pinto Beans
1 Yellow Pepper
1 Cup Quinoa
28oz Can Diced Tomatoes
4 Garlic Cloves
2 Tbsp Olive Oil
2 Tbsp Chili Powder
1 1/2 Tsp Ground Cumin
1 1/2 Tsp Smoked Paprika
Salt/Pepper to Taste
Instructions
Add olive oil, chopped onion, pepper and garlic to a large pot over medium heat. Cook for 5-8 minutes or until onions are translucent.
Add the rest of the ingredients (except the corn), bring to a boil and reduce heat to low. Cover and simmer for 15-20 minutes or until quinoa is tender (you can tell it's done if you see the seed split apart too). Then add the corn and cook for a minute or two until soft.
Enjoy with toppings of choice!
Notes
*If you like your chili nice and thick, serve as is, otherwise you can add a splash of vegetable stock or water to make it more soupy.
**This chili is even better on day two and three after all the flavors have marinated together! I would eat this up by days four and five though for best taste.
Nutrition Information:
Yield:

6
Serving Size:

1
Amount Per Serving:
Calories:

390
Total Fat:

8g
Saturated Fat:

1g
Trans Fat:

0g
Unsaturated Fat:

6g
Cholesterol:

1mg
Sodium:

691mg
Carbohydrates:

67g
Fiber:

20g
Sugar:

12g
Protein:

19g