We may earn money or products from the companies mentioned in this post.
(Last Updated On: May 1, 2023)
Vegan Biscuits and Gravy Recipe
This vegan biscuits and gravy recipe is actually easier to prepare than you might think.
Starting with a base of simple vegan buttermilk biscuits, and topped off with a homemade tempeh sausage gravy!
It's the ultimate breakfast comfort food and such a classic!
I haven't had this meal in years since going vegan, and I'm so happy to have finally nailed it.
Vegetarian Tempeh Sausage and Gravy
Whether you're vegan, vegetarian or neither – this vegetarian biscuits and gravy recipe is so delicious, and a great recipe to try something new!
The tempeh sausage has such a yummy texture – it's also seasoned with spices like nutmeg, sage, rosemary, fennel, paprika and more, giving it such a delicious "sausage" flavor.
Making vegan gravy is such a simple process, and it's just as thick, flavorful and savory as you want it to be.
If this doesn't look like an inviting plate, I don't know what is!
How to Make Southern Style Biscuits and Gravy
Preparing the Tempeh Sausage
The first step in making this yummy breakfast (or dinner) is to bake your biscuits. Follow this vegan buttermilk biscuit recipe if you haven't already.
Then, heat some oil in a large pan over medium heat, and toss in your rosemary, thyme, and fennel.
I love infusing the oil with these herbs, it makes the gravy ridiculously flavorful and delicious.
Then chop or crumble your tempeh and add it to the pan, stirring to coat it in the oil and herbs well. Cook for 2-4 minutes or until the tempeh starts to get some color.
You want to cook out the earthy taste of the tempeh and let it soak up the flavors of the herbs.
Add the remaining seasonings and continue cooking for a few minutes until very fragrant, stirring often.
Then add in your vegan butter and let it melt.
Making Vegan Country Gravy
Sprinkle the flour right over the tempeh and stir constantly.
You want to cook the flour until it's no longer raw, and until it has soaked up all the oil and butter in the pan, this should only take a couple minutes.
Then gradually add in your plant milk, also stirring constantly to avoid burning, pausing in between adding more milk to see how thick the gravy gets.
You will most likely add between 2 1/2 – 3 cups of plant milk (make sure it's unsweetened and unflavored!). I like my gravy a bit thicker so I used 2 1/2.
Once your desired thickness has been reached, add salt and pepper and your gravy is finished. Top your biscuits and enjoy!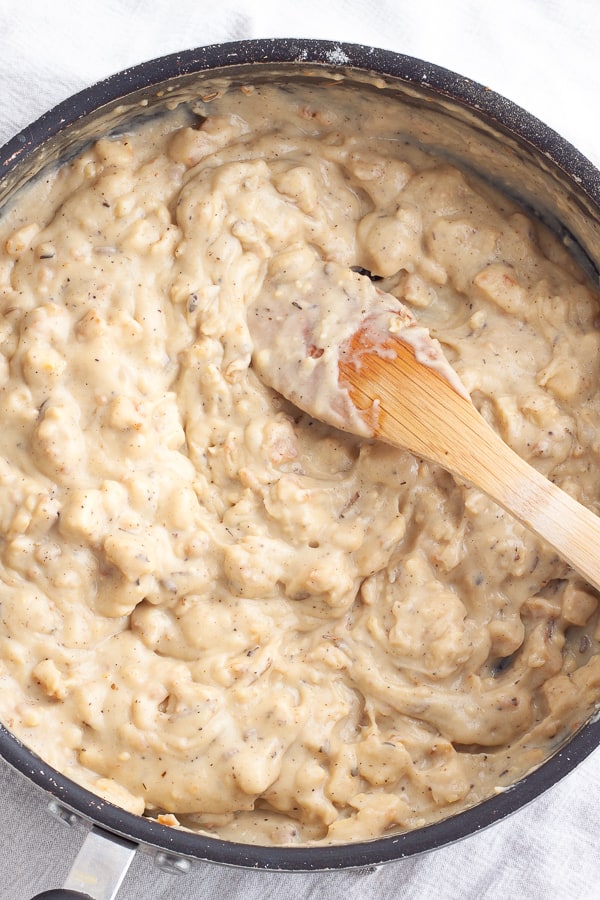 Best Vegan Comfort Food Breakfast
This is the ultimate vegan breakfast if you're in need of some serious comfort food.
Every now and then I love having this yummy meal, especially if people are visiting because it's easy to make a lot of it, and it's a crowd-pleaser for sure!
Trust me, this is all you want on a cozy, chilly, slow weekend morning!
This recipe is:
Delicious

Comforting

Easy

Vegan

Classic

Savory

Buttery
Try these other vegan comfort foods!
Pin this for later!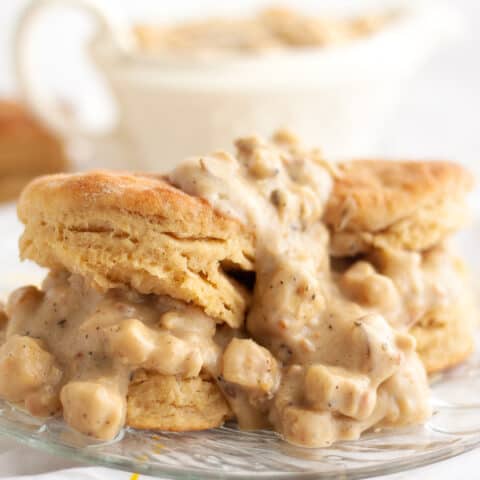 Vegan Biscuits and Gravy
This vegan biscuits and gravy recipe is out of this world - homemade buttermilk biscuits topped with a tempeh sausage and herb gravy!
Ingredients
For the Tempeh Sausage
8 oz. Tempeh
2 Tbsp Neutral Oil
1 Tsp Rosemary
1/4 Tsp Thyme
1/4 Tsp Fennel Seed
1/4 Tsp Onion Powder
1/4 Tsp Ground Nutmeg
1/4 Tsp Sage
1/4 Tsp Sugar
Salt/Pepper to taste
For the Gravy
2 1/2 - 3 Cups Plant Milk (unflavored, unsweetened)
1/4 Cup Vegan Butter
Salt/Pepper to taste
Instructions
Heat neutral oil in a large pan over medium heat along with the rosemary, thyme and fennel seed.
Once oil is hot, chop or crumble tempeh into the pan and stir well. Cook for 2-4 minutes or until tempeh begins to get some color and herbs are fragrant.
Add remaining seasonings and stir well, cooking a couple minutes longer, add vegan butter and stir until it melts.
Sprinkle flour over tempeh and stir constantly, cooking the flour so it's not raw and until it absorbs all the oil and butter, a couple minutes.
Gradually add plant milk, stirring constantly and seeing how thick it makes the gravy before adding more, until desired thickness is reached.
Salt and pepper to taste and serve over biscuits!
Nutrition Information:
Amount Per Serving:
Calories:

457