We may earn money or products from the companies mentioned in this post.
(Last Updated On: August 16, 2023)
The Best Flaky Vegan Biscuit Recipe
These vegan buttermilk biscuits are perfectly soft and flaky!

The dough is folded over and over to create delicious buttery layers, and they are baked to perfection.

There's nothing better than freshly baked biscuits, and these are completely dairy free, made with a simple homemade vegan buttermilk and dairy free butter.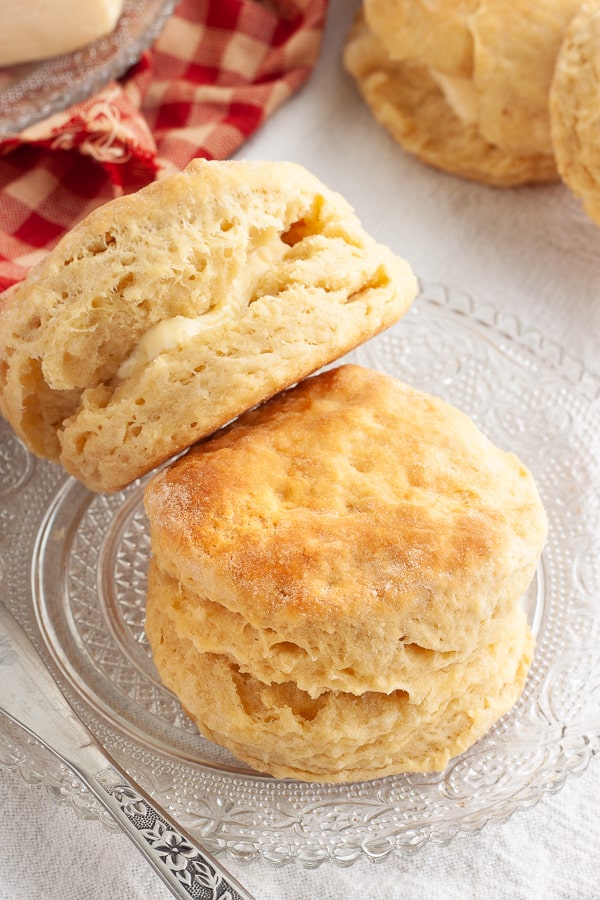 Easy Dairy Free Buttermilk Biscuits
Whether you're making them to go with dinner or with breakfast, these fluffy biscuits are the most irresistible addition to your meal!

I love how quickly these come together too, they need minimal preparation and are baked in just 12 minutes.

I remember making store bought biscuits every weekend growing up, and I love recreating that feeling with this recipe that just has a few extra steps and is much healthier.

Whatever the occasion, these biscuits are wonderful – they're also great as just a snack!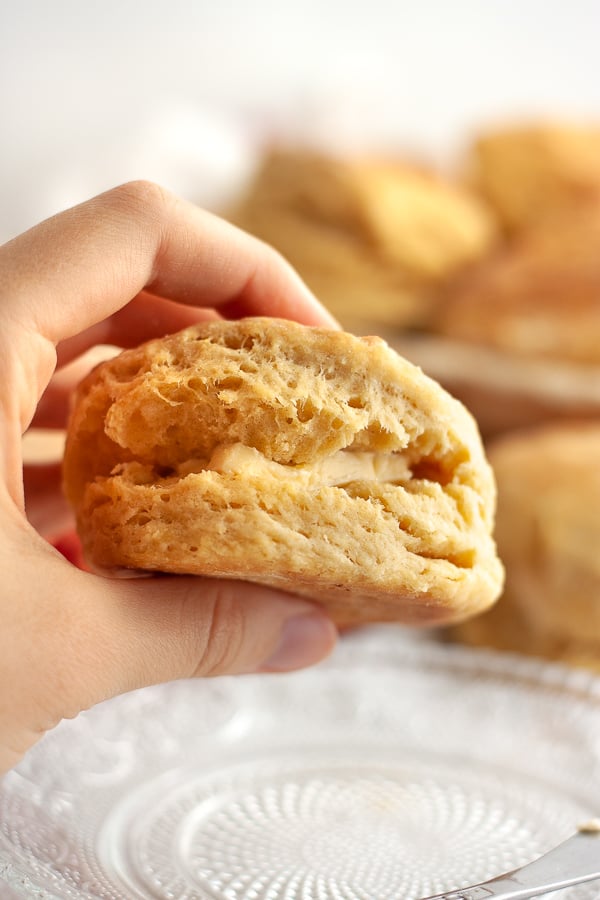 How to Make Vegan Buttermilk Biscuits
Preparing the Biscuit Dough
The dough for these vegan buttermilk biscuits has super simple ingredients.

Start by preheating your oven to 425 degrees and stirring in some apple cider vinegar to some plant milk and let it sit for 5-10 minutes. This will create a sort of vegan buttermilk consistency and really adds to the overall taste of the biscuits.

Then mix together flour, baking powder, sugar and salt in a bowl and add in some chilled, cubed vegan butter. Cut it in with a pastry cutter of a fork until the mixture has a sandy texture.

Pour in your vegan buttermilk and gently fold the ingredients together. Be careful not to overmix, and then plop the dough down on a flat, floured surface.

Gently squish the dough down until it's about 1 inch thick, and then fold it in half. Continue squishing it down and folding it in half 5-6 times to get super flaky biscuits. The last fold naturally leaves an opening to easily pull them apart and add toppings.

If the dough is too sticky to work with, simply sprinkle a little flour on it until it's workable.
Baking Vegan Biscuits
Now that your dough is nice and flaky, squish it down a final time to about 1 inch thick. Dip a 2 1/2 inch circle cookie cutter in flour and cut out 12 circles from the dough.

Place on a baking pan covered in parchment paper and bake for about 12 minutes. The bottoms should be a light golden brown.

If your biscuits are not getting much color on top, simply broil them on high for just a bit (probably no more than a minute, but watch them CONSTANTLY to make sure they don't get too dark!).

It can also be tricky to see the color inside the oven, so take the pan out and check every 10 seconds or so until the desired color is reached.

Let them cool in the pan for a few minutes and then you're done!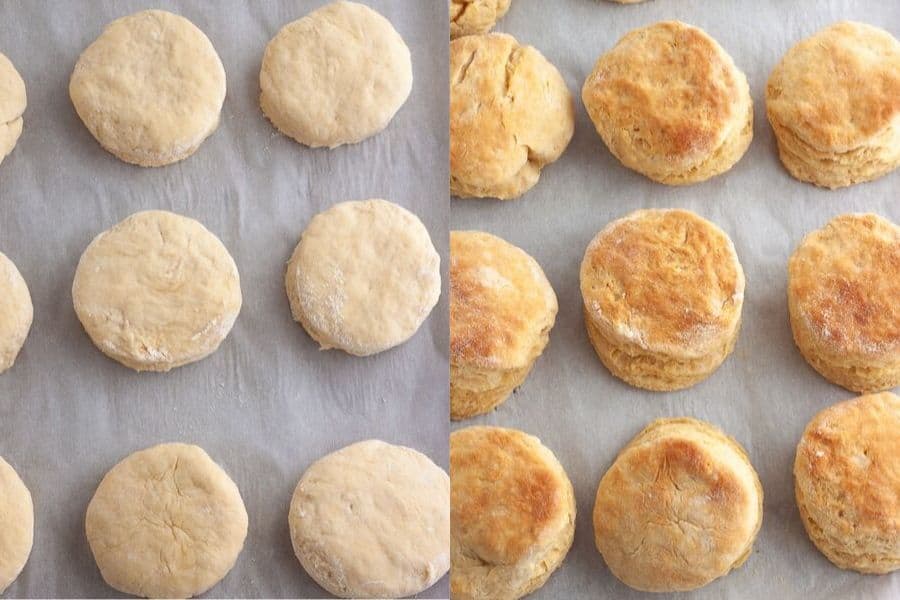 Quick and Delicious Soft Vegan Biscuits
These soft biscuits are delicious on their own, or topped with some vegan gravy or strawberry chia jam!

Sometimes vegan butter is all you need, but I love spicing things up with other toppings.

A light drizzle of agave or maple syrup is also perfect if you have a sweet tooth!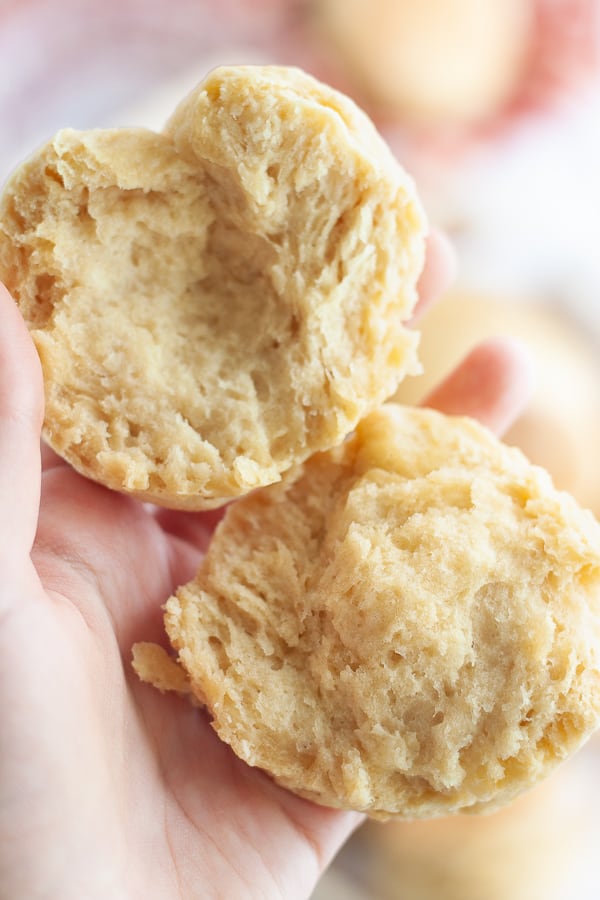 This recipe is:
Simple

Vegan

Buttery

Easy

Flaky

Soft

Delicious
If you like this recipe, check out these other baked vegan recipes!
Pin this for later!
Vegan Buttermilk Biscuits
These fluffy vegan buttermilk biscuits are so soft and tasty, made with a homemade dairy-free buttermilk. Perfect with jam, agave or vegan butter!
Ingredients
3/4 Cup Vegan Butter, chilled
2 Tbsp Baking Powder
1 Tbsp Sugar
1.5 Tsp Salt
Instructions
Preheat oven to 425 degrees.
Add apple cider vinegar to plant milk and stir, set aside to sit for at least 5-10 minutes.
Combine flour, baking powder, sugar and salt in a bowl and mix well.
Cube chilled vegan butter and add to dry mixture. Cut in using a fork or a pastry cutter until it has a sandy texture.
Add plant milk mixture and fold in, mixing just until it's combined, do not overmix.
Place on a flat, floured surface and sprinkle more flour on top. Gently squish down and fold in half. Squish down and fold in half again. Do this 5-6 times for a flaky biscuit.
Finally, flatten out to about 1 inch thick, and cut 2 1/2 inch circles** and place on a baking sheet covered in parchment paper.
Bake for 12 minutes or until the bottoms are a light golden brown. You may want to broil them for just a bit to get more color on top.***
Allow to cool for a few minutes and then enjoy!
Notes
*Make sure your plant milk is unsweetened and unflavored.
**It helps to dip your cutter in flour before cutting to avoid sticking.
***If you do broil them, watch them constantly because they can burn in seconds if you are not watching carefully.
Nutrition Information:
Yield:

12
Serving Size:

1
Amount Per Serving:
Calories:

277
Total Fat:

13g
Saturated Fat:

8g
Trans Fat:

0g
Unsaturated Fat:

4g
Cholesterol:

33mg
Sodium:

645mg
Carbohydrates:

35g
Fiber:

1g
Sugar:

1g
Protein:

6g