We may earn money or products from the companies mentioned in this post.
(Last Updated On: March 30, 2023)
Easy Vegan Soft Pretzel Recipe
These vegan soft pretzels are so buttery and delicious!
Soft pretzels are one of my favorite go-to snacks or appetizers, and they're actually pretty simple to make.
The soft yeast dough and crispy outside make them so tasty, and I'm so excited to have figured out how to make them myself!
This way I know they only have a handful of ingredients, and no dairy, eggs or additives.
Homemade Baked Soft Pretzels
There's nothing like homemade bread, and these pretzels are definitely my favorite bread to make.
These pretzels also have such a deep array of colors, from light to golden brown from the beautiful natural streaks in the dough!
You can eat them by themselves, with mustard or serve them with hot soup.
They are the ultimate comfort food and are so simple and fun to make!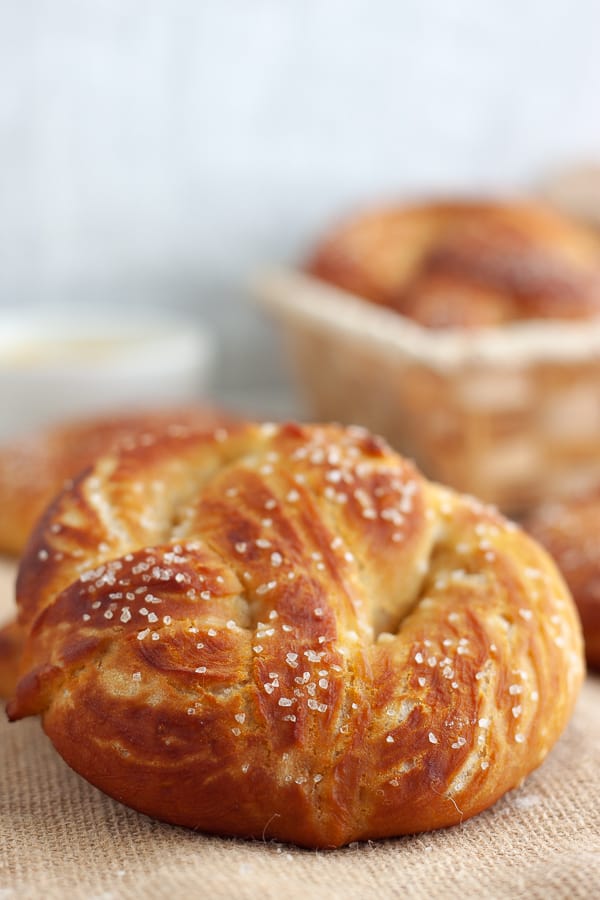 How to Make Quick Yeast Soft Pretzels
Preparing The Pretzel Dough
To make your pretzel dough, you first need to activate your yeast.
To do this, you need a cup of slightly warm water. Add your salt and sugar to this water and dissolve it by mixing well (the water needs to be just warm enough to dissolve it, any hotter and you could kill the yeast, and any colder and the sugar and salt won't dissolve and the yeast won't activate, about 110 degrees F).
Sprinkle your packet of yeast over the top and do not stir it in.
Let it sit for 10 minutes until it becomes frothy. If it doesn't become frothy, it could be the water temperature was not correct, or the yeast was old. Try again with another packet until the yeast foams.
If it doesn't foam, the dough will not rise!
Once the yeast mixture is foamy, stir in the melted butted and transfer to a large bowl.
Begin incorporating the salt and add the flour one cup at a time, mixing in between until a ball is formed.
If it is still a little sticky, add a tiny bit more flour just until it's not sticky anymore.
Place the dough down on a flat surface and knead with the palm of your hand for 3-5 minutes until firm. Watch this video if you're unsure how to knead!
Oil the large bowl entirely and place the ball of dough back inside. Cover with a towel and allow to rise for one hour until it about doubles in size.
Shaping The Soft Pretzels
Punch the air out of the dough and drop it onto a floured surface, then cut into 8 pieces like a pizza!
Roll each piece out until roughly 10-12 inches long and form into a U shape.
Cross the two ends, and cross again, pulling the two ends towards yourself and squishing them down to the bottom of the dough to form the pretzel shape.
Repeat with remaining pretzel dough.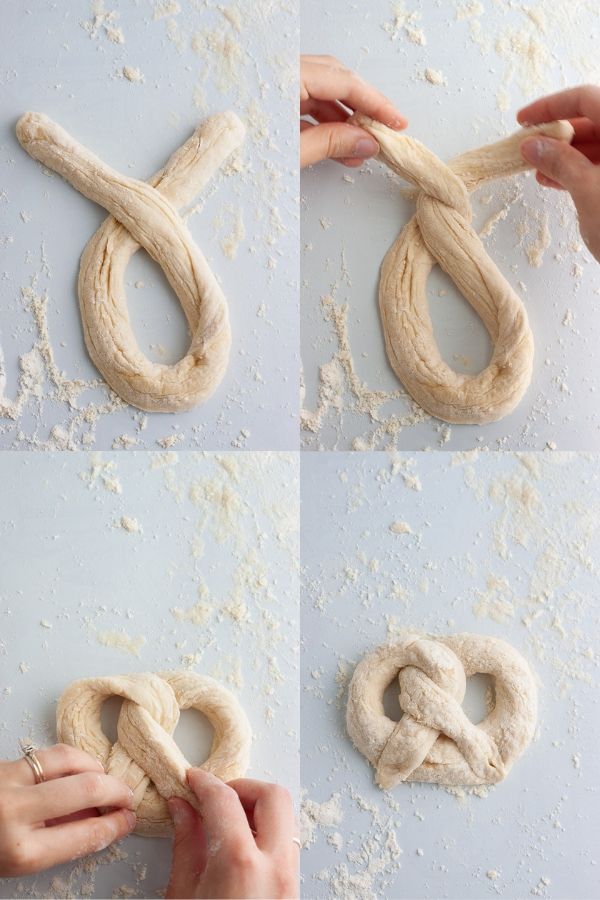 Boil in Baking Soda Water
Preheat your oven to 450 degrees.
In order for your pretzels to develop that classic dark brown color, you need to boil them in baking soda water.
Simply bring 5 cups of water to a soft boil, stir in 1/4 cup of baking soda (it will foam a bit) and using a slotted spatula, carefully dip them in one at a time for 10-20 seconds only, then pick them back up.
Let the water drip off for a second and place down on a baking sheet covered with parchment paper.
Repeat with remaining pretzels.
It may cause the pretzels to lose their shape a bit, but you can reshape them one the baking tray.
Baking The Vegan Pretzels
Once done, add just a little melted butter to the top of each one and course salt if desired, and bake for 10-15 minutes or until golden brown.
Be sure to check them often to make sure they do not get too dark!
That's it. Perfect savory soft pretzels. I dipped mine in mustard!
Delicious Buttery Vegan Pretzel Snack
These pretzels can be kept at room temperature for about 3 days. I like to heat mine up in a toaster oven to crisp them up a bit, but you can also use a microwave.
You can also freeze them to keep them for longer.
You could also totally make these sweet pretzels, which used to be one of my favorite ways to eat them!
Instead of using salt, just sprinkle cinnamon and sugar over the melted butter right before they go into the oven! You still don't need too much butter, just enough to help the topping stick and help them brown a bit more.
If you want a little added spice, try these with my Vegan Buffalo Sauce!
This recipe is:
Simple

Buttery

Savory

Delicious

Easy

Quick

Homemade
Try these other yummy vegan snacks/appetizers!
Pin this for later!
Vegan Soft Pretzels
Prep Time:
2 hours
15 minutes
Total Time:
2 hours
30 minutes
These simple vegan soft pretzels are light, savory and buttery! Perfect as an appetizer or snack and so much better than store bought!
Ingredients
2 Tbsp Melted Vegan Butter (+ more to top)
1 Cup Slightly Warm Water
1 Tsp Salt
Course Salt To Top
Baking Soda Bath
Instructions
Mix together 1 cup of slightly warm water (about 110 degrees F) with the sugar and water until dissolved. Sprinkle yeast over the top of the water but do not stir in, allow to sit for 10 minutes until frothy.**
Now stir in the melted vegan butter, and add the salt and the flour 1 cup at a time until it forms a dough. If the dough is still sticky at 2 1/2 cups, add a bit more until it's not sticky.
Put dough on a flat floured surface and knead with the palm of your hand for 3-5 minutes until firm.
Add oil to a large bowl and spread around, then put dough inside and cover. Let rise for 1 hour (I like to put mine in the oven, without it turned on, and only the oven light on for this part).
Once the dough has doubled, punch it down and start simmering 5 cups of water in a pot a few inches deep. Preheat oven to 450 degrees.
Transfer dough to a flat surface and cut into 8 parts. Roll dough pieces into long ropes 10-12 inches long and put rope into a U shape.
Cross both sides, cross again and bring them towards you, squishing them down to form the pretzel shape.
Add baking soda to the 5 cups of water (it will foam), and using a slitted spatula, dip pretzels in one by one for 20 seconds, then remove and place on a baking tray. Finish the rest of the pretzels.
Add just a little melted vegan butter and sprinkle salt over all the pretzels, and bake for 10-15 minutes or until golden brown. Serve with mustard or sauce of choice!
Notes
*You need the water just warm enough to dissolve the salt and sugar and activate the yeast, but not too hot or else you will kill the yeast and it will not rise the dough.
**If the yeast does not get frothy, it may mean the water was too hot or too cold, or that the yeast was too old. Try with another packet.
Recommended Products
As an Amazon Associate and member of other affiliate programs, I earn from qualifying purchases.
Nutrition Information:
Yield:

8
Serving Size:

1
Amount Per Serving:
Calories:

225
Total Fat:

3g
Saturated Fat:

2g
Trans Fat:

0g
Unsaturated Fat:

1g
Cholesterol:

8mg
Sodium:

78mg
Carbohydrates:

42g
Fiber:

2g
Sugar:

3g
Protein:

6g