We may earn money or products from the companies mentioned in this post.
(Last Updated On: January 12, 2022)
Easy Vegan Lentil Dahl Recipe
There are few recipes simpler to make than this vegan lentil dahl!
It has few ingredients that are super budget friendly, and it's packed with protein and flavor.
Indian food is one of my favorites to prepare – I love all the spices that go into these type of dishes and how healthy they are!
They really pack on the flavor and don't take long to make, just like this one pot recipe!
This is not an authentic recipe, but simply my take on the delicious meal!
This recipe is also perfect for meal prepping because it's super hearty and filling.
It will give you tons of energy without weighing you down and it makes a lot of food!
High Protein Vegetarian Lentils
This recipe is vegan, vegetarian, low fat, high protein, affordable and irresistible!
It pairs perfectly with rice, but you can also serve it with naan bread or even pita.
It's also delicious simply on its own, and is a great food to take for hikes, picnics, camping or other outdoor activities!
It's best served warm, but I've taken it on trips and eaten it at room temperature within a few hours and it's still just as yummy.
You can see how creamy and heart the lentils are!
This is thanks to some creamy coconut milk and some tomato paste, as well as the lentils soaking up healthy and flavorful vegetable stock!
How to Make Vegan Lentil Dahl
Cooking and Flavoring Lentils
To make this simple recipe, start by cooking the oil, onion, garlic and ginger for 5 minutes over medium heat. Wait til the onions start to get translucent, this mixture smells so good by the way!
Then rise the lentils and add them to the pot along with the spices. Cook this for three minutes and then add the veggie stock, coconut milk and tomato paste.
Now let this come to a boil and then reduce the heat to low and simmer, covered, for about 30 minutes, or until the lentils are nice and tender! They will absorb some more moisture as they cool.
Stir in the lemon juice and then serve with rice or naan and top with fresh cilantro!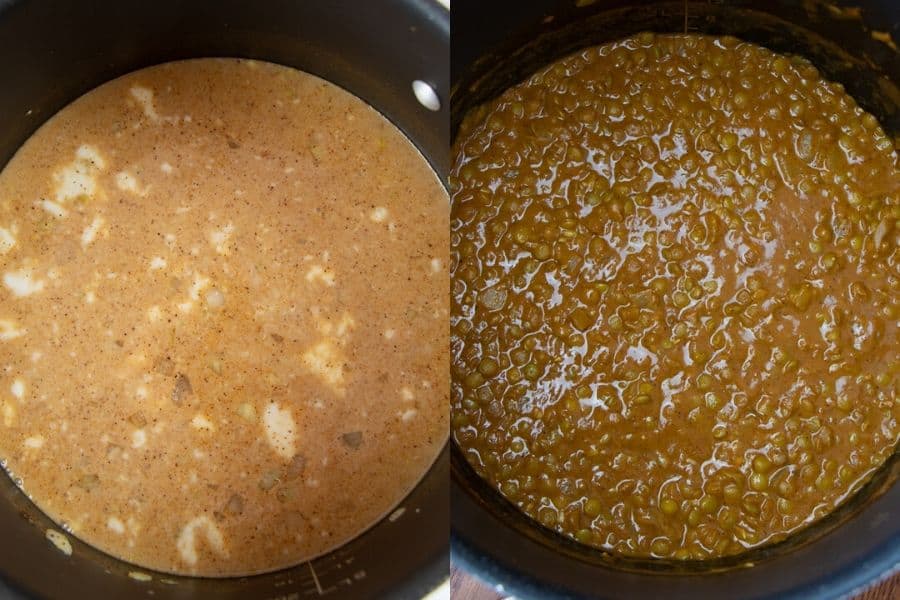 Indian Lentils with Tomato and Coconut Milk
The combination of tomato and coconut milk is so under appreciated.
It's such a unique, delicious flavor and it's the absolute perfect base for the spices that are typically in these sort of Indian dishes, such as turmeric, cumin, chili, and cinnamon.
Also, in case you are wondering if the tomato paste in this recipe will affect the lentils cooking (too much tomato can increase the cooking time for lentils), no need to worry, it's such a small amount the lentils still cook quickly.
Lentils are also great to buy in bulk because it's ridiculously cheap and they keep for up to a year in a cool, dry place. I buy them in bulk so I always have them on hand! Red lentils are also delicious for these types of recipes.
This recipe is:
Easy

Delicious

Flavorful

Healthy

Budget-Friendly

Vegan

Vegetarian

High-Protein
Check out these other yummy vegan recipes:
Pin this for later!
Vegan Lentil Dahl
This yummy vegan lentil dahl recipe is super quick to make, budget friendly, delicious and filling! Made with protein-rich lentils and creamy coconut milk.
Ingredients
3 Cups Green Lentils
3 Cloves Garlic
1 Inch Fresh Ginger
1 1/2 Cups Full-Fat Coconut Milk
8 oz. Tomato Paste
1 Small Onion
Juice from 1/2 Lemon
4 Cups Vegetable Stock
2 1/2 Tsp Chili Powder
2 Tsp Ground Cumin 
1 1/2 Tsp Ground Turmeric
1/2 Tsp Ground Cinnamon
2 Tbsp Oil
2 Tsp Salt
1/2 Tsp Ground Pepper
Cilantro to Serve
Rice to Serve
Instructions
To a pan over medium heat, add the oil, chopped onion and minced garlic and ginger and cook for 5 minutes, or until the onion begins to become translucent.
Rise lentils and add to pot along with chili powder, cumin, turmeric, cinnamon and salt and pepper. Cook for 3 minutes stirring frequently.
Add vegetable stock, coconut milk, and tomato paste and stir well. Bring to a boil and reduce heat to low to simmer, covered, for about 30 minutes, or until lentils are tender.
Add lemon juice and serve over rice with cilantro on top!
Nutrition Information:
Yield:

6
Serving Size:

1
Amount Per Serving:
Calories:

381
Total Fat:

18g
Saturated Fat:

11g
Trans Fat:

0g
Unsaturated Fat:

5g
Cholesterol:

0mg
Sodium:

1310mg
Carbohydrates:

47g
Fiber:

11g
Sugar:

13g
Protein:

14g