We may earn money or products from the companies mentioned in this post.
(Last Updated On: April 30, 2023)
Vegan Chickpea Tikka Masala Recipe
This chickpea tikka masala dish is simply amazing.
The best, most comforting Indian meal that is vegan, oil-free and super healthy. It's also budget-friendly and a great meal prep option!
The warm, savory spices are stirred together with fire-roasted tomatoes and creamy coconut milk to make this irresistible dish, and it pairs perfectly with rice and pita bread, and some freshly chopped cilantro!
While I love my curry dishes, I find that this tikka masala recipe has a deeper and more interesting flavor, and I love being able to switch up my meals!
This is not an authentic recipe, but simply my take on the delicious meal!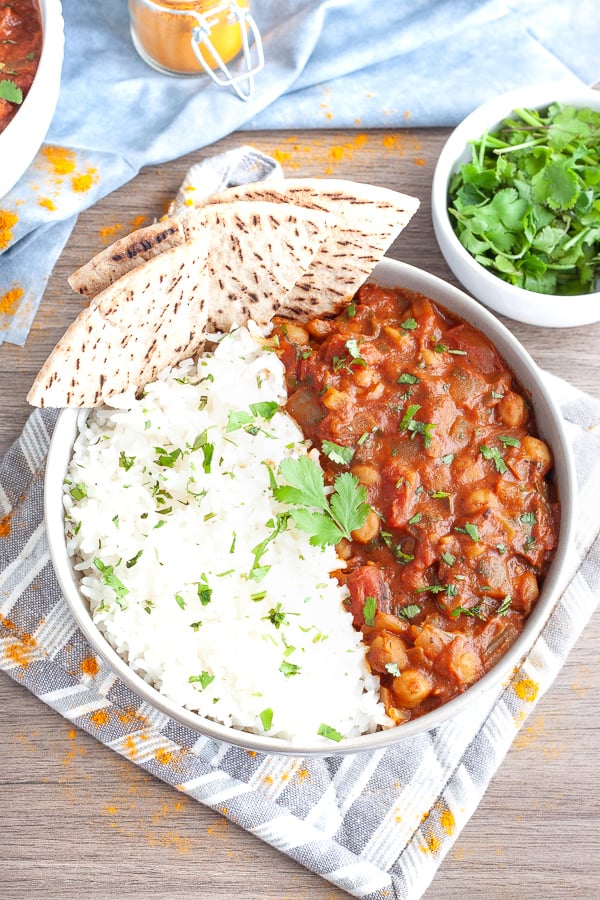 Vegetarian and Authentic Indian Dish
Garam masala, the main spice in this dish, means "warm spice", and is quickly becoming one of my favorite blends!
It is typically a mixture of cinnamon, cardamom, cloves, cumin, coriander, nutmeg and peppercorns, learn more about how to cook with this wonderful spice on this website.
It's everything you want in a comfort food dish! Savory, sweet and floral with a slight heat is how I would describe the mixture, and it goes so perfectly with chickpeas because when they are cooked in the spices, they become soft and soak up all the wonderful flavor.
I also added some extra turmeric (an incredible anti-inflammatory spice), coriander and cumin to bring out those flavors ever more, along with a splash of lemon juice to complete the meal!
Not to mention the onion-garlic-ginger base for all these amazing flavors, you'll be amazed at how they merge into one unique and delicious dish!
I always recommend this, but especially with these heavy-spiced Indian dishes – always use the highest quality and organic spices you can find! You can usually find a decent sized bottle for a few dollars or buy in bulk, and it will SERIOUSLY make a difference in the flavor! 
Making Sweet and Savory Tikka Masala
The great thing about this dish is it's super easy to make, and involves minimal preparation!
To begin, chop your onion and place it in a large pot with a splash of water, and cook over medium heat until it's translucent. This will usually take around 5 minutes.
In the meantime, mince you fresh garlic and ginger, and after the five minute mark toss them in the pan for another 3 minutes.
Now add all your wonderful spices (this will smell amazing by the way) and cook them for about 30 seconds, until they're nice and fragrant!
Pour in your coconut milk, diced tomatoes and tomato paste and give everything a good stir.
Bring this to a soft boil, reduce the heat to low, and simmer, covered, for 10-15 minutes, or until the chickpeas are soft and flavorful.
If your tikka masala is any bit runny after this, simply return the heat to medium and let it cook uncovered until some of the liquid dries up. Mine just needed an extra couple minutes of this to be perfect and thick!
Now stir in your fresh cilantro and lemon juice, and serve! I enjoyed mine with basmati rice, toasted pita bread and more cilantro (because you can NEVER have enough).
If you've been searching for a quick meal prep idea, this one is for you! This dish literally has some of the cheapest and easiest ingredients, and you can buy them ahead of time to make whenever because of their long shelf life.
Filling, delicious, simple and nutritious – this recipe has it all!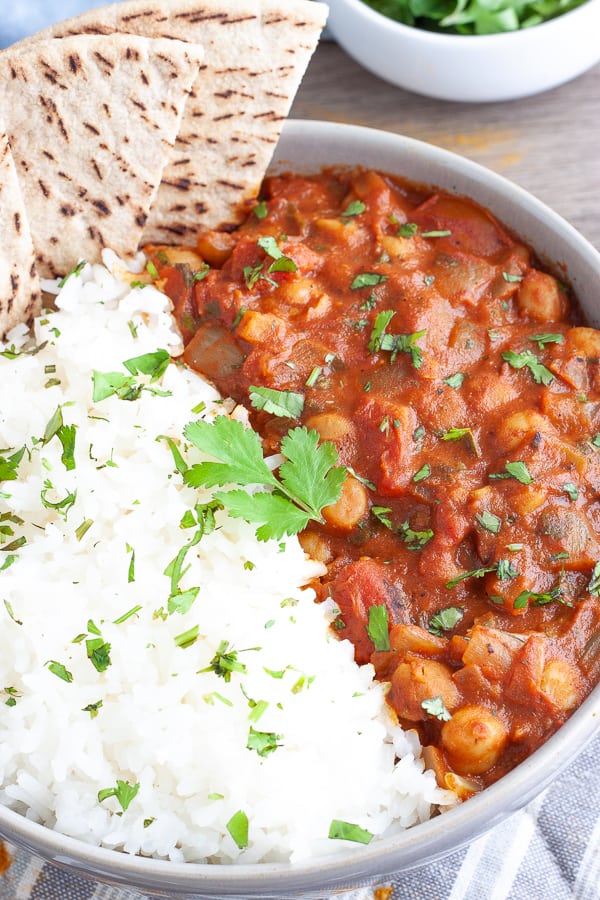 This recipe is:
Authentic

Comforting

Delicious

Flavorful

Indian

Healthy

Protein-Packed

Cheap
If you're looking for more comforting vegan dinner ideas, try my:
Pin this for later!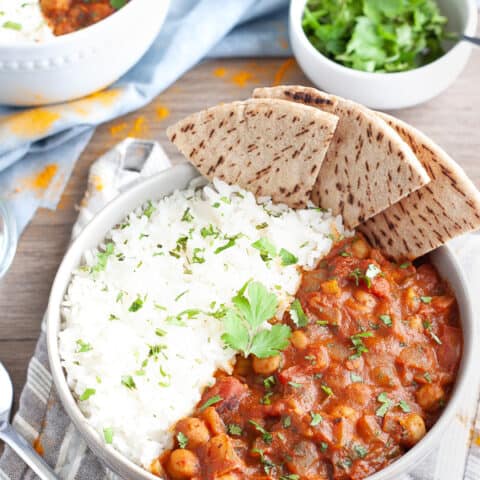 Chickpea Tikka Masala
This simple chickpea tikka masala recipe is full of comforting Indian spices, coconut milk, fire-roasted tomatoes and cilantro! The ultimate comfort food!
Ingredients
2 Cans Chickpeas
3 Cloves Garlic
1 Inch Fresh Ginger
1 Onion
15 oz. Diced Tomatoes (fire-roasted)
8 oz. Tomato Paste
1 Cup Coconut Milk
1 Tbsp Lemon Juice
1/2 Cup Fresh Cilantro (+more to top)
Instructions
Add chopped onion to a large pot and cook over medium heat with a splash of water until translucent, about 5 minutes. Add minced garlic and ginger and continue cooking until fragrant, about 3 minutes.
Add The garam masala, coriander, cumin, turmeric and bay leaves and cook for 1 minute. Add diced tomatoes, coconut milk, tomato paste and chickpeas, and bring to a soft boil.
Reduce heat to low and simmer, covered for 10-15 minutes or until chickpeas are soft and flavorful. Remove bay leaves and stir in cilantro and lemon juice.*
Serve over basmati rice with fresh, chopped cilantro!
Notes
*At this point your tikka masala should be on the thicker side, if it's not, simply raise heat to medium/low and cook, uncovered, until desired thickness is reached. This will help to remove some of the remaining liquid.
Nutrition Information:
Amount Per Serving:
Calories:

322