We may earn money or products from the companies mentioned in this post.
(Last Updated On: August 13, 2023)
Best Vegan Breakfast Hash Recipe
This vegan breakfast hash recipe is so easy to make and is packed with vegetables and spices! There's so many ways to customize this vegan breakfast casserole and the toppings as well.

This recipe is filled with potatoes, mushrooms, red pepper, onion, garlic, zucchini and plenty of delicious spices. It's the easiest way to use up any leftover veggies or ingredients in your fridge, and it's also great with tempeh or vegan sausage!
Vegetarian Potato Breakfast Hash
This vegetarian breakfast hash is great to serve by itself, or alongside some vegan pancakes and freshly brewed coffee!

While it's great for entertaining, you can also just make it for yourself and save the rest in the fridge for a no-fuss breakfast for the next few days. It's my go to recipe for brunch and I love how such simple ingredients make such a delicious vegan potato hash.

If you're really feeling hungry, try this recipe inside my Vegan Breakfast Burrito for an epic breakfast! Or if you love this recipe, try my Cheesy Vegan Breakfast Casserole next!
---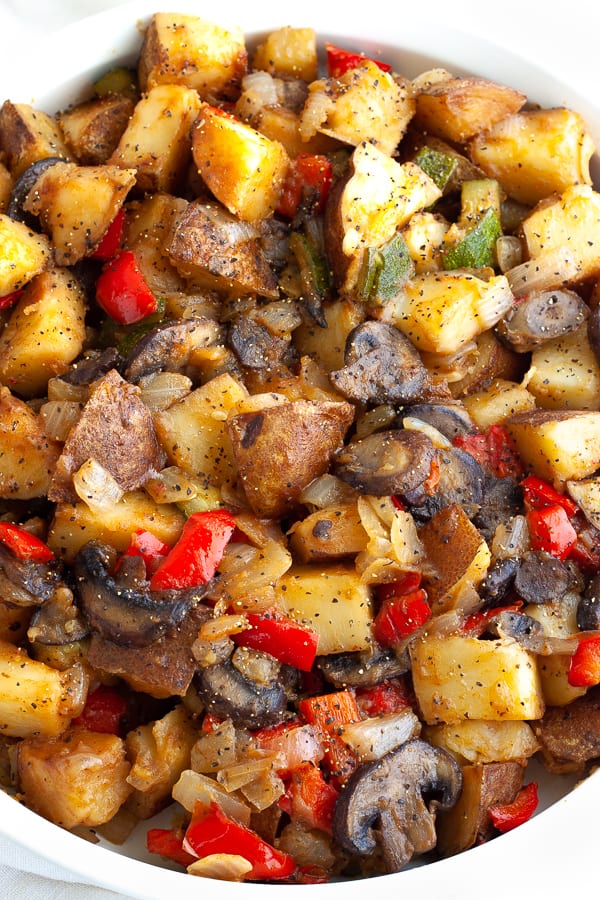 Ingredients:
Potatoes –

Any kinds of potatoes work, but I always love golden or red!

Mushrooms –

Optional but adds a nice flavor.

Red Pepper –

Any peppers will work, my favorite veggie to add to hash and for a pop of color.

Onion & Garlic –

Very important for flavor!

Zucchini –

I love zucchini, but you can also add spinach, asparagus, yellow squash or any veggies.

Spices – I use a mixture of spices for this recipe, but you can also just use taco seasoning for a fuss free hash!
How to Make Easy Vegan Potato Hash
Preparing the Ingredients
To make this vegan hash recipe, you'll first want to dice all your ingredients into bite-size pieces so that the cooking process is easier.


Now, in a large pan over medium heat, add your oil and potatoes and cook.



Cook until they are browned and tender when poked with a fork, about 10 minutes, stirring often.

Now add all your veggies and spices and give everything a good stir, this smells amazing!


Continue cooking until veggies are tender, about 5-10 minutes, and that's it!

I like serving the vegetarian breakfast hash in a large shallow dish for the breakfast table.

What can I top this dish with?
Some toppings I love for this hash are avocado, Vegan Bacon Bits, fresh cilantro, Vegan Spam, vegan cheese, Vegan Buffalo Sauce or dairy-free sour cream!

How can I store this hash?
This vegan breakfast casserole can be stored in an airtight container in the fridge for up to 5 days. It's best served fresh of course, but you can reheat it with a bit of oil in a pan for best results!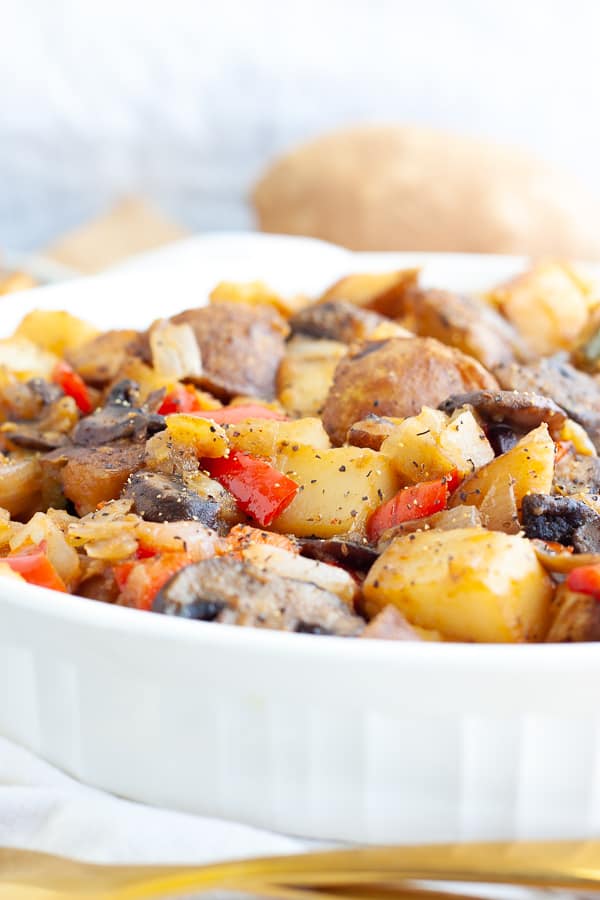 ---
A Nutrient-packed breakfast
This vegan breakfast hash is nutrient-dense and filling — such a great way to start your day!
Potatoes are a good source of fiber, vitamin C, and potassium
Onions and garlic are both anti-inflammatory and immune-boosting
Sweet peppers are high in vitamin C and antioxidants
Mushrooms are a good source of B vitamins and minerals like selenium and copper
Red peppers are also a good source of vitamin C and antioxidants
Zucchini is a low-calorie vegetable that is high in fiber and nutrients like vitamin C, potassium, and magnesium

When combined, these vegetables can create a meal bursting with flavor that also supports your overall health and wellbeing.

For a twist, adding protein-rich ingredients like beans can help balance the meal with plant-based protein and fiber, and provide sustained energy throughout the day.

If you prefer leafy greens like spinach and kale, try adding them in – you'll be enriching your breakfast with even more vitamins and minerals, as well as reaping the benefits of antioxidants and anti-inflammatory foods!
---
Vegan Breakfast Hash Recipe
I love the simple yet irresistible flavors in this dish, and I've also made it with sweet potatoes and it was amazing.

If you're a ranch fan, try it with my homemade vegan ranch or some red pepper flakes if you like your hash a bit more spicy. Sometimes I'll also add a can of black beans to the dish for some added protein and texture.

Whichever way you choose to serve your breakfast hash, it's sure to be a hit and is always a great way to start your day! It keeps in an airtight container in the fridge for about three to four days for best results.
This recipe is:
Healthy

Hearty

Delicious

Easy

Filling

Budget-Friendly

Vegan
---
For more vegan breakfast recipes and ideas, try my other recipes!
Homemade Vegan Everything Bagel
---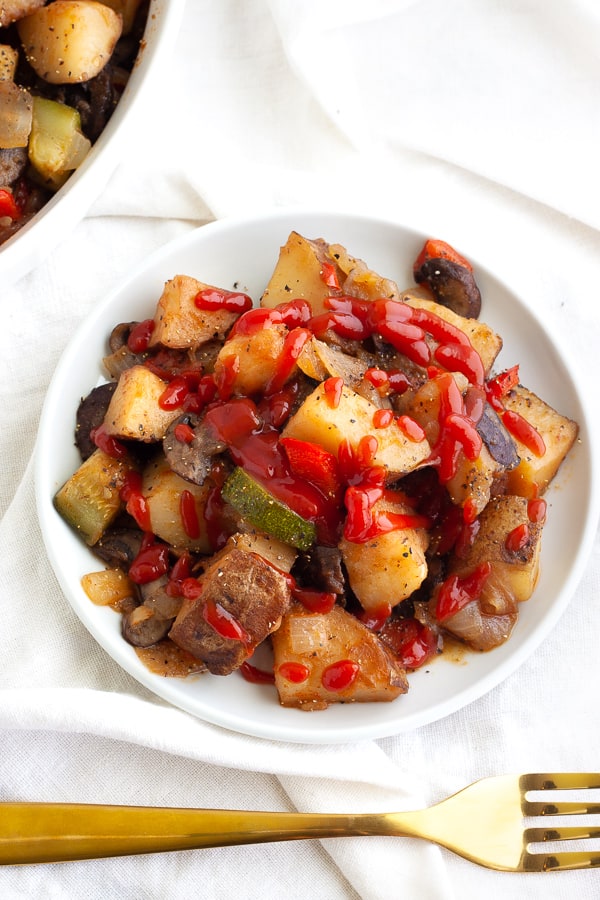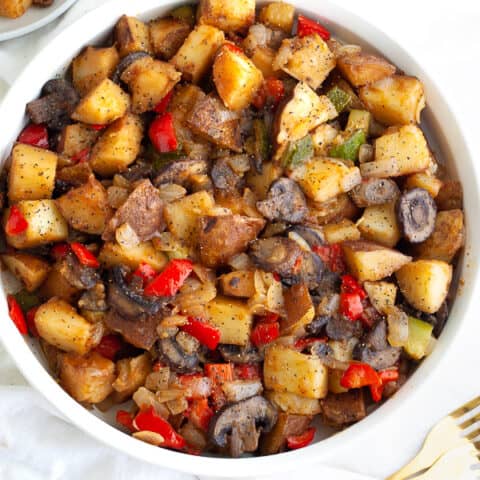 Vegan Breakfast Hash
This hearty vegan breakfast hash has just a few healthy ingredients and is ready in under 25 minutes! Crispy potatoes and sautéed mushrooms and peppers!
Ingredients
3 Medium Potatoes
1 Yellow Onion
1 Bell Pepper
1 Zucchini
8 oz. Mushrooms
Salt and Pepper to Top
2-3 Tbsp Cooking Oil (optional)
Instructions
In a large pan over medium heat, add oil* and diced potatoes. Stir potatoes and oil together and cook for about 10 minutes or until they begin to crisp and are softer when poked with a fork.
Chop the remaining ingredients into bite-sized pieces and add to the pan along with the spices. Give it a good stir and continue cooking for 5-10 minutes, or until veggies are soft.
Serve with toppings of choice!
Notes
*For an oil free version, simply use a splash of water or vegetable stock for cooking. It will not be as crispy but it will still be delicious!
Nutrition Information:
Yield:

4
Serving Size:

1
Amount Per Serving:
Calories:

352
Total Fat:

22g
Saturated Fat:

2g
Trans Fat:

0g
Unsaturated Fat:

19g
Cholesterol:

0mg
Sodium:

92mg
Carbohydrates:

37g
Fiber:

5g
Sugar:

6g
Protein:

6g