We may earn money or products from the companies mentioned in this post.
(Last Updated On: December 14, 2022)
Easy Vegan Ranch Recipe
This vegan ranch recipe is so deliciously smooth and creamy, and packed with flavorful herbs and spices!
It's perfect for dipping with fresh veggies or chips, adding to a sandwich or salad, or on pizza.
This recipe comes together in minutes and all you need is a couple bowls and a whisk.
It tastes just like traditional ranch and no one will ever be able to tell it's vegan!
As a born and raised Midwesterner, ranch is a condiment that is welcome with almost any food.
There's very few dishes that can't be improved with some ranch dip–try it with my Vegan Buffalo Chicken Wings!
So take it from me that this recipe is just as tasty as store-bought, and is completely free of dairy.
Best Homemade Vegan Ranch Dressing
The secret to this homemade ranch dressing is a combination of vegan mayo, a quick homemade vegan buttermilk, and the right herbs and spices.
You can make your own vegan mayo or simply buy it from the store, and the buttermilk is made from combining plant milk and apple cider vinegar.
Mix them together and let them sit for at least five minutes, and it will slightly curdle and give a richer and tangier flavor to the ranch.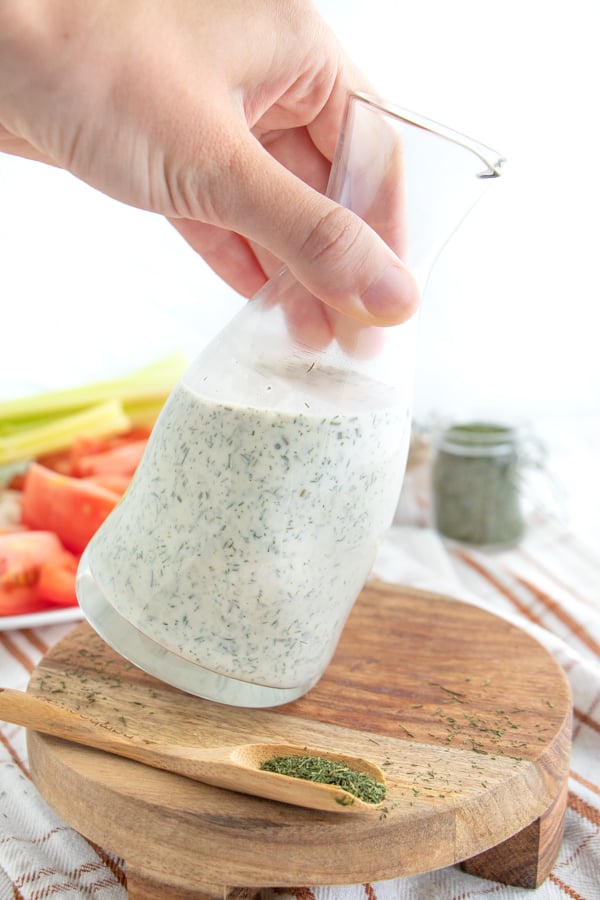 How to Make Vegan Ranch Dip
Making the Vegan Buttermilk
To make this super quick and easy vegan ranch dressing, start by mixing together your plant milk and apple cider vinegar.
Set it aside to sit for at least five minutes to curdle.
Mixing and Serving Ranch Dressing
Add the remaining ingredients to another bowl and whisk together.
Add vegan buttermilk mixture as needed to reach the desired consistency.
If it ends up being a little thick, you can add a bit more plant milk, and if it's too runny add a bit more mayo.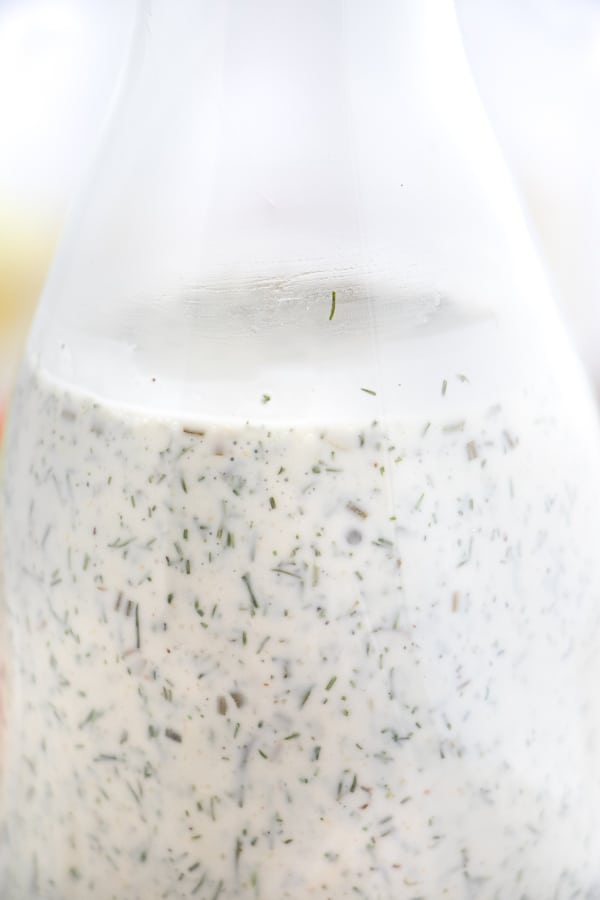 That's it!
Smooth and creamy dairy-free ranch dressing ready to add to all of your favorite meals.
I keep mine in the fridge, covered, for up a week for best taste.
It's best eaten as fresh as possible though, and just be sure to give it a shake or mix before serving if it's been sitting for awhile.
Dairy Free and Creamy Ranch Dip
I love making this ranch dip regularly to have on hand.
It's much creamier and tastier than any store-bought vegan ranch, even though those are convenient in a pinch.
It's perfect for snacking, entertaining and serving for any holidays or parties.
Ranch dressing is the best addition to so many meals, and I think you'll love this dairy-free version!
This recipe is:
Easy

Vegan

Dairy Free

Homemade

Smooth

Creamy

Delicious
Vegan recipes you can add ranch dressing to!
Pin this for later!
Vegan Ranch Recipe
Easy vegan ranch recipe made with dairy-free mayo and buttermilk! Smooth and creamy and packed with flavors of dill, chives, parsley, garlic and onion!
Ingredients
1 Cup Vegan Mayo
1/4 Cup Plant Milk
1 Tsp Apple Cider Vinegar
1 Tbsp Dried Dill
2 Tsp Dried Chives
2 Tsp Dried Parsley
1 Tsp Garlic Powder
1 Tsp Onion Powder
1/4 Tsp Salt
1/4 Tsp Pepper
Instructions
Mix together plant milk and apple cider vinegar and set aside for 5 minutes to curdle.
Add remaining ingredients to a bowl and whisk together.
Add plant milk as needed until desired consistency is reached*.
Notes
*If too thick, add a bit more plant milk, if too runny, add a bit more mayo.
*Keep covered in the fridge for up to a week.
Nutrition Information:
Serving Size:

2 Tbsp
Amount Per Serving:
Calories:

93