We may earn money or products from the companies mentioned in this post.
(Last Updated On: November 21, 2021)
Easy Vegan Stuffed Peppers Recipe
This vegan stuffed peppers recipe is absolutely packed with delicious flavors and ingredients!
So incredibly easy to make and great for meal prepping or serving a big family.
These peppers are stuffed with onion, garlic, quinoa, black beans, corn, vegan cheese, tomatoes, veggie stock and spices, and baked!
High in protein and totally customizable, these peppers are a regular in my house and will for sure be in yours, too!
Peppers are easily my favorite vegetable, they are so delicious and versatile!
You can roast and blend them into a pasta sauce (like my Roasted Red Pepper Pasta), Cook them into a curry (like my Vegan Chickpea Curry), or toss them into breakfast (like my Vegan Breakfast Hash).
In this recipe they are halved, stuffed with a spiced quinoa and black bean filling, topped with shredded vegan cheese and baked.
I love using a rainbow of colors when I make these peppers, they look so beautiful on the dinner table!
Vegetarian Mexican Stuffed Peppers
These peppers are made with Mexican-inspired ingredients and spices – flavors like chili and cumin along with the beans, corn and tomatoes.
What I love about these vegetarian stuffed peppers is that you can use any ingredients you have on hand, and make them totally to your liking.
For example, you can make these Greek or Italian inspired, or simply throw in anything in your fridge that needs to be used up.
The possibilities are endless and the result is a dish that is full of veggies, protein and flavor!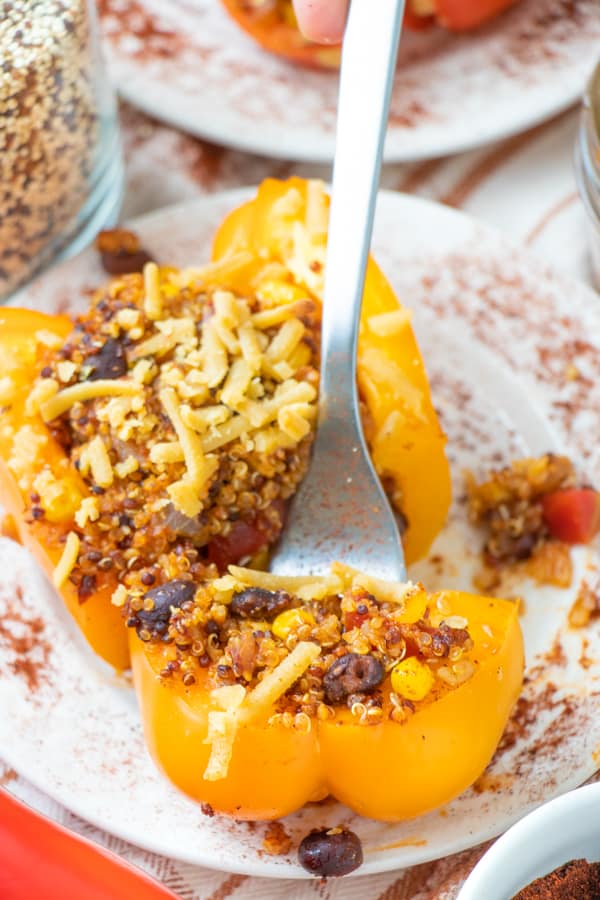 I loved using quinoa, corn and beans in these vegan stuffed peppers, but I've also made them with rice, tempeh and zucchini which was so tasty.
Lentils are also a great option!
I make these so often and it's so fun and convenient to try different combinations.
These peppers have mostly pantry-friendly ingredients and can really be filled with anything – have fun experimenting!
Ingredients:
Peppers – I like to use a combination of colors! Try to get them in similar size.
Onion & Garlic – The base for flavorful stuffed peppers.
Quinoa – Any kind, I love using rainbow. Use uncooked, it will cook in all the flavors.
Black Beans – Any kind of beans will do.
Corn – Frozen or fresh.
Diced Tomatoes – Use one 15 oz. can.
Vegetable Broth – This adds so much flavor to the quinoa filling.
Chili & Cumin Powder – Feel free to toss in some paprika and cayenne if you'd like!
Olive Oil – You can also use avocado or vegetable oil.
Salt/Pepper – To taste.
Vegan Shredded Cheese – Some vegan cheeses melt better than others, just use your favorite brand and flavor!
Toppings –

Optional toppings include freshly chopped cilantro, vegan sour cream, avocado, hot sauce or raw diced red onion!
How to Make Vegan Stuffed Peppers
Making the Quinoa Filling
To prepare your peppers to be stuffed, you'll want to wash them and cut them in half.
Remove the stem, core and any seeds and then set aside.
In a large pan over medium heat, cook the diced onion and olive oil about three to five minutes, until softened, stirring often.
Then add the garlic and cook another minute.
Add the uncooked quinoa, beans, corn, tomatoes, broth, spices and salt and pepper to taste and mix well.
Bring everything to a light boil, and then reduce heat to low and simmer for 20-25 minutes, stirring often, until quinoa is soft and cooked.
Filling and Baking Peppers
Now, preheat your oven to 375 degrees F, and grease a 9×13 pan with non-stick spray, oil or butter.
Arrange the pepper halves in rows inside the pan – they should all fit unless your peppers are huge.
If so, simply do this in two batches.
Scoop the filling generously into each pepper half, then add a sprinkle of the vegan cheese on top.
Bake for 30 minutes, then cool and serve with toppings of choice!
HOW TO STORE STUFFED PEPPERS
These peppers store really well – keep them in an airtight container in the fridge for up to five days.
This recipe also makes nine servings, and they heat up perfectly in the microwave or in the oven if you have a little extra time.
The perfect protein-packed, vegan meal prep recipe that is so comforting and delicious!
Quinoa Black Bean Baked Peppers
I really love cooking with quinoa – the seed has a great texture and is full of fiber and nutrients.
It's a delicious way to switch things up instead of using rice, and I also love the colors in rainbow quinoa.
You can use it as a base for salads like in my Southwest Quinoa Salad, or in soups like my Quinoa Three-Bean Chili!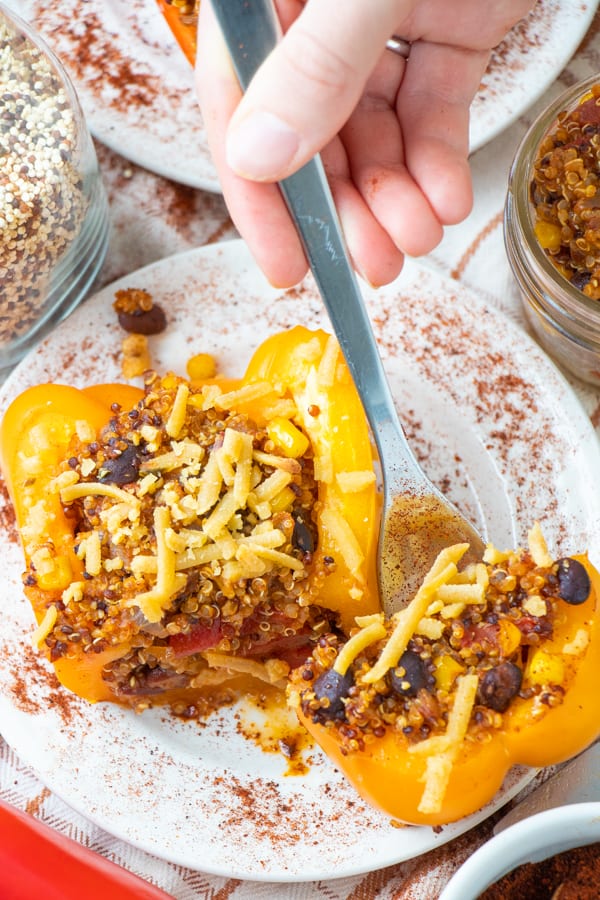 This recipe is:
Delicious

Flavorful

Budget-Friendly

Easy-to-Make

Vegan

Comforting

Great for Meal Prep!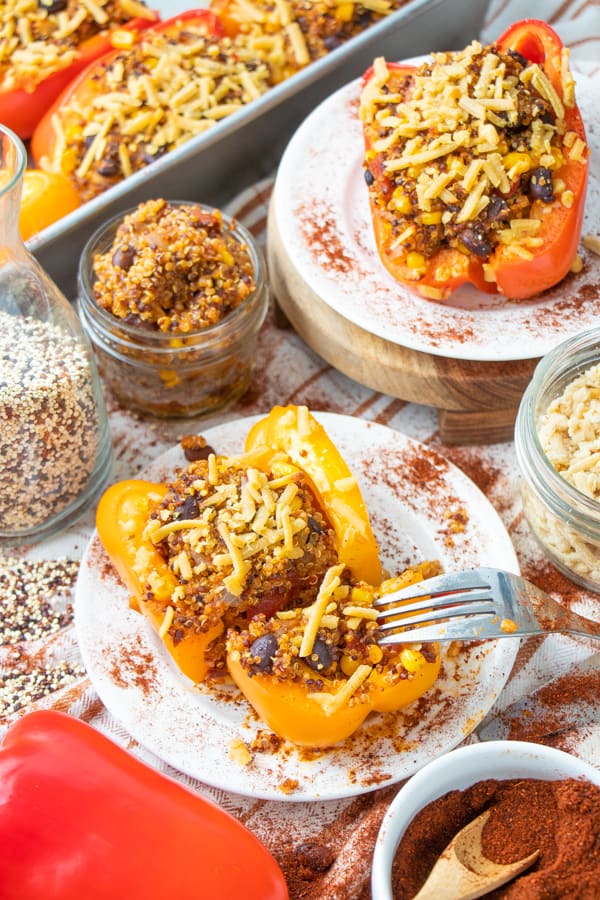 Pin this for later!
Vegan Stuffed Peppers
This Mexican-inspired Vegan Stuffed Peppers Recipe is filled with black beans, corn, tomatoes and spices, and topped with vegan cheese!
Ingredients
5 Peppers
1 Small Onion, diced
3 Cloves Garlic, minced
1 Cup Quinoa, uncooked
1 Cup Black Beans
1 Cup Corn
15 oz. Diced Tomatoes
3 Cups Vegetable Broth
1 1/2 Tbsp Chili Powder
2 Tsp Cumin Powder
2 Tbsp Olive Oil
Salt/Pepper to taste
2/3 Cup Vegan Shredded Cheese
Optional Toppings
Fresh Cilantro
Vegan Sour Cream
Avocado
Hot Sauce
Raw Diced Red Onion
Instructions
Wash peppers and cut in half, remove core and seeds and set aside.
To a large pan, over medium heat add the olive oil and diced onion, and cook for 3-5 minutes until soft. Add minced garlic and cook another minute.
Add uncooked quinoa, black beans, corn, diced tomatoes, vegetable broth, chili powder, cumin powder and salt and pepper and mix well.
Bring to a light boil, reduce heat to low and cover. Cook for 20-25 minutes, or until quinoa is soft, stirring often.
Preheat oven to 375 degrees F and grease a 9x13 pan.
Arrange pepper halves inside in an even layer (they should all fit unless your peppers are huge, if so do this in 2 batches).
Scoop filling generously into each pepper. Add vegan cheese on top and bake for 30 minutes.
Allow to cool and serve with toppings of choice!