We may earn money or products from the companies mentioned in this post.
Crispy and Delicious Vegan Breakfast Hash
Vegan breakfast hash is a great recipe to feed a lot of people with very budget-friendly ingredients.
Russet potatoes, mushrooms, red pepper, onion, garlic, zucchini, smoked paprika and cumin make this dish packed with flavor and still very healthy!
It's hearty, crispy and delicious, and also a great way to use up any leftover veggies you might have in your fridge.
I love making this at least once or twice a month to do just that.
Don't waste anymore money on forgotten recipes or veggies hidden in the back of your fridge, just throw them in the hash!
Quick and Easy Breakfast Recipe
This hash is great to serve by itself, or alongside some vegan pancakes and freshly brewed coffee!
While it's great for entertaining, you can also just make it for yourself and save the rest in the fridge for a no-fuss breakfast for the next few days.
It's super flavorful and filling to keep you going all day long.
This recipe is a great way to kick start your day!
I also love serving mine with a veggie burger on top when I have some on hand, for some added protein, or even tossing in some black beans.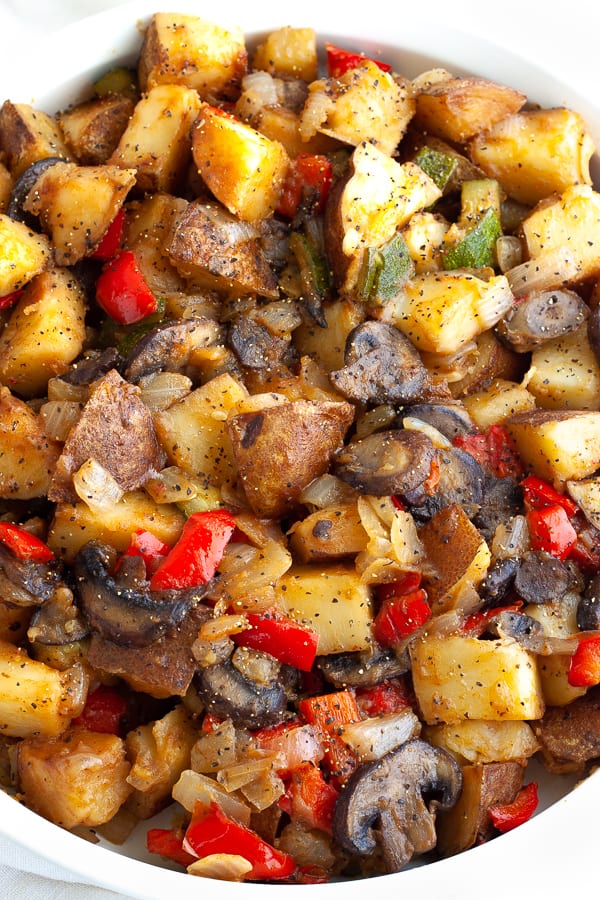 Cooking Simple Veggie Hash
Preparing the Ingredients
To make this quick and easy breakfast recipe, you'll first want to dice all your ingredients into bite-size pieces so that the cooking process is easier.
Now, in a large pan over medium heat, add your oil (optional – this helps to crisp the potatoes, but if you'd like an oil-free recipe simply use a splash of water or veggie stock), and potatoes and cook, covered.
Cook until they are browned and tender when poked with a fork, about 10 minutes.
Now add all your veggies and spices and give everything a good stir, this part will make your whole house smell amazing!
Continue cooking, uncovered, until veggies are tender, about 5-10 minutes, and that's it!
I like serving the hash in a large shallow dish for the breakfast table!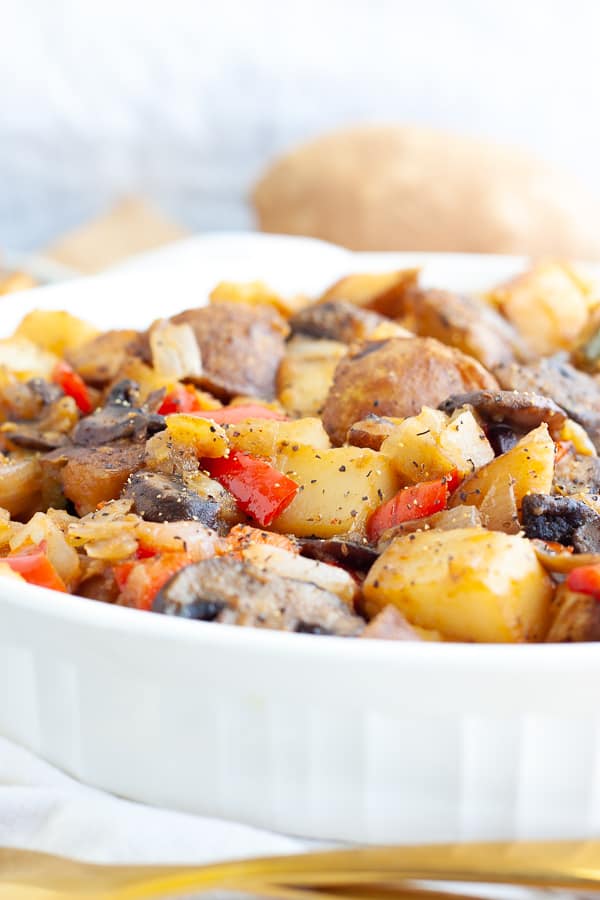 Simple Veggie and Potato Hash Browns
This recipe is super versatile so you can customize it with your favorite foods.
Some other ingredients that would be delicious are beans, spinach, asparagus, or even using sweet potatoes instead of regular ones.
You can also use any toppings you'd like; I just used ketchup, but avocado, salsa or a homemade cashew cheese would also be great!
Another idea is to throw in some tempeh or vegan meat alternatives to turn this regular hash into more of a vegan corned-beef hash.
Whichever way you choose to serve your breakfast hash, it's sure to be a hit and is always a great way to start your day!
This recipe is:
Healthy

Hearty

Delicious

Easy

Filling

Budget-Friendly

Crispy
For more vegan breakfast recipes, try my other recipes!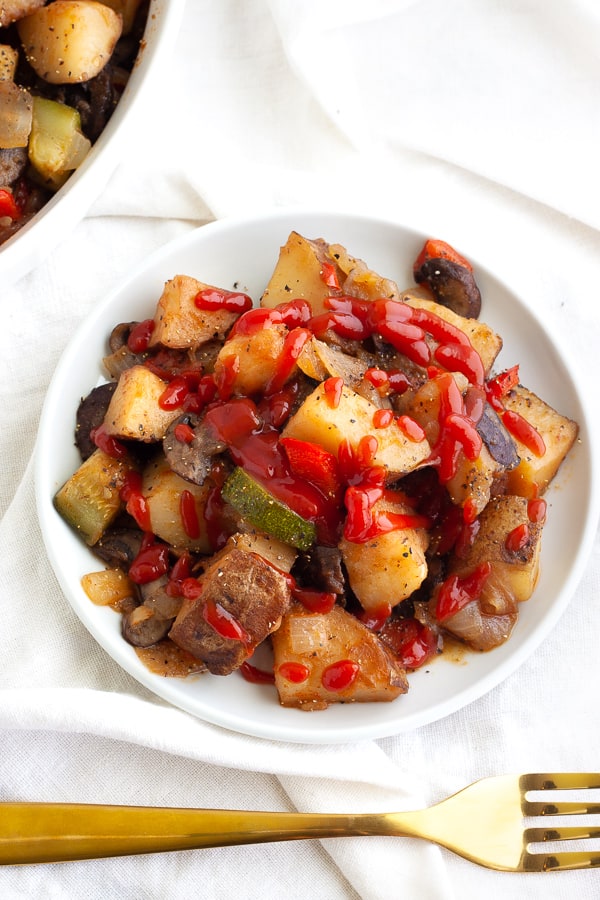 Yield: 4 Servings
Vegan Breakfast Hash
This hearty vegan breakfast hash has just a few healthy ingredients and is ready in under 25 minutes! Crispy potatoes and sautéed mushrooms and peppers!
Ingredients
3 Medium Potatoes
1 Yellow Onion
1 Bell Pepper
1 Zucchini
8 oz. Mushrooms
Salt and Pepper to Top
2-3 Tbsp Cooking Oil (optional)
Instructions
In a large pan over medium heat, add oil* and diced potatoes. Stir potatoes and oil together and cook, covered, for about 10 minutes or until they begin to crisp and are softer when poked with a fork.
Chop the remaining ingredients into bite-sized pieces and add to the pan along with the spices. Give it a good stir and continue cooking for 5-10 minutes, or until veggies are soft.
Serve with toppings of choice!
Notes
*For an oil free version, simply use a splash of water or vegetable stock for cooking. It will not be as crispy but it will still be delicious!
Nutrition Information:
Amount Per Serving:
Calories:

286