We may earn money or products from the companies mentioned in this post.
(Last Updated On: February 12, 2021)
This post has been compensated by Inmar Intelligence and its advertiser. All opinions are mine alone. #FoldedIsHere
Easy Vegan Eggs Benedict Recipe
This vegan eggs Benedict recipe is hearty, flavorful and easy to make! It has a homemade vegan hollandaise sauce, tempeh bacon, JUST Egg Folded, guacamole and tomato, all on top of an English muffin.
The sauce is actually super easy to put together, and can be ready in under 10 minutes.
This hearty recipe is the best way to start your day, with plenty of protein, healthy fats and carbs to keep you going! It's a recipe anyone will enjoy.

While many plant-based eggs Benedict recipes call for tofu, I opted for JUST Egg Folded – it has the perfect soft texture for this recipe and it was super easy to prepare.
The flavor is subtle and egg-like, I really enjoyed it with this breakfast.
They are great to keep in your freezer for quick breakfasts on busy days, and offer a healthy, protein-packed addition to your meal!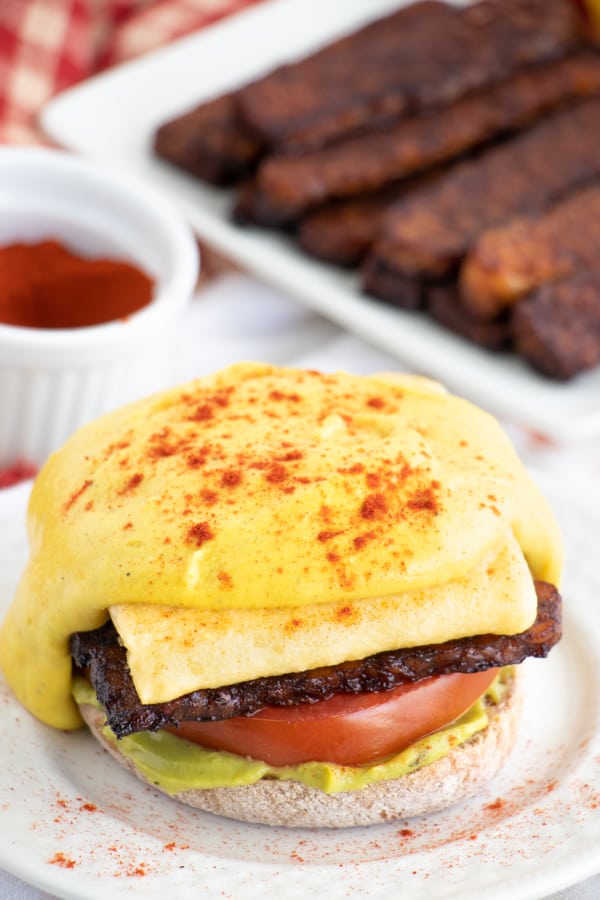 Homemade Vegan Hollandaise Sauce Recipe
Making a plant-based hollandaise sauce without eggs can seem daunting, but all you need is the right seasonings!
A bit of flour gives you that thick texture you need, and then a bit of nutritional yeast, lemon, garlic, onion and mustard give it that classic savory flavor!
It also turns a pretty yellow color thanks to a dash of turmeric, as well as the nutritional yeast, and you'll hardly be able to tell it's completely egg free.
This breakfast is perfect for anyone, regardless of diet; it has tons of flavor and the combination is a match made in heaven!
What I love most about this breakfast is all the different layers of flavor and texture.
Eggs Benedict is such an iconic breakfast, and I'm so happy to share this plant-based version with you!
How to Make The Best Vegan Eggs Benedict
Prepping Your Benedict Toppings
Depending on how you are going to top your Benedict, I suggest prepping them before you start heating things up.
This will help you have a stress-free, hot breakfast as quickly as possible!
For mine, I sliced some tomato and mashed some guacamole to add to my English muffin.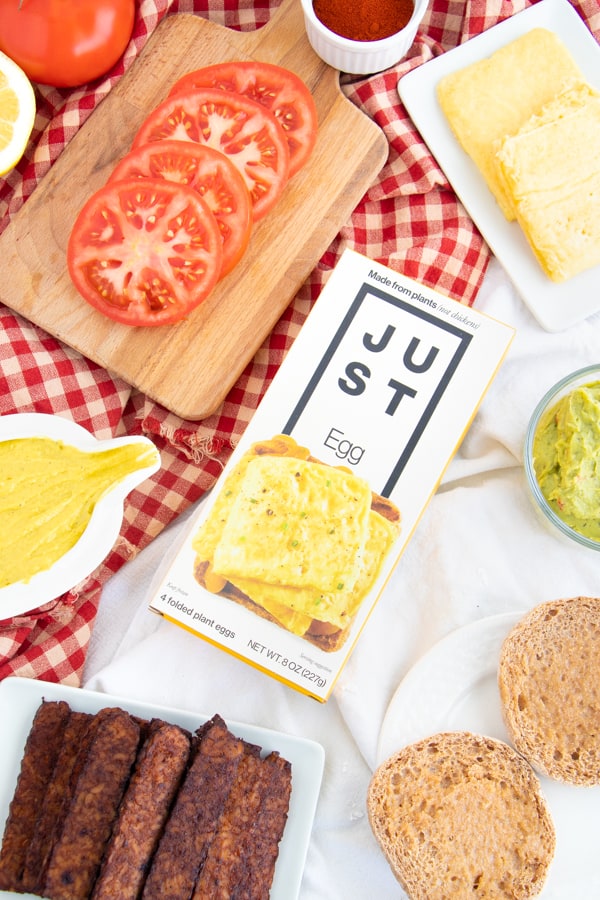 How to Make Vegan Hollandaise Sauce from Scratch
To make your super simple vegan hollandaise, start by melting your vegan butter in a pan over medium heat. Once it's melted, sprinkle in your flour and cook it for about a minute, whisking constantly.
Then slowly pour in your plant milk while whisking to avoid clumps – this is the base for a thick hollandaise!
Some recipes use blended tofu or cashews, but I love the simple flavor of the butter, flour and milk base, it's also very affordable and quick to make. JUST also makes a liquid version that I think would work great in a hollandaise!
Continue whisking and cooking this base for about 2-4 minutes until it gets nice and thick, then add your flavorings and stir them in.
Remove from heat and set aside – the sauce may thicken a bit more while it sits, but you can always stir in a bit more plant milk to make it pourable if it gets too thick.
Making the JUST Egg Folded and Tempeh Bacon
For my tempeh bacon, I used a simple marinade and baked it to golden brown.
For my JUST Egg Folded, I simply heated it in a skillet over medium heat with some vegan butter, about 2.5 minutes on each side did the trick and it added some nice buttery flavor!
The JUST Egg Folded can also be toasted or microwaved if you're looking for something even quicker.
How to Assemble Your Vegan Eggs Benedict
Once everything is ready, go ahead and toast your English muffin and add a bit of vegan butter if you'd like.
Next add your toppings, followed by the tempeh bacon and then the JUST Egg Folded.
Now pour a generous amount of your homemade hollandaise all over the top!
I also added some smoked paprika on top and it was so delicious.
The Best Eggless Egg Benedict
I absolutely love making this Benedict on Saturday mornings for my husband and I, and it's even perfect for non-plant based eaters.
This is a huge hit with my extended family too!
I love that the recipe is true to its iconic flavors and textures, yet also offers something unique and accessible to anyone.
The plant-based JUST Egg Folded is primarily made from mung bean, which has been in the food system over 4,000 years and is enjoyed worldwide.
It's easy, pre-baked, free of cholesterol and uses less water and carbon emissions than conventional eggs.
You can find this in the freezer section at Whole Foods, or simply order off of Amazon Prime Now!
Check out JU.ST for cooking tips, recipe inspiration and more information.
This recipe is:
Easy

Quick

Delicious

Vegan

Egg Free

Dairy Free

Hearty

Flavorful

Protein-Packed

Eggless
Try these other yummy vegan breakfast recipes!
Pin this for later!
Vegan Eggs Benedict
This Vegan Eggs Benedict recipe is the best way to start your day! Complete with a homemade Hollandaise sauce, tempeh bacon and JUST egg folded.
Ingredients
4 JUST Folded Eggs
2 English Muffins
Toppings: I used tomato and guacamole and a dash of smoked paprika
For the Hollandaise Sauce
2 Tbsp Vegan Butter
2 Tbsp Flour
1 Cup Plant Milk
2 Tbsp Nutritional Yeast
1/2 Tsp Turmeric Powder
1/2 Tsp Onion Powder
1/2 Tsp Garlic Powder
2 Tbsp Lemon Juice
1 Tbsp Dijon Mustard
Salt/Pepper to taste
Instructions
To make your hollandaise sauce, start by melting your vegan butter in a pan over medium heat.
Add the flour and whisk for 1 minute until slightly golden, then slowly whisk in your plant milk so it doesn't clump.
Cook for 2-4 minutes, whisking constantly until it thickens
Add remaining ingredients and cook 3 minutes longer, whisking constantly.
Sauce will thicken as it sits, you can always add a little bit more plant milk at any time to make it more pourable!
Toast your english muffins and cook your JUST Egg Folded according to their package.
Lightly butter toasted english muffins if desired, then top with tomato, guacamole and tempeh bacon if using, followed by the JUST Egg Folded and a generous amount of the homemade hollandaise sauce!
I topped mine with some smoked paprika - enjoy!
Nutrition Information:
Amount Per Serving:
Calories:

485