We may earn money or products from the companies mentioned in this post.
(Last Updated On: May 1, 2023)
Vegan Apple Cinnamon Pop Tart Recipe
This crispy, buttery vegan pop tart recipe is just perfection.
It's filled with warm apples cooked in cinnamon and brown sugar, surrounded by a freshly homemade crust that is so soft and yummy.
These pop tarts are the best way to enjoy the flavors of fall, complete with a simple cinnamon frosting drizzle!
Homemade Vegan Cinnamon Pop Tart Recipe
Pop tarts are such a classic breakfast, similar to toaster strudels as they are baked to perfection.
These Pop tarts have a softer and more buttery crust than a lot of similar pastries, such as dessert hand pies or tarts, and I think they are so delicious.
There's no better combination to have inside a homemade pop tart! Apples and cinnamon with a tiny sprinkle of brown sugar all wrapped inside a fresh pastry .
It's the best way to start or end the day!
The cinnamon-infused frosting adds that extra spice to the whole pastry, and makes them irresistible!
How to Make Easy Vegan Pop Tarts
Making the Apple, Cinnamon, Brown Sugar Filling
I like to start these yummy pop tarts by first making the apples so they can cool completely.
To begin, peel and cube your apples – you can use any kind you like, but my favorite is always honey crisp!
Add them to a bowl along with the brown sugar, cinnamon, cornstarch and lemon juice and mix well.
Cook this mixture in a pan over medium heat for 5 minutes until they soften and so the cornstarch can begin to thicken the mixture up. You can also add a couple tablespoons of vegan butter to this if you'd like.
Then, set the mixture aside to cool completely, the cornstarch will also continue to thicken it as it sits to help your pop tarts not get soggy.
Preparing the Pop Tart Crust
Now onto the crust!
Mix your flour, cinnamon and salt in a large bowl, and then toss in your chilled, cubed vegan butter.
Cut it into the dry ingredients using a pastry cutter or a fork, until it resembles a sandy texture.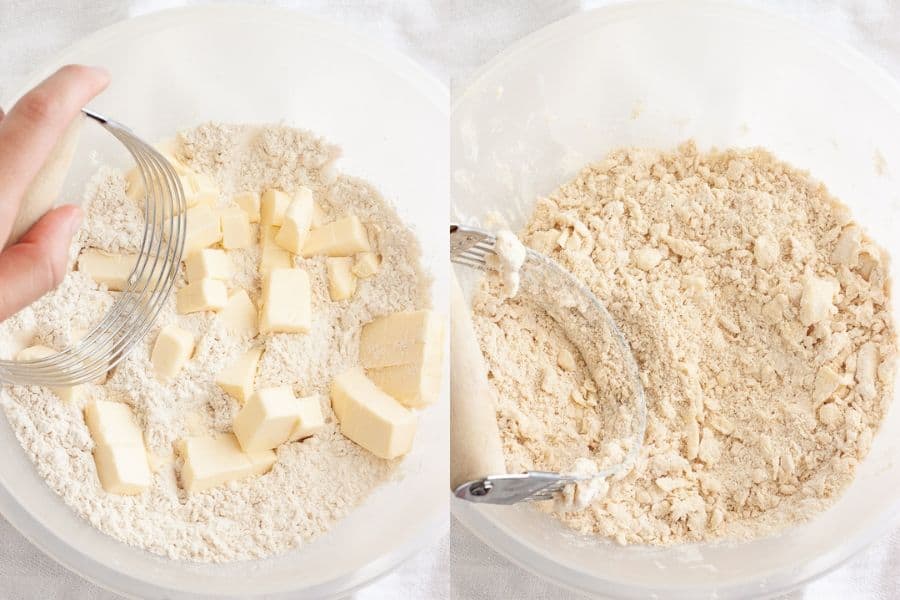 Then, add water 1 tablespoon at a time (and as little as possible overall), until it just begins to form together into a ball of dough.
You will want to place it on a flat, floured surface to mix together with your hands when it's just about to come together.
This helps it form one uniform dough without having to add too much water.
Cover with plastic wrap and place in the fridge for one hour. Afterwards, preheat your oven to 400 degrees.
Then, unwrap it and place back on a flat, floured surface and roll out until it's about 1/4 inch thick.
Cut out 3 by 4 inch rectangles using a ruler to be precise (you will need 2 per pop tart), and place half on a baking sheet covered with parchment paper.
Filling and Baking Your Vegan Pop Tarts
 Add a couple tablespoons of filling, but be careful not to overfill or else it may seep through while baking!
Line the borders with more vegan melted butter, and then poke a few holes in the top layer before placing it on top.
Seal it with your hands and then by pressing down with a fork along the border to further seal them together.
It's okay if the dough cracks a bit, it will still bake just fine, just try to be as gentle as possible!
Add more vegan melted butter on top.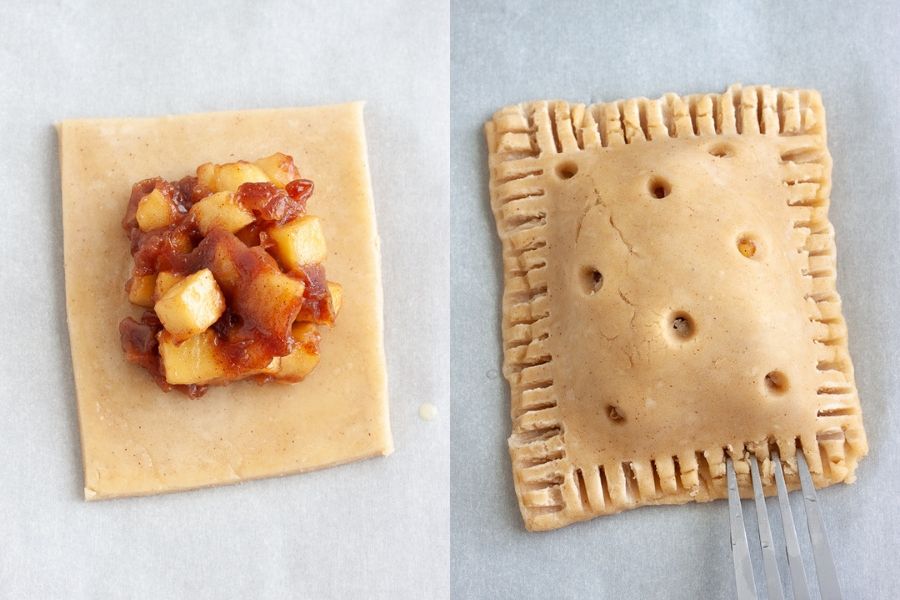 Bake for 19-22 minutes or until the bottoms are a nice golden brown.
I let mine cool for about 10 minutes in the pan, then I transferred them to a cooling rack to completely cool down.
Then, mix together your frosting and drizzle over! I kept the cooling rack they were on inside the baking pan with the parchment paper to catch any run-off.
Yummy Vegan Breakfast or Dessert Poptarts
These pop tarts are a staple treat in my house, and I love making them first thing in the morning to have with some coffee.
It's also helpful to make the dough ahead of time so you can just make the filling in the morning!
I love how versatile pop tarts are too, you can easily fill them with any leftover fruit you might have, or with chocolate.
I'd love to know your favorite pop tart recipes!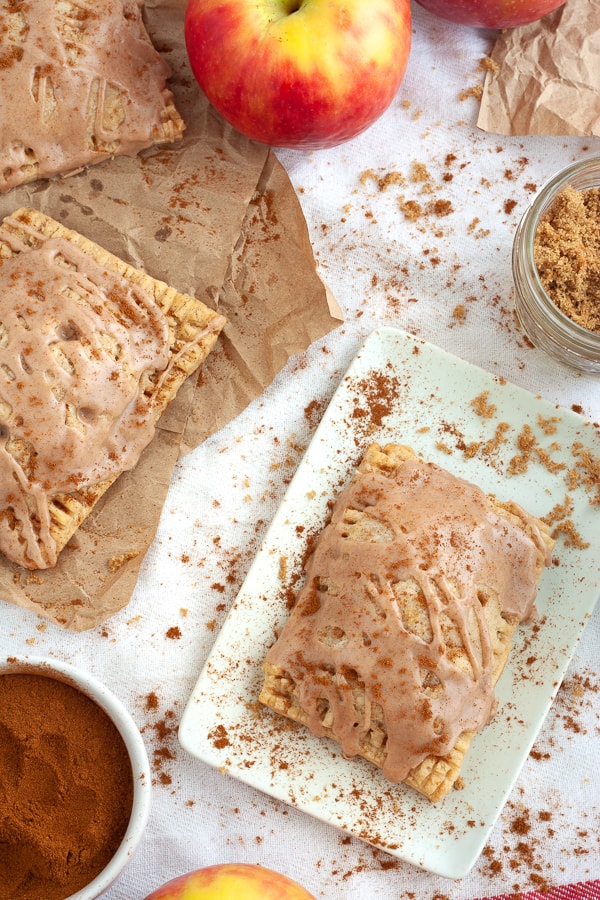 If you wanted to cut back on the sugar in these pop tarts, you could always leave out the frosting or reduce the sugar in the apple mixture.
This recipe is:
Crispy

Buttery

Spiced

Sweet

Comforting

Delicious

Baked

Apple and Cinnamon Flavored
Try these other yummy vegan breakfasts!
Pin this for later!
Vegan Pop Tart Recipe
Total Time:
1 hour
10 minutes
This sweet crispy vegan pop tart recipe has a cinnamon, apple and brown sugar filling, and a simple maple frosting. The perfect buttery pop tart!
Ingredients
For the Dough
3/4 Cup Vegan Butter, chilled and cubed
1/2 Tsp Salt
2-3 Tbsp Water
For the Filling
3 Cups Peeled, Cubed Apples (about 2-2 1/2 apples)
1 Tbsp Lemon Juice
1 Tbsp Cornstarch
1/3 Cup Brown Sugar
1-2 Tbsp Vegan Butter (optional)
For the Frosting
Instructions
Add all filling ingredients, except vegan butter if using, to a large bowl and mix well. Cook in a pan over medium heat for about 5 minutes, stirring continuously. Set aside and allow to cool completely.
In another bowl, begin making your dough by mixing your flour, cinnamon and salt well. Add your chilled, cubed butter and incorporate using a pastry cutter or a fork, squishing the butter into the dry ingredients until it has a sandy texture.
Using a wooden spoon, mix cold water 1 tablespoon at a time until it begins to form together into a ball (3 were fine for me). Roll dough onto a flat, floured surface and finish mixing with your hands until it forms one ball.
Wrap in plastic wrap and allow to chill for 30-60 minutes. Then, preheat your oven to 400 degrees.
Flour a flat surface and place unwrapped dough down, rolling it out until it's about 1/4 inch thick.
Measure out 3 inch by 4 inch rectangles (2 for each poptart) until dough is used up, and place half on a baking sheet covered in parchment paper.
Add a couple tablespoons of the apple filling and cover the sides in a bit of melted vegan butter to help them stick to the other pastry.
Poke a few holes in the top pastry and then place on top of the filled one, pressing down to seal them. Then take a fork and further seal them by pressing down along the sides while creating that pie crust shape.
Add more melted vegan butter to the tops and bake for 19-22 minutes or until the bottoms are golden brown.
Allow to cool then transfer to a wire rack until they are completely cooled. Then mix together frosting and drizzle on top. Enjoy!
Nutrition Information:
Amount Per Serving:
Calories:

327