We may earn money or products from the companies mentioned in this post.
(Last Updated On: May 1, 2023)
Vegan Tofu Breakfast Sandwich Recipe
This tofu breakfast sandwich is my favorite way to start the day, and it's super filling and easy to make!
The best part is, you can make it ahead of time and just put everything together the morning of.
It's packed with protein and veggies, and best when served on top of a toasted everything bagel.
This breakfast sandwich will keep you full and going all day long!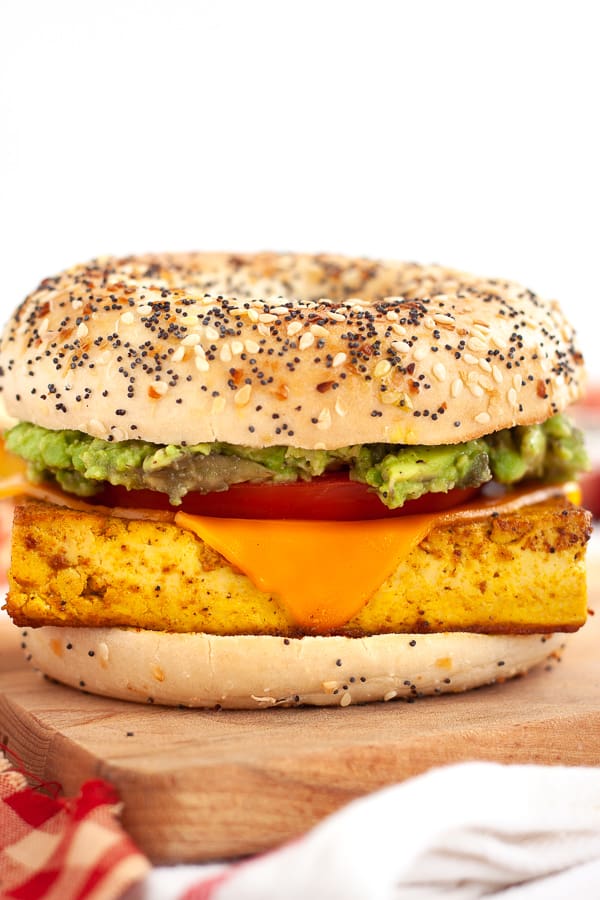 Healthy Tomato, Avocado and Tofu Egg Sandwich
If your mornings are super rushed, include sugar or consist of on-the-go packaged breakfasts, you've got to try this breakfast sandwich.
It's hearty, flavorful, and super easy to meal-prep with.
Egg sandwiches are always a good idea, and now you can have them even if you're vegan or just wanting to try something new!
I used Housefoods Extra Firm tofu for this vegan egg, you need a super firm block that won't fall apart and that will absorb tons of flavor. This brand does just the trick!
How to Make a Vegan Tofu Egg
Making a tofu egg is super easy, and it can be super flavorful if prepared correctly!
To start, you'll want to press your tofu for 10-20 minutes to remove as much moisture as possible. This helps the tofu remain dense and absorb all the marinate flavors.
To do this, use a tofu press or wrap the tofu in a towel and place something somewhat heavy on top. Then, cut the tofu block in half longways for larger patties, or in half again for 4 breakfast sandwiches!
Mix together the soy sauce, oil, liquid smoke, water, garlic powder, onion powder, nutritional yeast, turmeric and pepper. Then, marinate each side of the tofu for 5-8 minutes each (at least, the longer the better).
Place them down on a pan over medium heat and cook each side for 3-5 minutes. When cooking the second side, add a slice of vegan cheddar cheese to the top and cover the pan so it melts!
Assembling Your Tofu Sandwich
The next step is to toast your bagel (or english muffin if you prefer!) and add the tofu patty to the bottom piece. I just love my 4-slice toaster for the jobs beyond regular toast.
Layer on tomato and mashed avocado and then final bagel slice.
That's it! A super filling vegan breakfast to take on the go!
If you're not a fan of vegan cheese from the store, you can always make your own with this cashew cheese sauce recipe, just add it along with the other toppings as there's no need to cook it.
If you prefer, you can always just have an "egg and cheese" sandwich too!
Veggie and Vegan Cheese Breakfast Bagel
This veggie breakfast sandwich is the most satisfying way to start your day, and it's totally customizable too.
Feel free to add some tempeh bacon or any other toppings you like!
d
For example, the size of your tofu patty is completely up to you – for a larger patty just cutting the tofu in half longways after pressing it will do the trick.
For smaller patties or to feed more people, cut the patties in half again so you have 4 little tofu blocks.
Marinate and fry them just the same!
This recipe is:
Quick

Easy

Filling

Healthy

Vegan

High-Protein

Delicious
Check out these other vegan breakfasts!
Pin this for later!
Tofu Breakfast Sandwich
This vegan tofu breakfast sandwich has a marinated and lightly fried tofu egg, tomato, vegan cheese and avocado all between a toasted everything bagel!
Ingredients
1 Block Housefoods Extra-Firm Tofu
2-4 Slices Vegan Cheddar Cheese
1 Tomato
1 Avocado
2 Tbsp Soy Sauce
2 Tbsp Water
2 Tbsp Neutral Oil
1/2 Tsp Garlic Powder
1/2 Tsp Onion Powder
1/2 Tsp Turmeric
1/4 Tsp Pepper
Everything Bagels (2-4)
Instructions
Press tofu for 10-20 minutes with a tofu press or by wrapping the block in a towel and placing something somewhat heavy on top to remove moisture.
Add soy sauce, water, oil, liquid smoke, nutritional yeast, garlic powder, onion powder, turmeric and pepper into a shallow dish. Mix well.
Once tofu is pressed, cut in half for larger tofu slices, or cut in half again for 4 sandwiches with smaller tofu patties.
Add to the shallow dish and marinate for 5-8 minutes on each side (at least, the longer the better).
Place tofu patty on a pan over medium heat and cook for 3-5 minutes on each side. When cooking the second side, add cheese slice to the top and cover to melt.
Toast bagels, slice tomato and mash avocado.
Add tofu and cheese patty to bagel, followed by a tomato slice and some mashed avocado.
Nutrition Information:
Amount Per Serving:
Calories:

452