We may earn money or products from the companies mentioned in this post.
(Last Updated On: April 30, 2023)
Disclosure: This shop has been compensated by Collective Bias, Inc. and its advertiser. All opinions are mine alone. #WindstoneFarmsPB #CollectiveBias
Super Easy Basic Vegan Waffles Recipe
I love these super easy vegan waffles; they're so quick to make and so delicious!
Unless you're in a bigger city, it can be tricky to find waffles at restaurants that are free of dairy and eggs.
And, if you're allergic or eat a vegan diet this can be a huge bummer.
I've made a lot of vegan waffle recipes over the years, but most of them used ingredients that were uncommon in most kitchens.
That's why I created these super easy vegan waffles! They are made from every day ingredients and are deliciously crispy, fluffy and sweet!
Hover over photo to purchase Windstone Farms Portable Packets Creamy Peanut Butter

Healthy Vegetarian Breakfast Waffles
These waffles use a combination of apple cider vinegar, baking powder and baking soda to help them get fluffy, and a chia or flax egg (whichever you have) to help hold them together.
In case you've never used one of those 'eggs', it's simply a tablespoon of ground chia or flax mixed with two tablespoons of water.
After about five to ten minutes it will sort of gelatinize, and this can be a simple egg-replacement in baking.
I prefer using chia eggs when I can though, I find they work just a bit better – both are great though and offer some added Omega-3 fatty acids!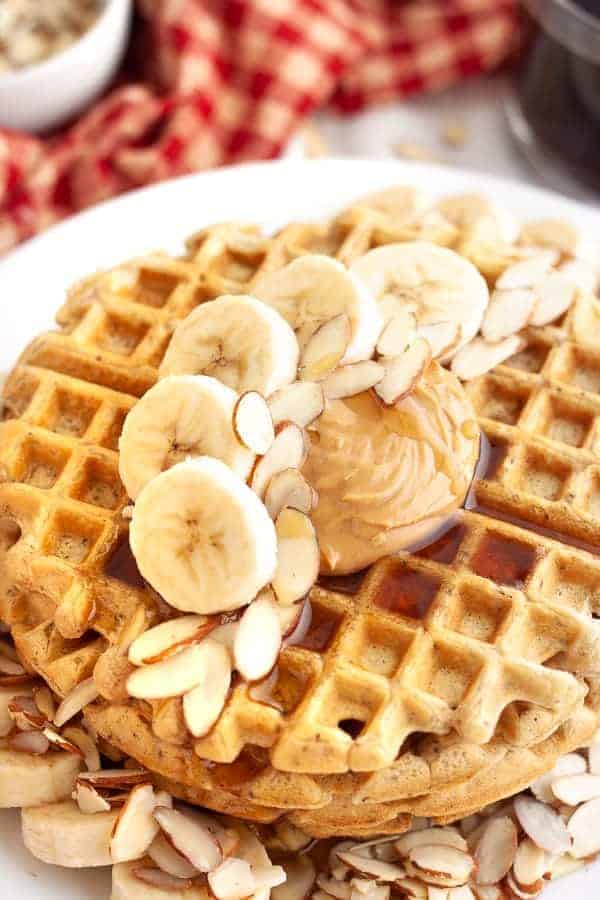 Making Easy Vegan Waffles For Beginners
Making Eggless and Dairy Free Waffle Batter
This waffle batter comes together in just a couple minutes.
To start, turn on your waffle maker, and then in a large bowl combine your flour, baking powder, baking soda, sugar and salt well.
I like to pre-measure all the ingredients before beginning to speed things up.
Then, pour in all your wet ingredients and mix well to combine.
Just mix until everything is smooth, and try to avoid over-mixing!
How To Cook Easy Vegan Waffles
Now that your waffle maker is hot and your batter is ready, use a non-stick spray or some oil and coat the waffle maker well.
Pour in roughly 1/2 cup amounts of batter, quickly spread it out a bit, and then close the waffle maker.
Let this cook until it's nice and golden brown, roughly 2-4 minutes in total.
Carefully remove the waffle and continue cooking the rest of the batter!
Then you're done!
I added a Windstone Farms Creamy Peanut Butter Portable Packet, sliced almonds, banana and plenty of maple syrup to the top.
I love adding nuts and fruit to my waffles to make for a super healthy and simple snack or breakfast.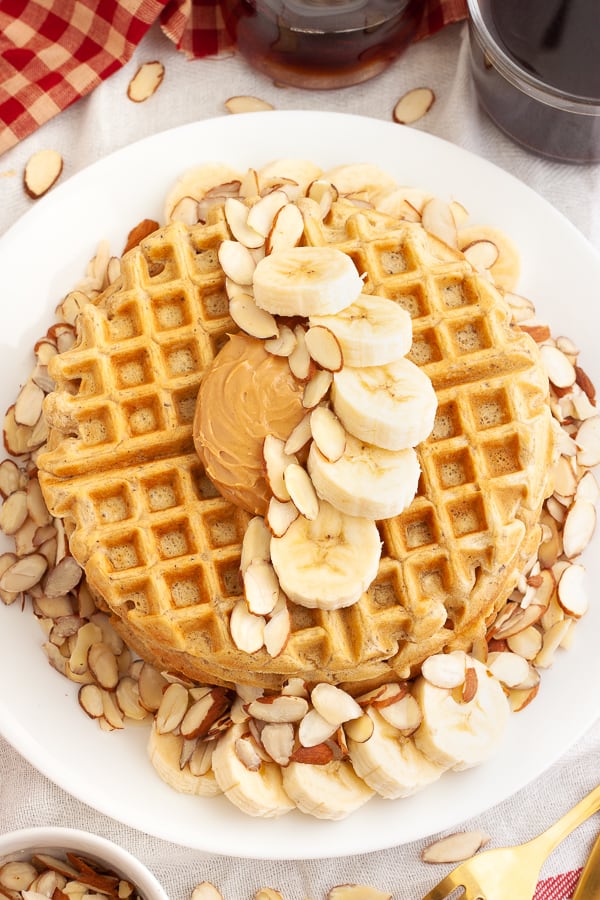 Quick and Easy Vegan Breakfast or Snack
While waffles are one of the best breakfast meals, I love eating them anytime of day!
They're perfect for an after school or work snack, and I've even had them for dinner before.
I loved the addition of peanut butter to the waffles themselves, and I also love adding blueberries or chocolate chips to switch things up depending on what I'm craving that time of day!
I added a Windstone Farms Creamy Peanut Butter Packet to the waffles too – it added that extra yummy flavor and brought these waffles to the next level.
I like using these when I'm short on time because I can just squeeze in the 1.15oz. packet in and not worry about measuring. The peanuts are also freshly roasted, 100% USA grown and harvested,  naturally gluten-free and pack in seven extra grams of protein into these waffles!
Windstone Farms has also been family owned and operated for 35 years and you can get them at Walmart.
This easy breakfast recipe is:
Simple

Delicious

Sweet

Peanut-Buttery

Quick

Eggless

Dairy Free

Healthy
Try these other vegan breakfast recipes!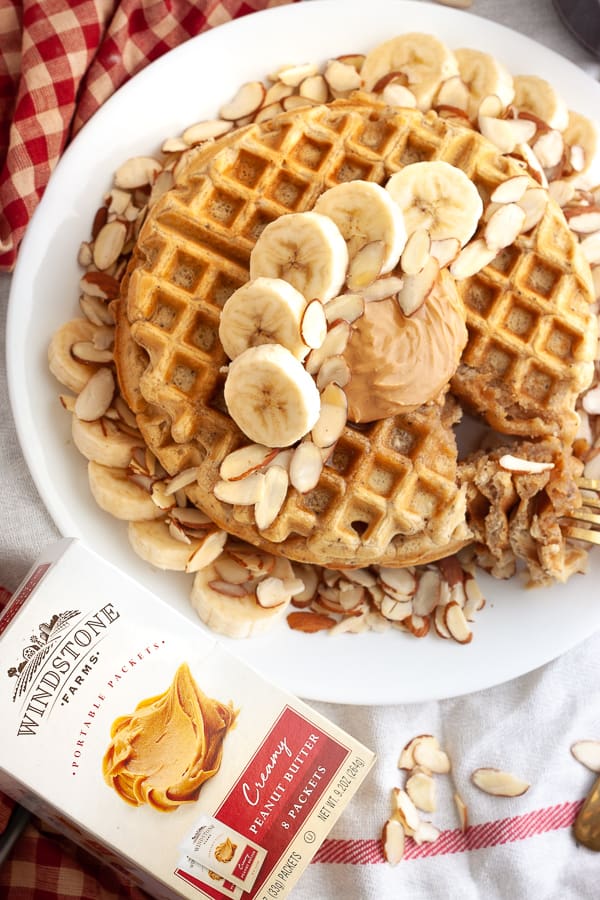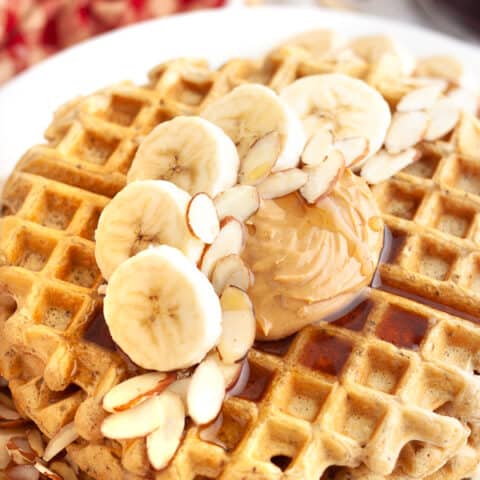 Easy Vegan Waffles
These super easy vegan waffles are packed with vanilla and peanut butter flavor! The perfect quick vegan breakfast or snack recipe!
Ingredients
1 1.15oz. Packet Windstone Farms Peanut Butter (about 2.5 tbsp peanut butter)
1 1/2 Cup Plant Milk (I used almond)
1 Flax Egg*
1 Tbsp Apple Cider Vinegar
1/4 Tsp Baking Soda
Pinch Salt
Instructions
Plug in your waffle maker to begin warming up.
Mix together your flour, sugar, baking powder, baking soda and salt in a large bowl.
Pour in your peanut butter, plant milk, flax egg, apple cider vinegar, vanilla and oil and mix well until everything is combined. Just be careful not to mix more than needed.
Spray your waffle maker with non-stick spray or oil, and pour on 1/2 cup of mixture. Spread it out a bit and close iron.
Cook until nicely browned on both sides, roughly 2-4 minutes, then remove waffle and continue cooking remaining batter.
Serve with maple syrup and toppings of choice.
Notes
*Mix together 1 tablespoon of ground flax seeds with 2 tablespoons of water. Allow to sit for 5-10 minutes until gelatinized and use in place of an egg.