We may earn money or products from the companies mentioned in this post.
(Last Updated On: November 15, 2022)
*This post is sponsored by Bakery on Main, all opinions are mine alone.
Vegan Oatmeal Pancakes Recipe
These tasty vegan oatmeal pancakes are so fluffy, flavorful and easy to make.
Literally ready in under 15 minutes and made in a blender to save time!
These pancakes are made with banana, cinnamon, maple syrup and real oats – all super convenient pantry ingredients for a fuss-free breakfast.
This is my new go-to pancake recipe and it's so delicious when topped with fruit, granola and maple syrup!
WHAT ARE OATMEAL PANCAKES?
Oatmeal pancakes (which have Scottish origin) are made by simply swapping all-purpose flour for oats. The oats are blended into a fine powder and used instead. I love the added nutrients they offer and it makes for a nice slightly denser texture.
WHAT DO OAT PANCAKES TASTE LIKE?
These pancakes taste a lot like cinnamon, maple syrup, vanilla and banana oatmeal, but in pancake form! They have a slightly denser, chewier texture than normal pancakes. They are packed with comforting flavors and get a bit fluffy while cooking – so delicious!
CAN I MAKE THESE GLUTEN-FREE?
Simply use gluten-free oats for this recipe and you're all set!
These pancakes are topped with one of my new favorite granola flavors: Bakery on Main's Maple Vanilla Granola!
It is a gluten-free granola with only 3g net carbs and no artificial sweeteners or sugar alcohols, with delicious flavors of maple, vanilla and almonds!
It's also Certified Gluten-Free, Kosher Parve, Non-GMO Project Verified, GFCO Certified and Keto Certified.
Filled with almonds, sunflower seeds, pecans, coconut, monk fruit extract and more and the perfect crunchy addition to these pancakes!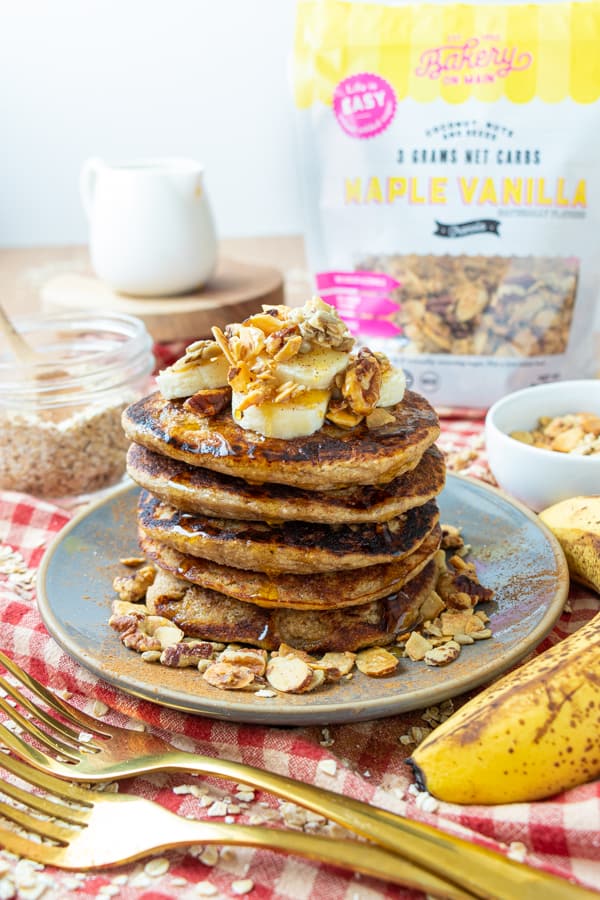 INGREDIENTS
Oats –

Any kind of oats work fine for this recipe.

Banana –

Use a medium banana, if it has a few brown spots on it even better!

Almond Milk –

Any non-dairy milk is fine for this recipe, I love almond, soy and oat.

Vanilla –

To add more flavor to the pancakes.

Maple Syrup –

I love using maple syrup as a sweetener when I can, it also adds a great flavor.

Cinnamon –

You can also add nutmeg and more comforting spices if you'd like.

Baking Powder –

To help them rise a bit and get nice and fluffy.

Salt –

To bring out all the tasty flavors.

Toppings –

A delicious combination of banana slices, crunchy granola and maple syrup.
While I love my Fluffy Vegan Pancakes, Easy Vegan Waffles, Vegan Crepes and Vegan French Toast or Vegan French Toast Casserole recipes (which you should totally try next!), none of them can top this one for how easy they are to make and how quick they are on the table!
How to Make Vegan Banana Oat Pancakes
Blending and Cooking Pancake Batter
This pancake recipe is quick, easy and ready in under 15 minutes!
To make the pancakes, all you do is add all the ingredients to a blender: banana, oats, vanilla, almond milk, maple syrup, cinnamon, baking powder and salt.
Blend until smooth and your batter is done!
Then, heat up a pan over medium heat and lightly grease it (I like to grease very lightly in between each pancake – use a spray, oil or vegan butter).
Add 1/3 cup of pancake batter and cook for 2-3 minutes, or until the edges are slightly bubbling and the bottoms are browned.
Flip and continue cooking for 1-2 minutes, then repeat until batter is gone!
You should have enough batter for 5-6 pancakes.
Serving Banana Oat Pancakes
Serve your banana oat pancakes with your favorite fruit, granola, dairy-free yogurt, peanut butter, chocolate, powdered sugar, whipped cream, jam and more!
I love a simple topping of banana, crunchy granola and a light drizzle of maple syrup, but the possibilities are endless!
STORING
I recommend eating these pancakes immediately after cooking them – but you can store them for a day or two in the fridge and heat them up if needed (in the microwave or on the stove until warmed through). The raw batter can be kept in the fridge for about 24 hours and then cooked.
The Best Fluffy Blender Pancakes Recipe
These easy oatmeal pancakes combine filling and nutrient-dense oats with sweet and fluffy pancakes in the most convenient way!
Not only are these pancakes incredibly easy to make, but they are super budget-friendly and most of the ingredients store in your pantry.
Make these pancakes anytime of day and enjoy experimenting with toppings!
This recipe is:
Easy

Vegan

Fluffy

Flavorful

Fuss-Free

Dairy-Free

Egg-Free

Ready in Minutes
Try these other vegan oat recipes next!
Vegan Peanut Butter Banana Breakfast Cookies
Homemade Vegan Oatmeal Cream Pies
Easy Vegan Chocolate Chip Oatmeal Cookies
Vegan Pumpkin Chocolate Oatmeal Cookies
Pin this for later!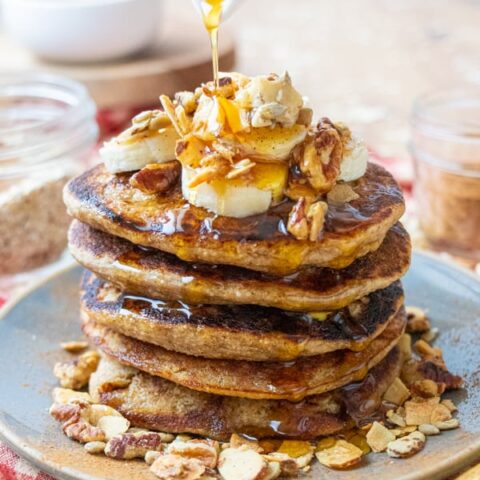 Vegan Oatmeal Pancakes (banana)
This easy blender vegan oatmeal pancakes recipe is so quick and easy to make. The best fluffy banana oat recipe for breakfast!
Ingredients
1 Cup Oats
1 Medium Banana
2/3 Cup Almond Milk
1 Tsp Vanilla
2 Tbsp Maple Syrup
1/2 Tsp Cinnamon
1 1/2 Tsp Baking Powder
1/4 Tsp Salt
Toppings
Banana Slices
Maple Syrup
Instructions
Add all pancake ingredients to a blender. Blend until smooth.
Heat a pan over medium heat, lightly grease.
Add about 1/3 cup of batter to the pan. Cook for 2-3 minutes until sides are slightly bubbly and bottoms are golden. Flip and continue cooking 1-2 minutes until cooked through.
Serve with banana slices, maple syrup and granola!
Nutrition Information:
Yield:

2
Serving Size:

1
Amount Per Serving:
Calories:

520
Total Fat:

11g
Saturated Fat:

2g
Trans Fat:

0g
Unsaturated Fat:

8g
Cholesterol:

0mg
Sodium:

675mg
Carbohydrates:

96g
Fiber:

10g
Sugar:

42g
Protein:

11g