We may earn money or products from the companies mentioned in this post.
(Last Updated On: November 15, 2022)
Best Vegan Chocolate Chip Oatmeal Cookies
These are the softest and chewiest vegan chocolate chip oatmeal cookies ever.
They are also packed with dairy-free chocolate chips!
Oatmeal cookies are so classic and irresistible – I love the texture of the baked oats and the decadence of the sweet chocolate chips together.
I also always add just a hint of cinnamon to the cookies, and maybe a little more during the holidays.
These are so quick and easy to make; they'll be fresh out of the oven in under 30 minutes!
This cookie recipe is fool-proof and perfect every time.
The dough is super easy to work with and comes together very quickly!
The secret to my oatmeal cookies is a dash of cream of tartar, that secret ingredient that makes snickerdoodle cookies have that iconic puffy and crinkled look.
I like the rise and puffiness it gives these cookies and I think it creates the most perfect texture!
Easy Vegan Chocolate Oat Cookies
Oats and chocolate are a great combination, the chewy texture from the oats paired with bittersweet chocolate is such a great combination!
They are especially perfect when they first come out of the oven.
The chocolate is all gooey and melted and the oat, cinnamon and vanilla flavors just fill up your home.
Sometimes I can't resist just having a couple for breakfast, it's a slightly less healthy, yet absolutely delicious way to enjoy your oats!
If you love these cookies, try my Vegan Raspberry Oatmeal Bars or my Peanut Butter Banana Breakfast Cookies next!
To get the perfect chewy texture with an ever-so-slightly crispy outside, I found the sweet spot for baking to be between 11-13 minutes.
Between 11-12 will give you a softer and more chewy cookie, and between 12-13 will give you a slightly more dense one.
Once you see the golden brown edges you'll know they're ready to come out though!
Also keep in mind they will finish cooking after they're out of the oven, so it's okay if they're still slightly soft when you take them out!
How to Make Vegan Oatmeal Cookies
Mixing the Oatmeal Cookie Dough
When you're ready to make these cookies, start by preheating your oven to 350 degrees F.
Then mix your dry ingredients in one bowl, and your sugar and vegan butter in another – then add the flax egg and vanilla to the butter and sugar and mix well.
Slowly incorporate the dry into the wet until fully combined, and then stir in the oats and chocolate chips evenly.
Shaping and Baking Vegan Cookies
Take 2 tablespoon amounts of dough and roll them between the palms of your hands to make a ball.
Place on a baking tray covered in parchment paper 2 inches apart, and ever so slightly press them down just a bit.
Bake for 11-13 minutes or until the edges are golden brown.
Let the cookies cool for 5 minutes on the pan and then transfer to a cooling rack and enjoy once they are cool enough to touch!
Chewy Vegan Chocolate Oat Cookies
These vegan chocolate chip oatmeal cookies are so ridiculously good and simple to make.
I just know you're going to love them as much as I do!
Perfect anytime of year and great with some coffee or a tall glass of plant milk – enjoy!


This recipe is:
Soft

Chewy

Fluffy

Decadent

Delicious

Flavorful

Fool-Proof
Check out these other vegan cookie recipes!
Vegan Chocolate Crinkle Cookies
Vegan Lavender Shortbread Cookies
Pumpkin Oatmeal Chocolate Chip Cookies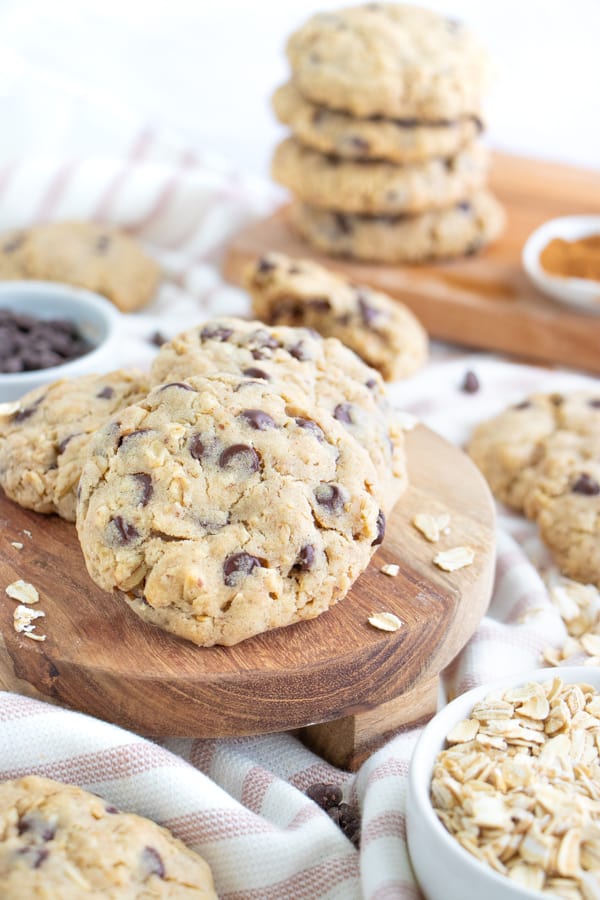 Pin this for later!
Vegan Chocolate Chip Oatmeal Cookies
Soft and chewy vegan chocolate chip oatmeal cookies with a hint of cinnamon. These cookies are so fluffy, irresistible, and ready in no time!
Ingredients
1 Cup All-Purpose Flour
1 1/4 Cup Whole Oats
1 1/4 Cup Vegan Chocolate Chips
1 Tsp Vanilla Extract
1/3 Cup Cane Sugar
1/2 Cup Brown Sugar
1/2 Cup Vegan Butter (room temp)
1 Flax Egg*
1/2 Tsp Cinnamon
1/2 Tsp Cream of Tartar
1/2 Tsp Baking Soda
1/4 Tsp Salt
Instructions
Preheat oven to 350 degrees F.
Add flour, baking soda, cream of tartar, cinnamon and salt to a bowl and mix well.
In a separate bowl, mix together the cane sugar, brown sugar and room-temperature vegan butter until creamy. Add flax egg and vanilla and mix well.
Slowly incorporate dry ingredients into wet ingredients and mix well.
Pour in oats and chocolate chips and mix.
Roll 2 tbsp amounts of dough between your hands and place 2 inches apart on a baking tray covered in parchment paper, and ever so slightly press them down just a bit.
Bake for 11-13 minutes or until the edges are golden brown. Enjoy!
Notes
*1 tbsp ground flax seed mixed with 3 tbsp water and left to sit for 5 minutes.
Nutrition Information:
Amount Per Serving:
Calories:

157