We may earn money or products from the companies mentioned in this post.
(Last Updated On: April 30, 2023)
Homemade Vegan Crepe Recipe
Vegan crepes are the best breakfast option when you want something light and sweet, but not as filling as pancakes or waffles.
They're super quick to make and you don't need any fancy ingredients to get started – and you can top them with whatever fruit or other sweet treats you have leftover in your kitchen!
Enjoy these easy crepes first thing in the morning with some coffee, or as a late night snack with lots of vegan chocolate!
Light and Fluffy Vegan Breakfast Crepes
Crepes are meant to be soft, yet sturdy enough to be able to roll them up or add a filling inside (vanilla or berry coconut milk yogurt would be great as a filling for these crepes!).
That being said, I still like mine a little bit fluffy, so I added some baking powder.
You can still roll them and use them like normal crepes, they just have a bit more density to them!
Making Easy Sweet Vegan Crepes
To make these delicious crepes, add your dry ingredients (flour, baking powder, coconut sugar and salt) to a large bowl and stir them together until combined.
Pour in your plant milk of choice and the vanilla extract, and whisk until there are no clumps. Allow batter to sit for about 5 minutes before cooking to help them be fluffier.
Turn your burner to medium-low/medium heat and place 1/4-1/3 cup amounts of batter onto an oiled or non-stick skillet. Turn the skillet in a big circle so the batter distributes into a big circle and so your crepes are not too thick.
Cook until there are many bubbles popping on the top of the crepe and the edges begin to look done. About 30-90 seconds, then flip and continue cooking for about 30 seconds or until done.
Repeat with the remaining batter and add toppings of choice!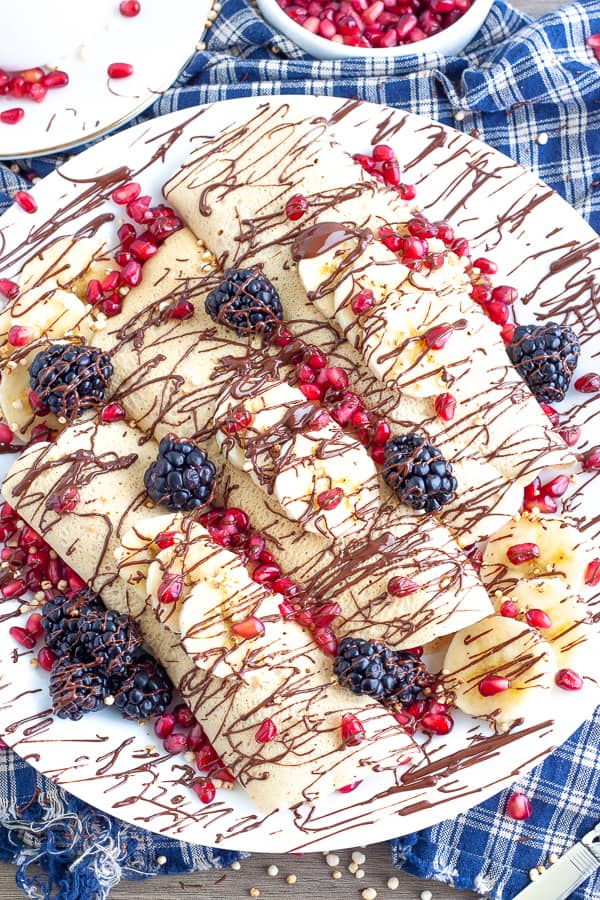 Chocolate drizzle, berries, banana and pomegranate seeds are the best toppings for these delicious crepes! I also added some quinoa pops for some more texture.
You could also add some maple syrup for some more sweetness, I usually add a quick drizzle to the top!
Healthy, easy, quick and simple, you'll love these light and fluffy vegan crepes!

This recipe is:
Easy

Cheap

Delicious

Sweet

Quick

Egg Free

Dairy Free

Homemade
If you're looking for more yummy vegan breakfast ideas, try my:
Pin this for later!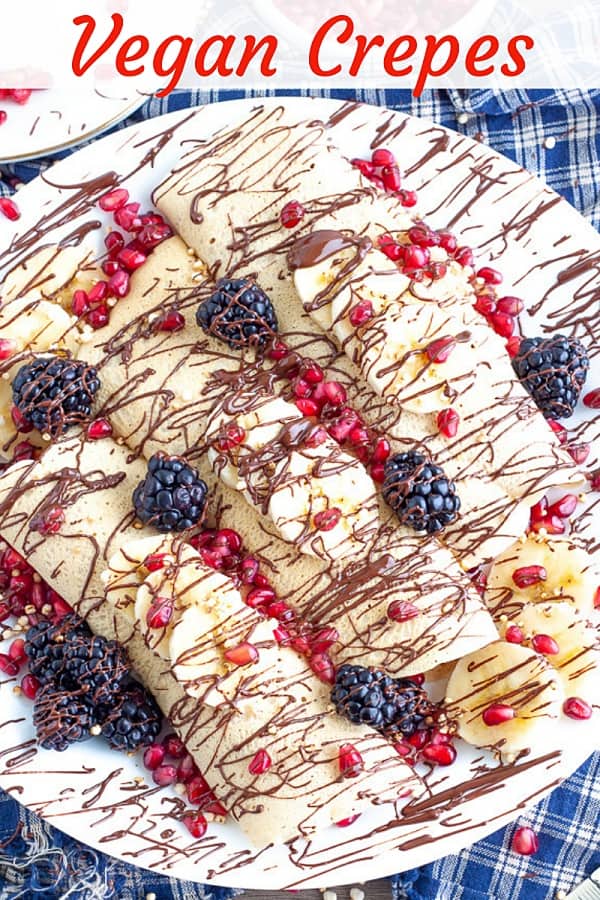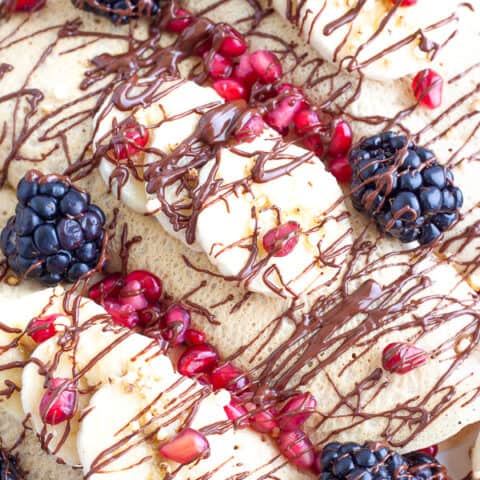 Vegan Crepes
This easy vegan crepe recipe is the best egg free and dairy free breakfast option! Sweet, vanilla crepes made with just a few simple ingredients!
Ingredients
Instructions
Add flour, baking powder, coconut sugar and salt to a large bowl and mix well.
Pour in plant milk of choice (I used oat) and vanilla and mix well. Allow batter to sit for 5 minutes.
Heat a skilled to medium-low/medium heat and add 1/4-1/3 cup amounts of batter. Turn skill so batter spreads out into a large circle.
Cook until the batter has many popped bubbles on top, about 30 seconds - a minute. Flip and continue cooking for another 30 seconds or so. Repeat with remaining batter.
Serve with toppings of choice!
Nutrition Information:
Serving Size:

3 Crepes
Amount Per Serving:
Calories:

214