We may earn money or products from the companies mentioned in this post.
(Last Updated On: August 16, 2023)
This shop has been compensated by Collective Bias, Inc. and its advertiser. All opinions are mine alone. #ChooseMazola #CollectiveBias
Easy Baked Vegan Empanada Recipe
This vegan empanada recipe is so simple to make and is full of flavor!

The empanadas are baked instead of fried and filled with tempeh, potato, peppers and spices.

These empanadas are so fun and easy to make, and they taste absolutely delicious!

This is not an authentic recipe, but simply my take on the delicious meal!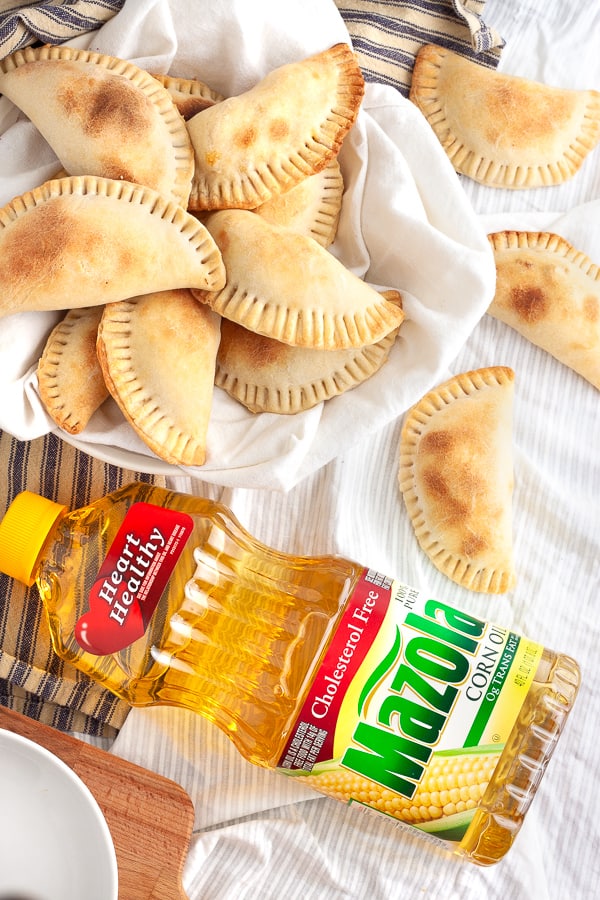 INGREDIENTS:
Empanada Dough – A simple dough made of flour, vegan butter, salt and water!
Oil – Any neutral tasting oil like olive or vegetable.
Onion & Garlic – The best base for these empanadas.
Pepper – Feel free to use any veggies you have on hand.
Tempeh – You can also use tofu or veggie crumbles.
Potato – I loved the addition of potato, you can also use sweet potato.
Slices/Herbs – I use smoked paprika, thyme and chili powder.
Salt/Pepper – To taste.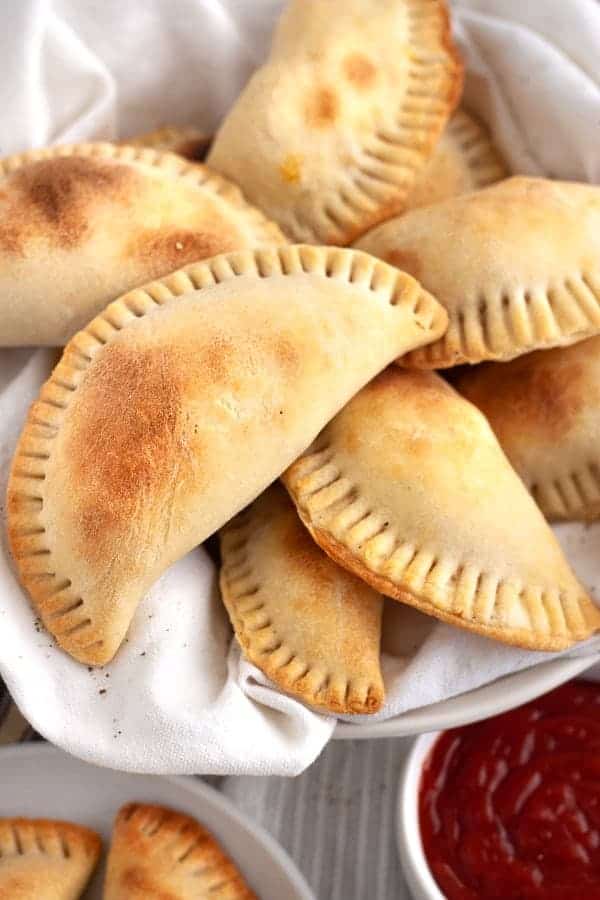 Best Vegetarian Empanada Filling
These vegetarian empanadas are basically the meat free version of chorizo empanadas.

They use basically all the same ingredients, except sub out the chorizo with crumbled tempeh, which is a cholesterol-free, high protein and high fiber soybean product.

It's also super cheap and delicious!

You won't miss the meat with these empanadas, and they are perfect as an appetizer or a whole meal.

I love serving these with simple comforting sides like Vegan Mac and Cheese or Vegan Potato Salad.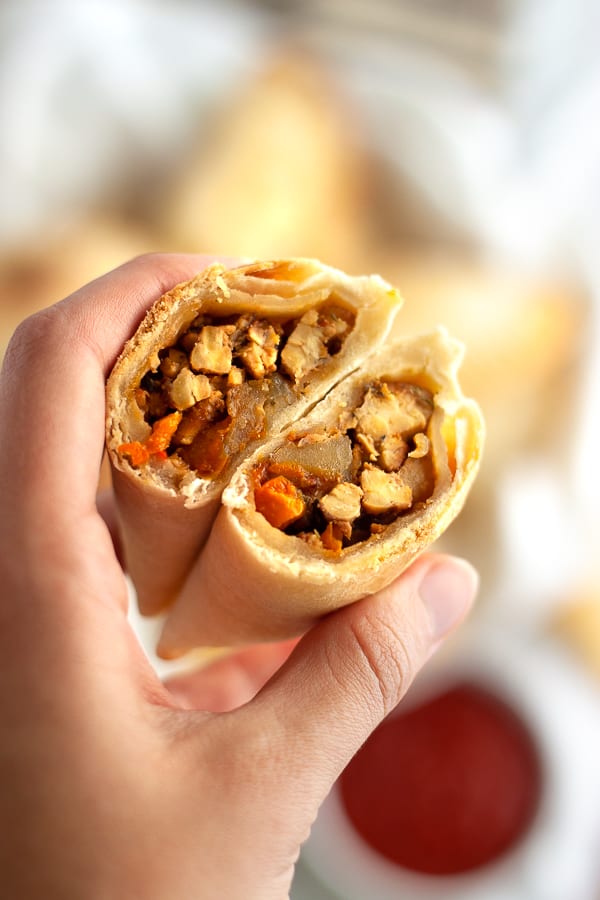 The vegan empanada dough recipe has just 4 simple ingredients and is very easy to work with, it's also gets nice and crispy in the oven.

You'll love this simple recipe and how fun they are to put together – you can even make the dough the night before and quickly fill and bake in the morning!

You can also fill these empanadas with anything customizations you'd like, try black beans, spinach, or even using an air fryer!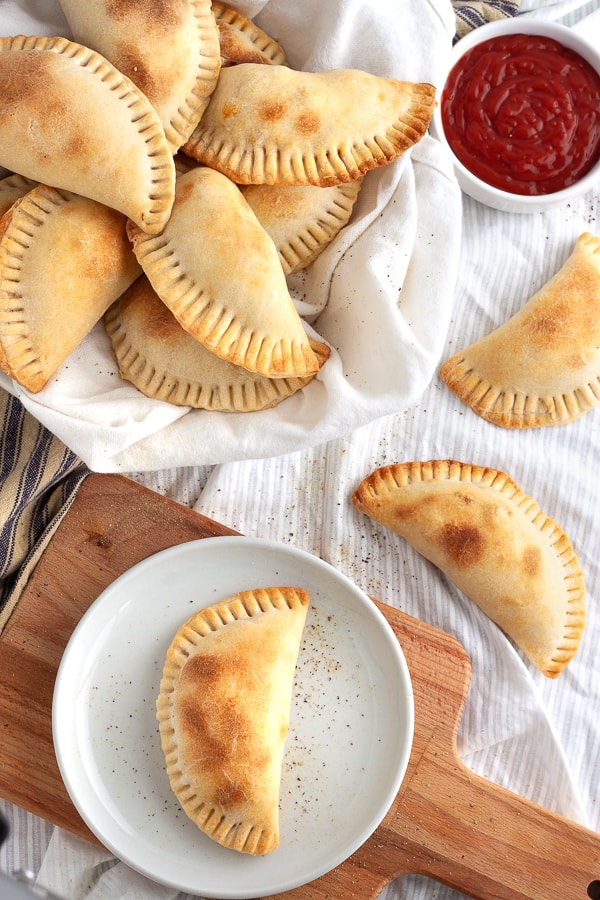 How to Make Vegan Empanadas
Making the Empanada Dough
While making anything from scratch can seem daunting, this recipe comes together in no time and you'll be amazed at how simple it is!

To make your empanada dough, simply mix together your flour and salt, and then cut in your cubed and chilled vegan butter with a pastry cutter or a fork until it becomes a bit clumpy and looks like sand.

Add in as little water as possible, starting with 1/2 cup and adding more if needed, mixing the dough until it forms a ball.

You may want to transfer it to a flat floured surface to knead it a bit – this will help it stick together more.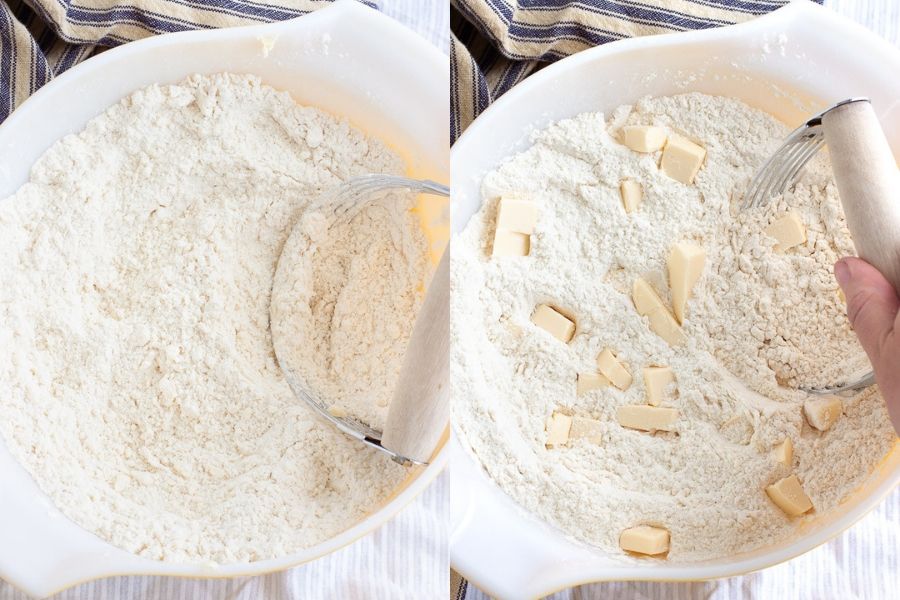 Let it rest in the fridge while you make your filling, then when ready place it on a flat floured surface and roll it out until it's very thin but still sturdy enough to work with.

Cut roughly 4 inch circles and place them on a baking sheet covered in parchment paper.

Then, preheat your oven to 350 degrees.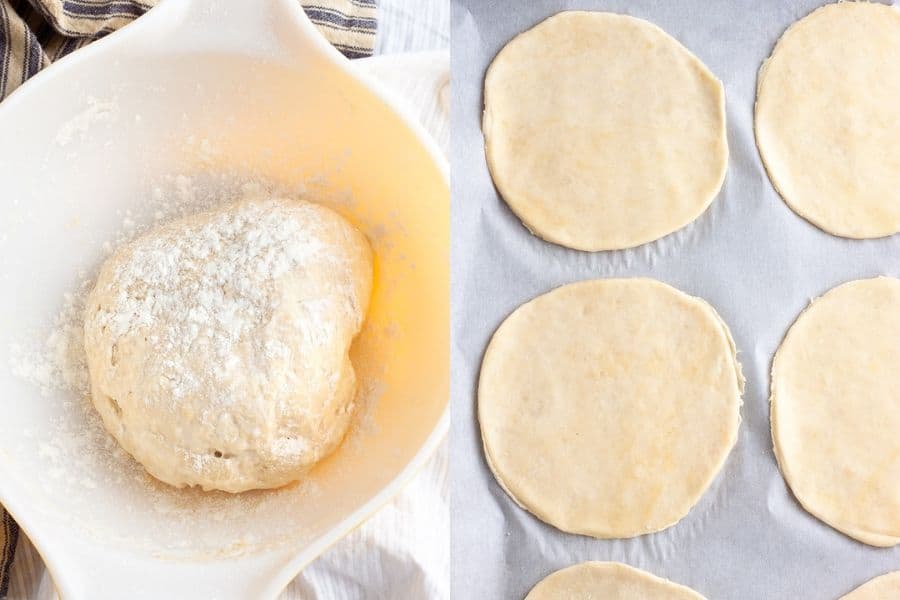 Filling the Empanadas
Add a bit of oil to a large pan over medium heat, and add your chopped tempeh, onion, minced garlic and dried thyme.

Cook for about 5-8 minutes, or until it's fragrant and the onions are translucent.

Now stir in your chopped pepper and cubed potato, as well as all the spices, and continue cooking until the potato and pepper are soft, about 10-15 minutes.

(At this time you would let your filling cool a bit while you roll out and cut your dough into circles)

Add about 2 tablespoons or so to each empanada dough circle, wet the edges with a bit of water or oil and then fold them over, squishing the edges together.

Then use a fork to fully seal them.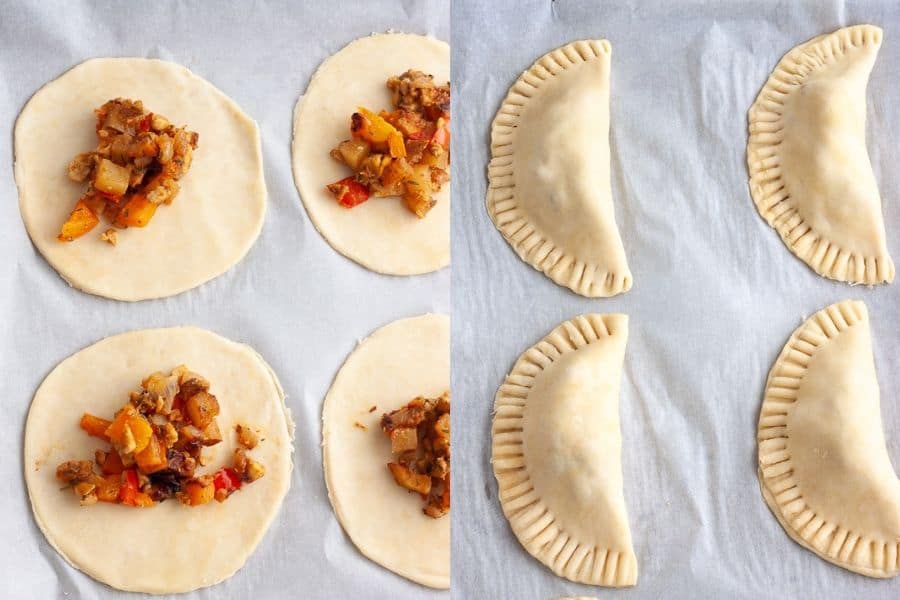 Baking the Empanadas
Lightly brush the top of the vegan empanadas with more oil to help them brown and give them a bit more moisture since we are not frying them.

Bake for 15-20 minutes, turning the oven to broil for the last couple seconds so they develop a nice brown color.

Once you turn the oven to broil, you will want to watch them constantly because they can burn very quickly, in a matter of seconds!
Then you're done!

Perfectly crispy meatless empanadas that are flavorful, delicious and so savory.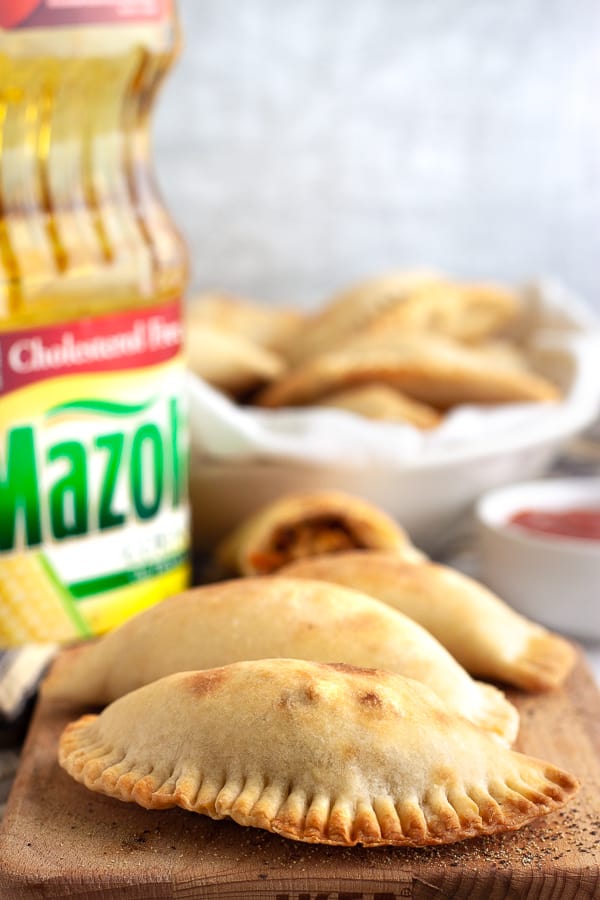 HOW TO STORE VEGAN EMPANADAS?
They can be stored in an airtight container in the fridge for 3 or 4 days, but they are best enjoyed fresh for best taste and texture. You can make the filling a day or two ahead of time too.
DO I HAVE TO MAKE THE DOUGH MYSELF?
You certainly don't – a simple hack I love using when I'm short on time is to simply use store-bought puff pastry! Just be sure to let it thaw before using and follow the baking instructions on the package you purchase.
WHAT ARE SOME GOOD TOPPINGS FOR THESE EMPANADAS?
Try these vegetarian empanadas with some dairy-free cheese, dairy-free sour cream, avocado or salsa.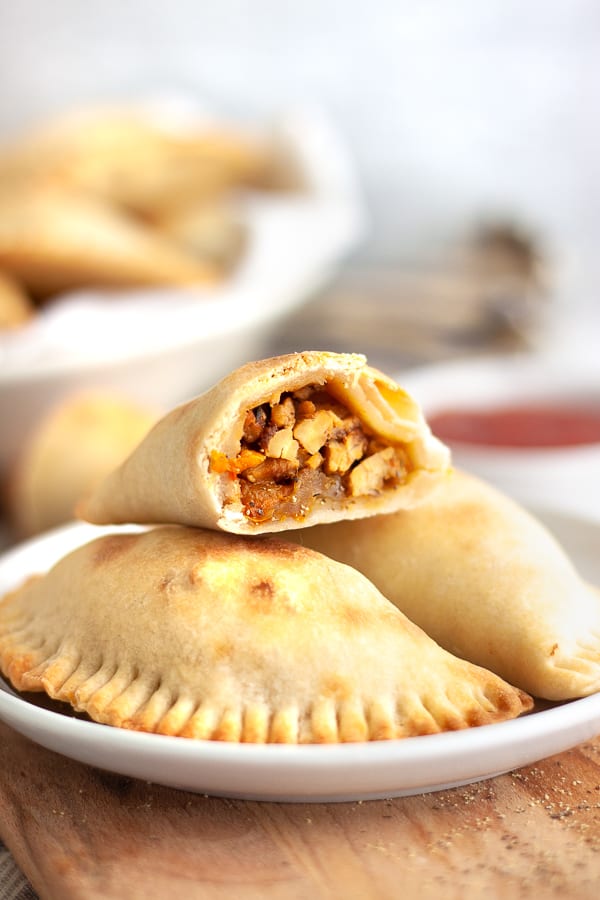 Meatless Empanadas Made from Scratch
Empanadas are just as yummy baked as they are fried, the taste and texture are still amazing.

You can easily get that savory flavor with a warm filling made from veggies and spices like smoked paprika, cumin and thyme.

You can serve them with anything you'd like!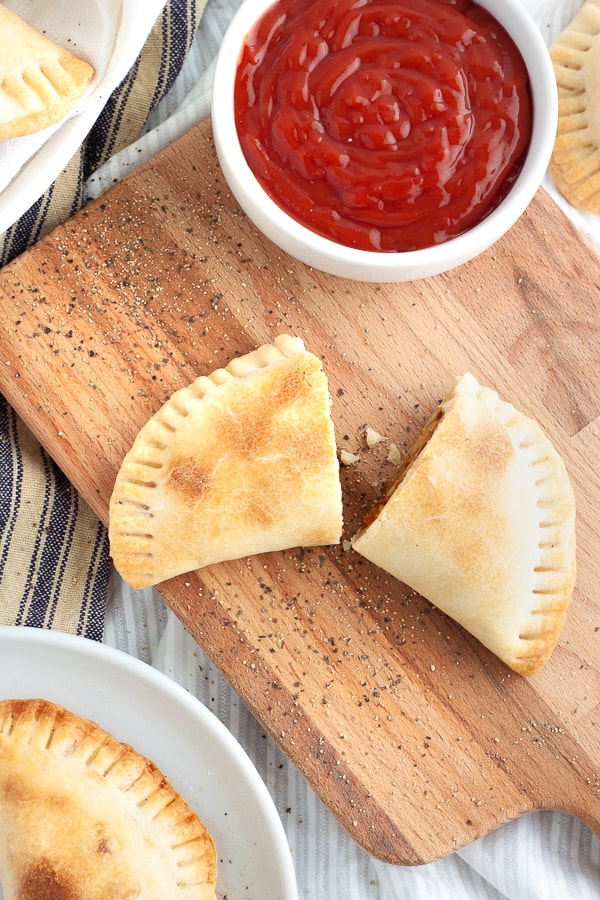 This recipe is:
Simple

Savory

Homemade

Delicious

Flavorful

Quick
Try these other tasty vegan meals!
Cauliflower Tacos with Cilantro Lime Dressing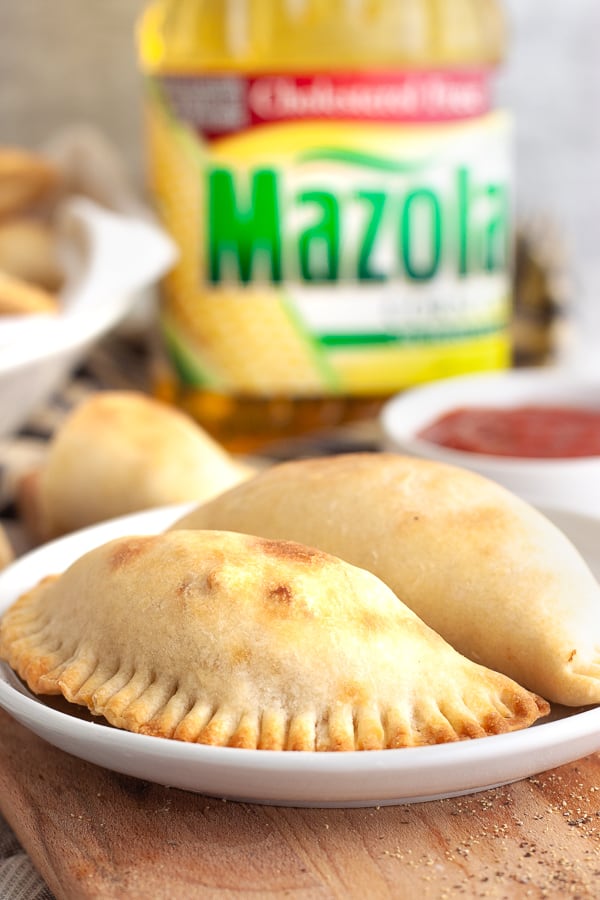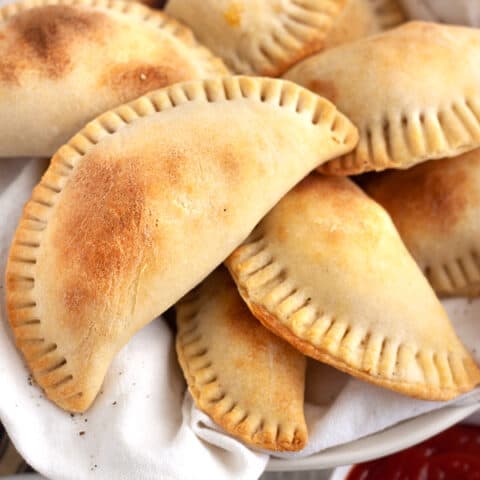 Vegan Empanada Recipe
Yield:
About 12 Empanadas
The best vegan empanada recipe made with a homemade dough and filled with tempeh, onion, potatoes, peppers and spices!
Ingredients
For the Dough:
3 Cups Flour
1/2 Cup Vegan Butter (chilled and cubed)
1 Tsp Salt
1/2-3/4 Cup Water
For the Filling:
1/4 Cup Oil
1/2 Onion
1 Pepper
4 oz. Tempeh
1 Potato
2 Cloves Garlic
1 Tsp Smoked Paprika
2 Tsp Dried Thyme
1/2 Tsp Chili Powder
1 Tsp Salt
1/4 Tsp Pepper
Instructions
Add flour and salt to a large bowl and mix well, add chilled and cubed vegan butter and cut it into the flour with a pastry cutter or a fork until the texture is a bit sandy.
Add water, starting with 1/2 cup and adding as little as possible to form it into a ball of dough.
Let it rest in the fridge while you prepare the filling.
In a large pan over medium heat, add 2 tablespoons of oil and cook the chopped tempeh, onion, minced garlic and dried thyme for 5-8 minutes or until fragrant and translucent.
Add chopped pepper, diced potato, and spices and cook until pepper and potato are soft.
Remove from heat and allow to cool a bit while you prepare the empanada dough.
Preheat oven to 350 degrees and lay your dough down on a floured flat surface. Cut the dough in half and roll out until it's thin but still sturdy, cut roughly 4 inch circles and place on a baking tray covered with parchment paper.
Repeat with remaining dough. Scoop roughly 2 tablespoon amounts of filling into the center of each circle, lightly wet all edges with water or oil and squeeze together. Use a fork to seal them as well.
Lightly brush all empanadas with 2-4 tablespoons oil and bake for 15-20 minutes - broil for the last few seconds or so until it browns nicely.
Serve with sauce of choice!
Recommended Products
As an Amazon Associate and member of other affiliate programs, I earn from qualifying purchases.
Nutrition Information:
Yield:

6
Serving Size:

2 Empanadas
Amount Per Serving:
Calories:

518
Total Fat:

18g
Saturated Fat:

3g
Trans Fat:

1g
Unsaturated Fat:

14g
Sodium:

713mg
Carbohydrates:

47g
Fiber:

3g
Sugar:

1g
Protein:

11g