We may earn money or products from the companies mentioned in this post.
(Last Updated On: November 29, 2021)
Easy Vegan Tortilla Soup Recipe
This delicious vegan tortilla soup recipe has such a tasty, savory flavor, and is so easy to make!
The broth is incredibly flavorful and filled with spices, and is the base for a hearty and filling plant based meal.
This is a southwest vegan soup with simple, irresistible flavors and the best ever toppings.
I've tried tons of different versions or tortilla soup over the years, and this recipe is my take on the delicious meal, with a couple vegan twists to make it plant based – it's not an authentic recipe, but simply my take on the delicious recipe!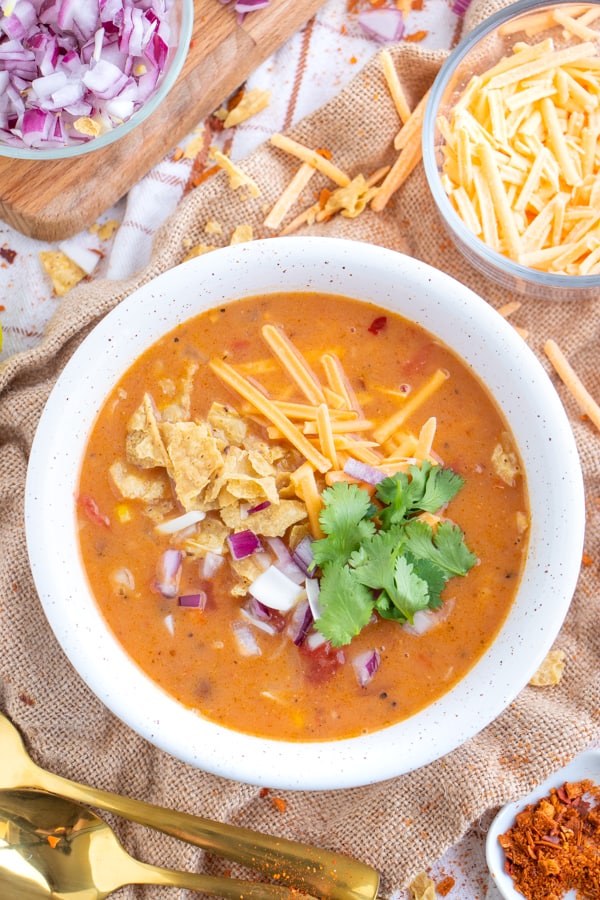 This vegetarian Mexican soup is inspired by all sorts of wonderful flavors like chili, cumin, paprika, garlic and onion.
It has the perfect balance of fresh lime and delicious spices, while also offering tons of texture from crisp tortilla chips to soft cooked beans.
It also has some tang from shredded vegan cheddar as well as a crunch from a sprinkle of raw red onion on top.
Southwest Vegetarian Mexican Soup
This recipe for vegetarian tortilla soup is ready in under forty minutes and I love making it for meal prepping.
You can easily pack the soup and toppings separately and assemble them at your destination.
The vegan tortilla soup recipe is also just great for entertaining, a cool weeknight or anytime you need something hearty, comforting and delicious.
Some alternative toppings for this soup would be sliced avocado vegan sour cream or any other shredded vegan cheese you'd like!
You can also try your hand at making your own homemade tortilla strips, or simply use store bought!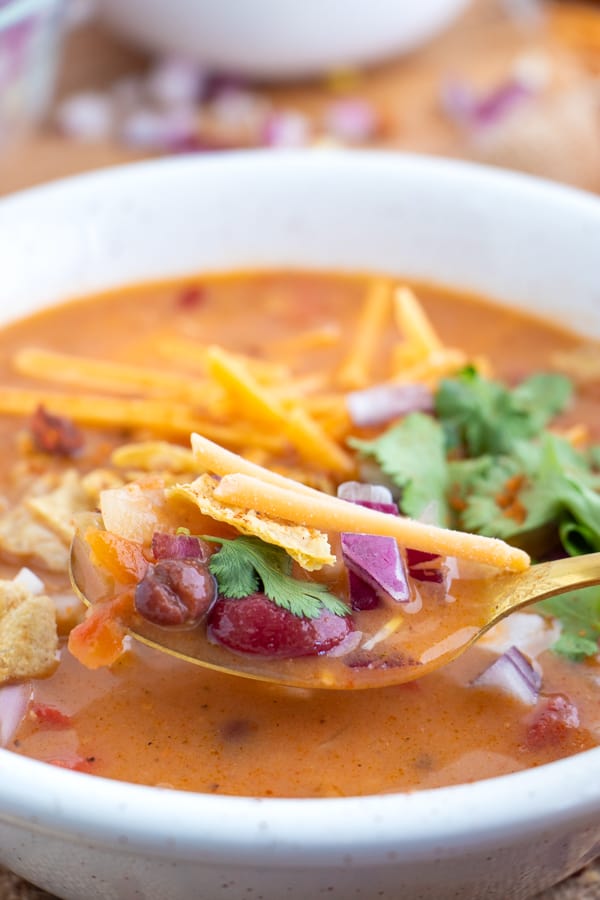 Ingredients:
Olive Oil –

Any neutral oil without a strong flavor will work.

Vegetable Broth –

I always prefer low sodium to add salt to taste.

Coconut Milk –

Be sure to use canned full-fat coconut milk!

Onion & Garlic –

The base to any good soup!

Beans –

I used both kidney and black beans.

Corn –

I usually just use frozen corn, but canned is fine too.

Tomatoes –

If you can find it, canned diced fire-roasted tomatoes adds a ton of flavor!

Flour –

Just a sprinkle to ever so slightly thicken the soup, making it even heartier.

Spices –

Taco seasoning is the easiest way to flavor this soup, but if you don't have that you can use a combination of chili, cumin, smoked paprika, garlic and onion.

Jackfruit (optional) –

You can use this as a chicken alternative, just be sure whatever type you use is cooked thoroughly to remove the sweet flavor of the fruit.

Jalapenos (optional) –

Add as desired to the onions!

Salt/Pepper –

T

o taste.

Toppings –

The most important part: I used crumbled tortilla chips, dairy-free cheddar, cilantro and raw red onion.
How to Make Vegan Mexican Tortilla Soup
Making the Southwestern Soup Base
To make this simple vegan southwest soup, start by placing a large pot over medium heat.
To this, add the oil and diced onion, and cook for three to four minutes, then add in the garlic for another minute or two.
Now add the flour, and while stirring constantly, cook for two minutes – this is important to remove that raw flour taste. You can skip this if you'd like, but I love the texture it gives the soup.
Finally add in the vegetable broth, diced tomatoes with their juices, spices and beans, and let this gently simmer for 20-25 minutes.
After it's done simmering, add in the coconut milk, corn and fresh lime juice to taste, you can also add the cooked jackfruit now if using.
Cook for a final three to five minutes and it's done!
Serving Vegan Tortilla Soup
You can top this soup with anything you'd like, but I think a combination of vegan cheddar, raw red onion, fresh lime juice, fresh cilantro and crumbled tortilla chips is perfect!
The toppings are really what make this soup, so be sure to add them generously!
Best Recipe for Vegetarian Tortilla Soup
This southwest vegetarian soup is perfect for vegans and omnivores alike – it has so much flavor they won't even miss the meat.
Like I mention in the recipe, shredded and cooked jackfruit is a great way to substitute chicken if you'd like, or simply use vegan chicken strips or any sort of protein you'd like.
I kept mine simple with just having beans as the base, but I also love to add in some peppers or other vegetables from time to time, feel free to experiment with this one!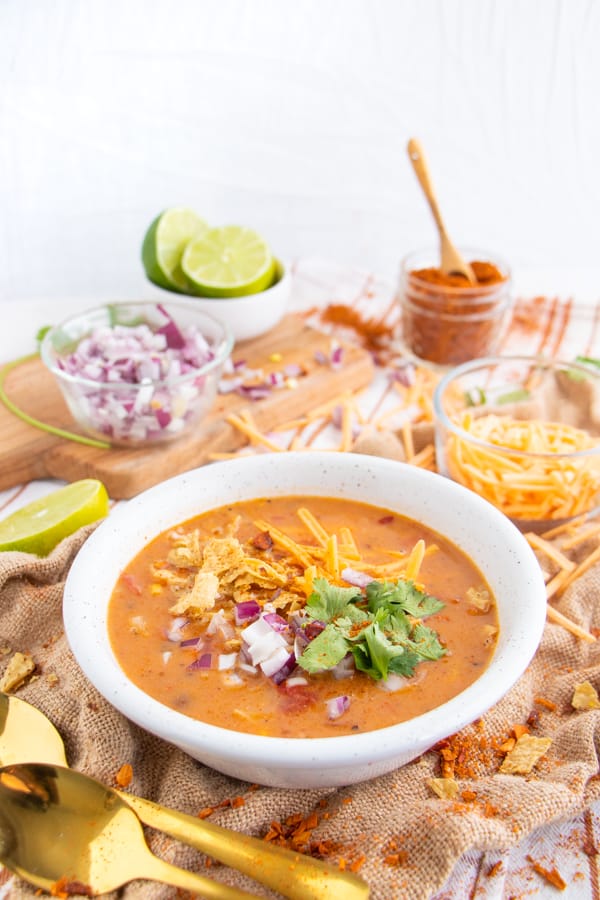 You can store this soup in an airtight container in the fridge for up to 3-4 days.
This recipe is:
Easy

Delicious

Super Flavorful

Easy to Make

Vegan

Vegetarian

Budget-Friendly

Full of Texture
Check out these other delicious vegan soup recipes:
Vegan Sweet Potato Corn Chowder
Creamy Vegan Butternut Squash Soup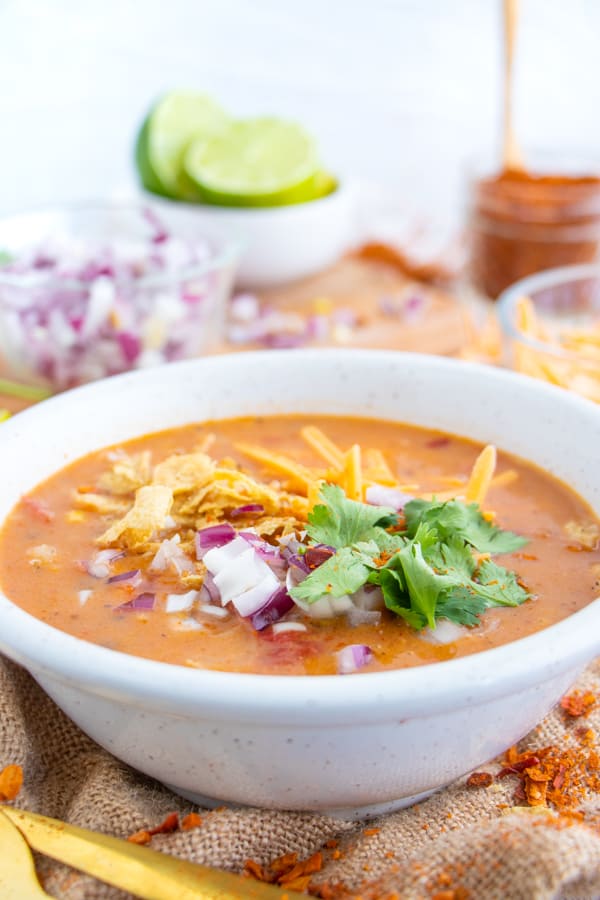 Pin this for later!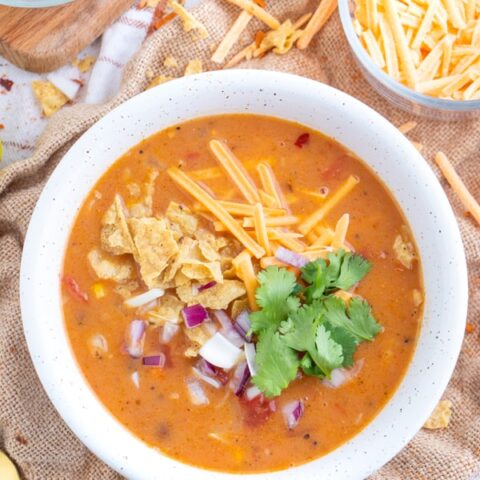 Vegan Tortilla Soup
This delicious vegan tortilla soup is so flavorful and easy to make. The best vegetarian southwest Mexican soup recipe ever!
Ingredients
2 Tbsp Olive Oil
4 Cups Vegetable Broth, low sodium
1 Can Full-Fat Coconut Milk
2 Cups Corn
1 Onion, diced
3 Garlic Cloves, minced
1 15 oz. Can Black Beans
1 15 oz. Can Kidney Beans
30 oz. Can Diced Fire-Roasted Tomatoes
2-2 1/2 Tbsp Taco Seasoning*
2 Tbsp All-Purpose Flour
Salt/Pepper to taste
2 Cups Cooked Jackfruit (optional)**
Fresh Lime Juice, to taste
Toppings
Vegan Cheddar Shreds
Fresh Cilantro
Crumbled Tortilla Chips
Red Onion, diced
Instructions
To a large pot over medium heat, add the oil and diced onion and cook for 3-4 minutes. Then add the garlic and cook another minute or two until very fragrant.
Add the flour and cook for two minutes, stirring constantly.
Add the vegetable broth, diced tomatoes, spices and beans and gently simmer for 20-25 minutes.
Add the cooked jackfruit if using, coconut milk, corn and fresh lime juice to taste. Cook for another 3-5 minutes and it's ready.
Serve with toppings to taste and enjoy!
Notes
*If you don't have taco seasoning, you can use a mixture of 1 tbsp chili powder, 2 tsp cumin powder, 1 tsp smoked paprika, 1/2 tsp garlic powder and 1/2 tsp onion powder.
**This is a great chicken alternative for this soup, just be sure to cook the jackfruit until it's sweet flavor is gone. Cooking time will depend on whether you use fresh or prepared.
Nutrition Information:
Yield:

6
Serving Size:

1
Amount Per Serving:
Calories:

524
Total Fat:

23g
Saturated Fat:

14g
Trans Fat:

0g
Unsaturated Fat:

6g
Cholesterol:

5mg
Sodium:

698mg
Carbohydrates:

69g
Fiber:

15g
Sugar:

22g
Protein:

18g