We may earn money or products from the companies mentioned in this post.
(Last Updated On: October 3, 2022)
This shop has been compensated by Collective Bias, Inc. and its advertiser. All opinions are mine alone. #MazolaHeartHealth #CollectiveBias
Easy Vegan Tamales Recipe with Mushrooms
This homemade vegan tamales recipe is simple to make, budget-friendly and so delicious.
Filled with a simple mushroom, vegan cheese, onion and garlic filling and a simple masa from scratch.
Making tamales might require a few extra steps to make, but the result is so worth it.
Not only does this recipe make a TON of tamales, but all the ingredients are cheap to buy and so tasty.
This is not an authentic recipe, but simply my take on the delicious meal!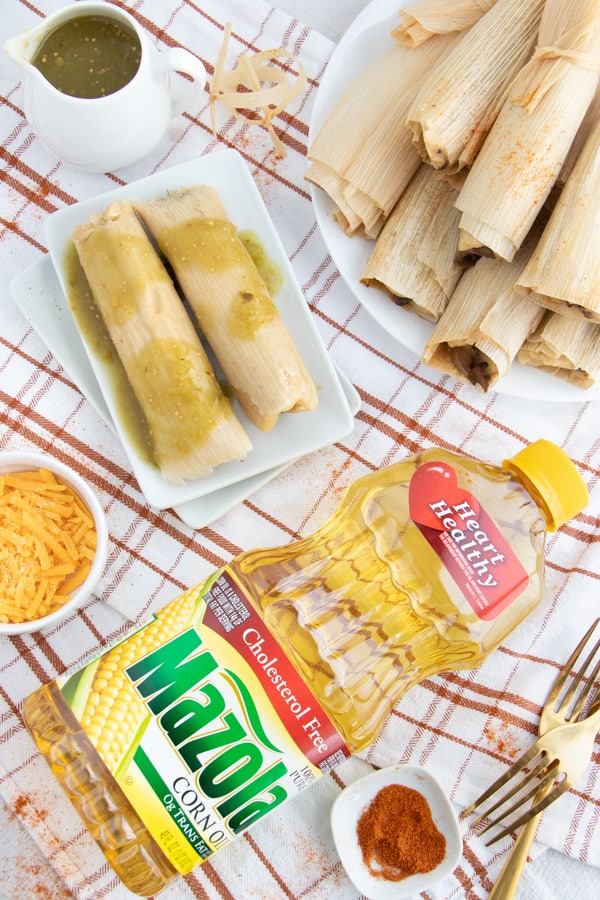 These tamales are super flavorful and just slightly spicy, but if you like a spicier tamale you can always add more cayenne to the filling!
I've always loved homemade tamales – growing up my grandma made authentic tamales from scratch and they were to die for!
She taught me tons of tips and tricks to make them right, and I just had to create a vegan version to be able to enjoy a food that is so sentimental and comforting to me.
And these cheesy mushroom versions do not disappoint!
Vegetarian Mushroom Tamales from Scratch
It's so easy to make vegetarian and vegan tamales, there are so many filling options to choose from and only a few ingredient swaps needed!
For this recipe I chose to use mushrooms, onion, garlic and some vegan cheddar cheese, along with a few spices.
The combination was so delicious and easy to put together, you're going to love this simple yet flavor-packed recipe!
Try my Vegan Tempeh Empanadas Recipe for another delicious homemade meal!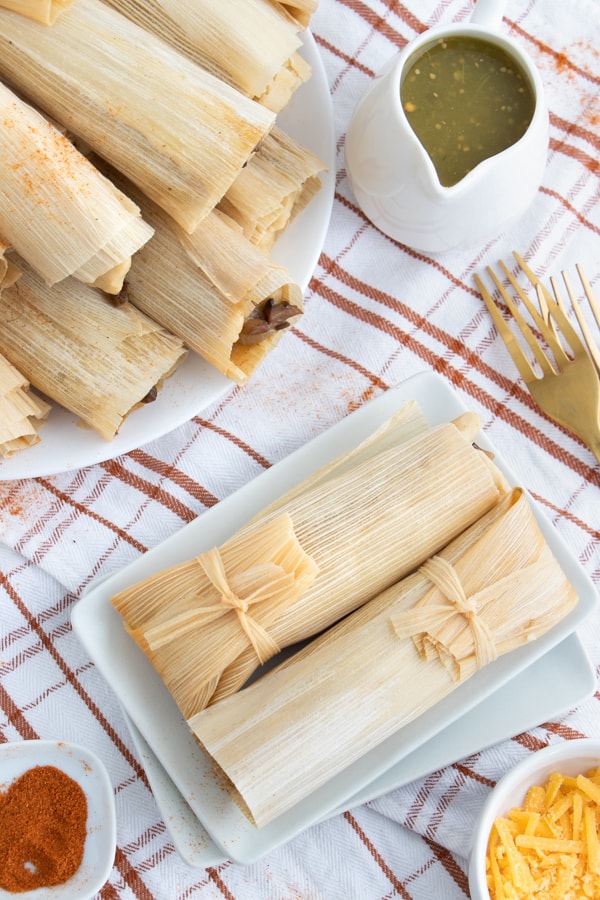 How to Make Vegan Tamales
Making Vegan Masa Dough
The first step to making your homemade vegan tamales is to soak the corn husks in warm water for 30 minutes, or until soft.
Then start on the masa, which is incredibly simple to put together! Simply mix together your dry ingredients, then add the oil and veggie stock!
I used a spoon to get things going, then used my hands to fully incorporate all the dough ingredients.
You'll know the dough is ready when you smack it with your hand and it does not stick!
Making Mushroom Tamale Filling
To make your mushroom filling, start by adding your corn oil, onion and garlic to a pan and cooking for about 5 minutes, or until very fragrant and translucent.
Then toss in the rest of your spices and the diced mushrooms, and continue cooking for another 3-5 minutes until soft!
Stir in the vegan cheese and then set aside.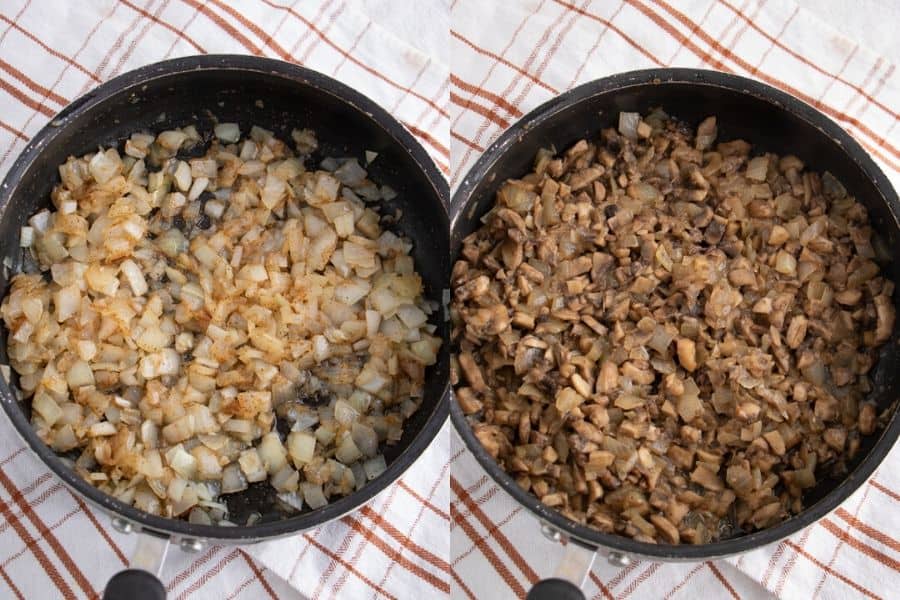 Wrapping and Steaming Tamales
Now it's time to assemble the tamales!
Take about 1/4-1/3 cup of the masa dough and start flattening it down with your hands.
Place it in the middle of the larger side of the masa and keep spreading out until it's about 1/4 inch thick in a rectangular shape.
Add about 2 tablespoons of filling to the center of the masa and then fold the corn husk over longways to fully encase it inside the masa. Then fold the other side over like a burrito and then fold the bottom up.
Use a string of corn husk to double tie the bottom in place and then put the tamale in a steamer. Continue with remaining ingredients until they are all used up!
Then steam the tamales for 30-35 minutes, or until the masa is cooked and pulls apart from the husks.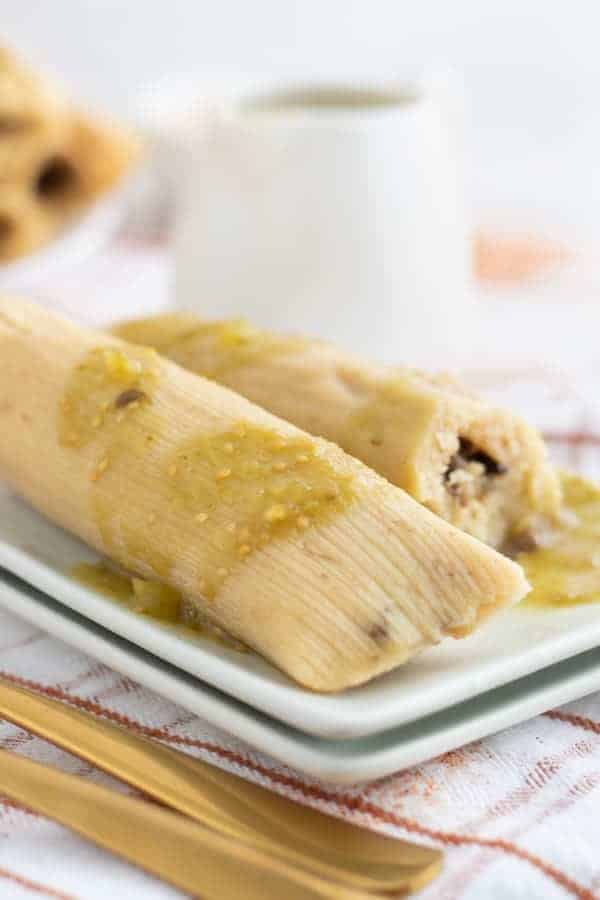 Better for You Homemade Vegan Tamales Recipe
The homemade masa in this recipe has tons of flavor with just a few ingredients too!
Using oil, vegetable stock and some salt and cumin added SO much flavor to a simple part of the tamales.
I also love filling my tamales with mashed beans flavored with spices and vegan cheese, it's a great option if you have any leftover masa!
This recipe is:
Easy

Vegan

Vegetarian

Delicious

Meat Free

Delicious

Better for You

Filling
Check out these other vegan dinner recipes!
Pin this for later!
Vegan Tamales Recipe
Yield:
6-8 Servings (About 30 tamales)
Total Time:
1 hour
20 minutes
This cheesy mushroom vegan tamales recipe is ready in no time and is so comforting and delicious! Easy to make and a great vegetarian dinner option.
Ingredients
FOR THE DOUGH
6 Cups Masa
3/4 Cup Neutral Oil
6 Cups Vegetable Stock
1 Tsp Baking Powder
2 Tsp Ground Cumin
2 Tsp Salt
FOR THE FILLING
6 Cups Mushrooms
1 Onion
2-3 Cloves Garlic
2 Tbsp Mazola Corn Oil
1/2 Tsp Ground Cayenne
1 Tsp Salt
1/4 Tsp Ground Pepper
Vegan Cheese (1/2-1 Cup)
Corn Husks
Instructions
Soak corn husks in warm water for 30 minutes to soften.
To make the dough, add masa, baking powder, salt and ground cumin to a large and mix well. Add corn oil and vegetable stock and mix with your hands until a dough is formed.
To make the filling, heat diced onion, corn oil and minced garlic over medium heat until softened, about 5 minutes. Add cayenne, diced mushrooms, salt and pepper and cook until mushrooms are tender, about another 3-5 minutes, then stir in the vegan cheese and set aside.
Once corn husks are softened, drain and dry. Place a single husk down on a flat surface to begin making your tamales!
Add about 1/4-1/3 cup of masa dough and gently flatten out in your hands. Place dough in the middle of the thicker end of the corn husk and continue flattening out until you create a roughly 1/4 inch thick rectangle.
Add 2 tbsp filling to the center of the masa. Fold husk in half longways to cover enclose the filling inside the masa, then fold the other side over like a burrito and gently squish down.
Fold the smaller end up and secure by tying a string of a corn husk twice. Place tamale in a steamer and continue with remaining filling and masa.
Steam tamales for about 30-35 minutes, or until the masa pulls away from the husk. Take off corn husk and enjoy with salsa!