We may earn money or products from the companies mentioned in this post.
Homemade Vegan Chocolate Donuts
These vegan double chocolate donuts are so decadent and delicious!
Perfectly moist and cakey, and dipped in smooth dark chocolate.
These donuts are baked, lower in fat, dairy free, egg free and packed with flavor!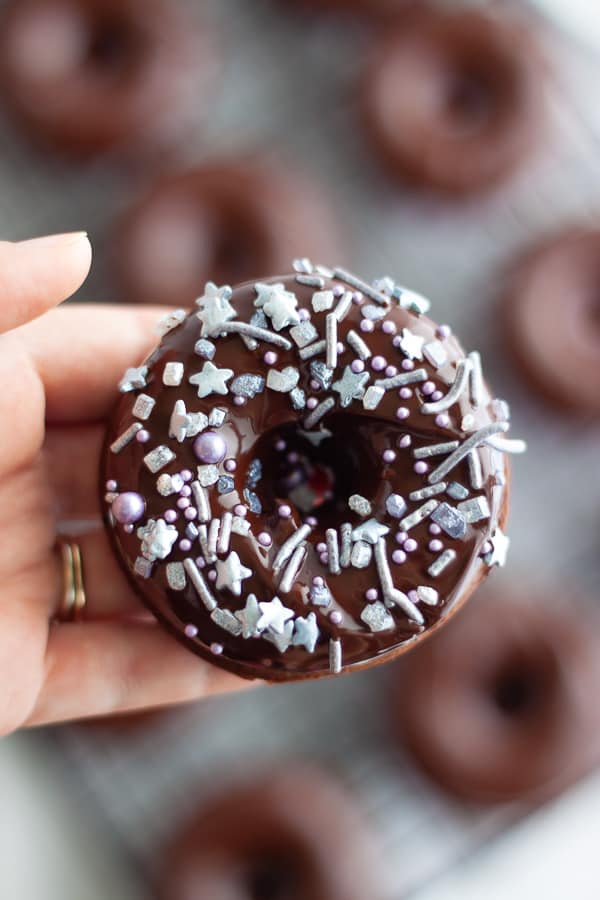 I added some yummy vegan sprinkles to some of my donuts, it added that extra crunchy texture and sweetness!
If you're not into sprinkles, these donuts are perfectly delicious plain with the chocolate coating.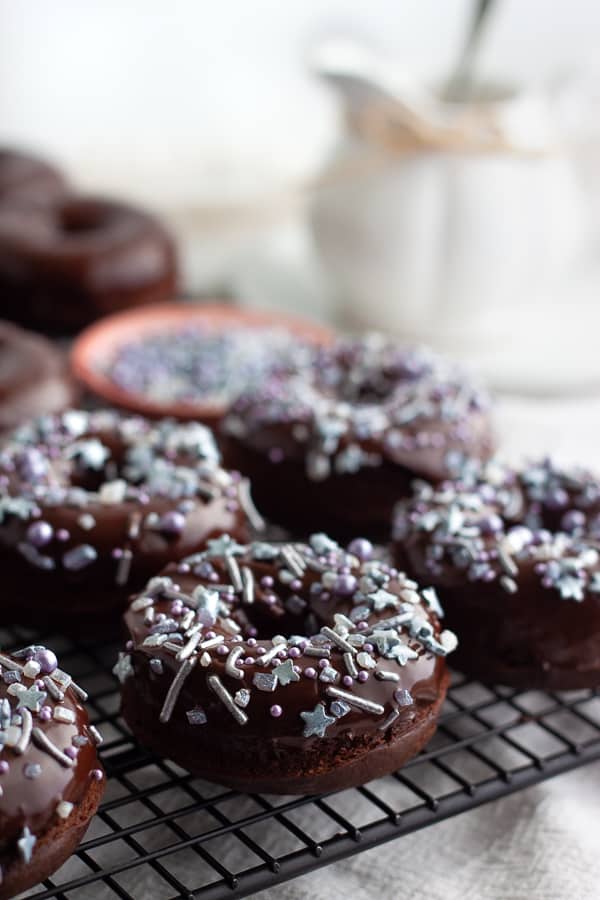 Glazed Double Chocolate Donut Recipe
Chocolate donuts are easily one of my favorite donuts, it's amazing how decadent a donut becomes when you add some cocoa (or cacao) powder and swap out the sugar with brown sugar!
I also added a tiny sprinkle of ground coffee to the dry mixture – this is optional of course, but I ALWAYS add coffee to my chocolate sweets. It just makes the chocolate taste have so much more depth, and makes it so much richer without adding a strong coffee taste.
If you're really a chocoholic, you could even add chocolate chips TO the batter.
To be honest, I usually add quite a few, but I held back for this recipe and went for double chocolate instead of triple – it was still ultra chocolaty!
How to Make Baked Chocolate Donuts
Making The Chocolate Donut Batter
When you're ready to make these delicious vegan donuts, preheat your oven to 350 degrees and grab two mixing bowls!
To one, add all your dry ingredients (except for the sugar, that goes with the wet), and mix well. To the other bowl, mix all your wet ingredients. I like using a whisk for this because it helps the sugar dissolve easier.
Pour your dry ingredients into your wet and mix just until combined, being careful not to overmix or else your donut may become more dense than you want it.
Spray a mini donut pan (if you have a regular sized one, you'll just need to bake them a little longer) and add in your batter. You can scoop or pipe it in, but just make sure they are below the top surface.
Bake for 12-14 minutes or until a toothpick inserted into the donuts comes out clean, and when you press on the donut it springs back up.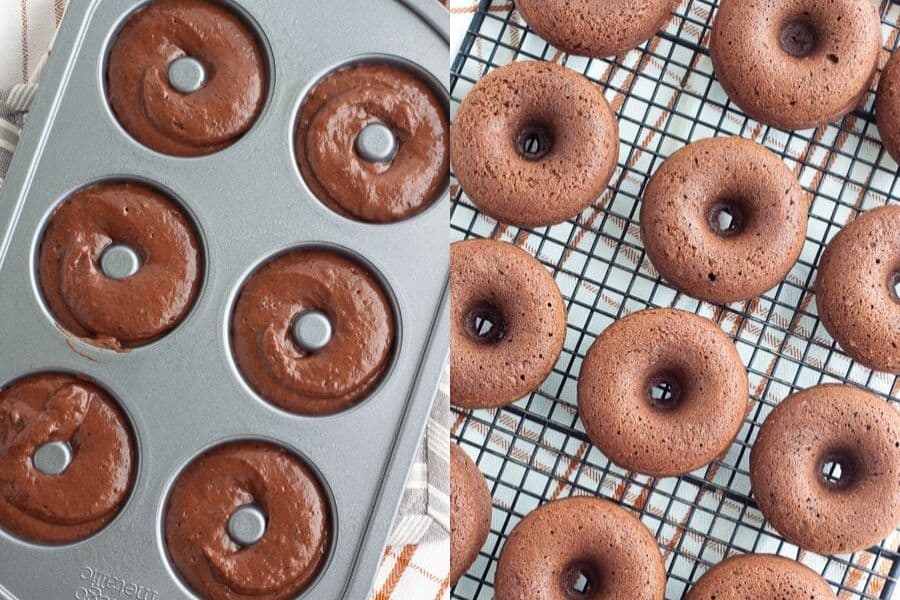 Chocolate Glazing Vegan Donuts
Let the donuts cool in the pan for 10 minutes, and then transfer to a cooling rack.
Once they are FULLY cooled, melt your chocolate and dip the donuts in half way, twisting them as you pull them up. The chocolate may cover the donut hole, but you can move it with a knife!
Now you can add vegan sprinkles or chocolate chips to the top, or let them dry. They will set better if placed in the fridge, but I also like the chocolate not melted when I dig in!
Store them in an air tight contained in the fridge for up to 5 days.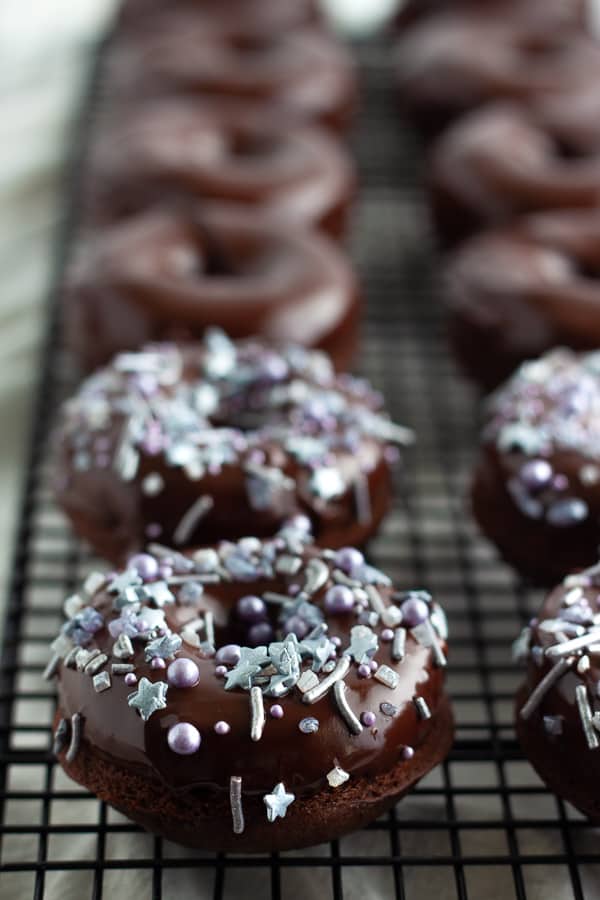 Double Chocolate Glazed Doughnut Recipe
Chocolate donuts are perfect for really any occasion, I especially love making them during the holiday season because it gives everyone a break from the pumpkin and apple cider (though I'm not complaining, I'll never get sick of those!).
Double chocolate donuts are also great for parties, birthdays, picnics, or just having something sweet around the house.
Enjoy these baked donuts with a big glass of plant-based milk or coffee!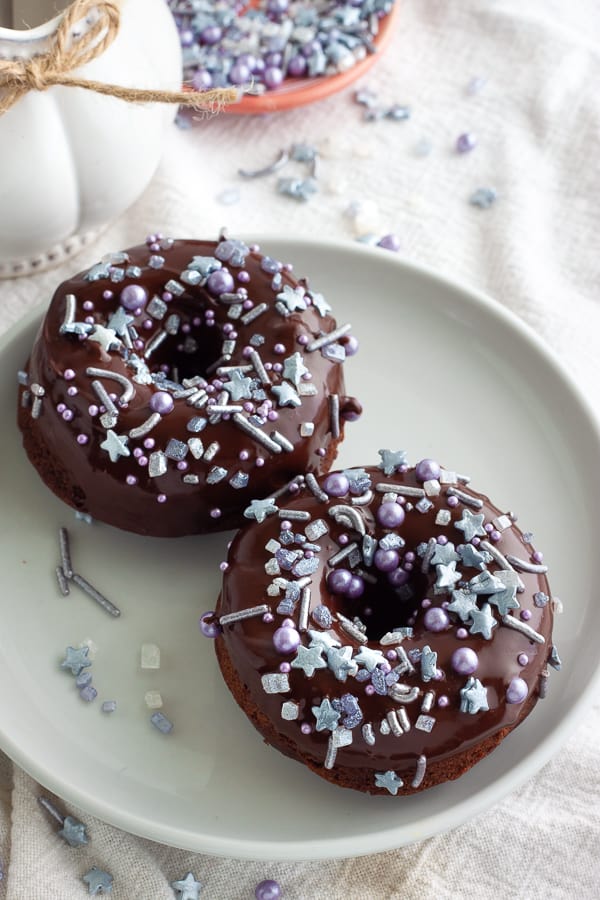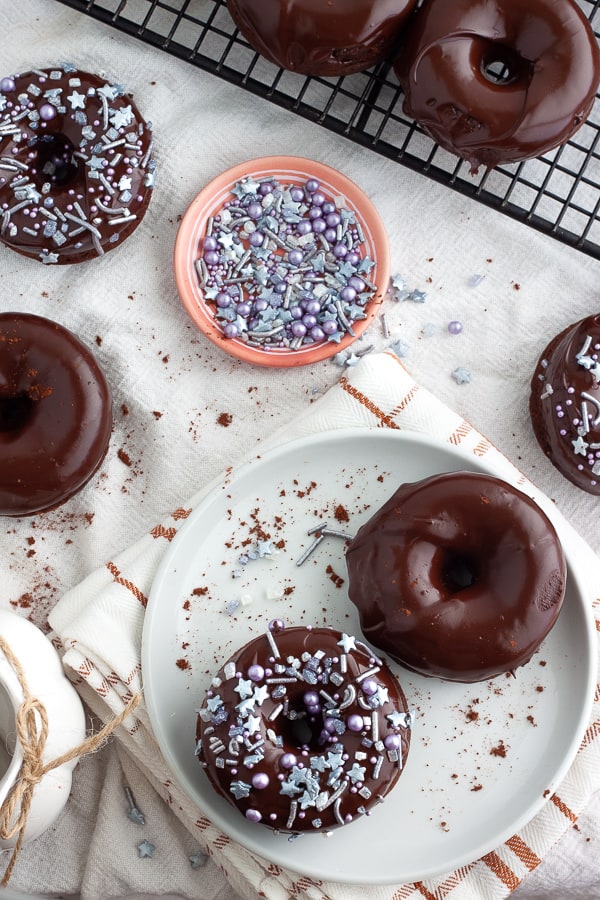 This recipe is:
Delicious

Chocolaty

Easy

Decadent

Vegan

Baked
Check out these other vegan donuts!
Frosted Healthy Baked Pink Donuts
Pin this for later!
Yield: 9 Mini Donuts
Vegan Chocolate Donuts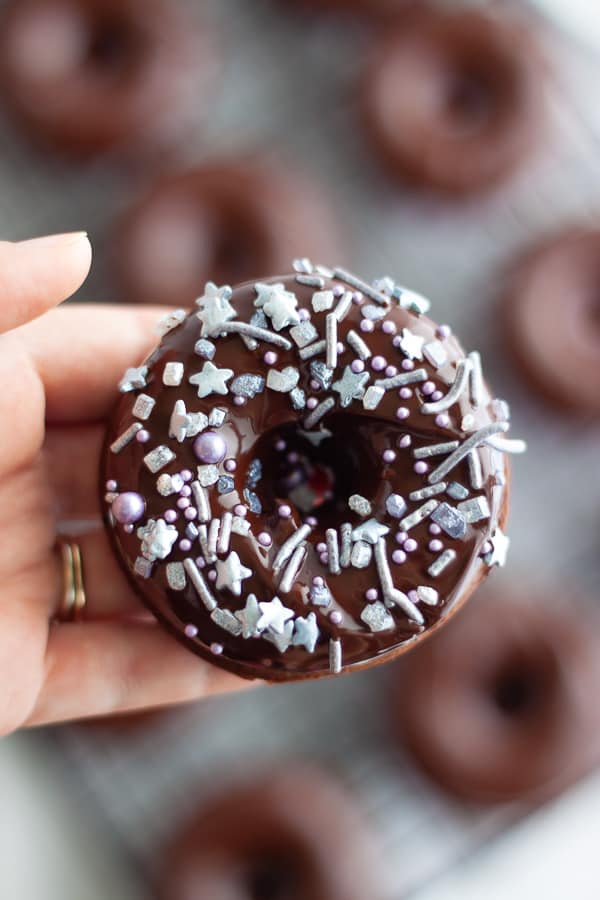 This vegan double chocolate donut recipe is so decadent and delicious, with a smooth chocolate frosting and vegan sprinkles!
Ingredients
1 Cup All-Purpose Flour
1/4 Cup Cocoa Powder
2/3 Cup Brown Sugar
2/3 Cup Plant Milk
1 Tsp Vanilla Extract
1 Tbsp Ground Chia Seeds (or flax)
1/4 Cup Vegan Butter, melted
1 Tsp Apple Cider Vinegar
2 Tsp Baking Powder
1/2 Tsp Ground Coffee or Espresso (optional)
1/2 Tsp Salt
6 oz. Vegan Chocolate Chips (for frosting)
Instructions
Preheat oven to 350 degrees.
Combine flour, cocoa powder, ground chia seeds, baking powder, ground coffee and salt in a bowl and mix well.
In a separate bowl, whisk together brown sugar, plant milk, vanilla, melted vegan butter and apple cider vinegar until smooth.
Add dry ingredients to wet ingredients and mix just until combined, being careful not to overmix.
Spray a mini donut pan* and add batter to pan almost all the way, but just below the top.**
Bake for 12-14 minutes, or until a toothpick inserted into the donut comes out clean, and the donut springs back up when you gently press it down with your finger.
Allow to cool 10 minutes in the pan, then transfer to a cooling rack to finish.
Once fully cooled, heat chocolate chips*** and dunk donuts in half way, twisting them as you pull them up out of the chocolate.
Add vegan sprinkles if desired and enjoy! I would recommend storing them in the fridge in a container for up to 5 days.
Notes
*If you only have a regular sized donut pan, simply cook the donuts a few minutes longer.
**You can use a spoon to add the batter, but I highly recommend piping it in for prettier and more even sized donuts, it's also much easier! If you don't have a piping bag, you can scoop the batter into a ziploc bag, cut off about 1/2 inch at a corner and pipe it that way!
***You can heat them in the microwave in 10 second increments until smooth, or use the double boiler method by boiling an inch of water in a small pot and placing a heat-resistant bowl on top with the chocolate inside, stirring constantly until smooth.
Nutrition Information:
Serving Size:
1 Donut
Amount Per Serving:
Calories:

189