We may earn money or products from the companies mentioned in this post.
The Best Ever Vegan Chocolate Cake
This is the best vegan chocolate cake recipe – it's super moist, rich and decadent, with a hint of optional coffee!
Chocolate cake is my most favorite go-to dessert, it never fails to please a crowd and it's so simple to put together.
Doing a simple one-stack presentation makes it look professional, even if you're a beginner baker.
Not to mention it's completely dairy and egg free, but you'd never be able to tell!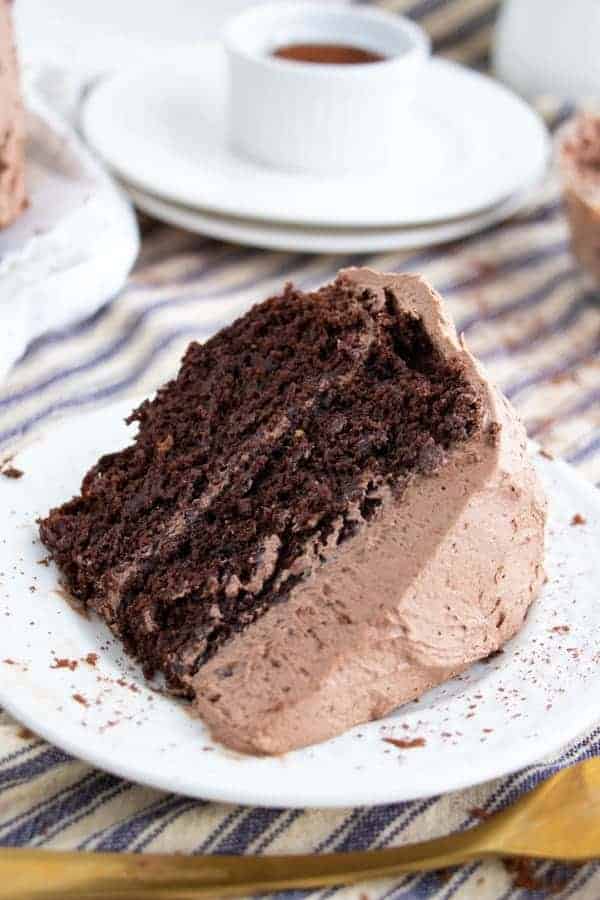 I also use a quick homemade vegan buttercream for this recipe and it's to die for!
Vegan butter has really come a long way, and it makes the frosting incredibly easy to put together.
For this recipe, it's a perfect sweet complement to the rich chocolate cake, and I spread it on generously!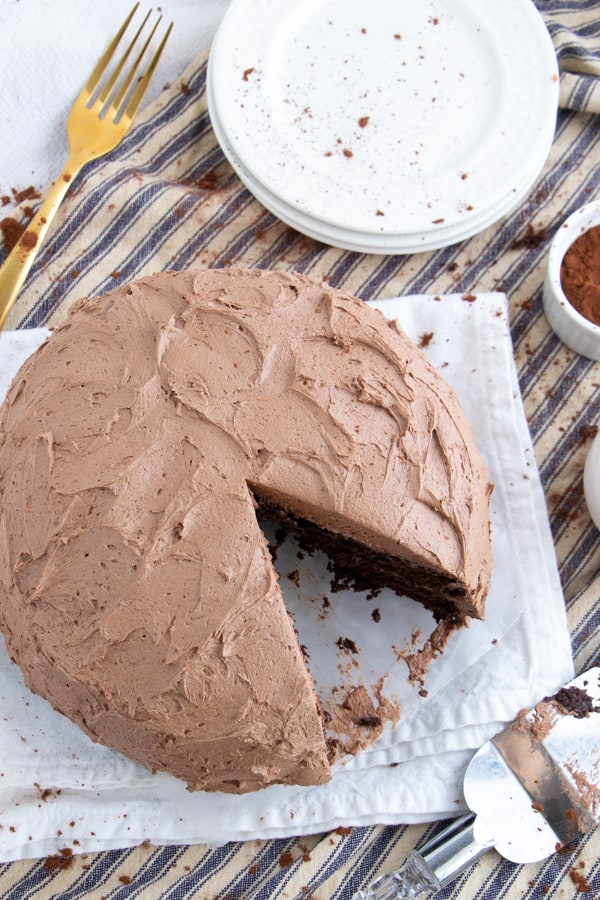 One Bowl Simple Chocolate Cake
The true secret to making a super decadent chocolate cake is to "bloom" the cocoa.
For this recipe, this simply means adding boiling water to the cake batter to fully dissolve and distribute the cocoa's true flavor.
I've made cake without using this trick before, and you really miss out on a TON of flavor.
Another thing I love to do with chocolate desserts is add a hint of coffee – it brings out even more flavor from the cocoa and adds a deep richness.
If you don't love coffee you can leave this out or just use a little, but I think it takes this cake to the next level for any coffee lovers!
For this rich cake, you'll want a big glass of plant milk to wash it down.
It's also wonderful with a latte to bring out the chocolate and coffee flavors!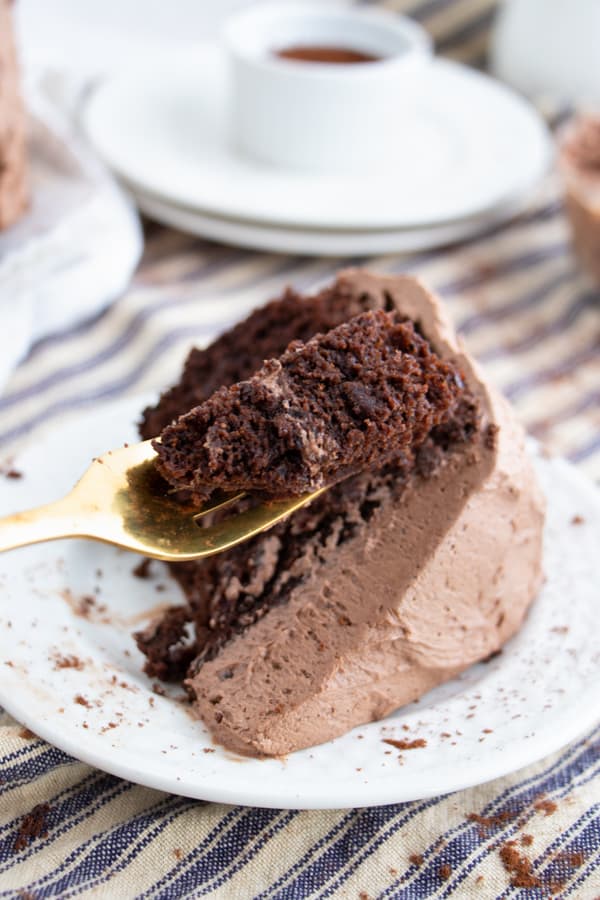 How to Make Vegan Chocolate Cake
Preparing the Cake Batter
What I really love about this cake is that it's a simple one bowl recipe. I even just wash the bowl out and use it to make the frosting!
To begin, preheat your oven to 350 degrees and mix together your plant milk and apple cider vinegar.
This will gently curdle the milk and turn it into a buttercream of sorts, which just adds more flavor and great texture!
Then, in a large bowl, you whisk together your dry ingredients and then pour in your homemade buttercream, oil and vanilla.
After this is mixed (and it will be a bit thick), you add your cup of boiling water to bloom the cocoa. It will be a bit runny after this but it bakes up perfectly!
Lightly spray two (or 1 and take turns if that's all you have!) 8×8 cake pans with non-stick spray, or gently coat with oil or vegan butter, and pour half the batter into each pan.
Bake for 30-35 minutes, or until a toothpick inserted into the center of the cakes comes out clean.
Let them cool in the pan for 10 minutes then transfer to a cooling rack, and start on your frosting!
Making Vegan Chocolate Buttercream Frosting
To make your yummy buttercream, you'll want to make sure your vegan butter is at room temperature, so let it sit out on the counter overnight or for a few hours.
I REALLY recommend to avoid microwaving the butter because it can get too soft really quickly and make the frosting too runny. But if you must, just do it for 5-8 second increments until it's workable but not melted at all.
Add the vegan butter to a bowl with the cocoa powder, plant milk, vanilla and salt and mix together well.
Then incorporate the vegan powdered sugar (here is a list of vegan powdered sugar brands!) in 1 cup increments, using an electric mixer (or mixing vigorously by hand) in between.
If it's a little runny, add a bit more powdered sugar, and if it's a bit too thick add a tablespoon or two more of plant milk until you reach the desired consistency!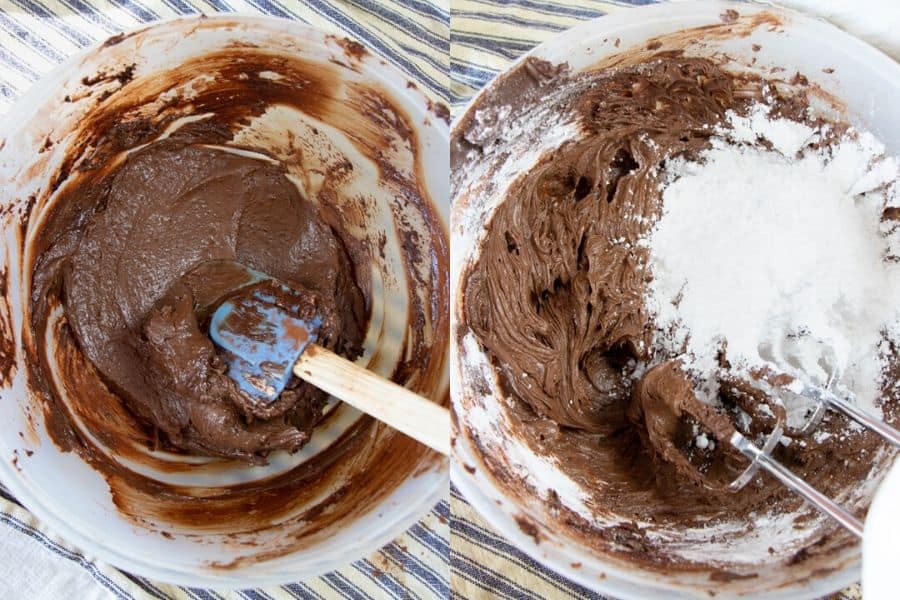 Now to assemble your cake!
Once the cakes are fully cooled, take one cake and add a layer of frosting to the top, then add the second cake on top carefully.
Generously frost the top and sides of your cakes with the remaining buttercream, and you're all done!
I store my cake in an airtight container in the fridge for up to 5 days, but it's best enjoyed when it comes back to room temperature.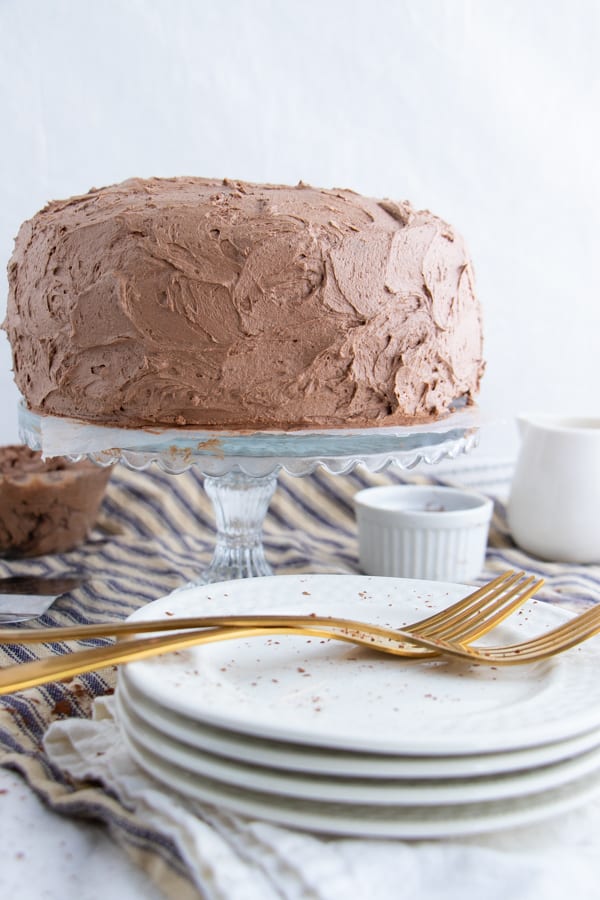 Dairy Free, Rich and Moist Chocolate Cake
There's nothing that compares to a rich, homemade chocolate cake, and now you can enjoy it without any dairy or eggs if you are avoiding them!
Some plant milk, vegan butter and ground flax seeds are great alternatives and help create that ideal soft and moist texture in your cake (the ground flax seed is a great ingredient to help bind the batter).
Also, making your cakes from scratch makes for the most delicious desserts, and you're going to love the result!
This recipe is:
Rich

Decadent

Chocolaty

Soft

Sweet

Delicious

Vegan

Homemade
Check out these other chocolaty vegan desserts: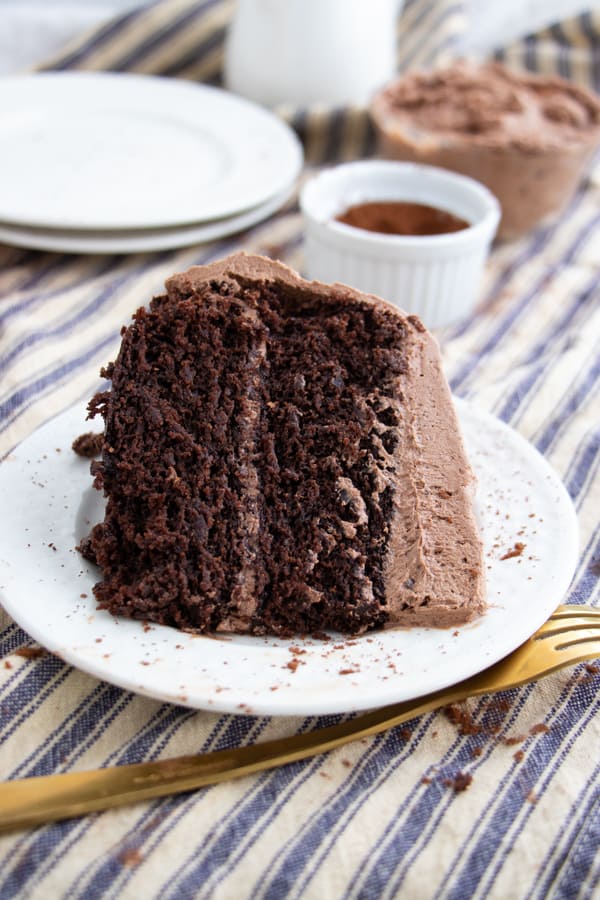 Pin this for later!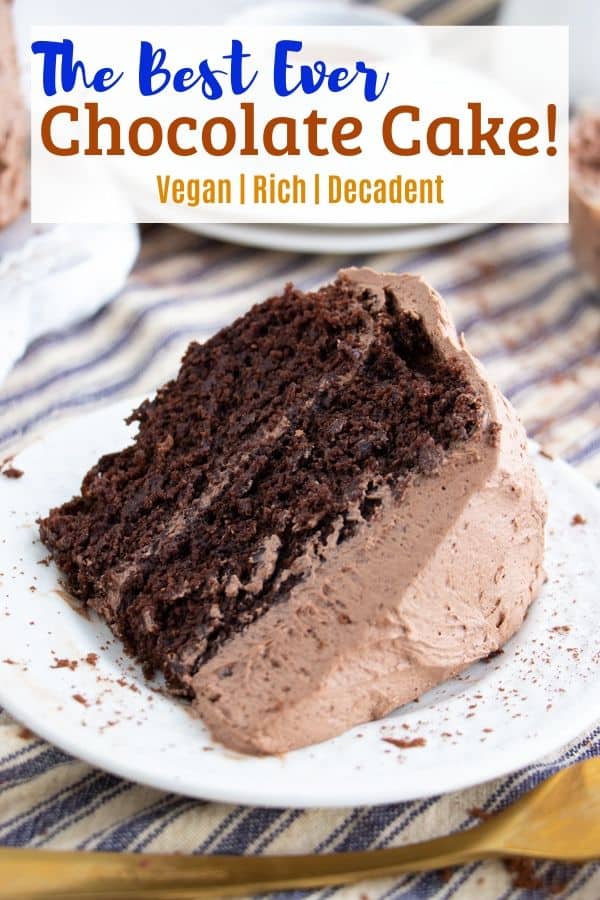 Yield: 12-14 Servings
Best Vegan Chocolate Cake (Rich & Moist)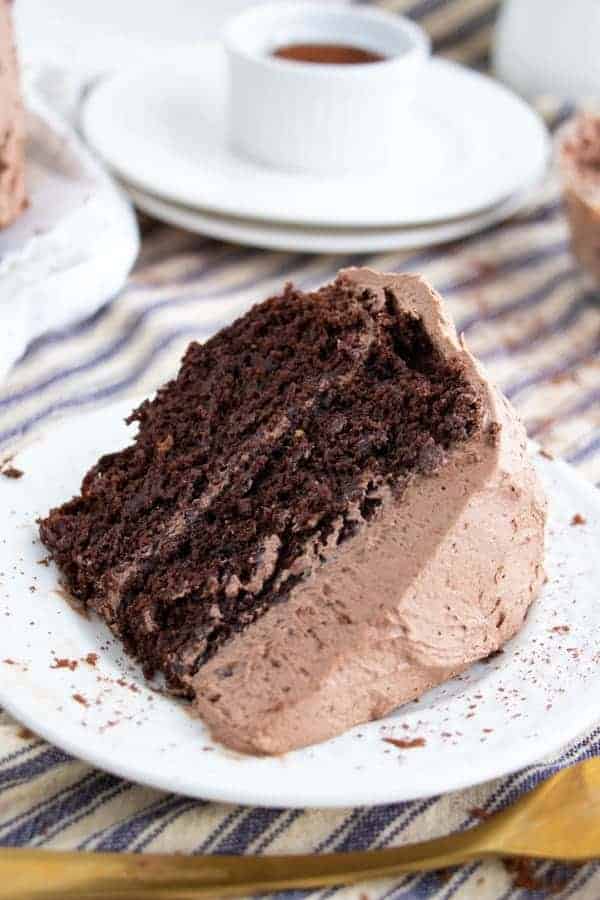 The best ever vegan chocolate cake recipe! Moist and rich with a delicious chocolate vegan buttercream and no fuss ingredients!
Ingredients
1 3/4 Cups All-Purpose Flour
3/4 Cup Cocoa Powder
1 Cup Brown Sugar
1 Cup Cane Sugar
2 Tsp Vanilla Extract
1 Cup Plant Milk
1 Tsp Apple Cider Vinegar
1/2 Cup Neutral Oil
2 Tbsp Ground Coffee (optional)
2 Tbsp Ground Flax Seed
1 1/2 Tsp Baking Powder
1/2 Tsp Baking Soda
1 Tsp Salt
1 Cup Boiling Water
For the Frosting:
3 1/2 Cups Vegan Powdered Sugar
1 Cup Vegan Butter (room temperature)
2/3 Cup Cocoa Powder
2 Tsp Vanilla Extract
3-5 Tbsp Plant Milk
1/8 Tsp Salt
Instructions
Preheat oven to 350 degrees. Mix together plant milk and apple cider vinegar and set aside.
In a large bowl, whisk together the flour, cocoa powder, sugar, ground coffee, ground flax seed, baking powder, baking soda and salt.
Add plant milk mixture, oil and vanilla and mix with a spoon or spatula until smooth. Add boiling water and mix until smooth (it will be a little runny).
Spray two 8x8 cake pans with non-stick spray and pour half of the batter into each. Bake for 30-35 minutes or until a toothpick inserted into the center of the cakes comes out clean!
Allow to cool for 10 minutes in the pan then transfer cakes to a cooling rack.
Add room temperature vegan butter, cocoa powder, vanilla, plant milk and salt to the same bowl (rinsed out!) and mix until smooth. Add powdered sugar 1 cup at a time and mix with a hand mixer or vigorously by hand.
Frosting is ready when all powdered sugar is used up, if it's a bit runny add a tiny bit more sugar, and if it's too firm add a bit more plant milk.
Once the cakes are fully cooled, spread a thin layer of frosting over the first cake, add the second cake and generously spread with remaining frosting on top and on the sides. Enjoy!
Recommended Products
As an Amazon Associate and member of other affiliate programs, I earn from qualifying purchases.
Nutrition Information:
Yield:
413
Amount Per Serving:
Calories:

423