We may earn money or products from the companies mentioned in this post.
(Last Updated On: May 2, 2023)
Homemade Vegan Oreo Recipe
Who doesn't love a good old fashioned Oreo cookie?! This homemade Oreo cookie is inspired by the classic recipe, with a vegan twist.
These cookies have all the goodness of Oreos, but using ingredients like dark cocoa and baking them just until they're soft makes all the difference.
The result is a chewier, strong chocolate taste with a deliciously sweet vanilla filling to balance everything out. 
It's the perfect flavor combination that complements each other perfectly, there's nothing better than a fresh batch of homemade Oreo cookies!
I know what you're probably thinking – Oreo cookies are already vegan, so why bother making your own?
While I enjoy an Oreo cookie from time to time, I much prefer to make my own.
Not only do I just prefer chewy cookies over crunchy in general, this way I know exactly what's going into them, and there's no weird ingredients or high fructose corn syrup.
These cookies are also just so fun to make!
The Best Ever Oreos from Scratch
These yummy chocolate sandwich cookies are surprisingly easy to make from scratch: the dough is very basic and just needs a little time to chill, and the filling whips up in no time.
You can find most of the ingredients already in your kitchen, you might just need to go get a little vegan butter and a pinch of flax seed. 
Another ingredient I STRONGLY suggest purchasing is dark cocoa, it makes a HUGE difference in the cookie result, so if you can be sure to get dark!
The sweet vanilla cream filling in these cookies is very similar to my Vegan Oatmeal Cream Pies, but more creamy than fluffy.
It's a smooth, sweet, vanilla frosting that resembles the classic filling in Oreo cookies, while being just a smidge lighter and more flavorful.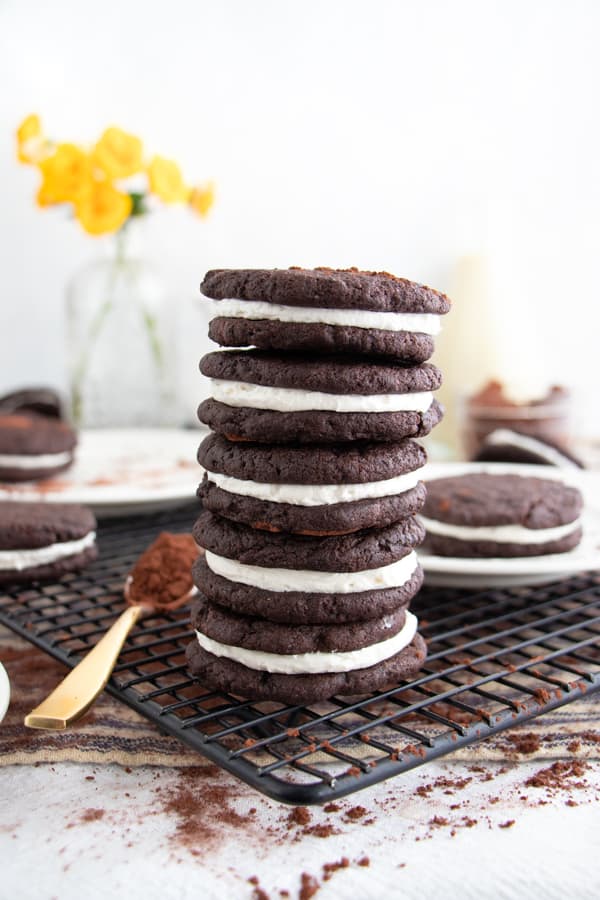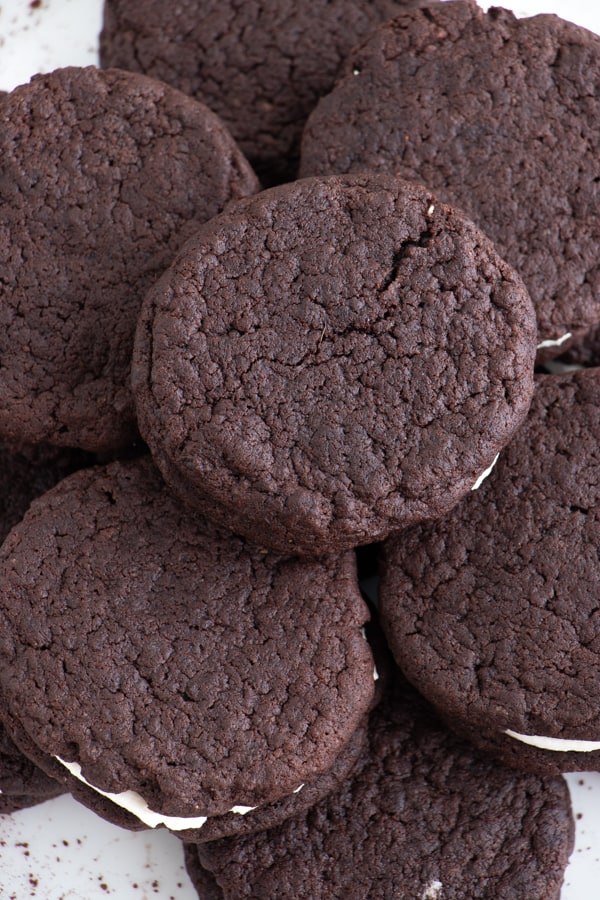 How to Make Homemade Oreo Cookies
Making the Cookie Dough and Filling
When you're ready to make your homemade chocolate cookie sandwiches, simply start the dough by mixing together the vegan butter and sugar, then add in the vanilla, flax egg and plant milk!
I've started sifting in my dry ingredients and found that it saves time and makes my life so much easier than using two bowls!
Sift in the remaining cookie ingredients and mix until you form a ball of dough! Sometimes it's helpful to use your hands towards the end to mold the dough.
Then you'll want to wrap it and let it chill in the fridge for 30 minutes – if you skip this part you're cookies may become too thick while baking, and chilling also just makes the dough easier to work with.
To make the filling, just mix together the vegan butter, vanilla and plant milk until smooth, and then gradually add in the vegan powdered sugar, using an electric mixer to gently fluff it up in between increments.
You can use a whisk but you'll need to whisk pretty vigorously to get the same effect!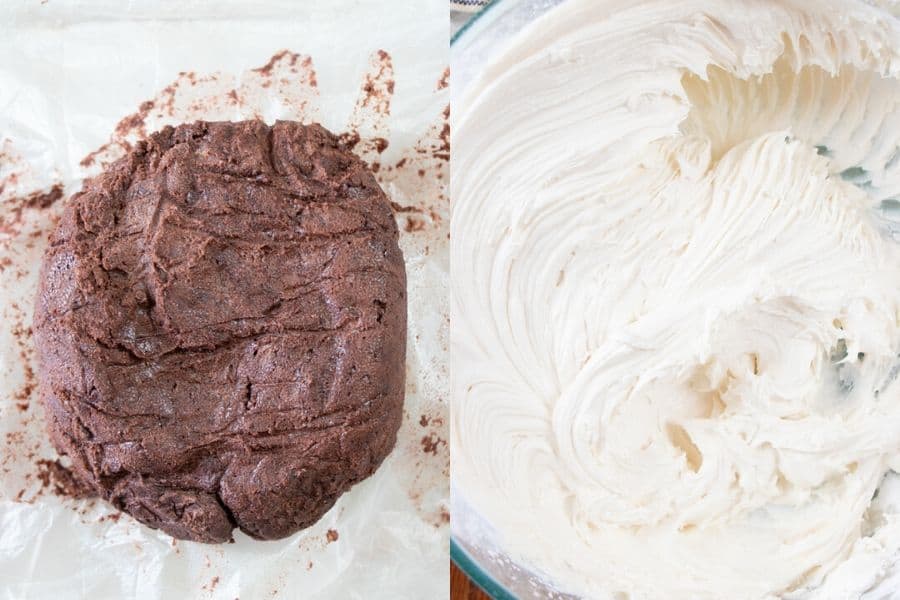 Baking Vegan Oreos
After your dough is chilled, preheat the oven to 350 degrees and roll out 2 teaspoon amounts of dough into balls using the palm of your hands, then gently squish down a bit.
Bake for 7 minutes – they will look pretty big and soft but they will shrink a bit while cooling so don't worry!
Let them cool on the tray for about 5 minutes and then transfer them to a cooling rack to cool completely before adding the filling, or else it will melt and make a mess!
Making Oreo Cookie Sandwiches
Spoon on about 2 teaspoons of filling to the center of the bottom of one chocolate cookie, and then place another on top.
Gently squish the two cookies together until the filling reaches the edge all the way around, then it's time to dig in!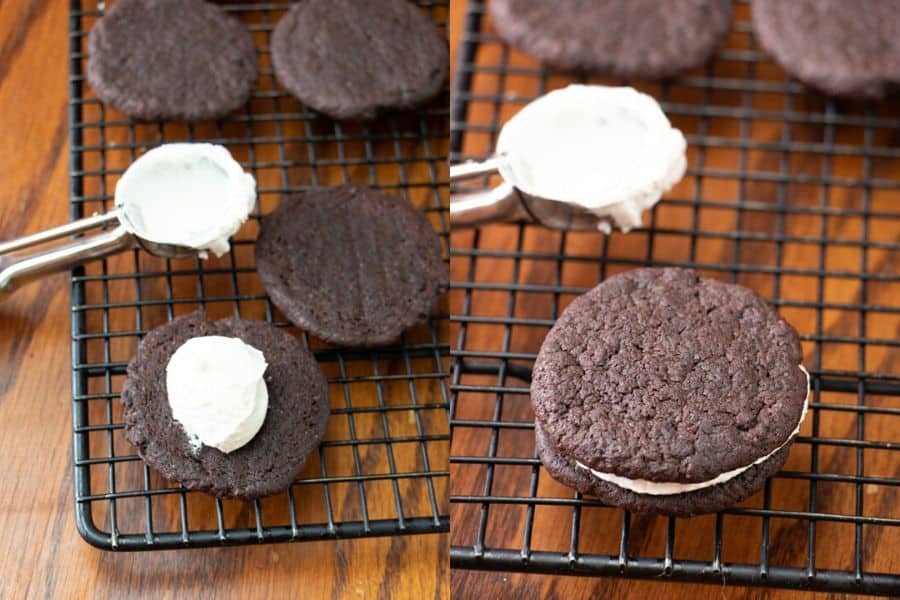 Dairy Free Dark Chocolate Vanilla Cookies
I just love these dark chocolate cookie sandwiches, your guests will never believe they are dairy and egg free because they are so soft and creamy!
You can serve them anyway you'd like – they look great on a plate and would also make a wonderful gift!
They can keep in an airtight container for up to 5 days for best texture, but they hardly ever last that long.
The perfect filling amount in my opinion is about equal size to one cookie, I think they look best this way!
If you want to cut back a bit on the sugar, you're free to add less, or make them double stuffed if you want more sweet flavor!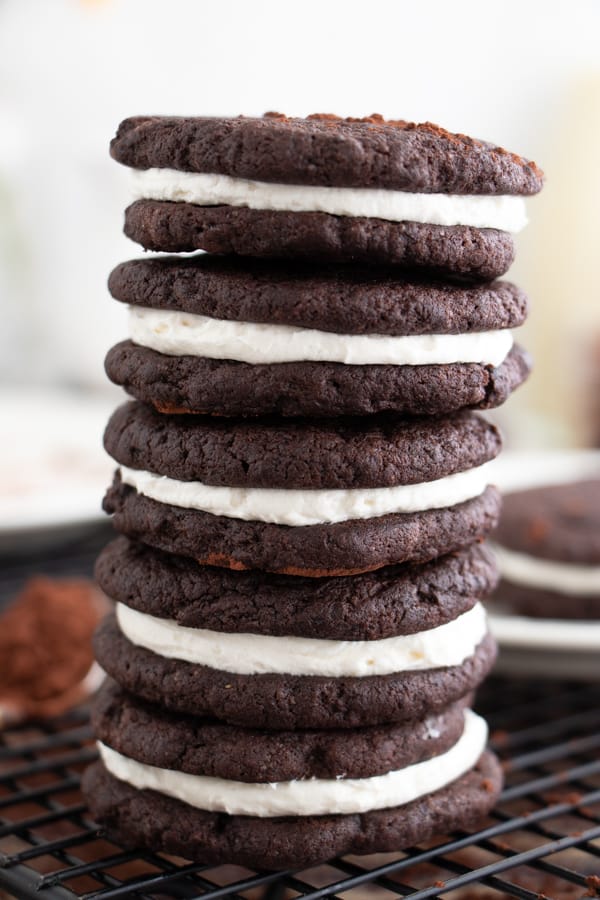 These cookies are:
Vegan

Homemade

Easy

Soft

Chewy

Flavorful

Dark Chocolate

Vanilla Filled
Check out these other chocolate vegan treats!
Vegan Chocolate Cake with Buttercream
10 Best Vegan Chocolate Desserts!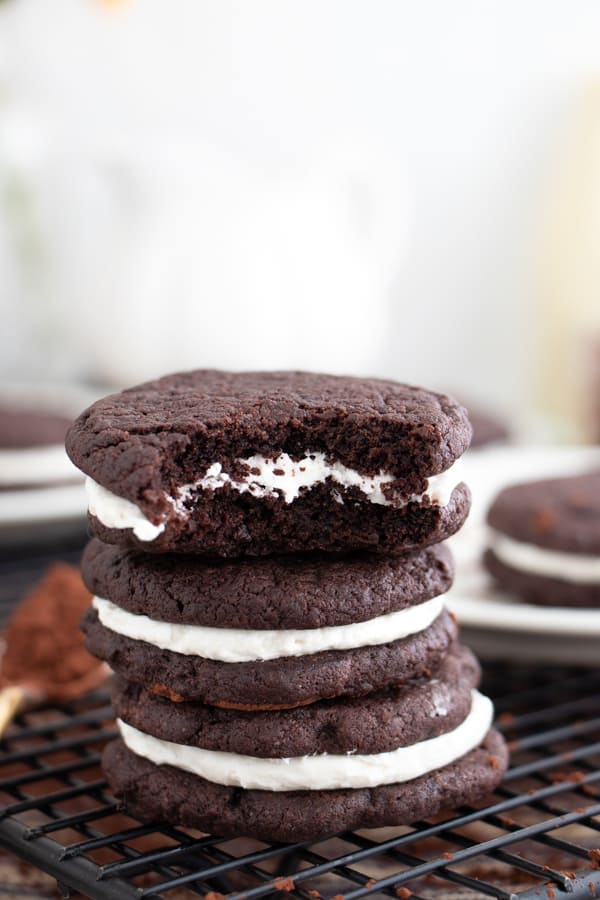 Pin this for later!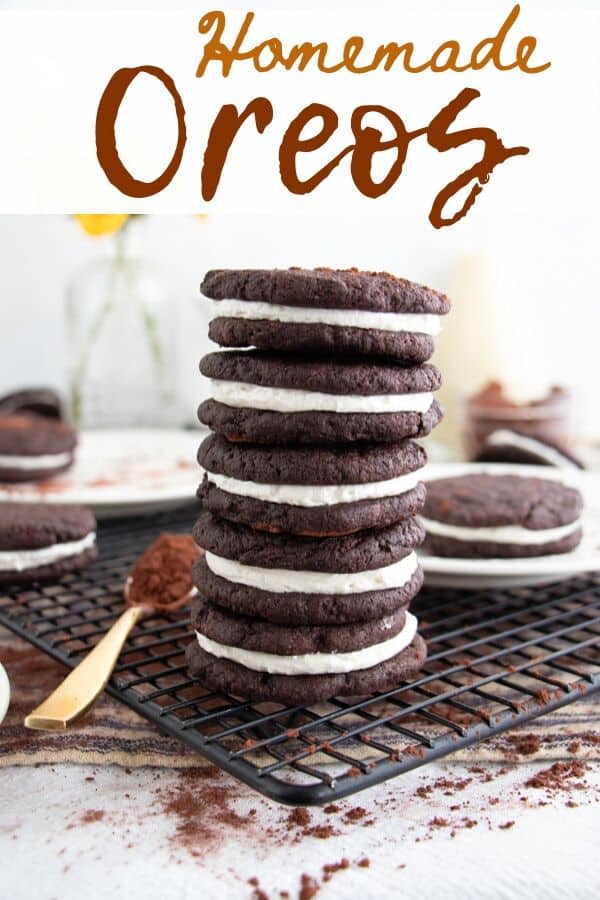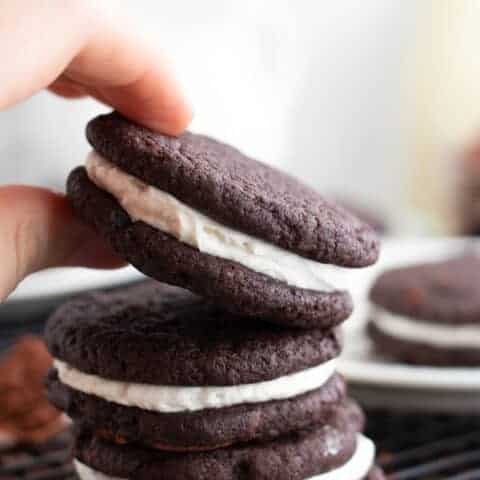 Homemade Oreo Recipe
Yield:
About 15 Sandwiches
This yummy vegan homemade oreo recipe is a delicious baked cookie sandwich with dark chocolate and a fluffy vanilla filling!
Ingredients
For the Cookies
1/2 Cup Vegan Butter (room temp)
1 Flax Egg*
2 Tbsp Plant Milk
1 Tsp Baking Soda
1/4 Tsp Salt
For the Filling
1/2 Cup Vegan Butter (room temp)
H1 Tbsp Plant Milk
Instructions
For the cookies: in a bowl, mix together the vegan butter and sugar until smooth and creamy. Add the vanilla, flax egg and plant milk and mix until smooth.
Sift in flour, cocoa powder, salt and baking soda and mix until a ball of dough is formed, you may want to use your hands towards the end to bring everything together.
Wrap dough and place in the fridge to chill for 30 minutes.
Preheat oven to 350 degrees and line a baking tray with parchment paper. Scoop 2 tsp amounts of dough and roll into a ball using the palms of your hands.
Place on a baking sheet 2 inches apart and gently squish down with your fingers. Bake for 7 minutes.
Allow to cool on the pan for 5 minutes then transfer to a cooling rack.
To make the filling, mix together vegan butter, vanilla and plant milk until smooth, then gradually add vegan powdered sugar in increments, mixing with an electric mixer or vigorously by hand until fluffy.
Spread about two teaspoons of filling onto a completely cooled cookie and top with another, gently squeezing them down so the filling reaches all the edges. Repeat with remaining cookies and enjoy!
Notes
*1 tbsp ground flax seed + 3 tbsp water, mix and let sit for 5 minutes. Use in place of 1 egg.
Nutrition Information:
Amount Per Serving:
Calories:

186