We may earn money or products from the companies mentioned in this post.
Baked Vegan Apple Cider Donuts
These simple vegan apple cider donuts are so delicious and sweet.
They have such a tasty combination of flavors with apple cider and spices like nutmeg, cinnamon and cloves.
They are finished off with a simple cinnamon-sugar coating which adds just a hint more sweetness, as well as a slight crunch.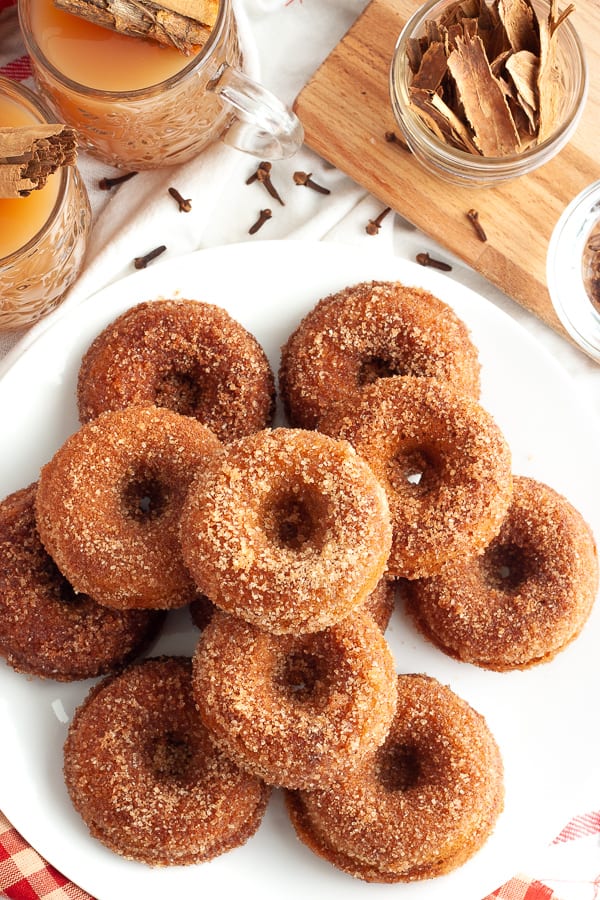 Best Vegan Apple Cider Donut Recipe
I've had some apple cider donuts where the texture was off, and I've made them before myself and struggled with this as well.
The secret to preserving a yummy cake donut texture and still getting those apple-spice flavors is to reduce the cider.
This packs a ton of flavor into the donut but doesn't add too much moisture to the batter.
Also, these donuts are completely free of dairy of eggs, but you'll never be able to tell!
How to Make Apple Cider Donuts
Making the Donut Batter
These donuts are super easy to make!
To make them as quickly as possible, you'll want to preheat your oven to 350 degrees and start reducing your cider while you mix the rest of your ingredients.
Reducing the cider is simple and it concentrates more flavor in less liquid, which helps make sure your donuts bake properly and that the dough is not too runny.
To do this, lightly boil 1 1/2 cups of apple cider over medium heat for about 20-30 minutes, stirring occasionally. If the boil is too rapid you can reduce the heat a bit, you just want a soft boil.
Once it has reduced to 1/2 cup it's ready to use – add in the vegan butter to melt and set the mixture aside to cool for at least 5 minutes.
While the cider is reducing I like to mix my wet ingredients, including sugar, in one bowl and my dry in another so they are ready to go.
Once your apple cider mixture has cooled a bit, add it to your wet ingredients and stir well. Then pour your dry ingredients into the wet and stir just until they're combined, being careful not to overmix or else your donut will be a bit more dense.
Baking the Donuts
Lightly spray a mini doughnut pan (or if you only have a large that's fine too, you'll just need to bake them a few minutes longer).
You can scoop the dough in with a spoon, but I find it much easier to pipe it in – if you don't have a piping bag you can always place the dough in a large Ziploc bag, snip the corner about 1/2 inch in and pipe it that way.
I like to level mine out by wetting the back of a spoon and going around the top of the donuts so they look prettier after baking!
Bake for 11-14 minutes or until a toothpick inserted into the donut comes out clean, and when you press down on the donut with your finger it bounces back.
Adding the Sugar Cinnamon Coating
Let your donuts cool for 10 minutes in the pan, and then transfer to a cooling rack to finish cooling off.
They will be a bit 'squishy' at first, but they become more dense as they cool.
To add the coating, simply dip them in melted vegan butter or apple cider very quickly and shake off the excess, then lightly dip all sides in the sugar-cinnamon mixture.
If you want to use less sugar and butter, you could just dip one side, place it back on the cooling rack and just sprinkle a bit of the sugar cinnamon mixture on top!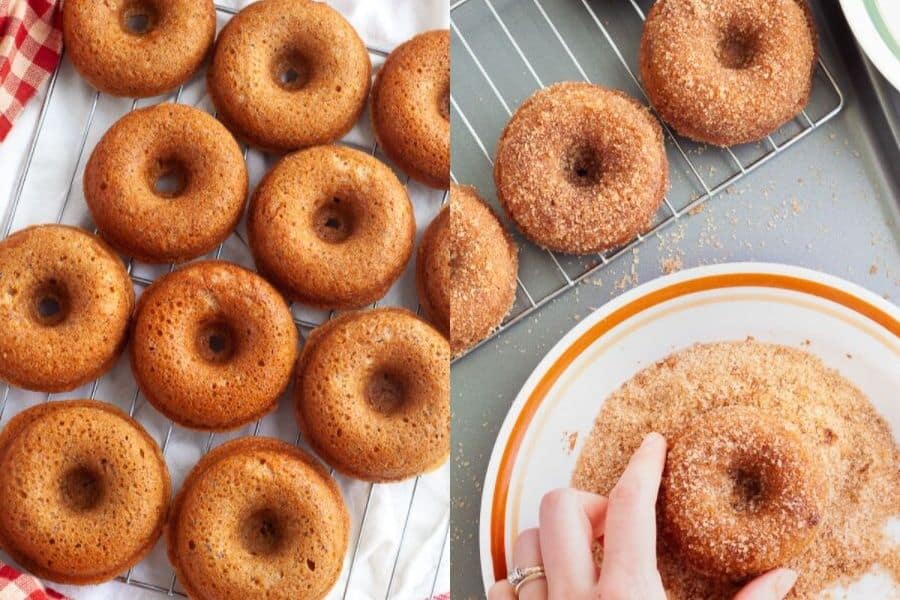 I let mine dry a bit and then they were ready to eat!
Depending on how much you dip them, the butter can take a little while to dry, but I've found that storing them in the fridge helps them dry and helps with the texture.
When you store them, place them on a paper towel, and if are stacking them also separate them with a paper towel.
Easy Baked Vegan Cider Doughnuts
These yummy baked donuts are just sweet enough with an irresistible apple and spice aroma and flavor.
They're absolutely perfect with a cup of coffee, or even a glass of apple cider if you want to go all out!
I love making baked donuts because they are so much healthier than frying, and the texture is so cakey and tasty.
The perfect fall donut with just the right balance of dense and cakey, and a delicious apple cider flavor – also great all year round!
This recipe is:
Sweet

Moist

Spiced

Apple-Flavored

Easy

Vegan

Cakey

Baked
Try these other vegan treats!
Best Vegan Peanut Butter Cookies
Pin this for later!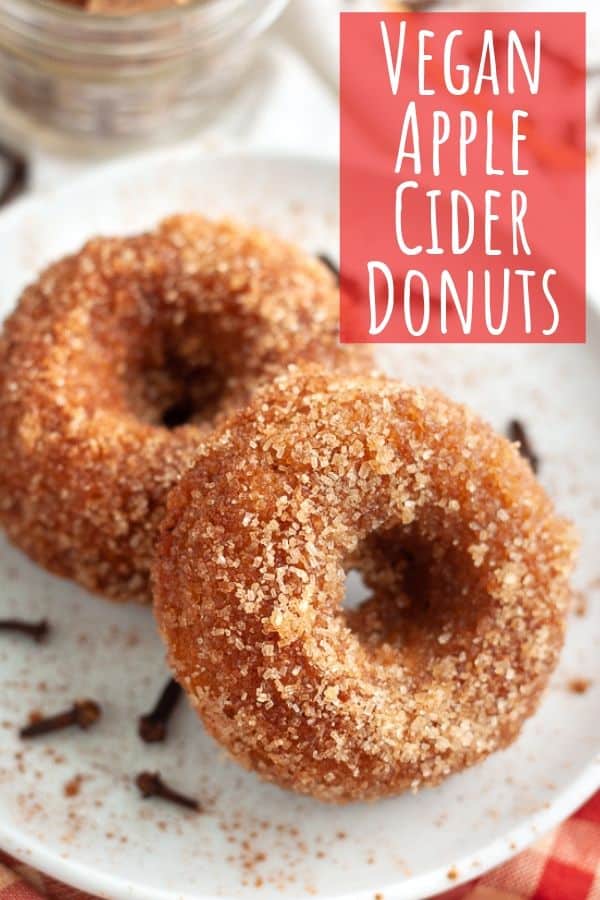 Yield: 12 Mini Donuts
Vegan Apple Cider Donuts
These yummy moist vegan apple cider donuts are easy to make and full of cinnamon, nutmeg and cloves, then rolled in cinnamon sugar!
Ingredients
2 Cups All-Purpose Flour
1 Cup Sugar (I used 1/2 brown 1/2 cane)
1 1/2 Cups Apple Cider
1/2 Cup Plant Milk
1/4 Cup Vegan Butter
1 Tsp Ground Cinnamon
1/4 Tsp Ground Cloves
1/4 Tsp Ground Nutmeg
1 Tbsp Ground Chia or Flax Seeds
2 Tsp Baking Powder
1/2 Tsp Baking Soda
1/2 Tsp Apple Cider Vinegar
1/2 Tsp Vanilla Extract
1/4 Tsp Salt
Sugar Coating:
1/2 Cup Cane Sugar
1.5 Tsp Ground Cinnamon
1/8 Tsp Ground Nutmeg
Instructions
Preheat oven to 350 degrees.
Heat Apple Cider in a pan over medium heat, and boil until it reduces to 1/2 cup, about 20 minutes. Mix in vegan butter to melt and then allow mixture to cool for 5 minutes.
Add to a bowl along with the plant milk, sugar, apple cider vingar and vanilla and mix very well until combined.
In a separate bowl, mix together the flour, cinnamon, cloves, nutmeg, chia or flax seeds, baking powder, baking soda and salt.
Pour into wet ingredients and mix just until smooth, you don't want to over mix the batter.
Add to an oiled or non-stick sprayed donut pan by scooping or placing in a large ziploc bag, cutting the corner and piping in, about 2/3 full.
Bake for 11-14 minutes, or until the donut pushes back up when you poke it, and a toothpick inserted in the donut comes out clean.
Allow to cool for 10 minutes and then transfer to a cooling rack to fully cool.
Quicky dip one or both sides in vegan butter or apple cider, shake off excess and then dip in cinnamon sugar mixture. Enjoy!
Recommended Products
As an Amazon Associate and member of other affiliate programs, I earn from qualifying purchases.