We may earn money or products from the companies mentioned in this post.
(Last Updated On: May 2, 2023)
The Best Ever Vegan Champagne Donuts
Have you ever tried champagne donuts before? If you haven't, you're in for a treat!
A generous splash of bubbly in your traditional vanilla baked donuts creates all new flavors and aromas, not to mention the vanilla-champagne frosting!
These donuts are easy to make, vegan, and packed with unique flavors, topped off with a sweet frosting and some sprinkles.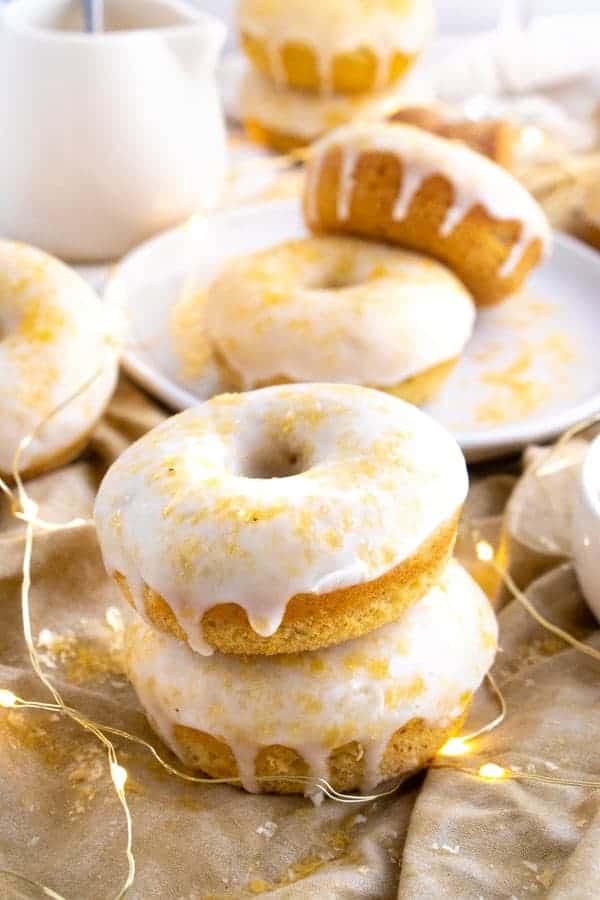 Champagne-Glazed Baked Doughnuts
The taste in these donuts is subtle and not overwhelming, but just strong enough to give it a bubbly pop.
After baking, they are dipped in a simple frosting consisting of vegan powdered sugar, vanilla extract and dry champagne. This adds even more dimensions of flavor while adding just the right amount of sweetness.
These pair perfectly with a glass of dry champagne to even out the sweetness of the frosting, and I love adding some sprinkles for more effect. You can use anything you'd like to top them – I used Suncore's Amber Flakes (not sponsored, I just think they looked super cute!), but silver or gold pearls or sprinkles are also great options!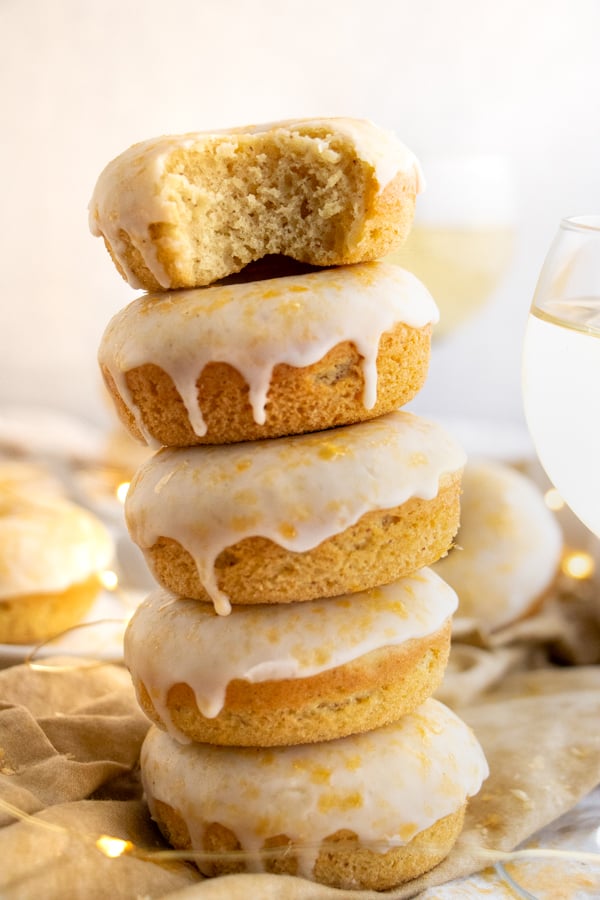 How to Make Vegan Champagne Donuts
Making the Donut Batter
This recipe is very straightforward, simply preheat your oven to 350 degrees and grab two bowls. Mix your dry ingredients in one and your wet (including the sugar) in another.
Pour the wet into the dry and fold together until they form a smooth batter – you might want to use a whisk towards the end if there are any clumps, but only mix as much as necessary and try not to overmix!
Baking Champagne Donuts
Spray your donut pan and fill them with batter 3/4 full. You can do this with a piping bag, a Ziploc bag by snipping off 1/2 inch of a corner, or just using a spoon to scoop it in.
If you don't have a donut pan, you can roll up some aluminum foil and place it in the center of a muffin tin, and simply add the batter around it.
Bake for 10-12 minutes (for a mini donut pan, if using a large one add 3-4 minutes), or until just slightly brown and a toothpick comes out clean when inserted into the donuts. You want to bake them as little as possible because if you over bake them they will be dry.
Allow to cool for 5 minutes in the pan, then transfer to a cooling rack.
Once fully cooled, mix together your frosting and dip the donuts in half way. Let some excess run off and then place back on the cooling rack, then add any sprinkles on you'd like!
Let the frosting set and then you can dig in! I recommend keeping these in the fridge for up to 5 days, but they taste best after coming to room temperature again.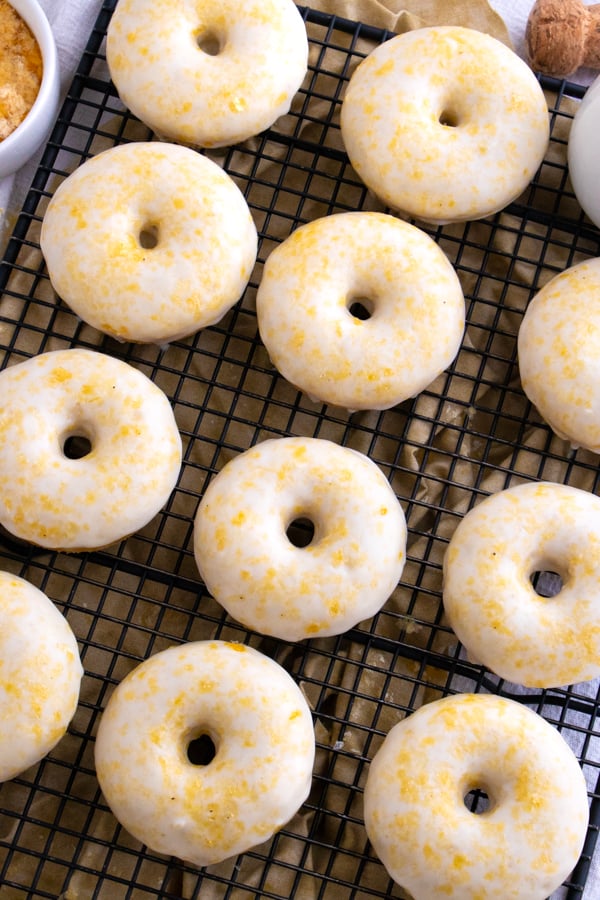 Baked and Frosted Champagne Donuts
These donuts are absolutely perfect for celebrations, or just as something new to bring to the table.
Champagne donuts are my go-to for New Year's, birthdays, bridal parties and really any celebration needing something sweet!
These bubbly golden-colored donuts are sure to surprise all of your guests with new and delicious flavors, and they look great on a dessert table – happy baking and cheers!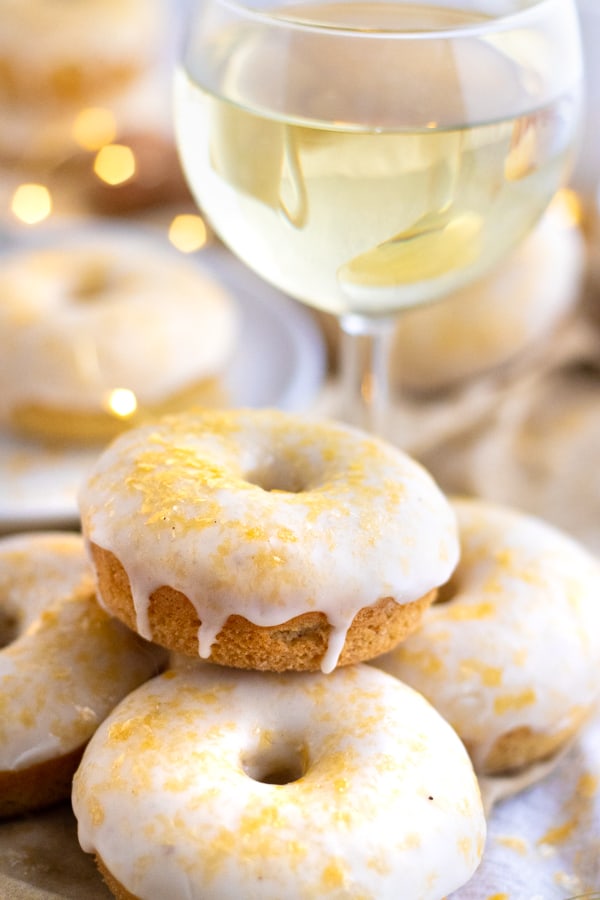 This recipe is:
Sweet

Bubbly

Baked

Vegan

Unique

Flavorful

Easy

Delicious
Check out these other vegan donut recipes!
Vegan Strawberry Powdered Donuts
Healthy Baked Donuts (oil-free)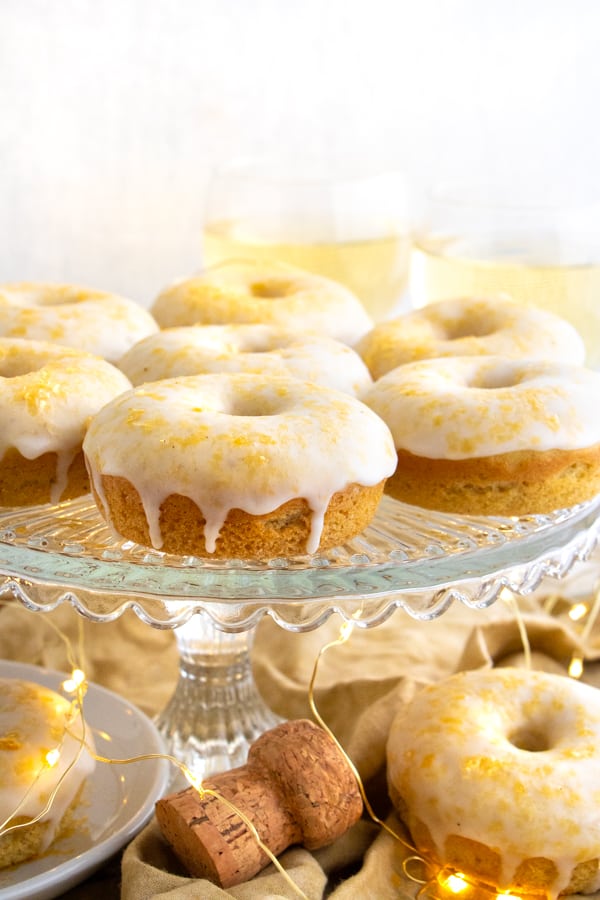 Pin this for later!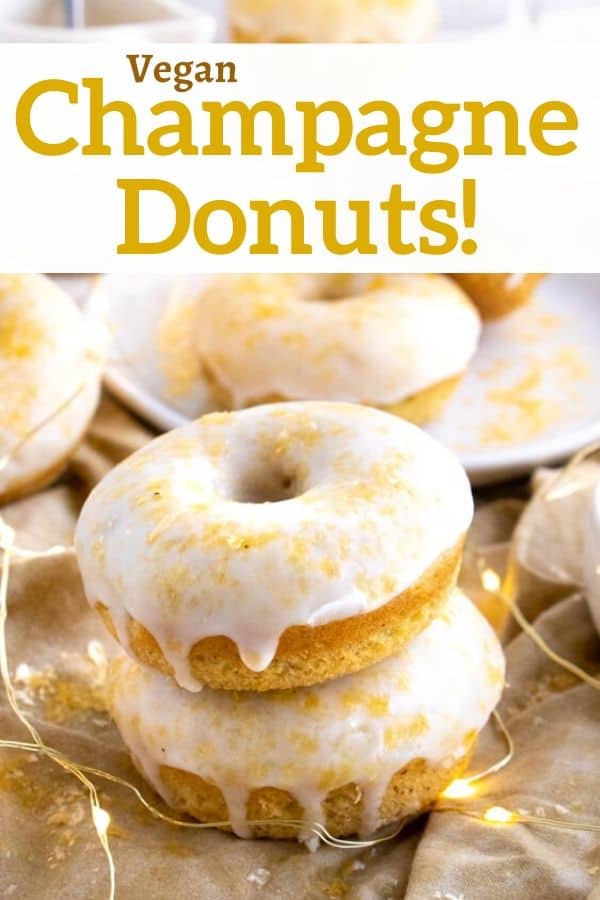 Champagne Donuts
These sweet frosted vegan champagne donuts are deliciously vanilla-flavored and unique - made with a generous splash of bubbly!
Ingredients
1/2 Cup Champagne, Dry
1/2 Cup Plant Milk
1/4 Tsp Salt
Champagne Frosting
Instructions
Preheat oven to 350 degrees.
In a large bowl, mix together flour, salt, baking powder, baking soda and finely ground flaxseed (you can use a coffee grinder or a blender).
In a separate bowl, mix together champagne, vanilla, sugar, milk, and oil until smooth.
Pour wet ingredients into dry and fold until smooth, you may want to briefly whisk this if there are any clumps, but try not to mix anymore than you need to.
Spray a donut pan* with non-stick spray and add batter to a piping bag or a ziploc bag.**
Pipe batter up to 3/4 full and bake for 10-12 minutes (for a mini donut pan, if using a large one add 3-4 minutes), or until a toothpick inserted into the donut comes out clean. You do not want to overbake or they will be a bit dry.
Allow donuts to cool in the pan for 5 minutes and then transfer to a cooling rack.
Mix together frosting ingredients until smooth, then dip half the donuts into the frosting and allow it to drip off a bit, then place back on the cooling rack for the frosting to set.
If you are adding any toppings sprinkle them on now before the frosting sets, and then enjoy!
Notes
*If you don't have a donut pan, you can roll some aluminum foil into a ball and place in the center of a muffin tin, and pipe the donut batter around it.
**If you don't have either, you can simply scoop in the batter.
Nutrition Information:
Amount Per Serving:
Calories:

176