We may earn money or products from the companies mentioned in this post.
(Last Updated On: April 5, 2023)
Vegan Lemon Lavender Shortbread Cookies
These lemon lavender shortbread cookies are so classy and unique!
Soft, buttery shortbread cookies half-dipped in a simple glaze, with a yummy flavor combination of lavender flowers and lemon zest.
The lavender combined with the rich shortbread cookies is a match made in heaven, and the glaze adds just enough sweetness to bring all the flavors together.
The touch of lemon zest adds a nice touch of citrus to the whole cookie, and is such a great complement to the flowers!
Just look at those delicate lavender flowers–If you love lavender baked goods, try my Vegan Lavender Lemon Cake next!
The blue from the lavender and the yellow form the orange add such pretty color pops to the shortbread!
Ingredients:
Flour – 

All-Purpose flour works best for these cookies, bleached or unbleached. 

Vegan Butter – 

Be sure to use vegan butter sticks that are room temperature.

Powdered Sugar – 

This helps retain that classic shortbread texture and sweetness!

Culinary Lavender – 

Be sure the lavender you use is culinary grade.

Lemon Zest – 

Fresh lemon zest adds so much flavor to these cookies and pairs perfectly with the lavender!

Vanilla – 

The perfect compliment to lavender.

Salt – 

To bring out all the simple, delicious flavors.

Glaze – 

A simple combination of powdered sugar and a little plant milk to dip half the cookies in.
Easy Iced Lavender Cookies Recipe
I love the simplicity of shortbread cookies, they have such a delicate sweet, buttery taste and are the perfect base for any combination of flavors.
This whole recipe has only 7 ingredients, including the lavender and lemon.
The dough comes together easily, is so simple to work with and bakes up in no time.
A hint of vanilla also adds another layer of flavor to these cookies, and helps to bring out the buttery cookies even more.
These vegan lavender shortbread cookies have best ever flavor – so floral and sweet all within a soft buttery cookie.
I also love the flavors in my Cranberry Orange Shortbread Cookies – sometimes I love serving the two side by side!
When making these cookies, be sure to use culinary lavender so they are food grade – you can also smash the flowers with a mortar and pestle to avoid the texture of the little flowers in the cookie.
This can help to distribute the flavor more, but I personally love the look of the whole flowers, and don't at all mind the texture.
I think it looks so classy and pretty!
Feel free to add as much or as little of the lavender flowers as desired – here is a helpful article about baking with lavender, you want to find that sweet spot where the taste isn't overpowering but not too weak, I think this recipe is the perfect balance!
You can also glaze the entire cookie for some added sweetness – I only dipped half because I love the look of it, I like being able to see the flowers in the other side of the cookie.
How to Make Vegan Shortbread Cookies
Making and Baking the Dough
When you're ready to make these lavender shortbread cookies, start by mixing the flour and salt in a bowl.
In a separate bowl, cream together the room temperature vegan butter and powdered sugar until smooth, and then add the vanilla, lavender and lemon and mix in.
Add the dry to the wet and mix until you have a ball of dough – it helps a lot to use your hands towards the end to bring the dough together.
Wrap and chill the dough for 30 minutes in the fridge, and then sprinkle some powdered sugar on a flat surface and roll the dough into a 2 inch cylinder with flat ends.
Cut roughly 1/3 inch cookies out and place on a baking sheet – freeze for 15 minutes and then bake at 325 degrees for 12-14 minutes!
You'll know the cookies are done when the edges become the slightest golden brown.
How to Ice and Serve Lavender Cookies?
Let the lemon lavender cookies cool completely, and then you can mix together your glaze and dip the cookies in half way!
I angle them so the bottoms don't really get glazed, but feel free to glaze how you'd like!
I just love the look this created, and then I sprinkled on a few more lavender flowers on top!
How to Store Shortbread Cookies?
You can store these cookies in an airtight container on the counter for up to 4 days, or keep them in the fridge if your home is warm so the glaze does not melt.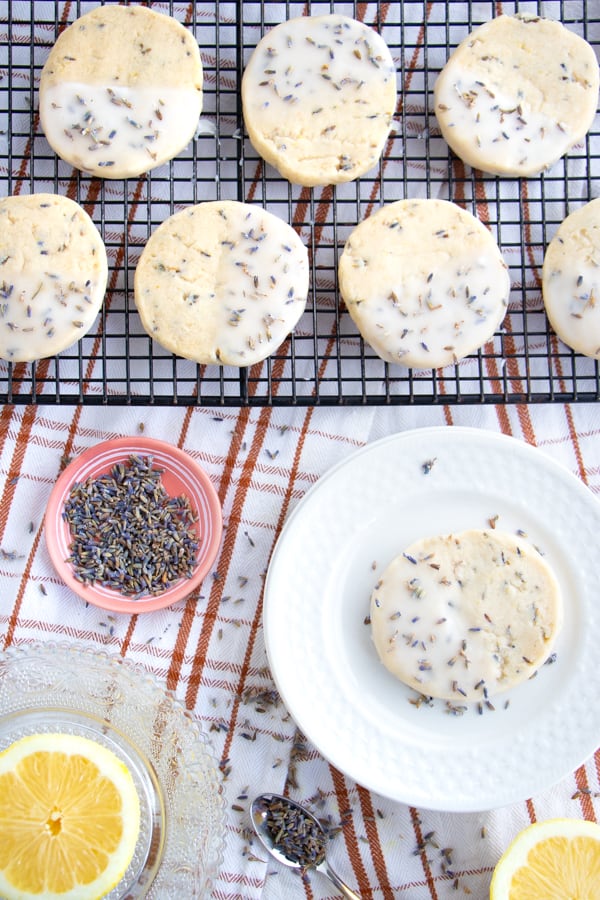 The Best Glazed Vegan Shortbread Cookies
I love experimenting with new flavors in the kitchen, and lavender has always  been a favorite of mine, especially in these vegan shortbread cookies recipe.
It's so unique and adds such a nice subtle flavor to baked goods, I think shortbread is the best pair for the flower too.
These vegan lavender cookies are perfect for any occasion, but especially ones that need a slight classy touch!
I can totally see these at bachelorette parties, high teas, or just a nice brunch!
I love giving cookies as a gift, these are certainly a perfect choice because of how pretty and delicious they are.
If you're really feeling like baking, pair these with some Vegan Matcha Sugar Cookies, Vegan Lemon Cookies and Raspberry Almond Thumbpring Cookies for a delicious balance of flavors!
This recipe is:
Easy

Simple

Flavorful

Classy

Lavender-Lemon Flavored

Vegan

Tasty!
Check out these other classic vegan treats!
Pin this for later!
Lemon Lavender Shortbread Cookies
Total Time:
1 hour
12 minutes
These soft and chewy vegan lemon lavender shortbread cookies are so delicate and delicious. Topped with a sweet glaze and a sprinkle of lavender flowers!
Ingredients
1 Cup All-Purpose Flour
1/2 Cup Vegan Butter (room temp)
1/2 Cup Vegan Powdered Sugar
2 Tsp Culinary Lavender
2 Tsp Lemon Zest
1/2 Tsp Vanilla Extract
1/4 Tsp Salt
For the Glaze
1 Cup Vegan Powdered Sugar
1-2 Tbsp Plant Milk
Instructions
In a bowl, mix together the flour and salt.
In a separate bowl, cream together the room temperature vegan butter and powdered sugar until smooth, then add the vanilla, lavender and lemon and mix.
Add dry ingredients to wet and mix until you form a ball of dough - I use my hands towards the end of this to bring everything together.
Wrap and chill in the fridge for 30 minutes.
Dust a bit of powdered sugar on a flat surface and roll the dough out into a 2 inch wide cylinder with flat ends.
Cut roughly 1/3 inch cookies out of the dough and place on a baking sheet covered with parchment paper.
Once all cookies are on the sheet, place in the freezer for 15 minutes.
While freezing, preheat oven to 325 degrees, then bake for 12-14 minutes until the edges of the cookies are just slightly brown.
Allow to cool completely, then mix together glaze and dip the cookies in half way, adding more culinary lavender to the top if desired. Enjoy!
Notes
*I have only made this recipe with vegan butter sticks that have been brought to room-temperature by sitting on the counter for a few hours. Vegan butter in a tub is not recommended as it will likely make your cookies far too runny while baking.
Recommended Products
As an Amazon Associate and member of other affiliate programs, I earn from qualifying purchases.
Nutrition Information:
Amount Per Serving:
Calories:

145