We may earn money or products from the companies mentioned in this post.
(Last Updated On: May 10, 2023)
Best Chewy Vegan Matcha Cookies
These vegan matcha cookies are so soft and chewy, with a delicious matcha flavor!
Matcha green tea powder is one of my favorite flavors and it's the perfect addition to sugar cookies.
It's so unique and I love baking with it any chance I get! 
The flavor is classic and perfect in these sweet cookies, and the light powdered sugar on top makes them complete!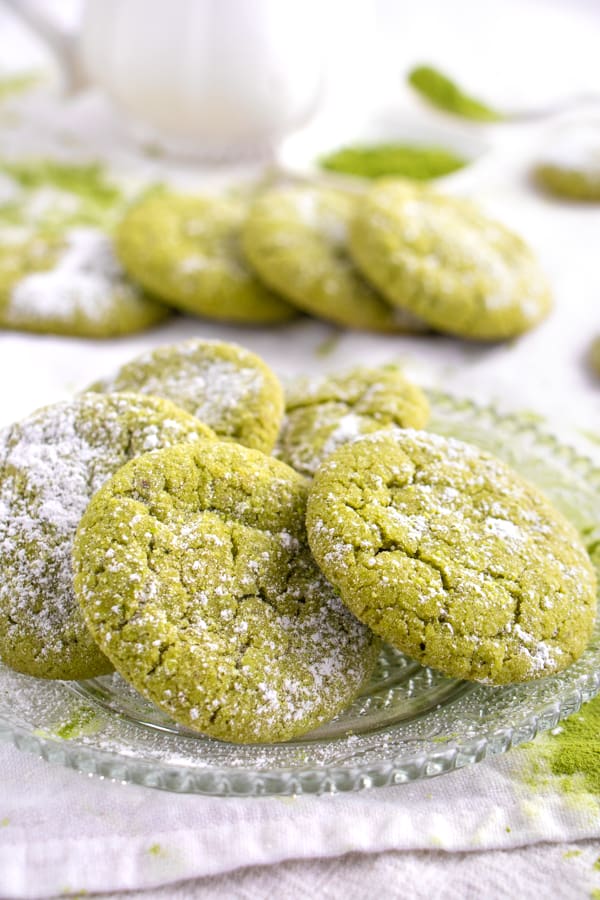 Easy Vegan Green Tea Cookies
If you've never tried matcha, these cookies are the perfect way to be introduced to it!
It has a subtly earthy green tea taste, while also being so smooth, buttery and creamy.
I love mine slightly sweetened, which makes it the perfect flavor for these crinkle sugar cookies.
The result is a super classy and irresistible cookie that is so soft, pretty and totally vegan.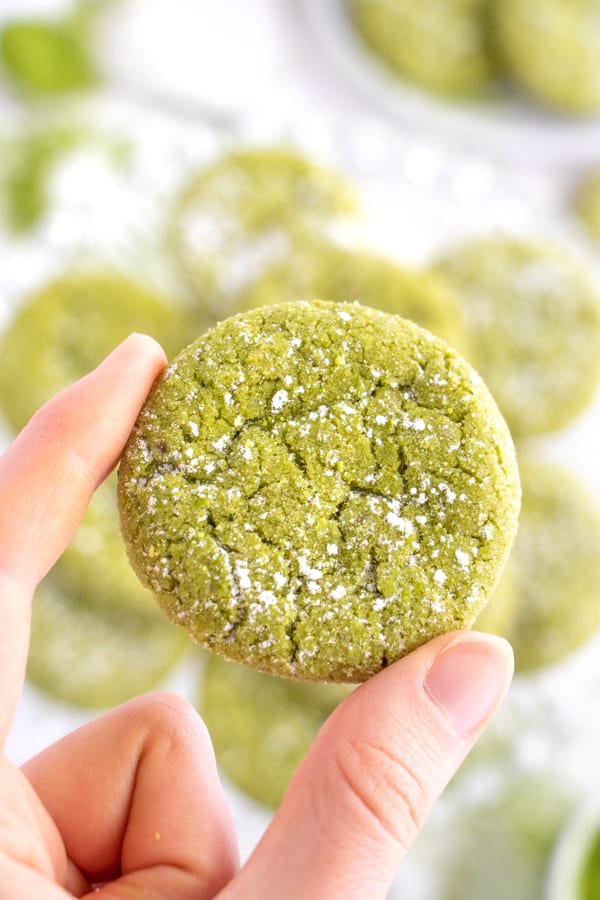 Baking with matcha is a breeze – a little goes a long way and completely transforms your baking.
It adds a pretty light green color and tons of flavor, you just have to simply balance it with some sugar and you're all set.
I like to cream mine in with the vegan butter and sugar to evenly distribute the color and flavor, the rest is just baking as usual!
These cookies are so simple and tasty, yet they are also perfectly suitable for adults! The ultimate cookie tray for me would be these cookies along with my Vegan Almond Raspberry Shortbreads, Vegan Lemon Cookies and Vegan Glazed Lavender Shortbreads!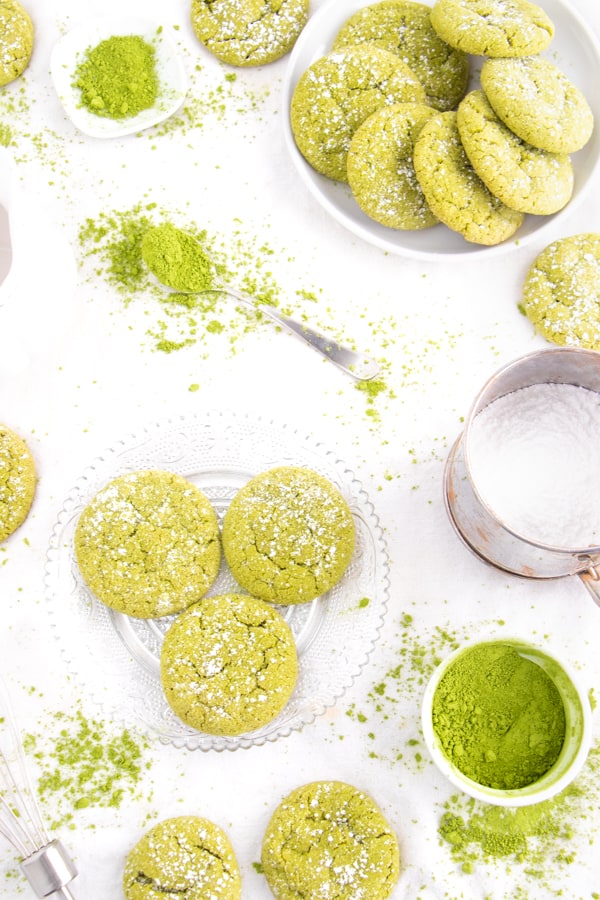 How to Make Vegan Matcha Cookies
Preparing the Cookie Dough
When you're ready to make these matcha cookies, start by creaming together your vegan butter, sugar and matcha powder in a bowl.
I usually use a whisk for this, and once it's creamy I add the flax egg and vanilla and mix again.
Then I just sift in the dry ingredients and mix until a dough is formed, it takes a minute but will come together.
For best results, chill your dough in the fridge for 30 minutes so they are thick and chewy, then preheat your oven to 350 degrees!
Take tablespoon amounts of your chilled dough (I used a cookie scoop with a release trigger for ease!) and roll them into a ball with the palms of your hands.
I like to roll the dough in some sugar so they get a sparkly finish after baking, then place them on a baking tray covered in parchment paper.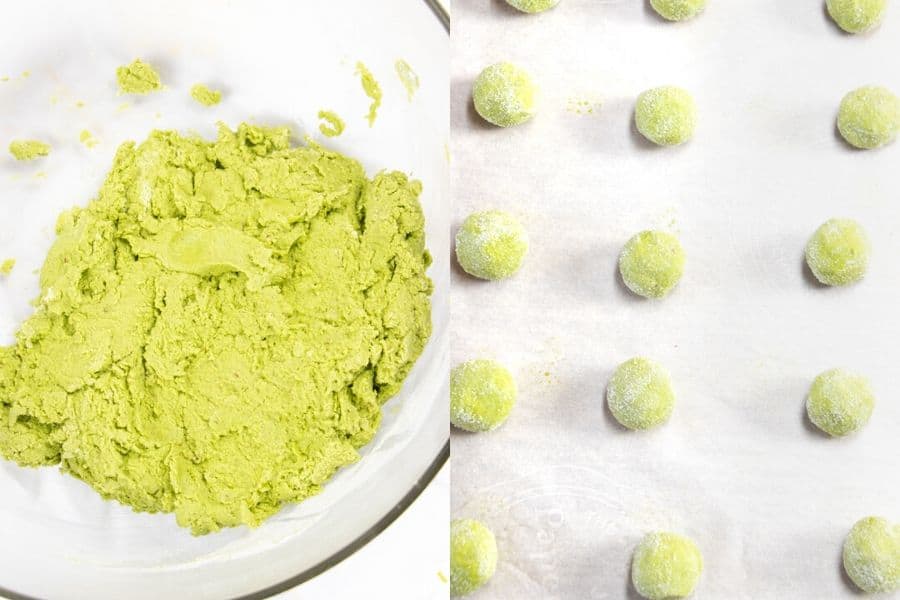 Baking Vegan Cookies
I bake my cookies for 12-14 minutes, or until they just slightly start to become light brown on the bottom.
Let them cool for 3 minutes on the tray and then transfer to a cooling rack.
After they cool a bit, I like to sift on some light powdered sugar for a fancy look, then you're done!
Soft Crinkled Matcha Cookie Recipe
This crinkled sugar cookie recipe is perfect for any occasion that you want to offer something new and delicious.
Green tea cookies are a great addition to a dessert table, and also great for snacking on around the house!
One thing I will say is that the quality of the matcha you use is super important – low quality matcha is typically filled with added sugars or fillers that take away from the taste.
I like to use 100% matcha and play with the sugar myself to find the perfect balance, and using high quality matcha makes for the tastiest baked goods!
Since these cookies have green tea powder in them, you also get a little boost of caffeine eating them!
Try my Vegan Matcha Brownies or my Matcha Lemonade next for the same great flavor but in chewy, fudgy brownie form!
This recipe is:
Soft

Chewy

Delicious

Green Tea

Matcha

Vegan

Dairy Free

Easy to Make
Try these other yummy vegan cookies!
Cranberry Orange Shortbread Cookies
Pin this for later!
Vegan Matcha Cookies
Yield:
35-40 Small Cookies
These vegan matcha sugar cookies are soft, chewy and packed with green tea flavor! Super quick and easy to make and lightly topped with powdered sugar!
Ingredients
1 Cup Sugar + more for coating cookies
3/4 Cup Vegan Butter (room temp)
1 Flax or Chia Egg*
1/2 Tsp Baking Soda
1 Tsp Cream of Tartar
1/4 Tsp Salt
Instructions
Cream together room-temperature vegan butter, sugar and matcha powder until smooth with a whisk. Add flax egg and vanilla extract and mix until smooth.
Sift in flour, baking soda, cream of tartar and salt and mix until a dough forms with a strong spatula or by hand.
Chill for 30 minutes in the fridge and then preheat oven to 350 degrees F.
Roll tablespoon amounts of dough between your palms to form a ball, then roll in sugar and place on a baking tray covered with parchment paper. Repeat with remaining dough. This cookie scoop comes in handy!
Bake for 12-14 minutes, or until the bottoms begin to slightly brown.
Notes
* Mix 1 tbsp ground chia or flax seeds and mix with 3 tbsp water. Let sit for 10 minutes until it has an egg-like sticky texture.
Nutrition Information:
Serving Size:

2 Cookies
Amount Per Serving:
Calories:

231