We may earn money or products from the companies mentioned in this post.
(Last Updated On: May 2, 2023)
Vegan Funfetti Sugar Cookies Recipe
These vegan funfetti sugar cookies are soft, chewy, delicious and packed with rainbow sprinkles!
Perfectly soft on the inside with an ever so slightly crisp outside, these sugar cookies are as good as it gets.
Perfect for kids, or any party that needs a bit of color or brightening up!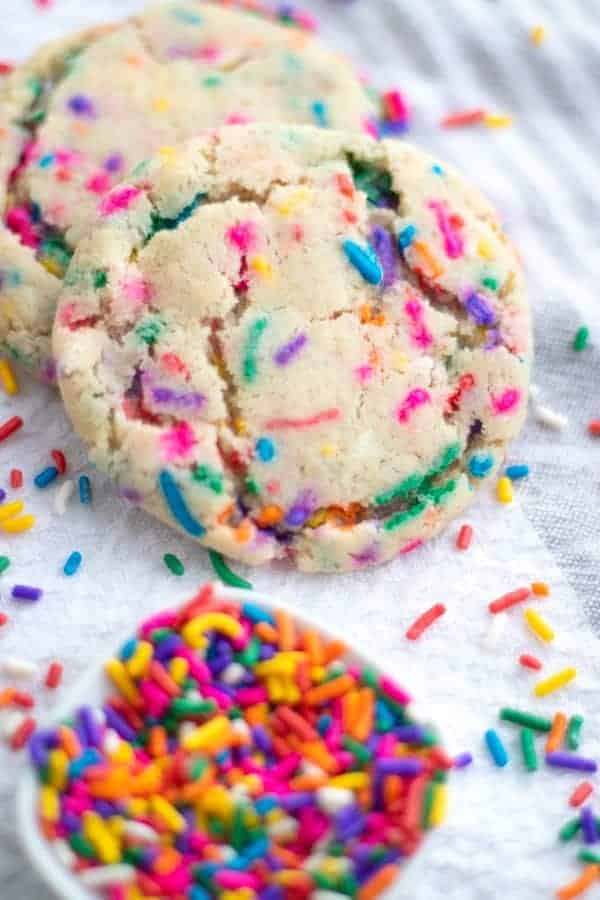 These colorful sugar cookies seriously light up a room – they become the star of the dessert table in no time.
You can even customize the sprinkle colors to be perfect for Valentine's Day, Christmas, St. Paddy's, baby showers and anything else you can think of!
Easy Vegan Rainbow Confetti Cookies
These rainbow sprinkle cookies are almost too pretty to eat, they are made for celebrations of any time and are sure to steal the spot light!
While normally seen as a kids treat, let's be honest that no adult could resist these sweet cookies!
Not to mention, they only have 9 ingredients and come together literally in no time. 
The best one bowl vegan sugar cookies around, you're going to love this recipe!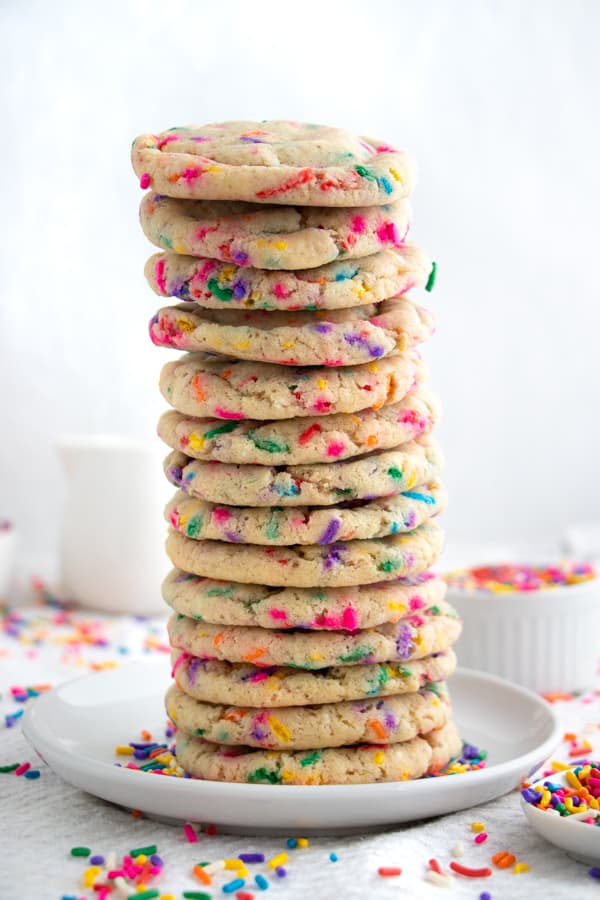 If you love these yummy cookies, try my Vegan Sugar Cookies or Vegan Rainbow Sprinkle Donuts nex!
How to Make Vegan Funfetti Cookies
Making the Rainbow Cookie Dough
Making these vegan funfetti sugar cookies is so simple to do!
To start, you'll want to cream together your room-temperature vegan butter and your cane sugar. I simply use a whisk for this until it's nice and smooth. Then I mix in the vanilla and the flax egg.
To make this process easier (and because I love one bowl recipes), I like to sift in the dry ingredients right over the wet. Then stir in the rainbow sprinkles – I used my hands towards the end to fully bring the dough ball together.
Chill the dough for 30 minutes in the fridge, and then form 2 tablespoon sized dough balls using the palms of your hands.
Place them 2 inches apart on a baking sheet.
Baking Funfetti Sugar Cookies
Now you'll want to bake them at 350 degrees for 10-13 minutes. 
You'll know they are done when the edges become the slightest golden brown.
Another way to check is to gently press your finger into the middle of a cookie, and if it springs back up they are ready, if it just leaves an imprint and doesn't rise back up at all they need a little longer.
Let them cool on the pan for 5 minutes, then transfer to a cooling rack and that's it!
If you want more crinkles in your cookies you can skip the chilling part, but they will not be as thick and puffy if you do.
Totally up to you!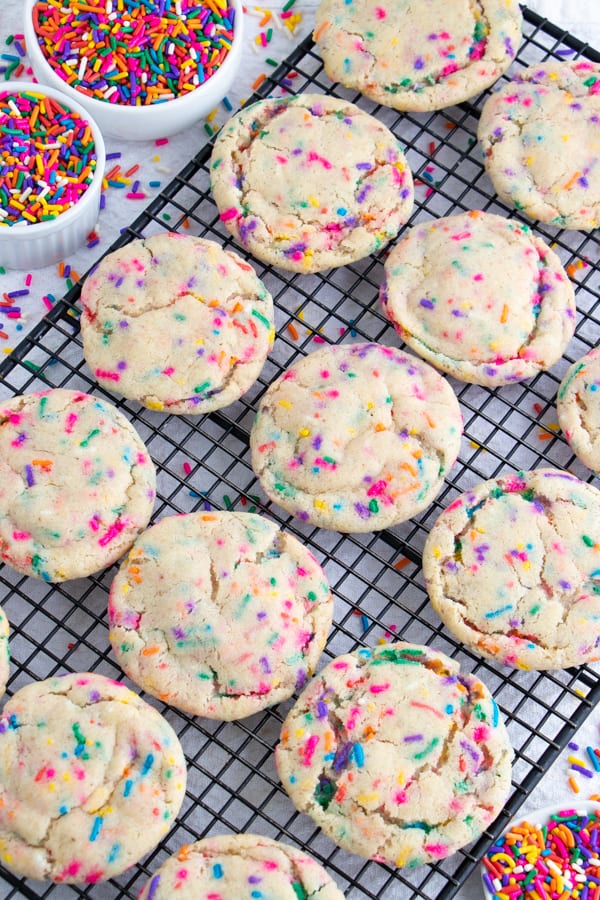 Soft and Chewy Rainbow Sugar Cookies
These funfetti cookies are so unique and yummy.
They are softer and thicker than normal vegan sugar cookies, made with a generous dash of cream of tartar to help them rise and get those cute crinkles.
If you're looking for some yummy healthier sprinkles I would recommend these vegan rainbow sprinkles as they are free of artificial colors and are more natural while still giving you that bright color.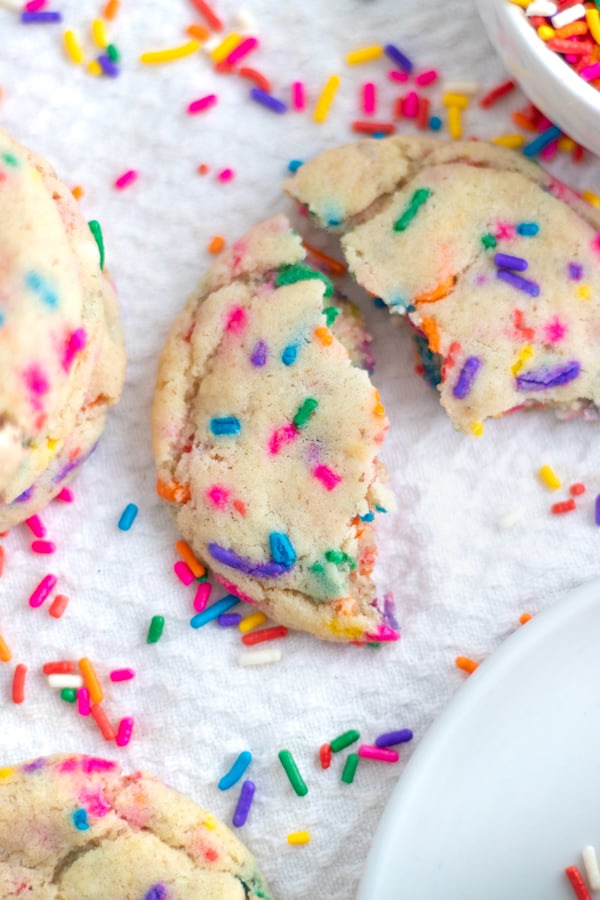 These cookies also keep very well – you can keep them covered on the counter for a few days, or covered in the fridge for up to 10 days for best texture.
This recipe is:
Soft

Chewy

Delicious

Sweet

Thick

Rainbow

Easy to Make
Try these other vegan sugar cookies!
Vegan Chewy Snickerdoodle Cookies
Cranberry Orange Shortbread Cookies
Pin this for later!
Vegan Funfetti Sugar Cookies
These vegan funfetti sugar cookies are so soft, chewy and delicious! Packed with rainbow sprinkles and made with just a few simple ingredients.
Ingredients
1/2 Cup Vegan Butter (room temp.)
1 Flax Egg*
2 Tsp Cream of Tartar
1/2 Tsp Baking Soda
1/4 Tsp Salt
Instructions
In a bowl, cream together room temperature vegan butter and cane sugar until smooth, then mix in vanilla and flax egg.
Sift in flour, cream of tartar, baking soda, salt and sprinkles until a solid ball of dough is formed, you may want to use your hands towards the end to bring everything together.
Refrigerate for 30 minutes, then preheat oven to 350 degrees.
Take roughly 2 tablespoon amounts of dough and roll into balls. Place on a baking sheet 2 inches apart.
Bake for 10-13 minutes or until the edges are just starting to brown and when you gently poke the middle of a cookie with your finger it rises back up.
Notes
*1 Tbsp ground flax seed mixed with 3 tablespoons water, let sit for 5 minutes and use in place of egg.
Nutrition Information:
Amount Per Serving:
Calories:

145