We may earn money or products from the companies mentioned in this post.
(Last Updated On: January 4, 2023)
Vegan Peppermint Mocha Cookies Recipe
These vegan peppermint mocha cookies are incredible decadent, rich and packed with flavor!
The chocolate cookies are incredibly fudgy, chewy and slightly crinkled.
The perfect balance of flavors of mint, chocolate and coffee – with a pretty white chocolate coating on top!
Not to mention smashed candy canes to add more minty flavor and a pop of color.
These vegan mocha cookies are ready in under 30 minutes and perfect for the holidays, or anytime you need a chocolaty dessert!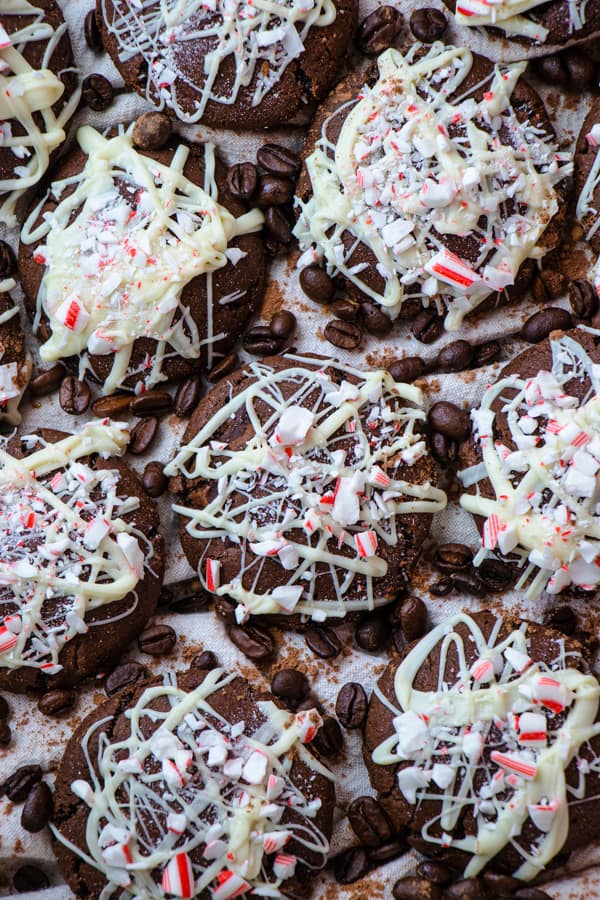 These peppermint mocha crinkle cookies are ideal for holiday celebrations, I especially love making them for Christmas because they always look so great on a dessert table.
The are also an easy and reliable crowd pleasing dessert.
I love making these all winter long!
Best Vegan Peppermint Chocolate Cookies
I could have stopped at vegan peppermint chocolate cookies, but why not take them to the next level and add coffee too!
Coffee and chocolate are very complimentary, and perfectly balanced by the sweetness and a white chocolate topping.
Many stores now sell vegan white chocolate that's ready to use – these vegan white chocolate baking chips or this vegan white chocolate bar are great examples.
I usually have the best luck at specialty stores or big grocers like Whole Foods.
Alternatively, you can make your own at home with this Vegan White Chocolate recipe!
Or, just top them with powdered sugar!
INGREDIENTS:
All-Purpose Flour –

You can substitute with a 1:1 gluten free flour blend as well, though I haven't tried with this exact cookie recipe.

Cocoa Powder –

Try to find the best quality you can, but any will do!

Vegan Butter –

Be sure to use vegan butter sticks (like from Country Crock Plant Butter) instead of butter from a tub, it usually has too much moisture.

Sugars – A blend of white and brown sugar.

Flax Eggs –

Help to add moisture and binding to the dough, much like an egg.

Vanilla Extract –

The perfect compliment to these decadent cookies.

Peppermint Extract –

To add the perfect amount of minty flavor!

Ground Coffee –

You can also use ground espresso – this make these cookies peppermint mocha instead of just peppermint chocolate!

Baking Soda –

To help them rise and get a bit crinkled.

Salt –

To bring out all the tasty flavors in these cookies.

Vegan Chocolate Chips –

Any kind will do, I usually like dark chocolate but there are some brands of vegan milk chocolate chips too.

Vegan White Chocolate –

To get that pretty black and white contrast!

Candy Cane Pieces –

Smashed to be sprinkled all over the cookies!
How to Make Peppermint Mocha Crinkle Cookies
Making the Chocolate Cookie Dough
Before you start making your cookie dough, preheat your oven to 350 degrees F and line your baking tray with parchment paper or a silicone baking mat – you will need 2-3 trays or simply reuse the same one, then set aside.
Place a few candy canes in a disposable bag and carefully smash them into small pieces – I like to use a rolling pin to do this, then set aside as well.
Then, mix together your dry ingredients in a bowl until well combined and set aside.
In another bowl, whisk together all your wet ingredients, including your sugar, until smooth.
Add the dry into the wet and mix to combine – it will be a pretty thick dough and shouldn't be too sticky.
Stir in the chocolate chips and your dough is done!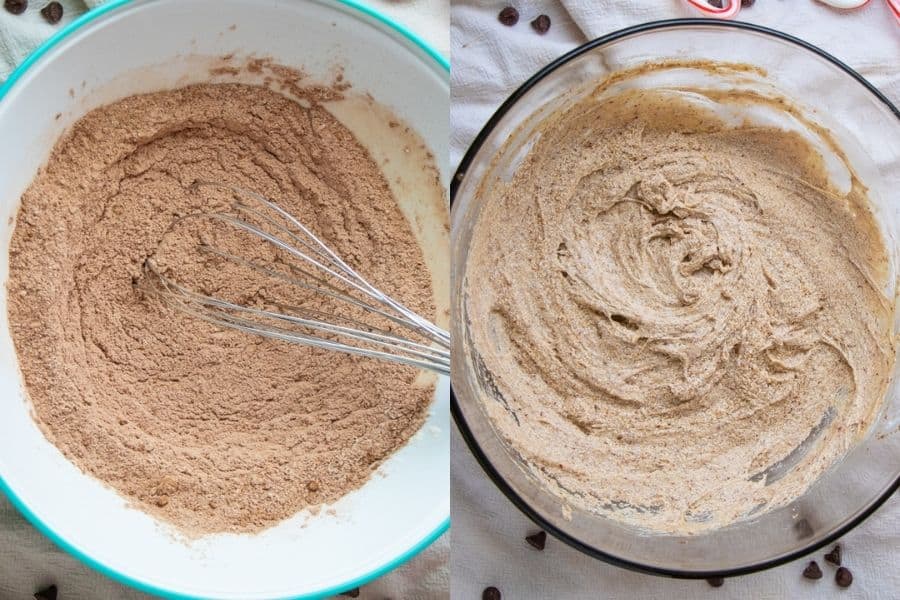 Baking Double Chocolate Cookies
Shape your dough into 2 tablespoon dough balls and place on a baking tray 2 inches apart (again, you will likely need 2-3 trays total – I just do this in batches).
Bake for 9-11 minutes until set and puffy – they will finish baking as they cool so you just want them to look set on top.
If you want them extra crinkled, you can carefully tap the pan on the counter a few times to help them flatten slightly and get more crinkled.
Let cool for five minutes on the pan and then carefully transfer to a cooling rack.
Once the cookies are completely cooled, you can melt your vegan white chocolate for the drizzle!
You can do this one of two ways – I usually just place it in the microwave and stir it after each 15 seconds until it's smooth and melted.
You can also use the double boiler method by placing a heat-safe bowl on top of a pan that has 1 inch of water in it – place this on the stove and stir constantly to melt the chocolate.
Now the fun part! Generously drizzle the white chocolate all over the cookies in a crisscross pattern.
You can just do this with a spoon like I did, or carefully place the melted chocolate in a piping bag or disposable plastic bag, and snip off the smallest part of the corner for more control of the drizzling.
Finally, sprinkle with candy cane pieces and enjoy!
White Chocolate Chip Mint Cookies
These vegan peppermint cookies are my go to as soon as it starts to cool down – everything you love about a peppermint mocha latte but in cookie form!
While I love classic Vegan Christmas cookies like Gingerbread Men, Chocolate Crinkle Cookies, Snickerdoodles and Raspberry Thumbprint Cookies, I always look forward to the minty chocolate chip ones more!
If you're looking to really get busy in the kitchen this year, pair these with some Vegan Chocolate Chip Cookie Cake, Vegan Pumpkin Cookies, Lofthouse Sugar Cookies, Lemon Sugar Cookies or S'mores Cookies!
Regardless of what you're baking this winter, be sure to try these vegan mint chocolate chip cookies and let me know what you think!
HOW CAN I STORE THESE COOKIES?
These cookies can be stored in an airtight container on the counter for up to five days.
You can also freeze the cookies without the white chocolate/candy cane topping for up to 3 months – simply let thaw on the counter and then add the topping – I do prefer the texture fresh though!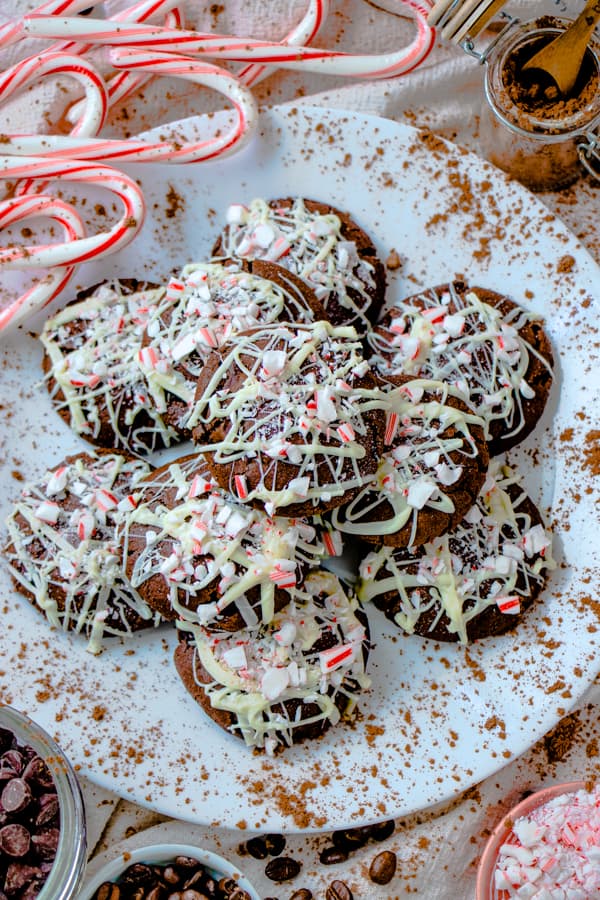 This recipe is:
Fudgy

Festive

Vegan

Dairy Free

Egg Free

Made with Coffee

Chocolate-Peppermint Flavored

Ready in Under 30 Minutes
Pin this for later!
Peppermint Mocha Cookies
These chewy double-chocolate vegan peppermint mocha cookies are incredibly delicious! Topped with white chocolate and candy cane pieces.
Ingredients
2 Cups All-Purpose Flour
3/4 Cup Cocoa Powder
3/4 Cup Vegan Butter, room temperature*
2/3 Cup White Sugar
3/4 Cup Brown Sugar
2 Flax Eggs**
2 Tsp Vanilla Extract
1 1/2 Tsp Peppermint Extract
2 Tbsp Ground Coffee
1 Tsp Baking Soda
3/4 Tsp Salt
1 Cup Vegan Chocolate Chips
Topping
Vegan White Chocolate
Candy Cane Pieces
Instructions
Preheat oven to 350 degrees F and line a baking tray with parchment paper or a silicone baking mat, set aside.
Place candy canes in a disposable bag and carefully smash into small pieces, set aside.
In a bowl, whisk together the flour, cocoa powder, ground coffee, baking soda and salt, set aside.
In another bowl, whisk together the room temperature vegan butter, white sugar, brown sugar, flax eggs, vanilla and peppermint extracts until very smooth.
Add the dry ingredients into the wet and mix to combine - it will be a thick not-too-sticky dough. Stir in the chocolate chips.
Shape the dough into 2 tbsp balls and place 2 inches apart on a baking tray.
Bake for 9-11 minutes, or until set and puffy - you can carefully tap the pan on the counter a bit to help the cookies get crinkled if desired.
Let cool for 5 minutes on the pan and then carefully transfer to a cooling rack.
Once completely cooled, melt white chocolate in the microwave, mixing every 15 seconds until smooth (or by using the double boiler method), and generously drizzle over all the cookies in a crisscross design.
Sprinkle with candy cane pieces and enjoy!
Notes
*I recommend using a butter like Country Crock Plant butter sticks instead of butter from a tub, the dough may get too much extra water.
**Mix 2 Tbsp ground chia or flax seeds with 6 tbsp water and let sit for 5-10 minutes to thicken. These are used to replace 2 eggs in this recipe.
Nutrition Information:
Yield:

22
Serving Size:

1
Amount Per Serving:
Calories:

227
Total Fat:

11g
Saturated Fat:

6g
Trans Fat:

0g
Unsaturated Fat:

4g
Cholesterol:

26mg
Sodium:

196mg
Carbohydrates:

31g
Fiber:

2g
Sugar:

19g
Protein:

3g