We may earn money or products from the companies mentioned in this post.
(Last Updated On: April 30, 2023)
Vegan Oat Milk Hot Chocolate
This comforting, homemade vegan oat milk hot chocolate is sweet, decadent and rich!
Made in only 5 minutes with 5 simple ingredients – this is a recipe you'll want to save and make again and again.
This super creamy recipe is complete with all the best toppings – whipped cream, marshmallows and even more chocolate.
It's also totally customizable with tons of flavor possibilities – keep reading to try some!
Ingredients 
Oat Milk – 

This milk makes the creamiest, tastiest hot chocolate ever, but soy, almond or coconut will also work. This recipe used unsweetened milk, so if yours is sweetened reduce the sugar a bit to taste.
Sugar – 

I used plain white sugar, but you can also use brown or even coconut. You can also substitute for maple syrup or agave instead, just be sure to add slowly and to taste. For sugar free, try using monk fruit or stevia.
Vanilla – 

To add another layer of delicious flavor!
Chocolate – 

This can be dairy-free chocolate chips, chocolate bars or any vegan chocolate you can find.
Ground Coffee or Espresso Beans – 

This is totally optional, I just love how chocolate and coffee compliment each other and really bring out the flavors in each!
How to Make 5 Minute Hot Cocoa
Heating the Ingredients
This recipe is truly as easy as it gets.
Simply place a pot over medium/low heat on the stove and add in all of the ingredients.
Whisk very frequently as it heats up and stir until the mixture is nice and smooth – that's it!
Serving Dairy Free Hot Chocolate
Pour the hot chocolate into your mugs.
Now the fun part – adding all of your favorite toppings to your hot chocolates!
For this recipe, I used store-bought vegan whipped cream, vegan mini marshmallows, cocoa powder and leftover chocolate shavings – it was a perfect cup of cocoa!
Tips for Success:
Do not let the milk boil at any point, you just want it warm enough to melt the chocolate until everything is nice and smooth. 
Everyone has a sweetness preference (from milk chocolate and dark chocolate lovers), so add the sugar to taste and adjust accordingly.
For the creamiest hot chocolate, I recommend using 1 1/2 cups oat milk and 1/2 cup coconut milk from a can of full-fat coconut milk (be sure to shake it first). It really adds a nice, thick creaminess to the drink!
Starbucks Inspired Flavor Ideas
Peppermint Hot Chocolate – Add a couple drops of peppermint extract to the drink and serve with a candy cane.
Mocha Latte – Add a shot of espresso or a small amount of very strong coffee to the drink!
Caramel Hot Chocolate – Add a drizzle of vegan caramel inside the cup as well as on top!
Mexican Hot Chocolate – Add 1/2 tsp ground cinnamon and 1/8 tsp each of ground nutmeg and cayenne powder!
Peanut Butter Hot Chocolate – Add 1-2 tbsp of creamy peanut butter to the drink.
Oreo Hot Chocolate – Crumble Oreo cookie pieces on top of your whipped cream.
S'mores Hot Chocolate – Crumble vegan graham crackers on top of the whipped cream and serve with marshmallows!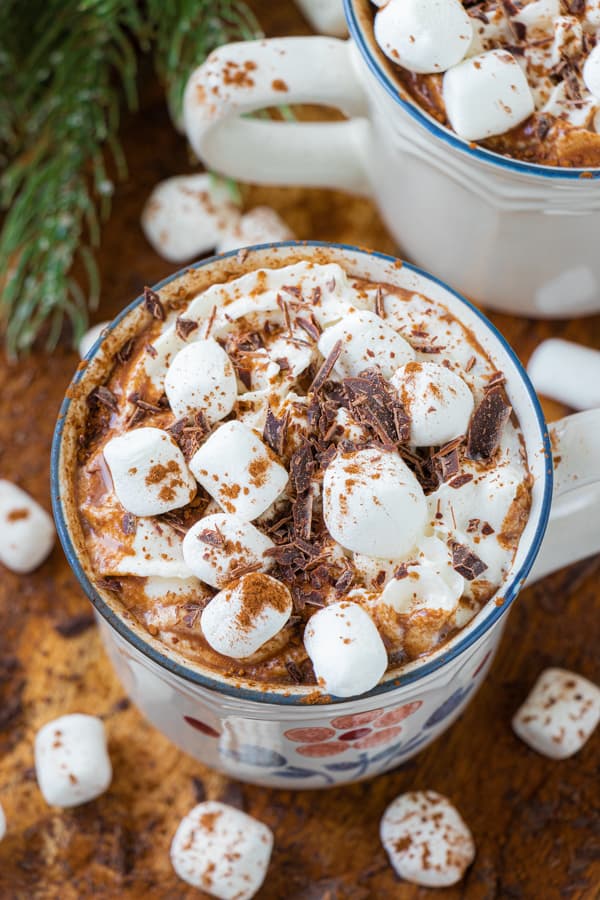 Vegan Hot Chocolate (Oat Milk)
This creamy and decadent vegan oat milk hot chocolate recipe is ready in 5 minutes, and has 5 simple ingredients with endless topping ideas!
Ingredients
2 Tbsp Sugar
1/4 Tsp Vanilla
1/2 Tsp Ground Coffee or Espresso Beans (Optional)
Instructions
Add all ingredients into a medium pan over medium/low heat.
Heat mixture while whisking constantly. Do not let the mixture boil, you just want to warm it until the chocolate is fully dissolved.
Pour into mugs an serve with toppings of choice!**
Notes
*Any plant-based milk will also work, but oat is my favorite. For even creamier hot chocolate you can use 1 1/2 cups plant milk + 1/2 cup canned full-fat coconut milk (just be sure to shake the can before measuring!).
**Optional toppings include: Vegan Whipped Cream, Vegan Mini-Marshmallows, Vegan Chocolate Syrup, Candy Canes, Chocolate Shavings or Rainbow Sprinkles
Nutrition Information:
Yield:

2
Serving Size:

1
Amount Per Serving:
Calories:

434
Total Fat:

8g
Saturated Fat:

4g
Trans Fat:

0g
Unsaturated Fat:

3g
Cholesterol:

5mg
Sodium:

464mg
Carbohydrates:

84g
Fiber:

8g
Sugar:

53g
Protein:

11g