We may earn money or products from the companies mentioned in this post.
(Last Updated On: May 25, 2023)
Easy Vegan Matcha Muffins Recipe
These vegan matcha muffins are soft, fluffy and packed with green tea flavor!
Ready in under 30 minutes, these muffins are so unique and delicious, topped with a simple lemon and vanilla glaze.
They are perfect for any occasion, and are sweet enough for kids yet classy and flavorful enough for adults.
You only need one bowl and a muffin baking tray and these muffins will be ready in no time!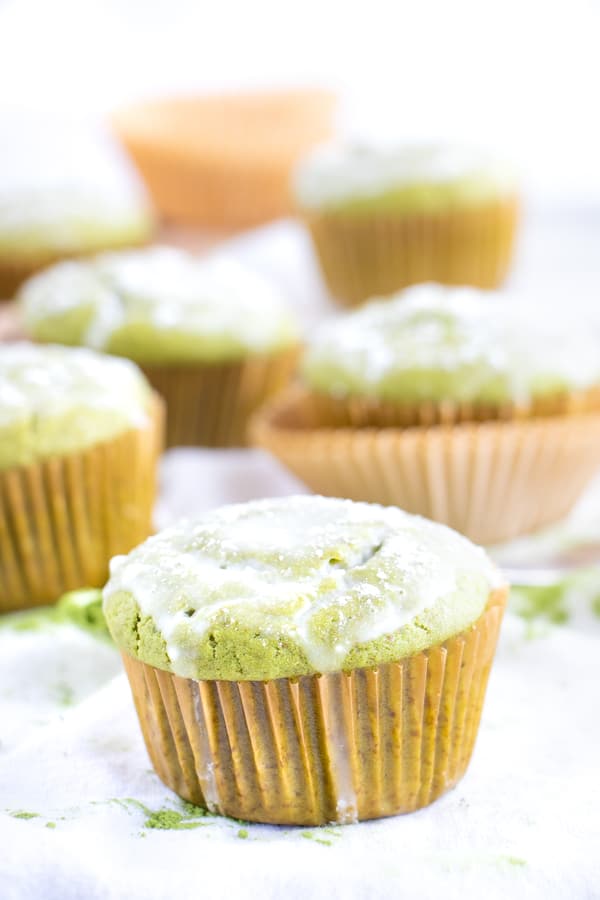 I love the pretty light green color matcha creates in these muffins, and a little drizzle of a simple glaze on top makes them irresistible!
You can also add a sprinkle of powdered sugar – I think it creates a nice look with the matcha.
Best Japanese Green Tea Muffins
Matcha is one of my all-time favorite flavors, and I'm so happy that it's starting to become a common flavor in shops and baking!
It's a strong, smooth, earthy taste with a subtle buttery flavor, and with a bit of sweetness it's so delicious in these muffins.
It also adds a nice kick of caffeine!
I can't get enough of these muffins, and I hope you love them too!
They are also just as delicious without the glaze if you want to reduce the sugar a bit or have one for breakfast.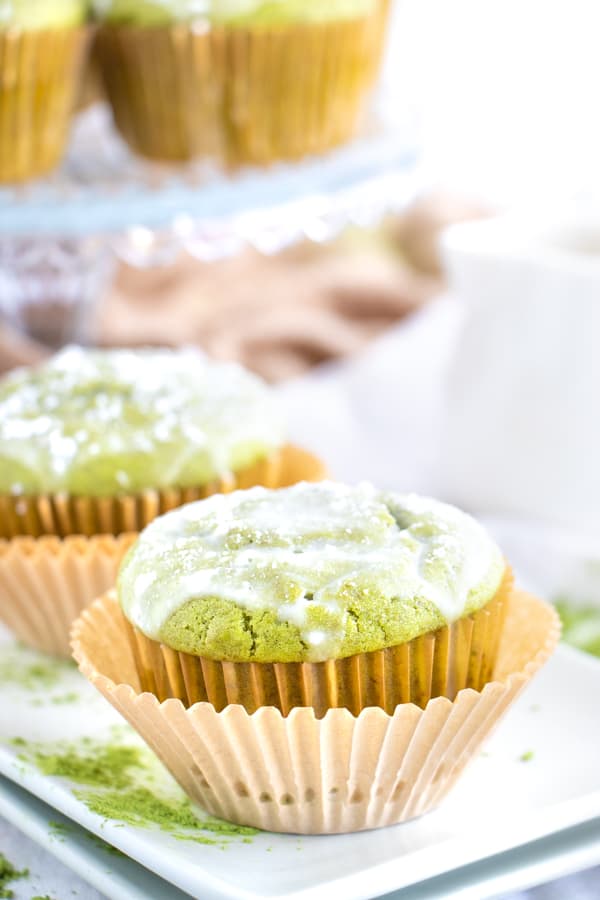 If you are using the glaze, you can use lemon juice or plant milk to make it smooth, and I like a bit of vanilla flavor in it too.
Lemon and matcha might sound like a strange combination, but they are very complimentary flavors when used together in a sweet baked good.
The lemon adds a freshness to the earthy/buttery flavored matcha and adds a deeper flavor!
How to Make Matcha Muffins
Mixing and Baking the Batter
To make these muffins, start by preheating your oven to 350 degrees, and line a muffin tray with wrappers.
Making the batter is as simple as mixing together your dry ingredients, then adding the wet and mixing until smooth!
Try not to over mix though, just enough to incorporate everything.
Add the batter to the muffin tins until the batter is just underneath the top of the wrappers.
If you want a smoother look, dip a spoon in water and use the back to smooth the tops of the muffins down.
Bake for 18-22 minutes, or until a toothpick inserted into the middle of the muffins comes out clean!
Glazing Matcha Muffins
Let the muffins cool completely, then mix together your glaze and scoop it on top.
I added a tiny sprinkle of powdered sugar on top too, and then you're done!
Fluffy 1-Bowl Vegan Muffins
These are the fluffiest and most flavorful vegan matcha muffins ever!
I love the fresh matcha flavor along with the sweetness of the glaze, and they are totally free of eggs and dairy!
I love the flavor of matcha, so I used 3 tsp in this recipe, if you want a more subtle taste you can just use two.
Try my Chewy Vegan Matcha Brownies  or my Matcha Lemonade next for more green tea goodness!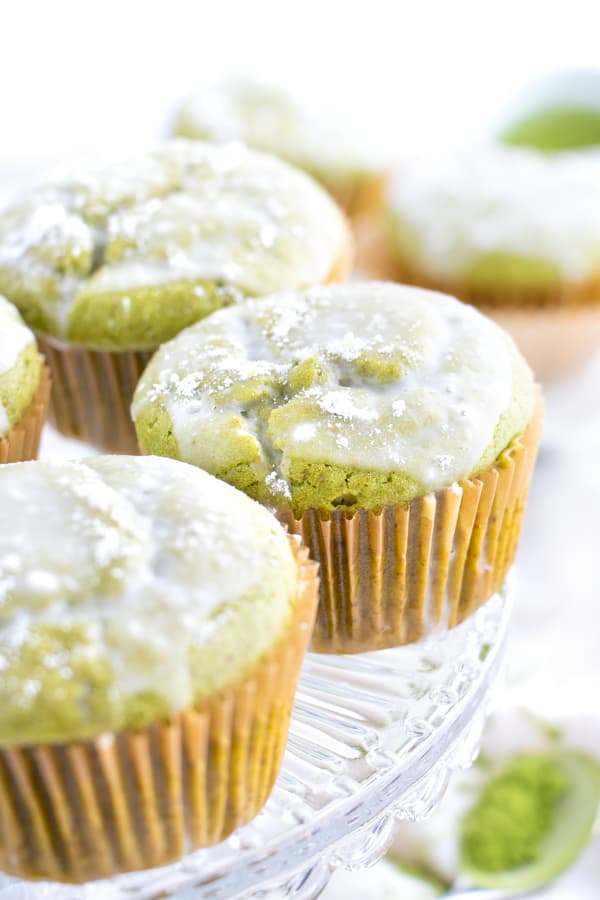 This recipe is:
Easy

Vegan

Fluffy

Delicious

Matcha

Green Tea

Sweet

Flavorful
Try these other vegan baked goods!
Bakery-Style Vegan Pistachio Muffins
Vegan Lemon Poppy Seed Muffins
Vegan Double Chocolate Muffins
Lemon Lavender Shortbread Cookies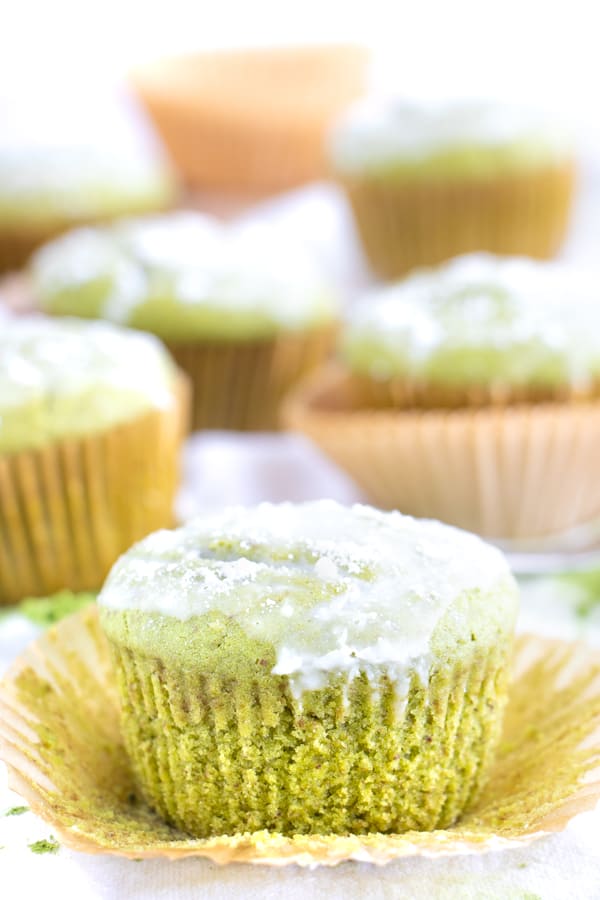 Pin this for later!
Matcha Muffins
These vegan green tea matcha muffins are soft, flavorful and so quick and easy to make. Topped off with a simple lemon vanilla glaze!
Ingredients
1/3 Cup Oil
1/2 Cup + 2 tbsp Plant Milk
1/2 Tsp Salt
Lemon Glaze
1/2 Cup Powdered Sugar
1-2 Tbsp Lemon Juice or Plant Milk
1/8 Tsp Vanilla Extract
Instructions
Preheat oven to 350 degrees.
In a bowl, mix together the flour, sugar, matcha, baking powder, flax and salt well.
Add the plant milk, oil and vanilla and mix until smooth.
Place muffin wrappers in a muffin tray and pour batter in until just underneath the top of the wrapper.
For a smoother top, dip a spoon in some water and smooth down the top of the muffins.
Bake for 18-22 minutes, or until a toothpick inserted into the center of a muffin comes out clean!
Allow muffins to cool completely, and then mix together glaze and drizzle over muffins. Enjoy!
Nutrition Information:
Serving Size:

1 Muffin
Amount Per Serving:
Calories:

206