We may earn money or products from the companies mentioned in this post.
(Last Updated On: March 28, 2023)
Easy Vegan Lemon Loaf Cake Recipe
I love this sweet, moist and super flavorful vegan lemon loaf.
It's packed with fresh lemon juice and zest, and balanced out with organic sugar and vanilla flavor.
It's the perfect balance of sweet and tart and I've been making it again and again!
It's ready in no time, and no one will ever be able to tell it's vegan, trust me.
Best Healthy Vegan Lemon Loaf Pound Cake
I used to order the lemon loaf at Starbucks all the time, but now that I eat a plant based diet I had to improvise a bit.
It's so easy to bake vegan these days though, with how accessible things like non-dairy milk and vegan butter are – anything is possible!
Besides these two ingredients, everything else is probably already in your kitchen, just make sure you have plenty of lemons (I used about 5)!
I didn't think this recipe needed an egg-alternative, but you can always use chia or flax eggs in place of real ones.
This cake baked up just fine though, it was super fluffy and delicious with the help of some baking powder and baking soda mixed with the lemon juice!
If you love tasty vegan cakes, try my Glazed Vegan Orange Loaf Cake or Almond Vegan Pound Cake next!
You'll also love my Vegan Lemon Cake with Vanilla Lemon Buttercream – it's a light and soft layered version of this cake perfect for celebrations!
How To Make Vegan Lemon Loaf
Preparing The Lemon Loaf Bread Batter
This lemon cake batter is super easy to put together.
All you have to do is preheat your oven to 350 degrees, and add all your wet ingredients (vanilla, plant milk, vegan butter, lemon juice, lemon zest) to a large bowl.
Whisk these together well, add your cane sugar and whisk until fully combined.
In a separate bowl, combine your dry ingredients (flour, baking powder, baking soda and salt), and mix well.
Add your flour mixture to your wet mixture in increments, and stir in between each one until all the flour is used up.
Spray a loaf pan with non-stick spray, or coat in a neutral oil or vegan butter (you can use parchment paper for a healthier option, but I would still lightly coat it with one of these to avoid any sticking).
Pour in your batter and tap the pan on a flat surface to level it out.
Bake for 40-45 minutes or until a toothpick inserted into the middle of the loaf comes out clean.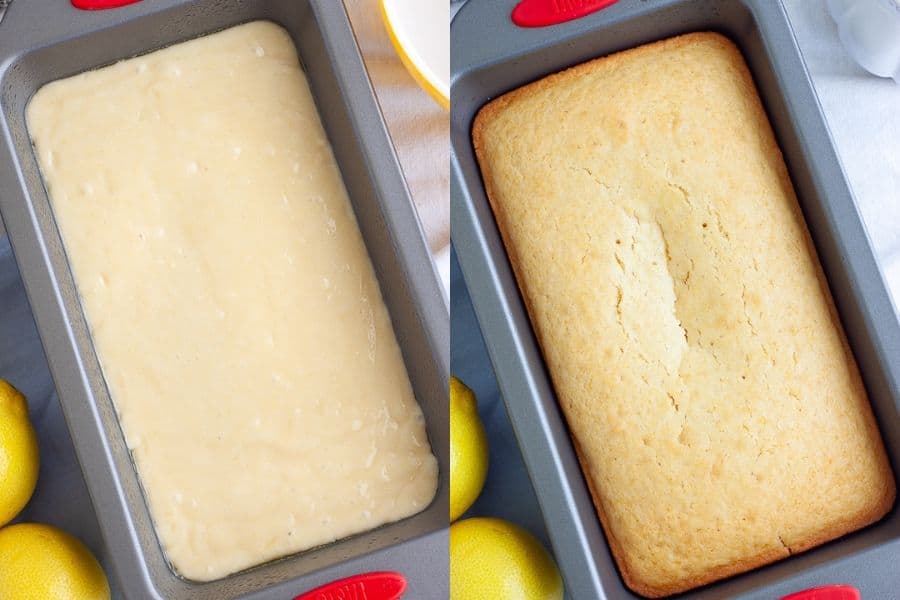 How To Make Your Lemon Cake Super Moist
Once done, allow the cake to cool for 10 minutes in the pan.
To make it super moist and avoid a dry cake, I like to add a simple sugar syrup.
Simply mix together 2 tablespoons of warm lemon juice with 2 tablespoons of cane sugar (just warm enough to dissolve the sugar).
Poke several tiny holes throughout the loaf and pour syrup mixture over evenly!

Lemon Cake Glaze Recipe
Before adding the super simple lemon glaze, allow the cake to fully cool or else the glaze will melt a bit, lose its color and get lost in the cake.
Once the loaf has cooled for 10 minutes in the pan, transfer it to a cooling rack.
Combine 3 tablespoons of fresh lemon juice with 1 1/2 cups of vegan powdered sugar. There's lots of lemony flavor in this cake, but it's not overpowering!
Whisk until runny and smooth and drizzle over the cake evenly. It will set in just a few minutes and then you can dig in!
This is a similar frosting that I used for my Vegan Coffee Cake Donuts and Cinnamon Rolls, but made thicker by adding more powdered sugar, and made with lemon juice instead of plant milk!
I topped mine with a bit more lemon zest and some fresh mint leaves – I love the simplicity of how it looked!
If you'd like, you can also add fresh lemon wedges to the top, or even throw some poppy seeds inside the cake before baking!
This vegan lemon loaf recipe is perfect paired with a cup of coffee or tea, and I hope you try it!
This recipe is:
Lemony

Sweet

Moist

Glazed

Vegan

Healthier

Perfect for Summer

Delicious
More vegan desserts!
Strawberry Shortcake with Coconut Cream
Mango Orange Coconut Popsicles
Pin this for later!
Vegan Lemon Loaf
This easy vegan lemon loaf cake is super moist and topped with a lemon icing. The best lemon cake recipe that's free of dairy and eggs!
Ingredients
For The Cake:
1/4 Cup Fresh Lemon Juice
2 Tbsp Lemon Zest
1/2 Cup Melted Vegan Butter
3/4 Cup Plant Milk
1/4 Tsp Salt
For The Icing:
For The Sugar Syrup:
Instructions
Preheat oven to 350 degrees.
Add your lemon juice, lemon zest, vanilla, melted vegan butter and plant milk to a large bowl, mix well. Add cane sugar and mix very well until combined.
In a separate bowl, mix together the flour, baking powder, baking soda and salt. Add flour mixture in increments to wet mixture, whisking together well in between, until well combined.
Spray or oil a loaf pan and pour cake mixture into pan, tapping the pan on a flat surface to even the mixture out.
Bake for 40-45 minutes or until a toothpick inserted into the middle of the cake comes out clean.
While baking, gently heat up 2 tablespoons of lemon juice and stir in 2 tablespoons of cane sugar for your simple syrup. Allow to cool.
Once cake is done, cool in the pan for 10 minutes, then place on a cooling rack. Poke tiny holes throughout the cake and pour in syrup mixture evenly. Allow the cake to fully cool.
Mix together 3 tablespoons of lemon juice with the 1 1/2 cups of vegan powdered sugar until very smooth. Pour evenly over cake and allow to set for a few minutes. Enjoy!
Recommended Products
As an Amazon Associate and member of other affiliate programs, I earn from qualifying purchases.
Nutrition Information:
Amount Per Serving:
Calories:

289