We may earn money or products from the companies mentioned in this post.
(Last Updated On: May 3, 2023)
Vegan Lemon Poppy Seed Muffin Recipe
These vegan lemon poppy seed muffins are moist, delicious and the perfect balance of sweet and sour!
Topped off with a simple sweet glaze, these muffins are perfect as a semi sweet breakfast or a quick dessert.
Lemon poppy seed is one of my most favorite flavors, the combination is great and my favorite way to enjoy them is in muffin form!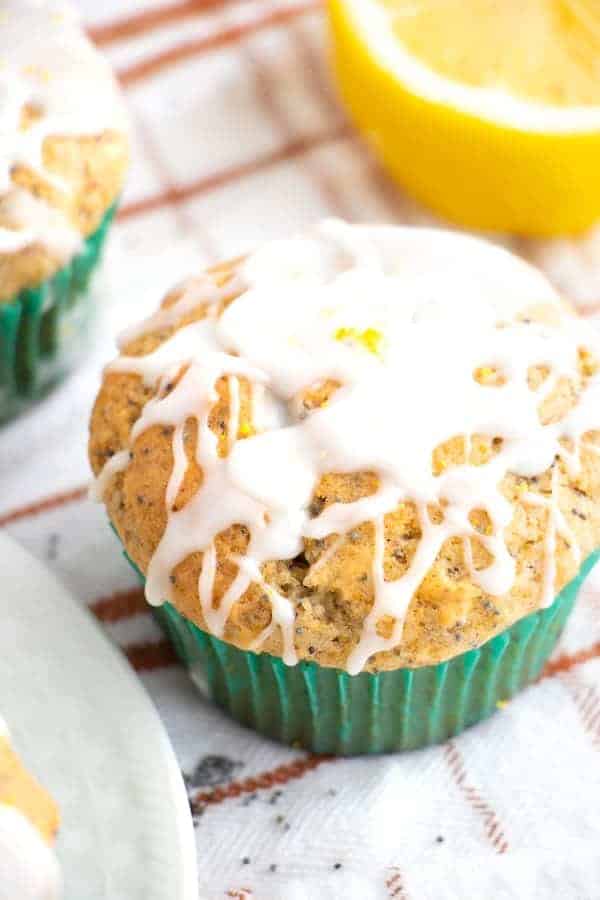 The muffins are very soft with an ever so slight crunch on the top.
The lemon juice and zest in these muffins are perfect compliments to the slight sweetness of the muffin and the little bit of glaze on top!
Easy Vegan Glazed Lemon Muffins
These lemon poppy seed muffins come together in no time, they are just slightly sweet enough to have any time of day, and I always love having some on hand!
They keep well too, which makes them a convenient muffin to take on the go or meal prep for breakfast.
Another way I like to serve these muffins instead of the glaze is to sprinkle some raw cane sugar on top right before baking.
This makes a nice sweet crust and looks really pretty, but I think the glaze wins my vote overall!
How to Make Lemon Muffins
How to Make the Muffin Batter
This lemony batter is super easy to put together, one of the most convenient parts of this recipe!
To do so, start by mixing all your wet, including the sugar, in a large bowl with a whisk.
Once smooth, sift in the dry and then sprinkle in the poppy seeds.
Mix just until combined, but mix as little as possible for the fluffiest muffins!
The result will be very thick batter, no need to worry!
How to Bake Vegan Muffins
Scoop the batter into your muffin tins – you can fill them up almost all the way to the top, but leave just a bit of room.
Bake at 425 for 5 minutes, then reduce the heat to 375 while leaving the muffins in the oven, and bake for another 11-14 minutes.
Check them by inserting a toothpick into the center of a muffin – if it comes out clean without any batter on it – they're ready!
Finishing and Glazing Vegan Muffins
Let the muffins cool in the pan for 5 minutes then transfer to a cooling rack (you can transfer them back to glaze after cooled if you want).
Once the muffins are COMPLETELY cooled, mix together your glaze and generously drizzle over all the muffins.
This will set as it dries, but feel free to enjoy them right away!
The Best Baked Lemon Poppy Seed Muffins
If you're a fan of lemon poppy seed anything, you're going to love these muffins!
They are irresistible and perfectly balanced with sweet vanilla lemon flavor.
As every springtime approaches, I always start reaching for citrus fruits in my baking, and berries too (like my vegan blueberry muffins!).
The flavors always transform my baking and I so look forward to the fresh and unique flavors they create.
I even topped this muffin with a little lemon zest to get as much freshness out of them as I could, they are simply delicous!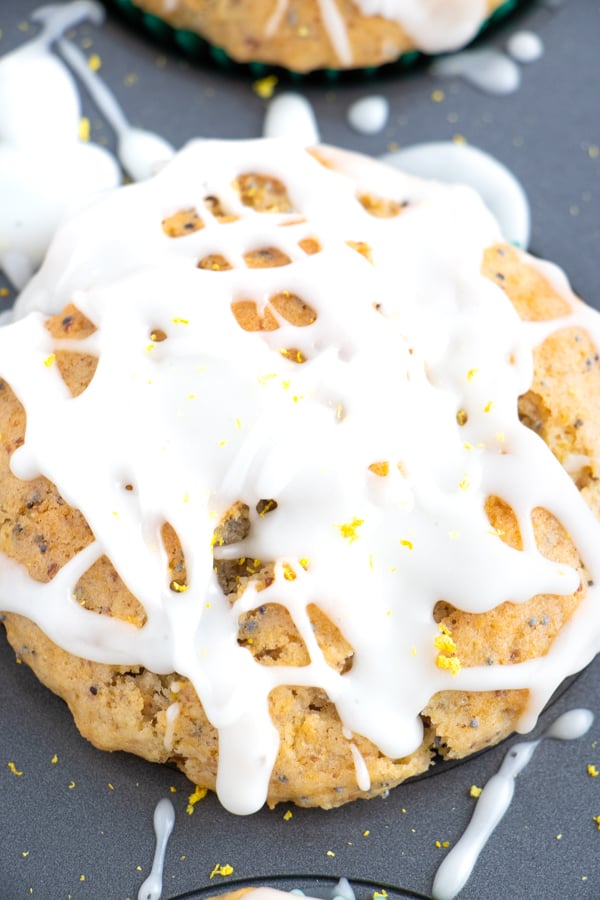 This recipe is:
Soft

Sweet

Lemony

Delicious

Easy to Make

Vegan

Tangy

Glazed
Check out these other yummy vegan baked goods!
Vegan Raspberry Crunch Muffins
Cranberry Orange Shortbread Cookies
Pin this for later!
Vegan Lemon Poppy Seed Muffins
These yummy vegan lemon poppy seed muffins are the perfect balance of sour and sweet, topped off with a simple glaze and perfect anytime of day!
Ingredients
2-3 Tbsp Lemon Juice
2 Tbsp Lemon Zest
2/3 Cup Vegan Yogurt
2 Flax Eggs
1/2 Tsp Salt
For the Glaze
Instructions
Line a muffin tin with muffin wrappers and preheat oven to 425 degrees.
In a large bowl, whisk together sugar, oil, flax eggs, vanilla, lemon juice, lemon zest and yogurt until smooth.
Sift in flour, baking powder, baking soda and salt, then add in poppy seeds. Mix until smooth but be careful not to overmix or else the muffins will be a bit dense. Batter will be thick.
Scoop into muffin wrappers, filling almost all the way to the top, leaving just a bit of room.*
Bake for 5 minutes and then reduce heat to 375, leaving muffins in the oven, and bake for an additional 11-14 minutes, or until a toothpick inserted into the center of a muffin comes out clean.
Let muffins cool in the pan for 5 minutes, then transfer to a cooling rack.
Once muffins are completely cooled, mix together glaze and drizzle over muffins!
Notes
*For a nicer look, slightly wet your hand with water and gently flatten out the tops with gentle taps.
Nutrition Information:
Serving Size:

1 Muffin
Amount Per Serving:
Calories:

186