We may earn money or products from the companies mentioned in this post.
(Last Updated On: July 19, 2022)
Best Vegan Vanilla Frosting Recipe
This vegan vanilla frosting recipe is my go to for icing any cakes, cupcakes, cookies and more!
It's a four ingredient buttercream-base with delicious vanilla flavor and the perfect creamy texture.
This vegan icing recipe works perfectly for both piping and spreading.
It's just thick enough to make beautiful piping designs, and light enough to simply spread with a butter knife.
The frosting is also perfect for coloring to suit any occasion!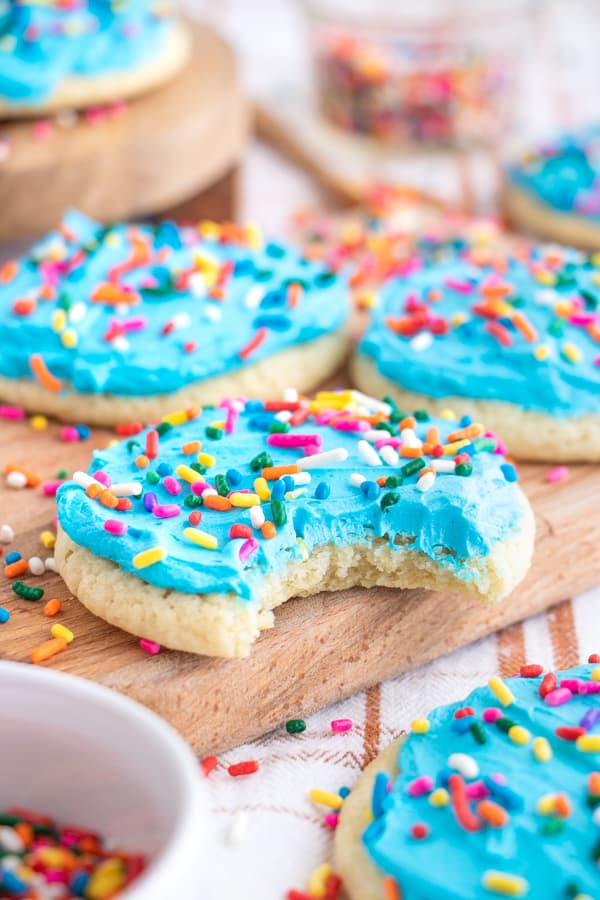 Ingredients for the best vegan frosting recipe:
Vegan Butter –

Be sure to use butter sticks and not butter from a tub – many stores now carry vegan butter sticks! My favorite brand is Country Crock Plant Butter, but any dairy-free sticks will work fine.

Vegan Powdered Sugar –

Not all sugar is vegan, though most organic brands are. Here is a helpful list.

Vanilla Extract –

Very important to add tons of delicious flavor!

Plant Milk –

Just a splash needed, any type will work.
Easy Vegan Buttercream Icing
Making this recipe for vegan frosting is such a breeze, it's ready in no time and is perfect for any dessert that needs some added vanilla sweetness.
The ingredients are very basic and familiar, with just a couple dairy free swaps.
This frosting will keep for one to two weeks in the fridge, it will just need to sit out for a little while to become easily pipeable or spreadable.
After being added to cakes, cookies or cupcakes, the frosting will be fine for up to three or four days at room temperature for optimal taste and texture.
Try my Vegan Whipped Cream for a lighter frosting too if you'd like!
How to Make Dairy Free Frosting
Making the Icing
To make this delicious and easy vegan vanilla frosting recipe, start by adding the room temperature vegan butter to a bowl.
The butter must be room temperature – do not melt it in the microwave or else the texture will not be right!
I recommend using an electric mixer for this, but you can also use a whisk and vigorously whisk by hand.
Beat the butter just until nice and creamy, and then add in the vanilla and mix to incorporated.
Add the powdered sugar a cup at a time, mixing completely in between, until all is added.
Finishing Vanilla Buttercream
To make it easier to work with, add just a tablespoon or two of plant milk and mix in.
You want to use a little as possible for best results, but you can add up to three or even four tablespoons if you would rather spread it instead of pipe.
That's it – feel free to pipe or spread the frosting as is to any sweet treats that need some vegan buttercream frosting.
You can also add some vegan food dye like below, and rainbow sprinkles on top is always a good idea.
Try this frosting on my Lavender Shortbread Cookies for a floral and vanilla flavor combination!
Vegan Frosting for Cake and Cupcakes Tips
This frosting makes enough for a two layer nine inch cake, or about twenty four cupcakes.
Be careful if your environment is too warm because it could cause your butter to be too runny, which could ruin the frosting.
You shouldn't need more powdered sugar than the recipe calls for, this will result in an oversweet frosting with an undesirable texture.
If your frosting is too thick, add a small amount of plant milk, if it's too runny, try placing it in the fridge to firm up before adding more powdered sugar.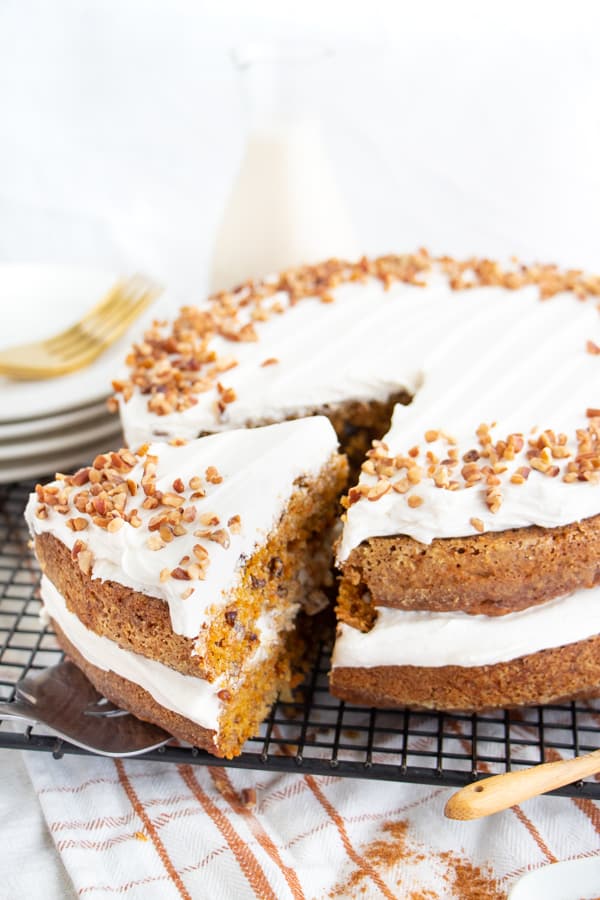 This vegan icing recipe is:
Easy

Creamy

Simple

Sweet

Dairy Free

Vanilla Flavored

Customizable

Velvety

Smooth
Check out these recipes to add easy vegan vanilla frosting to:
Vegan Frosted Lofthouse Sugar Cookies
Pin this for later!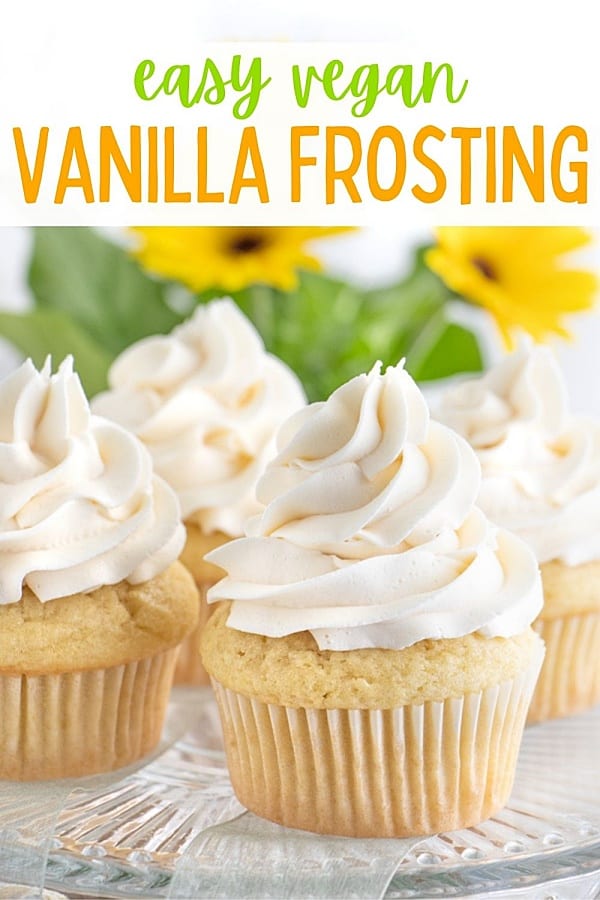 Vegan Vanilla Frosting
This creamy and delicious vegan vanilla frosting is the best dairy-free buttercream ever. Vanilla icing perfect for cakes, cookies or piping.
Ingredients
3 1/2 Cups Vegan Powdered Sugar
1 Cup Vegan Butter, room temperature*
1 1/2 Tsp Vanilla Extract
1-3 Tbsp Plant Milk
Instructions
In a bowl, beat the room temperature vegan butter with an electric mixer, or vigorously by hand, just until creamy.
Add the vanilla and mix until incorporated.
Add the powdered sugar one cup at a time, mixing completely in between cups, until all is used up.
Add plant milk, as little as possible, until desired consistency is reached.
Add to your favorite sweets and enjoy!
Notes
*Be sure to use vegan butter sticks and not butter from a tub.
Nutrition Information:
Yield:

16
Serving Size:

1
Amount Per Serving:
Calories:

198
Total Fat:

12g
Saturated Fat:

7g
Trans Fat:

0g
Unsaturated Fat:

3g
Cholesterol:

31mg
Sodium:

93mg
Carbohydrates:

24g
Fiber:

0g
Sugar:

24g
Protein:

0g