We may earn money or products from the companies mentioned in this post.
(Last Updated On: June 1, 2022)
Best Vegan Peach Cobbler Recipe
I've tried quite a few cobblers in my life, but none compare to this vegan peach cobbler made from scratch!
It's filled with fresh lightly sugared peaches to help release all the juices and flavors peaches have to offer.
Then it's topped with a sweet, ultra-simple dessert biscuit that gets nice and crisp in the oven.
Together creating the most irresistible and scrumptious fruity dessert that is comforting, quick to make and delicious!
The only way to serve this vegan peach cobbler is with a generous scoop of dairy-free vanilla ice cream on top.
Any kind will do, but I always find coconut milk to be the creamiest and tastiest.
Serve the cobbler warm but not hot, so that the ice cream will slowly start to melt and create the perfect dessert!
This cobbler is so fool-proof and easy to make, you'll be making it all year long!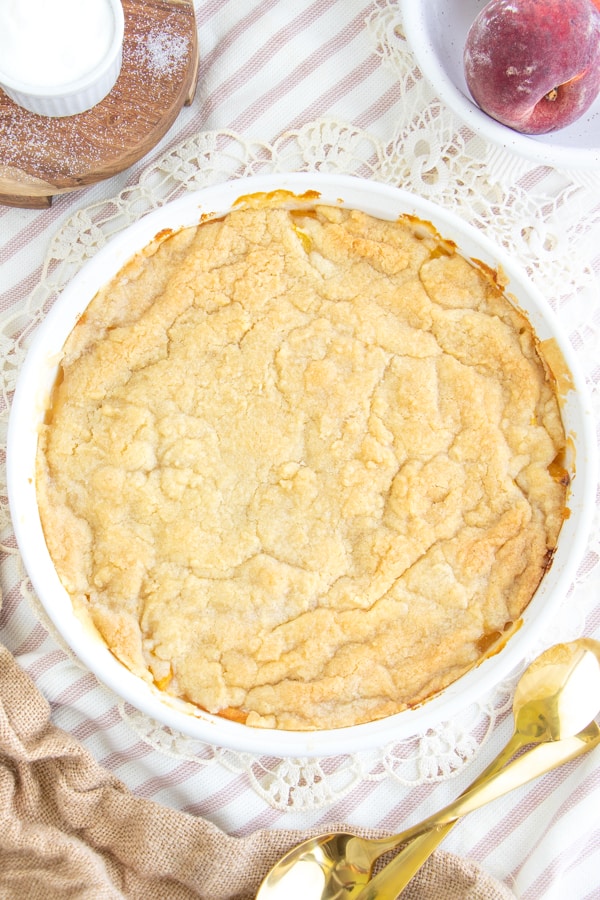 Easy Vegan Peach Cobbler Recipe
This sweet and fruity peach cobbler is one of my favorite Southern-inspired treats.
It's similar to my Vegan Berry Crisp, which uses oats as a main ingredient, but is a softer, more biscuit like dessert. If you prefer no oats you'll love my Vegan Strawberry Rhubarb Crumble too!
I like my cobblers to still have a good bit of texture, instead of some versions I've had in which the topping was more mushy.
I like it to have more of a dessert biscuit/cookie consistency that is crispy on top.
I think it's the perfect match to the gooey baked peaches on bottom!
Together with the ice cream, the three parts of this dessert make for the perfect bite!
How to Make Homemade Peach Cobbler
Preparing the Peaches
To get your peaches ready, all you have to do is give them a quick peel, cut along the outside like an apple to remove the fruit from the core, and then cut them into smaller slices.
Once they are ready to go, place them in a lightly sprayed or oiled baking dish, and coat evenly with two tablespoons of sugar.
Set these aside while you make your topping!
Making the Biscuit Topping
For the dessert biscuit topping, mix together your room-temperature vegan butter along with the sugar until creamy.
Then mix in the plant milk and vanilla.
Finally, add the flour, baking powder and salt and mix well until a thick dough is formed.
Assembling and Baking Peach Cobbler
Now for the fun part!
Toss some dollops of the topping onto the peaches until it's all used up.
Then gently spread it out to flatten and evenly distribute – no need to be perfect with this though, it will spread more while baking!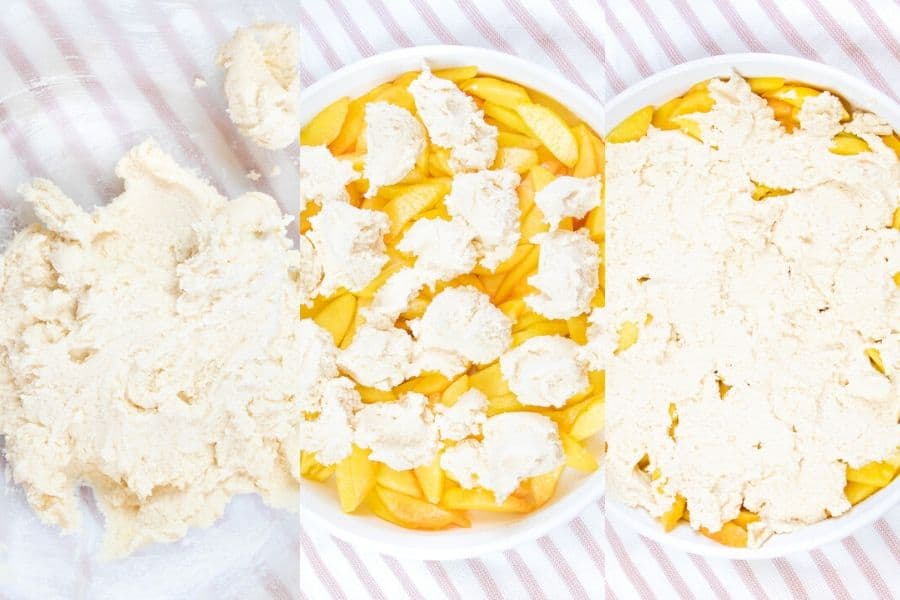 Toss the cobbler in the oven preheated at 350 degrees F for 38-44 minutes, or until the top is nicely golden brown and the peach filling is all bubbly!
Let it cool for at last 5-10 minutes and then enjoy (be careful it will be very hot right out of the oven!).
Dairy Free Fresh Peach Cobbler
This vegan peach cobbler recipe is such a delight to make – it's easily one of the fastest and best-tasting desserts without much work!
This is definitely a keeper to have on hand for get togethers, since it has incredibly affordable ingredients and makes a good bit of dessert, perfect for about six people!
Just be sure to have some dairy-free ice cream or whipped cream on hand if you really want to take this dessert to the next level!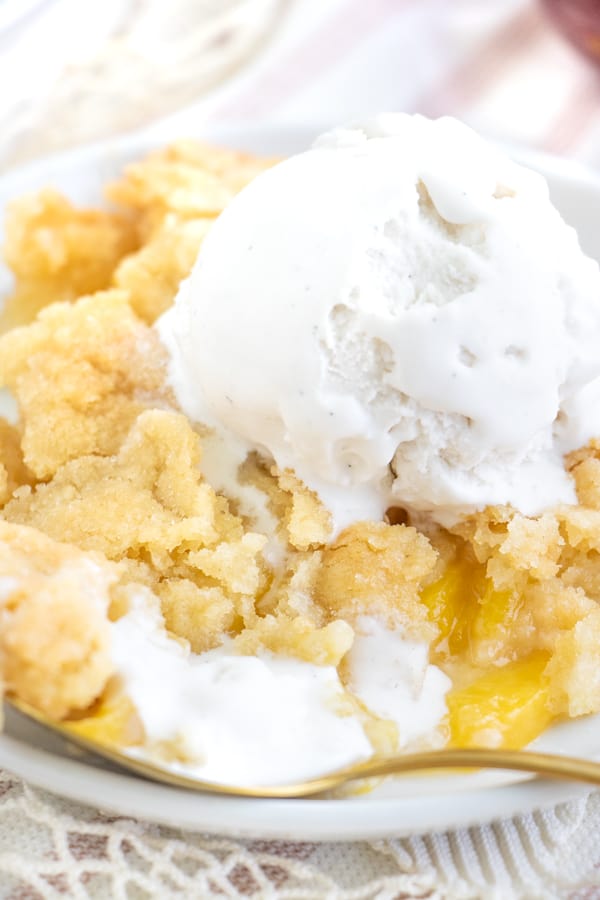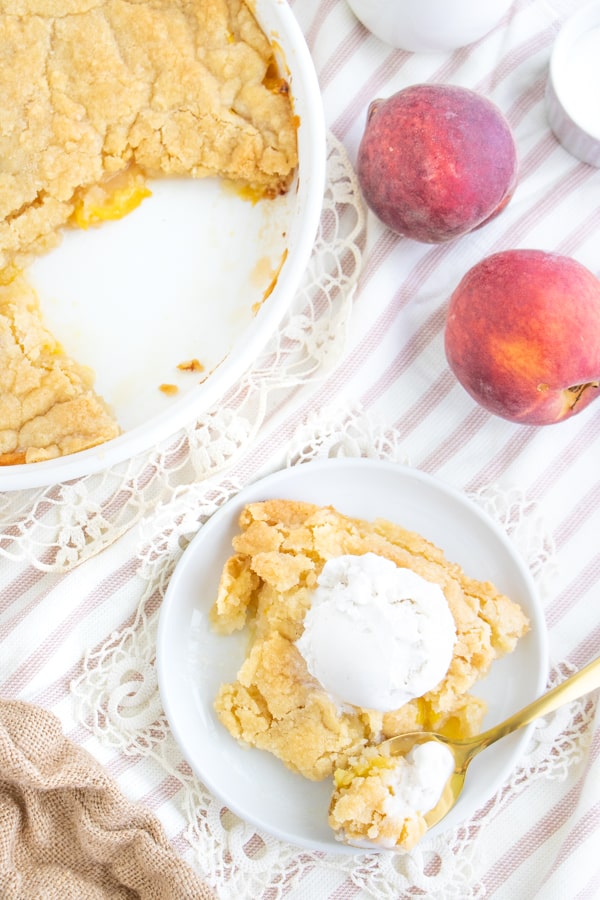 This recipe is:
Crisp

Delicious

Fruity

Sweet

Irresistible

Easy

Quick
Check out these other fruity vegan desserts!
Vegan Lemon Loaf (Starbucks-Inspired)
Pin this for later!
Vegan Peach Cobbler
This sweet and delicious fruity vegan peach cobbler recipe is so tasty and easy to make. With a simple gooey peach filling and sweet biscuit topping!
Ingredients
For the Peaches
4-6 Peaches, peeled, cored and sliced (approx. 3 cups)
2 Tbsp Sugar
For the Topping
1/2 Cup Vegan Butter (room-temp)
1 Cup All-Purpose Flour
3/4 Cup Sugar
2 Tbsp Plant Milk
1/2 Tsp Vanilla Extract
1 1/2 Tsp Baking Powder
1/4 Tsp Salt
Instructions
Preheat oven to 350 degrees F.
Spray a baking dish and add peeled, cored and sliced peaches. Add 2 tbsp sugar and mix to coat evenly, set dish aside.
Mix room-temperature vegan butter and sugar together until smooth, stir in plant milk and vanilla.
Add flour, baking powder and salt and mix until a dough is formed.
Add dollops of dough to the top of the peaches until all is used up, then gently spread out a bit to slightly flatten, this doesn't need to be perfect!
Bake for 38-44 minutes, or until the top is golden brown and set and the peach filling is bubbly.
Let cool for at least 5-10 minutes and then serve with dairy-free vanilla ice cream if desired!
Nutrition Information:
Serving Size:

1 Serving
Amount Per Serving:
Calories:

369