We may earn money or products from the companies mentioned in this post.
(Last Updated On: May 2, 2023)
The Best Ever Vegan Caramel Recipe
This vegan caramel recipe is forever going to be fully stocked in my fridge. 
I've always been a caramel lover – even over chocolate or fruit, there's just nothing that compares!
However, I used to avoid the whole idea of making homemade caramel, it seemed so out of my skillset to caramelize sugar and create real caramel sauce.
But now, after a few mishaps, I'm delighted to share this sticky, golden brown dessert to top all of your favorite sweets with. After trying this sweet recipe you're going to want your fridge stocked at all times too!
I used to think the only way to make vegan caramel was by using dates, and while a date-based caramel is also delicious, it's actually super easy to make classic caramel sauce!
With all the vegan alternatives available in so many stores, making that thick, smooth and creamy caramel we all love is ridiculously easy to veganize.
How to Make Vegan Caramel Sauce
Making this vegan caramel recipe is much easier than you might think!
When you're ready, you'll want to add your brown sugar and salt to a pan over medium heat. Add 1/4 cup water and start stirring to fully coat the sugar. You'll want to continue stirring for about 5-10 minutes, or until the brown sugar melts (it eventually will!) into a smooth liquid.
Then, turn the heat to medium-high and stop stirring! This is the caramelization step, just let the sugar cook and bubble for about 4 minutes, or until it gets deeply golden brown.
If it starts to bubble too much, as in over the pan it's in, reduce the heat a bit so that it's a "controlled" bubbling!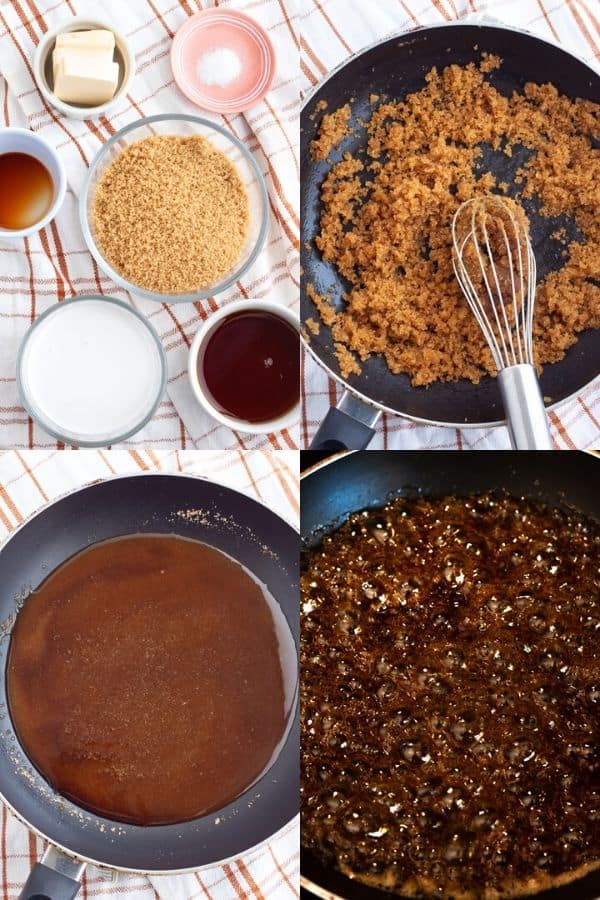 Once the caramelization has completed, remove the pan from heat and slowly stir in the vanilla, maple syrup, butter and coconut milk in increments.
Once everything is added, let this cool for a few minutes in the pan, and then transfer to a serving bowl.
The caramel will thicken a bit more while cooling, and then it'll be ready to be poured over your favorite desserts! When not in use, store in a sealed container in the fridge for up to 5 days – you'll just want to give it a good stir before each use.
Easy Coconut Milk Salted Caramel Sauce
This coconut milk caramel is the perfect treat for just about any occasion.
But don't worry, the coconut milk doesn't give any flavor, it just adds that creamy fat that the caramel needs. The flavor of the sauce is a combination of vanilla, maple and a hint of molasses from the brown sugar, just perfection!
Use this simple recipe to top apples, ice cream, pies, or try it on top of my Maple Pecan Latte recipe!
This recipe is:
Creamy

Sweet

Thick

Easy

Dairy Free

Simple

Delicious
Try these other sweet vegan recipes!
Pin this for later!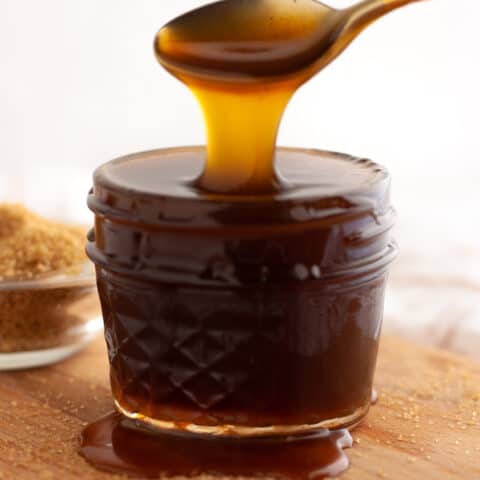 Vegan Caramel Recipe
This easy vegan caramel recipe is decadent, thick, delicious and easy to make! A bit of brown sugar, coconut milk and vegan butter with a touch of maple!
Ingredients
1 Cup Brown Sugar
1/4 Cup Vegan Butter
1/2 Cup Full-Fat Coconut Milk
1/4 Cup Water
1/4 Tsp Salt
Instructions
In a small pan over medium heat, add your brown sugar and salt to a bowl, and pour about 1/4 cup water on top and stir.
Continue stirring while the sugar melts, about 5-10 minutes. Then, increase the heat to medium-high and stop stirring - allow this to bubble for 4 minutes until a nice golden brown color (about 350 degrees).
Remove from heat and stir in butter, vanilla, coconut milk and maple syrup little by little.
Allow to cool for a few minutes and then transfer to a serving container. Keep sealed in the fridge up to 5 days.*
Notes
*Give the caramel a good stir before serving after being kept in the fridge.
Nutrition Information:
Yield:

10
Serving Size:

1
Amount Per Serving:
Calories:

155