We may earn money or products from the companies mentioned in this post.
(Last Updated On: May 3, 2023)
Vegan Roasted Red Pepper Pasta
This vegan roasted red pepper pasta recipe is so creamy, comforting and delicious! 
Made with oven-charred red peppers, red onions and garlic, blended with creamy coconut milk and tomatoes.
Add some basil, nutritional yeast (for a subtle cheese flavor) and smoked paprika and you have a super flavorful, unique and irresistible pasta recipe.
This is a great way to switch things up, and has much deeper and richer flavors than normal tomato sauce.
Making your own pasta sauce is always a good idea – the taste is stronger and more fresh than anything you can buy in a jar.
This recipe is also very budget friendly and has very simple, healthy ingredients.
The char from the roasted veggies adds even more flavor and a hint of smokiness.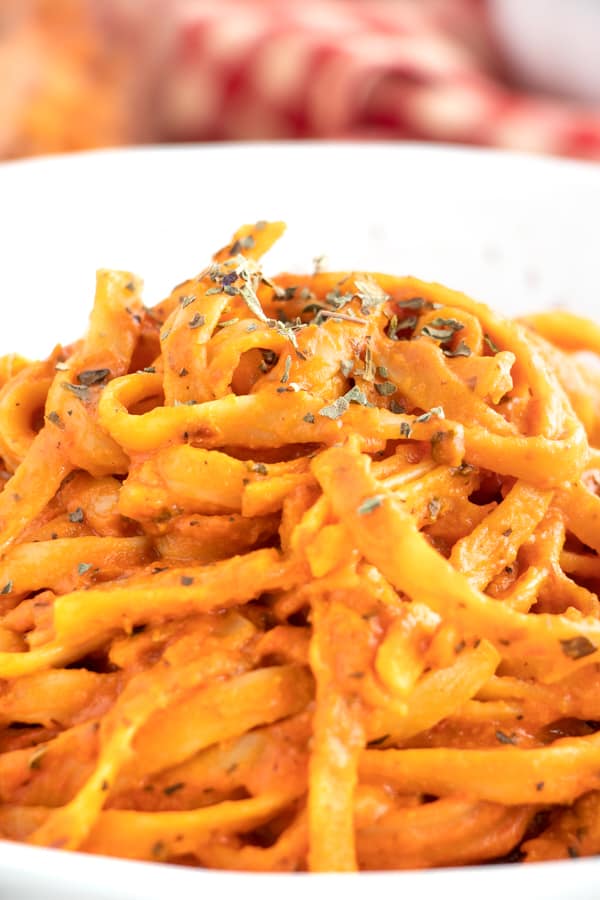 Best Ever Roasted Pepper Pasta Recipe
I absolutely love oven-roasted veggies, the flavor is so much tastier than any other way of cooking them!
The process of making this pasta sauce is also so simple – you just chop the peppers, onion and garlic into thick pieces and toss them in a bit of oil, salt and pepper, then leave them to bake until they are lightly charred and tender!
Then you just blend it with the other ingredients and toss in some cooked noodles.
The sauce is also thickened ever so slightly with just a sprinkle of flour, making this dish so comforting and hearty.


How to Make Vegan Red Pepper Pasta
Roasted the Peppers, Onion and Garlic
To make this delicious pasta sauce, toss the pepper, onion and garlic in the oven with some oil, salt and pepper until the just start to char and get nice, soft and fragrant, about 25 minutes.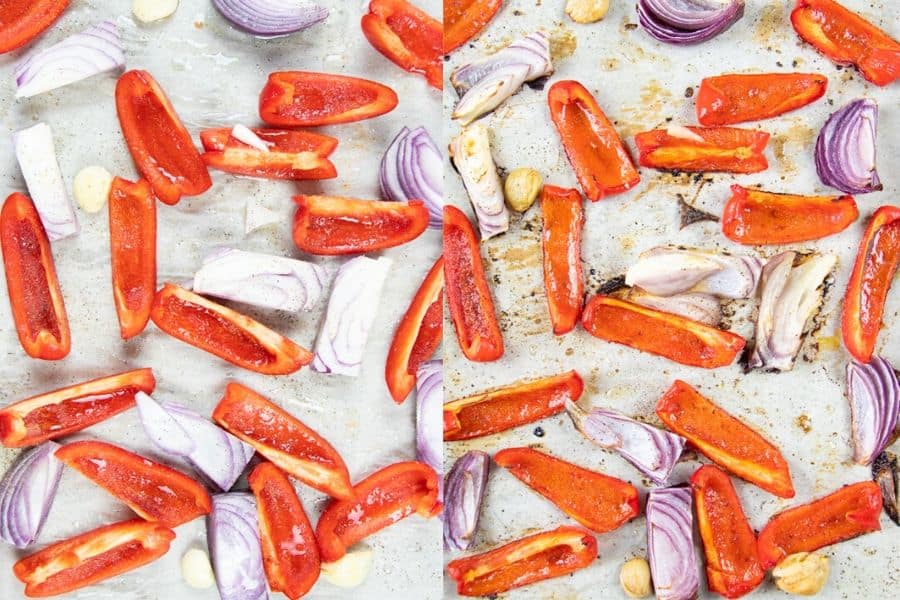 Making the Roasted Red Pepper Sauce
Add these to a blender with the coconut milk and tomato paste and blend until smooth!
In a pan, heat some oil and add the flour, whisk it constantly for a minute while it bubbles and cooks, it should get a subtle light golden color during this process.
Toss in your roasted pepper sauce along with the seasonings and mix until smooth, continuing to cook on a low simmer for at least 5 minutes.
Add to a bowl along with the cooked fettuccine and toss, then you can serve with another light sprinkle of basil!
Dairy-Free Red Pepper Sauce Recipe
I just love this thick and delicious red pepper sauce, it has so much flavor and I just can't get enough of it.
Many red pepper sauces have a good amount of dairy in them, but this sauce is perfectly thick and creamy thanks to the coconut milk, nutritional yeast and the dash of flour.
You could also definitely add some mushrooms or zucchini to this dish, but I loved it just as much plain.
Peppers are easily one of my favorite vegetables to cook with, and I love the taste and texture they get when baked.
Try my Vegan Stuffed Peppers, Homemade Vegan Ravioli, Creamy Vegan Lemon Pasta or Creamy Vegan Vodka Sauce Pasta next!
This recipe is:
Easy

Vegan

Comforting

Hearty

Delicious

Flavorful

Healthy

Budget-Friendly
Check out these other vegan pasta recipes:
Pin this for later!
Roasted Red Pepper Pasta Recipe
This vegan roasted red pepper pasta recipe is packed with flavors of charred peppers, onion, garlic, tomato and coconut milk. The ultimate comfort food!
Ingredients
2 Peppers
1 Small Red Onion
4 Cloves Garlic
5 oz. Fettuccini
1/4 Cup Olive Oil
2 Tsp Dried Basil
2 Tbsp Flour
1 Can Full-Fat Coconut Milk
3 oz. Tomato Paste
1 Tsp Smoked Paprika
Salt/Pepper to taste
Instructions
Preheat oven to 400 degrees. Cut peppers and onion into long strips and peel garlic and place on a baking tray covered in parchment paper. Add 2-3 tbsp olive oil and salt and pepper to taste and ently mix. Bake for 25-30 minutes until they begin to lightly char.
Cook pasta according to package.
When baking is done, allow to cool for 5 minutes and then scoop into a blender and add the coconut milk and tomato paste and blend until smooth. Set aside.
In a large pan over medium heat, add 2 tbsp olive oil and heat. Add flour and whisk constantly for about 1 minute or until it begins to lightly brown.
Add roasted veggie mixture, basil, nutritional yeast, smoked paprika, salt and pepper and mix well.
Reduce heat to low and simmer for 10-15 minutes, then add cooked pasta and mix well. Serve with more dried basil!
Recommended Products
As an Amazon Associate and member of other affiliate programs, I earn from qualifying purchases.