We may earn money or products from the companies mentioned in this post.
(Last Updated On: May 2, 2023)
Easy Homemade Vegan Ramen Recipe
This homemade vegan ramen is packed with flavor and is absolutely delicious!
If you've ever had a bowl of authentic ramen, you know that the boxes sold in stores simply don't do it a justice!
Real ramen is made with a flavorful base, in this case fresh ginger, garlic, sesame oil and curry paste.
Then the broth is made with delicious vegetable broth, creamy coconut milk, and even more flavor from soy sauce, peanut butter and a very slight sweetness from maple syrup.
This is not an authentic recipe, but simply my take on the delicious soup!
Thai Peanut Ramen with Tofu and Mushrooms
Ramen is best served with hearty toppings – for this recipe I used mushrooms and lightly fried sesame tofu.
Some peanuts, green onion and cilantro take this dish over the top, and some lime juice adds a fresh citrus finish.
There's nothing better than a freshly homemade cup of ramen noodle soup, and this recipe will let show you how to do that easily from your own kitchen!
The peanut butter and coconut milk give a subtle thick texture to the broth and make it that much more comforting and irresistible!
It's the best way to end your day!
How to Make Vegetarian Ramen Noodle Soup
Frying the Tofu
The first step to making this yummy ramen soup is to press your tofu and lightly fry it in sesame oil
Sesame oil is one of my favorite flavors EVER – it's so yummy and gives that extra flavor to the tofu. 
Simply fry it on medium heat with a couple tablespoons of the oil, getting most sides browned and then setting this aside.
Prepping the Soup Base
Now onto the soup!
To start, you'll want to fry the garlic and ginger with a bit more sesame oil for a few minutes, then add the mushrooms and curry paste and cook another minute or so.
I like the taste when the curry is lightly heated, then you'll add the veggie broth, coconut milk, soy sauce, peanut butter and syrup or sugar and bring this to a simmer.
Reduce the heat so it can simmer for 15 minutes, then toss in the dry noodles (I used this brand of noodles) and cook until they are soft, another couple minutes.
Finishing the Soup
Once the noodles are soft, remove the soup from heat and add the lime juice.
I find that by doing this you get a more fresh flavor and taste the lime better.
Then make yourself a bowl and add any toppings you would like!
For this recipe, my favorite toppings are peanuts, green onions, cilantro and a splash more lime on top!
The Best Ever Vegan Ramen from Scratch
This is the best bowl of ramen noodle soup ever, the broth is the perfect balance of sweet, peanut and curry, with a creamy consistency and soft, classic ramen noodles.
You can also add any vegetables you like – if you're not a fan of mushrooms feel free to use broccoli or any other veggie.
You can also leave out the tofu and just make it a veggie ramen, the peanut butter will add a bit of protein and it will be just a hearty, this soup can be customized to just how you like it!
It may look like there's a lot of ingredients in this soup, but it's incredibly easy to make – many are just added to the broth and stirred in, nothing fancy!
I do recommend you eat this soup the day of, it's still tasty the next day but the noodles tend to absorb a ton of the liquid and make it more of a pasta than a soup!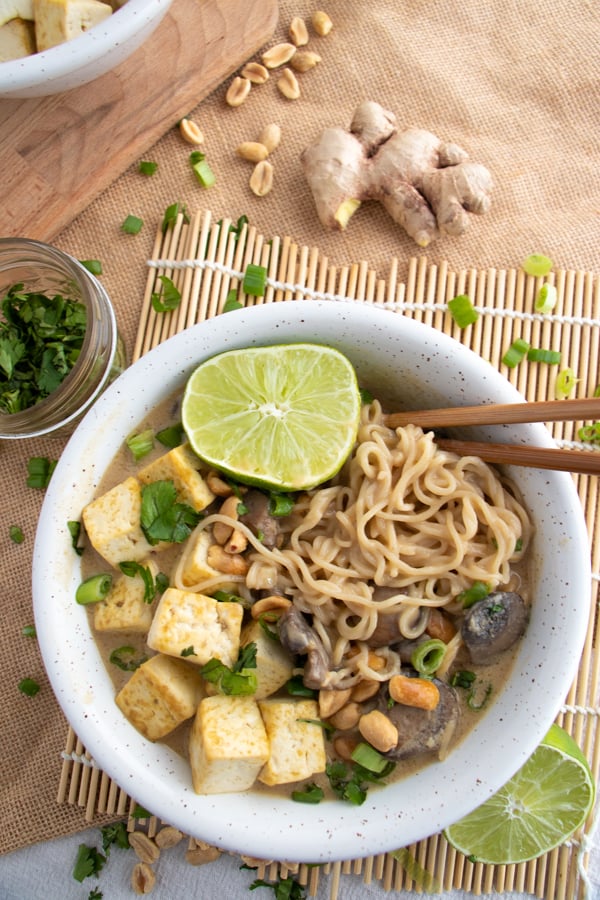 This recipe is:
Easy

Flavorful

Healthy

Hearty

Comforting

Vegan

High Protein

Delicious
Try these other comforting vegan soups too!
Pin this for later!
Homemade Vegan Ramen
This homemade vegan ramen is so delicious and comforting, filled with flavors like peanut, sesame, curry and creamy coconut milk!
Ingredients
1 Can Full-Fat Coconut Milk
1/4 Cup Soy Sauce
8 oz. Mushrooms
1 Block Extra-Firm Tofu
1 inch Fresh Ginger
3 Cloves Garlic
2-3 Limes
4 tbsp Sesame Oil
Toppings (peanuts, green onion, cilantro)
Instructions
Cut pressed* tofu into squares and cook over medium heat with 2 tablespoons of sesame oil. Flip occasionally with a spatula until most sides are brown, remove and set aside.
In a large pot, add 2 tablespoons of sesame oil along with the minced garlic and ginger and cook for 3 minutes. Add mushrooms and curry paste and cook for 1-2 more minutes.
Add veggie broth, coconut milk, soy sauce, syrup, and peanut butter to the pot and stir. Bring to a light boil and reduce heat to medium/low to simmer for 15 minutes.
Add ramen noodles and let them simmer for about 3-5 minutes until soft. Remove from heat and add lime juice from 1-2 limes and the tofu.
Serve in a bowl with peanuts, green onion, cilantro and more lime juice if desired!
Notes
*Press by wrapping block in a towel and placing something a little heavy on top to help the moisture squeeze out gently for 10-15 minutes.
Nutrition Information:
Amount Per Serving:
Calories:

389