We may earn money or products from the companies mentioned in this post.
(Last Updated On: July 3, 2022)
Easy Vegan Spaghetti Recipe
This delicious vegan spaghetti recipe is packed with texture, flavor and herbs!
It has a super flavorful meatless pasta sauce and plenty of green veggies.
It's the perfect plant based spaghetti with tons of flavor, and everything made from scratch.
You're going to love this homemade veggie spaghetti recipe!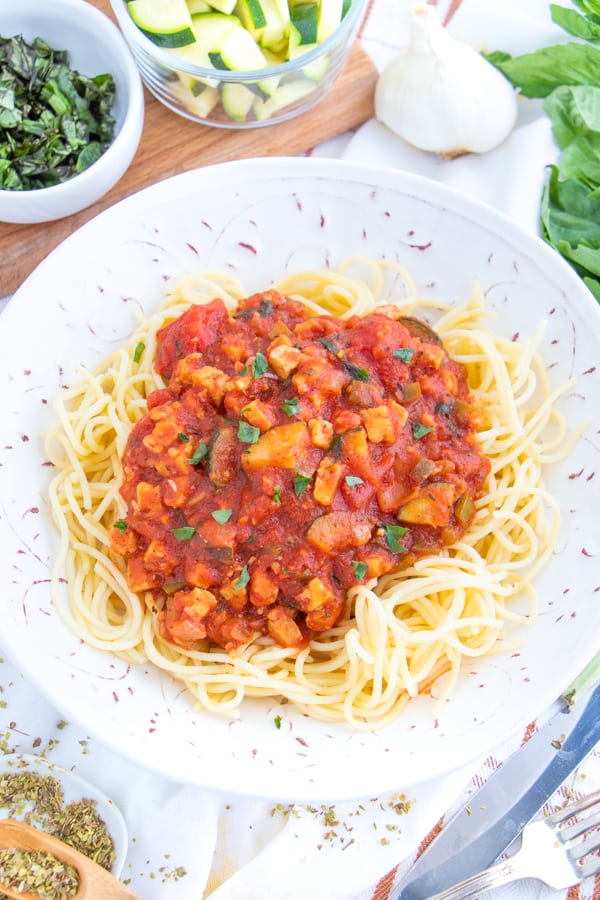 This tasty recipe for vegan spaghetti is filled with flavors of basil, thyme, oregano, onion and garlic.
The pasta sauce is incredibly easy to make and it makes all the difference in this comfort food recipe.
Whether you're vegan, vegetarian, plant-based or just interested in trying something new, this recipe is a great crowd pleasing dish!
Meatless Vegetarian Spaghetti Pasta
This vegetarian spaghetti recipe is made with diced tempeh instead of ground beef, and doesn't need any dairy.
Tempeh has such a hearty texture and fries up perfectly, I always prefer it over any kind of alternative ground beef.
You can always top the pasta with dairy-free parmesan, parsley or red pepper flakes.
I opted for fresh basil, which is my favorite way to serve this dish! Try my Homemade Vegan Ravioli recipe next for more delicious vegan pasta!
Ingredients for this meatless pasta recipe:
Spaghetti – I used regular, but you can opt for whole wheat or brown rice.
Tomatoes – I used a combination of diced, crushed, sauce and paste! The combination makes for a nice and thick sauce, but you can substitute with about 40 oz. marinara sauce if desired.
Onion & Garlic – the foundation to any good homemade spaghetti!
Green Pepper – this is diced and added to the sauce for added taste and texture.
Basil – I used a small handful of fresh for this recipe, but dried is fine.
Thyme – adds a ton of flavor and depth.
Oregano – always needed in tomato-based pasta dishes!
Tempeh – this is diced and used as a ground beef alternative, can also use a vegan ground beef substitute.
Zucchini – Can also use mushrooms, yellow squash, spinach etc.
Sugar – optional, just a slight sprinkle helps round out the flavors.
Oil – any neutral oil is fine, I used olive.
Water – as needed to thin sauce.
Salt/Pepper – to taste.
How to Make Vegan Spaghetti
Preparing the Spaghetti Base
To make this delicious vegan spaghetti recipe, start by cooking the spaghetti noodles according to their package.
Then add the oil and tempeh to a high walled pan over medium heat, this is what makes the meatless spaghetti so good!
Cook for three minutes, stirring often, then add in the diced onion, pepper and zucchini if using.
This will cook for five to seven minutes, and then add in the garlic for the last minute and stir well.
Add the tomato paste, herbs, salt and pepper and mix well, cooking this for another minute.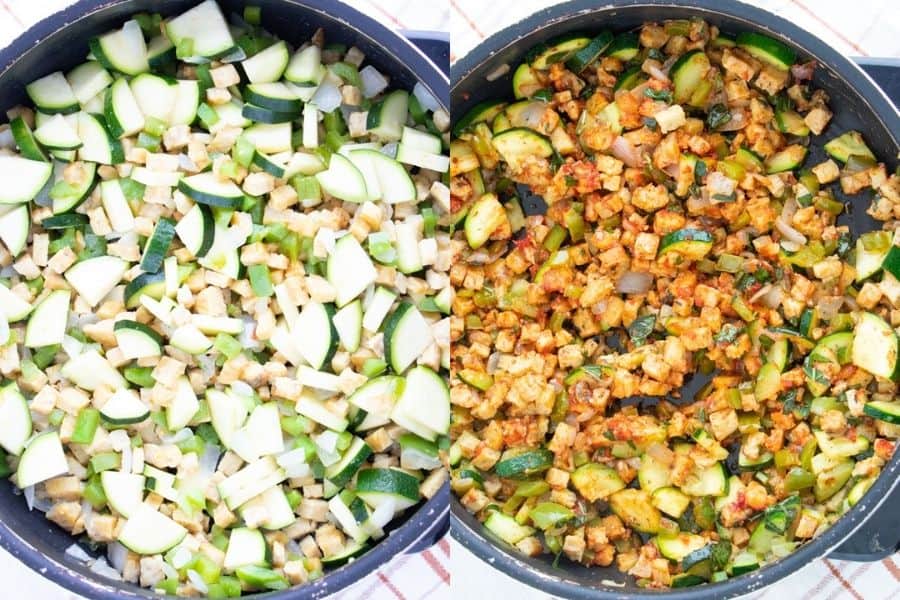 Finishing and Serving Vegan Spaghetti
Now add the diced tomatoes, crushed tomatoes, tomato sauce, sugar and water and mix very well.
You'll want to bring this to a simmer and then reduce the heat to medium low for fifteen to twenty minutes.
Stir occasionally while all the flavors marinate!
You might need to place a cover on top if it starts to bubble too much.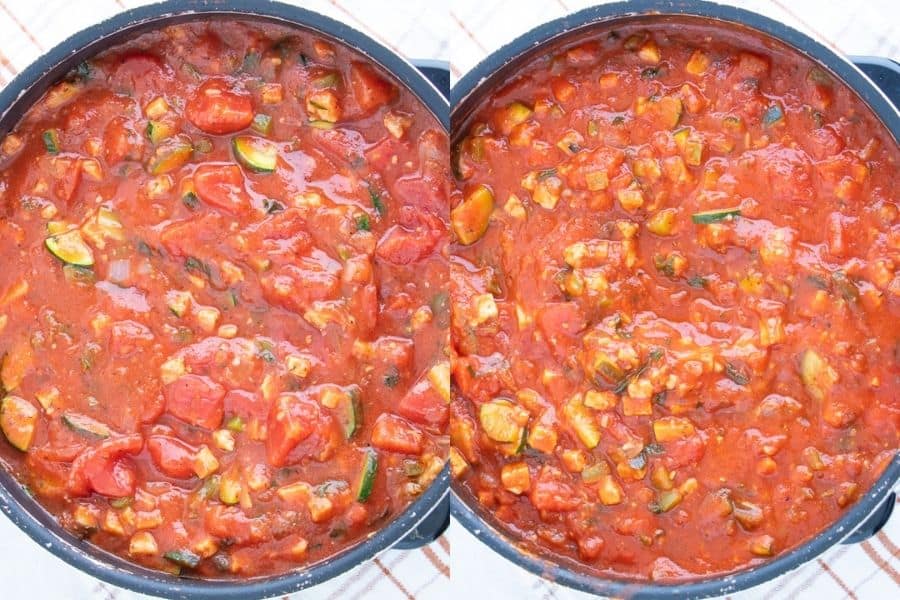 Serve over cooked noodles or stir everything together.
Enjoy the best recipe for vegan spaghetti ever!
Best Veggie Spaghetti Recipe
This recipe for vegetarian spaghetti has diced green pepper and chopped zucchini in the sauce.
This adds some great texture and is also a tasty way to add in some vegetables to your diet.
You could also make this with yellow squash, spinach or mushrooms!
Tips for this vegetarian spaghetti recipe:
Store the spaghetti in a covered container in the fridge for up to 4-5 days.
Substitute the normal pasta for whole wheat or brown rice!
Serve this pasta alongside garlic bread, salad or on its own.
If you're in a pinch, you can substitute all the tomato ingredients in this recipe for about 40 oz. of marinara sauce.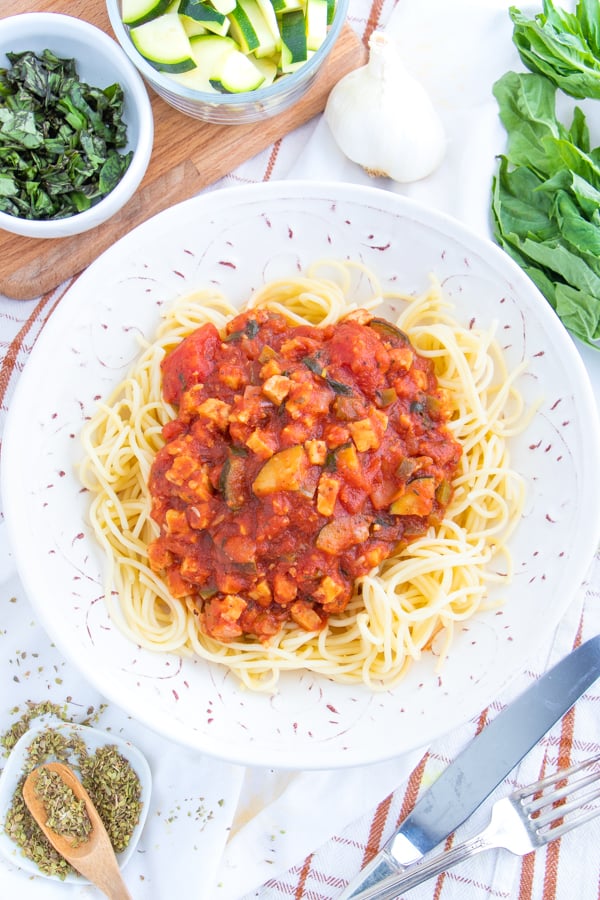 This recipe is:
Vegan

Vegetarian

Meat Free

Dairy Free

Flavorful

Filled with Veggies

Comforting

Homemade
Check out these other tasty vegan pasta recipes:
Creamy Vegan Vodka Sauce Pasta
Vegan Roasted Red Pepper Pasta
Pin this for later!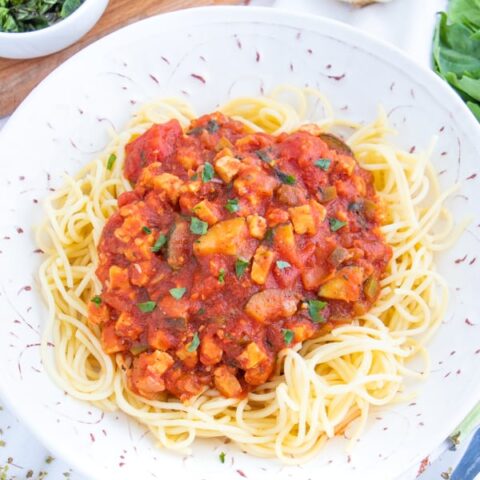 Best Vegan Spaghetti
This easy vegan spaghetti recipe is the best meatless veggie pasta ever! Vegetarian and made with tempeh, vegetables and herbs!
Ingredients
8 oz. Spaghetti, uncooked
15 oz. Diced Tomatoes
15 oz. Crushed Tomatoes
8 oz. Tomato Sauce
2-3 Tbsp Tomato Paste
1 Onion, diced
1 Green Pepper, cored, diced
8 oz. Tempeh, diced
3 Cloves Garlic, minced
1 Medium Zucchini, chopped (optional)
1/2 Tsp Dried Basil
1/2 Tsp Dried Thyme
1/2 Tsp Dried Oregano
3 Tbsp Oil
1-2 Tsp Sugar
1/3 Cup Water
Salt/Pepper to taste
Instructions
Cook spaghetti according to package.
In a high walled pan over medium heat, add the oil and tempeh and cook 3 minutes.
Add onion, pepper and zucchini if using and cook for 5-7 minutes or until soft and translucent, stirring often. Add garlic for the last minute and stir well.
Stir in tomato paste, basil, thyme, oregano, salt and pepper and cook for 1 minute.
Add diced tomatoes, crushed tomatoes, tomato sauce, sugar and water and mix well.
Bring to a light simmer and reduce heat to medium/low. Simmer for 15-20 minutes.
Serve over cooked noodles!
Notes
**You can also substitute all the tomato ingredients for about 40 oz. of Marinara sauce, however I love the taste and texture of the combination in the recipe.
Nutrition Information:
Yield:

6
Serving Size:

1
Amount Per Serving:
Calories:

276
Total Fat:

12g
Saturated Fat:

2g
Trans Fat:

0g
Unsaturated Fat:

9g
Cholesterol:

0mg
Sodium:

523mg
Carbohydrates:

33g
Fiber:

6g
Sugar:

12g
Protein:

13g