We may earn money or products from the companies mentioned in this post.
(Last Updated On: July 3, 2022)
Creamy Vegan Vodka Sauce Recipe
This vegan vodka sauce is so flavorful and creamy, and ready in under 30 minutes!
The combination of the tomato sauce with the coconut milk and dairy free parmesan, as well as a splash of vodka, make for a unique and delicious way to spice up your plain red sauce.
I love how the coconut milk adds a lot of balance to the acidity in the tomatoes, it makes for a super tasty pasta sauce with just the right balance of flavors.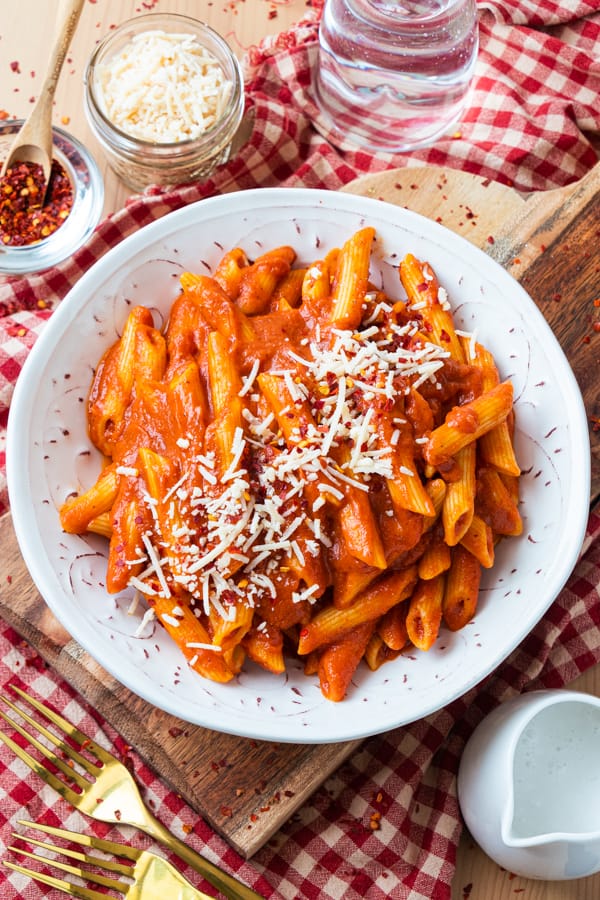 Best Vegan Penne Alla Vodka
Penne alla Vodka is basically a tomato sauce that is spiced up with cream and vodka for added flavor and creaminess, which grew in popularity in the 1970s. The vodka helps release the flavors in the tomatoes and helps the sauce hold together.
It's a delicious and unique new pasta sauce, and if you haven't tried it already you're going to love it!
If you love dairy free pasta as much as I do, try my Vegan Tempeh Spaghetti, Vegan Lasagna, Roasted Red Pepper Pasta, Baked Vegan Mac and Cheese or Homemade Vegan Ravioli next!
INGREDIENTS
Penne Pasta –

You can use any pasta you'd like, penne is usually what is used for vodka sauce.

Crushed Tomatoes & Tomato Paste –

To get the perfect consistency and taste.

Coconut Milk –

Be sure to use full-fat coconut milk from a can and shake it if needed. If it's cold try to mix it – you want enough cream as this is the heavy cream substitute.

Vodka –

Any unflavored vodka will do; you can omit if needed but it adds a lot of flavor!

Olive Oil –

Try to use the highest quality you can find, but any will work.

Onion & Garlic –

The base to this sauce – I recommend blending in the sauce so they get smooth, but this is optional.

Vegan Parmesan –

There are a few brands, I used the Follow Your Heart brand and loved it!

Red Pepper flakes –

Optional for some added heat.

Salt & Pepper –

Add to taste.
How to Make Vodka Pasta without Cream
Making Dairy Free Vodka Sauce
To start making this 30 minute recipe, cook your pasta according to its package and then drain.
In a large pan, cook the olive oil, onion, garlic and red pepper flakes if using, about 5-7 minutes.
Then, add the crushed tomatoes, tomato paste and vodka and mix well.
I highly recommend pouring this into a blender (it will take two blends) or using an immersion blender to make this smooth and creamy. Also be sure to not let it heat too much as it could explode in the blender.
Then add back to the pan and cook another 5-7 minutes – adding the lid if needed to avoid spitting.
Finally, add the coconut milk, vegan parmesan and salt and pepper to taste and cook another few minutes just until the cheese has melted.
Then stir in the cooked pasta and enjoy!
HOW CAN I STORE HOMEMADE VODKA SAUCE?
This pasta can be stored in an airtight container in the fridge for up to three or four days for best results.
HOW SHOULD I SERVE VODKA PASTA?
I recommend serving this with plenty of vegan parmesan and a few red pepper flakes on top. Some freshly chopped basil is also a great topping!
CAN I ADD SOME PROTEIN TO THIS PASTA?
I love adding protein to this recipe to make it more filling, though it's also delicious on its own! I've added vegan chicken or sausage, tempeh bits or fried tofu cubes and those have all been delicious! You can also add any veggies you'd like.
CAN I MAKE THIS PASTA WITHOUT VODKA?
Yes you can – but it's worth mentioning that the vodka adds a deeper flavor to the sauce and also helps the sauce emulsify together. There will likely still be traces of alcohol in the sauce even after cooking so it is up to you to use it or not.
Coconut Milk Vodka Sauce without Cashews
Many dairy free recipes use blended cashews in place of heavy cream, but I almost always prefer using full-fat canned coconut milk as a substitute as well as dairy-free cheese.
I find the flavor to be more familiar and easy to make, though I do love a good cashew based recipe every now and then!
Using coconut milk helps speed up the process and uses less dishes and fuss – I also love the flavor and texture it gives to sauces!
Try my Creamy Vegan Lemon Pasta next for more dairy free goodness!
Creamy Vegan Vodka Sauce
This easy creamy vegan vodka sauce (penne alla vodka) is packed with flavor, dairy-free cheese and coconut milk! It's also ready in no time!
Ingredients
16 oz. Penne Pasta
28 oz. Crushed Tomatoes
3/4 Cup Full-Fat Coconut Milk (from a can)
1/3 Cup Vodka*
4 oz. Tomato Paste
3 Tbsp Olive Oil
1 Onion, diced
4 Garlic Cloves, minced
3 Tbsp Vegan Parmesan + more to top
1/4 Tsp Red Pepper flakes (optional)
Salt/Pepper to taste
Instructions
Cook pasta according to package.
In a large pan, add oil, onion, garlic and red pepper flakes if using, cook for 5-7 minutes until softened, stirring often.
Add crushed tomatoes, tomato paste and vodka mix, then either add to a blender or use an immersion blender to blend until onion and garlic are smooth (this is optional, but makes for a smooth and creamy sauce).
Cook 5-7 minutes stirring often (you may need to cover it with a lid if it starts spitting!).
Add coconut milk, vegan parmesan, and salt and pepper to taste. Cook for 3-5 minutes or until cheese has melted.
Stir in cooked pasta and enjoy!
Notes
*You can make this recipe without the vodka, but it won't have the same classic flavor.
Nutrition Information:
Yield:

8
Serving Size:

1
Amount Per Serving:
Calories:

257
Total Fat:

11g
Saturated Fat:

5g
Trans Fat:

0g
Unsaturated Fat:

5g
Cholesterol:

2mg
Sodium:

304mg
Carbohydrates:

30g
Fiber:

4g
Sugar:

7g
Protein:

7g