We may earn money or products from the companies mentioned in this post.
(Last Updated On: May 24, 2023)
Easy Vegan Strawberry Shortcake Recipe
This delicious vegan strawberry shortcake is a simple twist on such a classic and simple dessert!
It has everything you'd expect from a shortcake: a deliciously soft and sweet biscuit, freshly whipped coconut cream and sweet and juicy strawberries!
There's nothing quite like it and it's especially perfect during strawberry season.
The best part of this recipe is how quick and easy it is to make, and budget-friendly as well!
Homemade Vegan Strawberry Coconut Dessert
This recipe is really all about texture and maintaining the perfect balance between all the three components.
Luckily the textures are super easy to nail with this recipe: there is some chill time required to perfect this, but it's so worth it!
The soft biscuits truly compliment the creamy coconut whip along with the fresh strawberries – this version also has lower sugar than many recipes, and you can even cut down on it more if you'd like and still have a perfect dessert.
How to Make Strawberry Short Cake
Preparing the Strawberry Topping
The first step in making this vegan dessert is to preheat your oven to 425 degrees and prepare your strawberries!
All you need to do is wash them and remove the stem, then cut them into bite-sized pieces.
Sprinkling some sugar on them really helps them to release their flavor and some of the juice, giving the dessert a lot more flavor.
I know it can seem a little strange to put sugar on fresh fruit, but I really like how it makes them taste and removes a lot of the tart flavor in strawberries, so I just used 1-2 tablespoons, mixed it up and let it sit covered in the fridge for a bit.
Feel free to keep them plain for a stronger and more tart strawberry flavor if you'd like!
If possible, try to get super ripe strawberries for the sweetest and most irresistible shortcakes!
Baking the Vegan Sweet Biscuits
These biscuits are very easy to make, and they come out so soft and flavorful – they're so delicious even on their own!
To begin, add all your dry ingredients to a bowl (flour, sugar, baking powder and salt), mix well and then add your chilled vegan butter cubes.
Incorporate this by a pastry cutter or a fork to combine the butter until the mixture has a sandy texture.
Now, make a well in the dry mixture and add your plant milk and lemon juice.
Mix just until combined, using your hands towards the end to form it into a ball.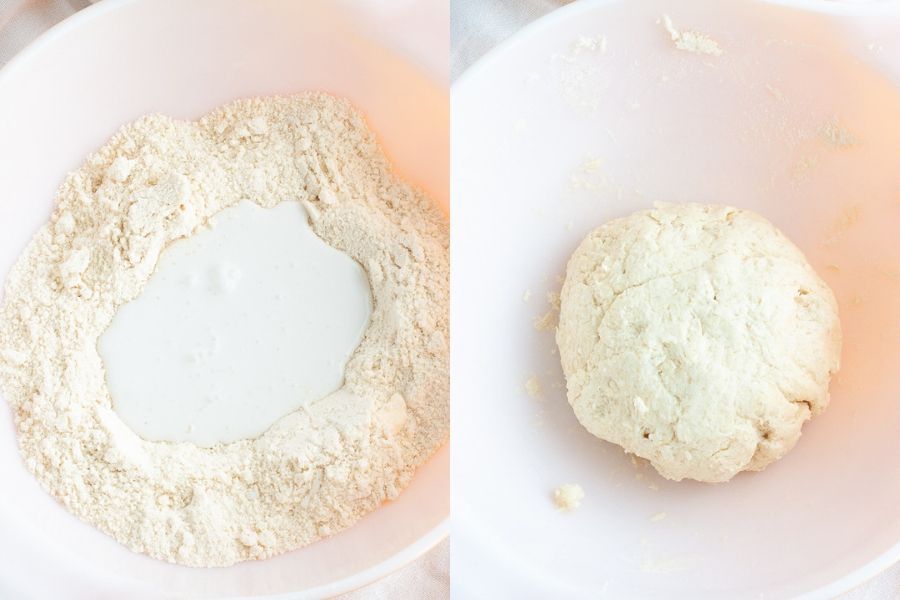 Shaping the Biscuits
Thoroughly flour a flat surface and plop your biscuit dough ball down, adding more flour to the top and to a rolling pin.
Roll it out until it's roughly 1 inch thick, then flour a glass or cookie cutter's edges to cut out roughly 2 inch circle biscuits.
Place on a baking tray and top with a sprinkle of cane sugar if desired.
Bake for 13-15 minutes or until lightly brown on top and bottom! Allow to cool.
Making the Coconut Cream Filling
You're going to LOVE this coconut cream on your shortcakes. It's so smooth and creamy and takes no time at all to prepare.
I usually use maple syrup in my whipped creams, but I found that using vegan powdered sugar helps with piping really beautiful designs. Feel free to sweeten this anyway you prefer though.
To make the whipped cream, chill a can of coconut cream in the fridge overnight or for at least 5 hours, take it out and scoop the thick cream into a bowl, leaving behind the liquid on the bottom of the can.
You can include some liquid if you want a softer whipped cream, so just eye ball it while it whips up and make it to your desired consistency!
To this, add your sweetener of choice and vanilla extract, and mix with an electric mixer until light and airy, about 1-2 minutes.
Place this in the fridge, covered, to chill.

Assembling Your Vegan Shortcakes
Now for the fun part!
Fill a piping bag with your coconut cream – if you don't have one, you can always just scoop it on!
Take a biscuit and open it up, adding coconut cream, followed by strawberries and more cream, and then more to the top! You can also use two stacked biscuits for an even bigger shortcake!
That's it – the perfect light and fruity vegan dessert!
Try my Vegan Tres Leches Cake recipe next!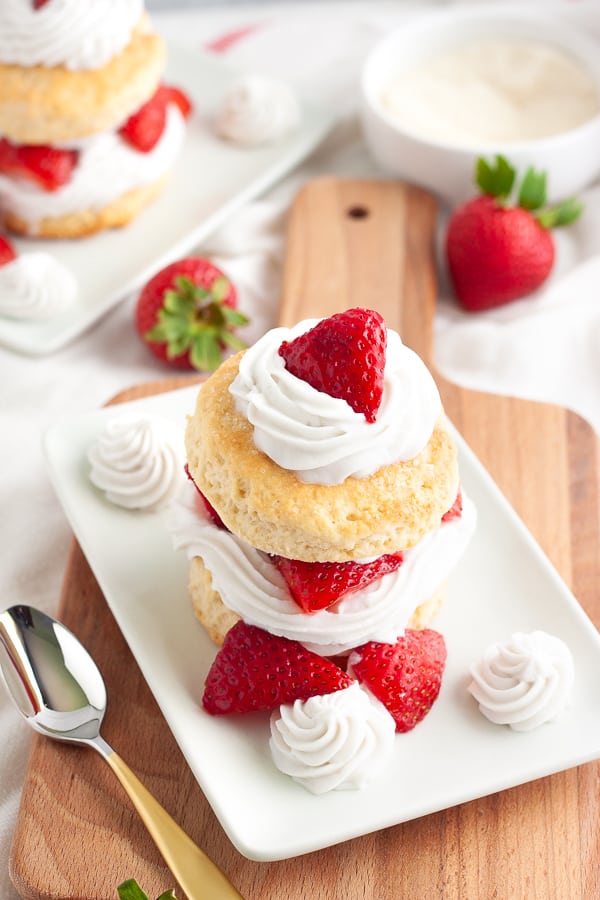 This recipe is the ultimate picnic or outdoor treat!
I love to make it at home or bring it to gatherings of any kind.
If you're traveling with this dessert, you'll want to wait to assemble it until you're ready to eat it, so simply keep everything in a separate container and in a cooler.
It's so refreshing and perfect to enjoy in nature on a hot day, but I also love making this for the holidays if I can find good strawberries!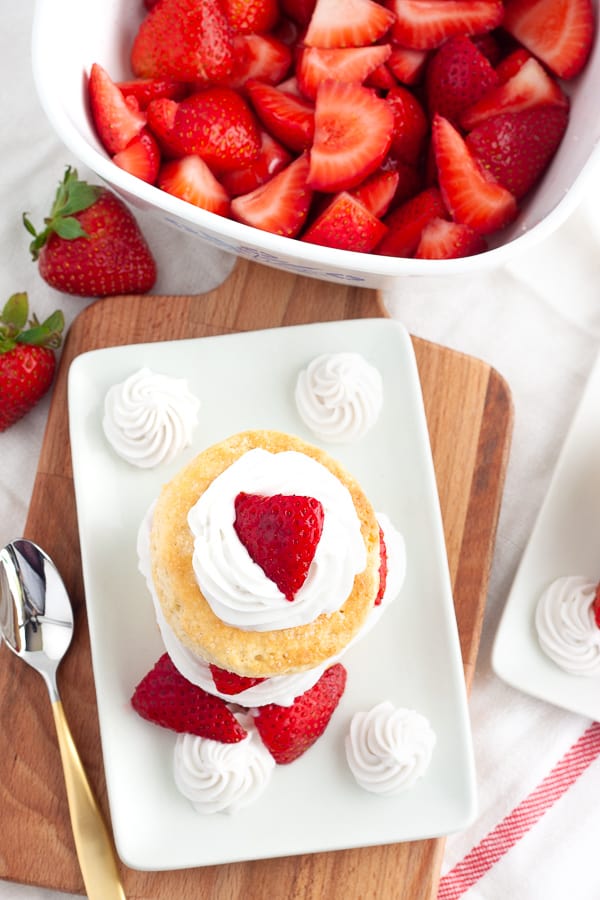 This recipe is:
Light

Fruity

Creamy

Sweet

Healthy

Easy

Quick

Pretty
Try these other vegan dessert ideas!
Vegan Strawberry Rhubarb Crumble
Vegan Strawberry Powdered Donuts
Pin this for later!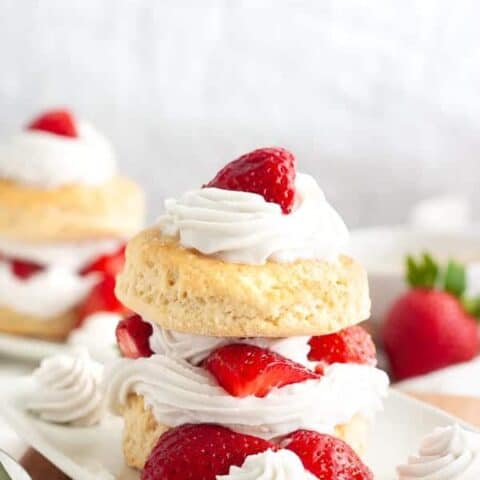 Vegan Strawberry Shortcake
This easy vegan dessert has a sweet, fluffy biscuit, fresh strawberries and whipped coconut cream - the perfect light and fruity treat!
Ingredients
For The Strawberries
1 1/2 Cartons Strawberries (approx. 24 oz.)
For The Coconut Cream
For The Biscuits
1.5 Tbsp Baking Powder
1/4 Cup Cane Sugar
1/2 Tsp Salt
3/4 Cup Plant Milk 
1/3 Cup Vegan Butter (cubed, chilled)
1 Tbsp Lemon Juice
Instructions
Preheat oven to 425 degrees. Remove stems and cut strawberries into halves or quarters and sprinkle with sugar. Mix well and place in the fridge, covered, to chill.
Add flour, sugar, baking powder and salt to a bowl. Mix well. Add chilled vegan butter cubes and combine with a pastry cutter or fork.
Make a well in the dry ingredients and pour in the plant milk and lemon juice. Mix just until combined and then use your hands to work the dough until it forms a ball.
Flour a flat surface and place dough down, adding more flour on top and to a rolling pin. Roll out until about 1 inch thick. Using a cookie cutter or a glass, flour the edges and make circular cut outs about 2 inches long. Continue rolling out dough until all is used.
Arrange on a baking tray with parchment paper, and top with a sprinkle of cane sugar if desired.
Bake for 13-15 minutes or until golden brown on top and bottom. Allow to cool.
Scoop out the thick cream from the coconut cream can and place in a bowl along with the powdered sugar and vanilla. Whip coconut cream mixture with an electric mixer for a minute or two until light and airy. Place in the fridge, covered, to chill.
Place coconut cream into a piping bag (optional), and pipe cream on top of a biscuit, followed by some strawberries, and repeat. Enjoy!
Recommended Products
As an Amazon Associate and member of other affiliate programs, I earn from qualifying purchases.
Nutrition Information:
Serving Size:

1 Serving
Amount Per Serving:
Calories:

386