We may earn money or products from the companies mentioned in this post.
(Last Updated On: March 28, 2023)
Easy Raw Vegan Blueberry Cheesecake Recipe
This vegan blueberry cheesecake is super smooth, creamy, sweet and tart – the perfect cheesecake without the dairy!
The berry cake has a sweet, slightly crunchy crust made of blended dates and almonds, and an irresistible blueberry-vanilla- cashew filling.
Adding lemon and sweet organic maple syrup helps to bring out the fresh flavors, while keeping it perfectly sweet and creamy without added sugars and oils.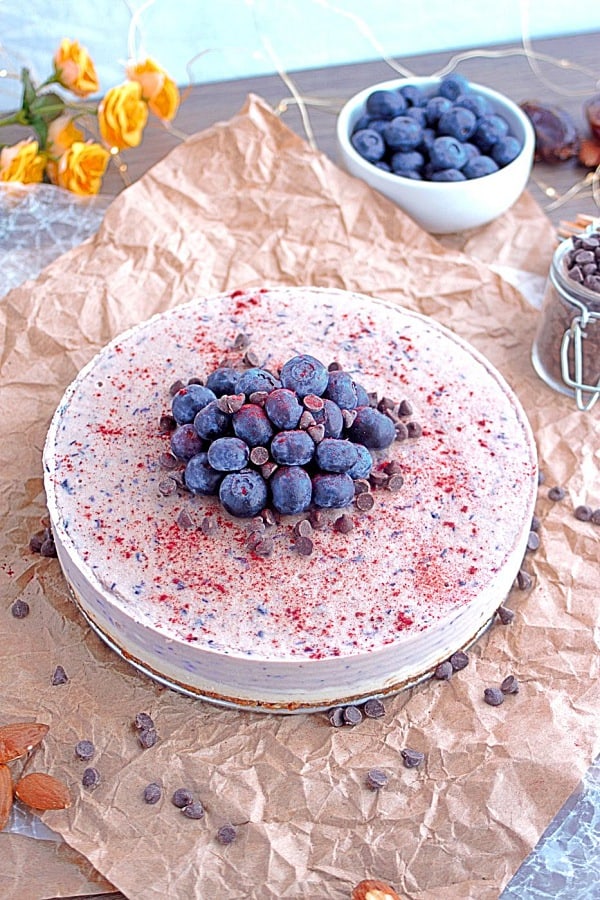 No Bake Gluten Free And Dairy Free Dessert 
This vegan cheesecake is so easy to make, though it requires a bit of patience while you wait for it to freeze
I've seen a lot of vegan cheesecakes made with tofu or vegan cream cheese, but you would be surprised how incredibly creamy cashews can be once soaked and blended; I keep coming back to using them in my cheesecakes over anything else!
Using cashews will give you the perfect raw vegan cheesecake that's also gluten free and free of processed ingredients.
Many cheesecakes also call for a good bit of coconut oil, which is a solid when cold, but I've found that once frozen, the cashews make the cake perfectly dense, and the coconut cream helps it be super creamy and not have a frozen fruit consistency.
The coconut cream adds some more healthy fats and a subtle, fresh and tropical flavor! Just be sure not to shake the can before or after chilling or else the cream may mix with the water and make for a runnier cake.
To get the thick cream, place a can of coconut cream (this works better than full-fat coconut milk), in the fridge for a few hours or overnight.
Then, open the can and scoop out the thick cream at the top, leaving the water on the bottom.
Using all these natural ingredients means you have a dairy free and gluten free cake for anyone who may have an allergy, and it's just so much healthier!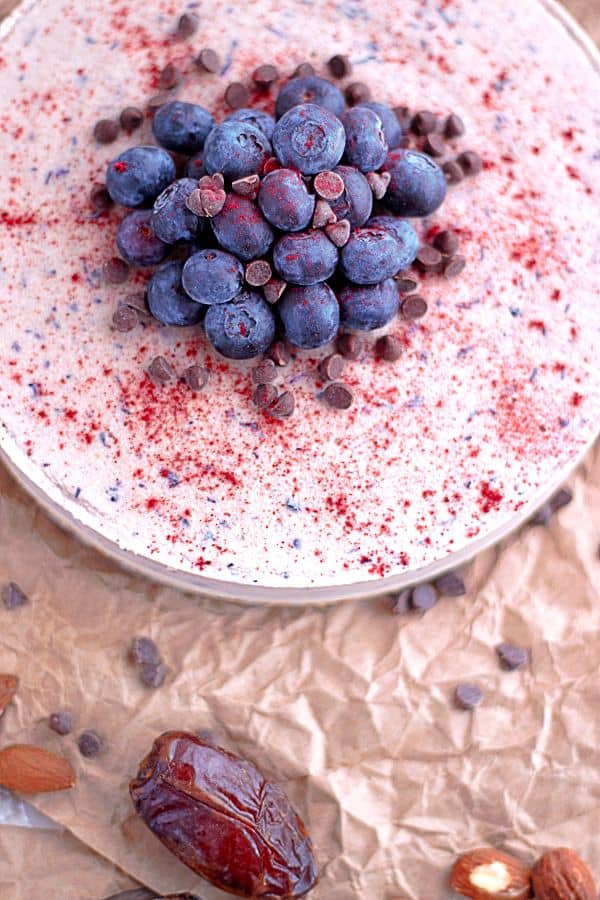 Making Simple Vegan Berry Cashew Cake
Preparing The Healthy Cheesecake Crust
This three-part recipe is so easy, and it's perfect to make when you need the oven open for baking.
Start by removing the pits from your dates and soaking them in warm water for at least 15-20 minutes until they soften, this helps them blend easier.
Add your soaked dates, along with your almonds and salt, to a food processor and process until they form a ball of dough (you may need to scrape down the sides a few times depending on your machine). I like to leave some crunchy bits for some texture.
Then, add some parchment paper to the bottom of your 6 inch round spring-form pan (if you don't have one, add plastic wrap or parchment paper to the pan you are using to help lift the cake out once frozen), and squish the dough evenly across the bottom with your hands, then place in the freezer to set.
If it starts sticking to your fingers, just wet them with a bit of water.
Making The Creamy Dairy Free Cheesecake Filling
Next, add your cashews (soaked for a couple hours or at least 15-20 minutes in warm water), coconut cream, 1/2 cup maple syrup, vanilla extract and lemon juice to the food processor (or blender), and blend until smooth – this may take a few minutes.
Pour half of the mixture over your crust and place back in the freezer. Add the blueberries to the food processor along with 2 tablespoons of maple syrup, blend and then pour over vanilla layer.
Let this set in your freezer for at least 6-8 hours or overnight. If your cake isn't fully set if may be runny or the texture won't be as creamy.
I would recommend serving it right out of the freezer, as it softens if it's left out and the texture is perfect this way!
This recipe is:
Sweet

Fruity

Tart

Fresh

Easy

Lemony

Raw

No Bake

Gluten Free
Try these other fruity vegan desserts!
Glazed Baked Vegan Blueberry Donuts
Pin this for later!
Vegan Blueberry Cheesecake
Total Time:
6 hours
20 minutes
This raw vegan blueberry cheesecake is sweet, tangy and creamy with flavors of blueberry and vanilla. So refreshing and perfect anytime of day!
Ingredients
For the Crust
1/2 Cup Dates, Soaked (in warm water at least 10 minutes)
1/2 Cup Almonds
Dash Salt
For the Filling
2 Cups Cashews, Soaked (at least 10 minutes in warm water)
Juice of 1 Lemon
1 Cup Fresh Blueberries
Instructions
Place a can of coconut cream in the fridge for at least a few hours or overnight. Begin soaking dates and cashews in separate containers with warm water for at least 15-20 minutes.
Add almonds, soaked dates and salt to a food processor, and process for about 3-5 minutes, or until mixture sticks together into 1 lump. You may have to scrape down the edges a few times.
Add mixture to a 6x6 spring form pan** and squish across the bottom evenly. Place in freezer to set.
Add cashews, 1/2 cup maple syrup, coconut cream, vanilla and lemon juice to the food processor. Blend until smooth and creamy. Pour 1/2 of this mixture into the pan with the crust. Replace pan in freezer to set.
Add 1 cup fresh blueberries and 2 tablespoons maple syrup to remaining cheesecake mixture and blend until combined. Pour over vanilla mixture and set in freezer to set for at least 6-8 hours.
Take pan out of freezer and allow to thaw for about 10-20 minutes, pop open pan and serve with fresh blueberries.
Notes
*Place a can of full-fat coconut milk in the fridge for at least a couple hours. Open can and scoop out heavy cream on top, leaving the water on the bottom.
**If you don't have a spring form pan, you can use a normal pie pan or whatever you have. I would place a sheet of plastic wrap on the bottom or else you will probably have trouble with it sticking
Recommended Products
As an Amazon Associate and member of other affiliate programs, I earn from qualifying purchases.
Nutrition Information:
Serving Size:

1 Slice
Amount Per Serving:
Calories:

234