We may earn money or products from the companies mentioned in this post.
(Last Updated On: June 25, 2022)
Creamy Vegan Pumpkin Pasta Recipe
This simple and delicious vegan pumpkin pasta is so delicious!
It has just a few basic ingredients and it comes together in no time.
No dairy at all is needed for this pumpkin sauce, it's made perfectly creamy from canned coconut milk.
Along with pumpkin puree and flavors like sage, thyme and nutmeg, this pasta is so tasty and quick to make!
This easy meal is almost like a pumpkin-flavored mac and cheese recipe.
While there's no cheese or cheese substitute, the sauce is thick and flavorful with just the right amount of spice and flavor!
Just a sprinkle of flour is all you need to thicken it up, and the pumpkin and coconut milk combination is the most delicious sauce base!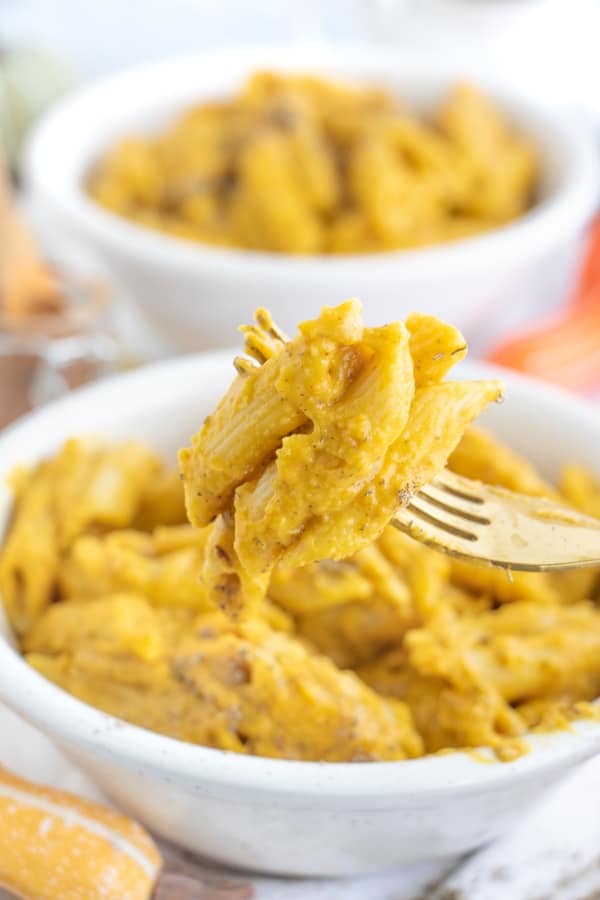 Easy and Delicious Vegan Pumpkin Sauce
While pumpkin is usually associated with sweets and baked goods, it's always a great savory food as well.
It has a unique flavor and texture that makes it ideal for hearty soups or sauces.
The comforting flavor is always great to pair with spices like nutmeg, and pumpkin and sage are always a necessary combination in savory pumpkin meals!
Pumpkin makes creating hearty vegan sauces so simple and easy to do, while also making them so delicious!
This vegan and vegetarian pumpkin pasta recipe is so perfectly hearty and filling, and it's great to make for meal prepping for bringing to work or on adventures of any kind!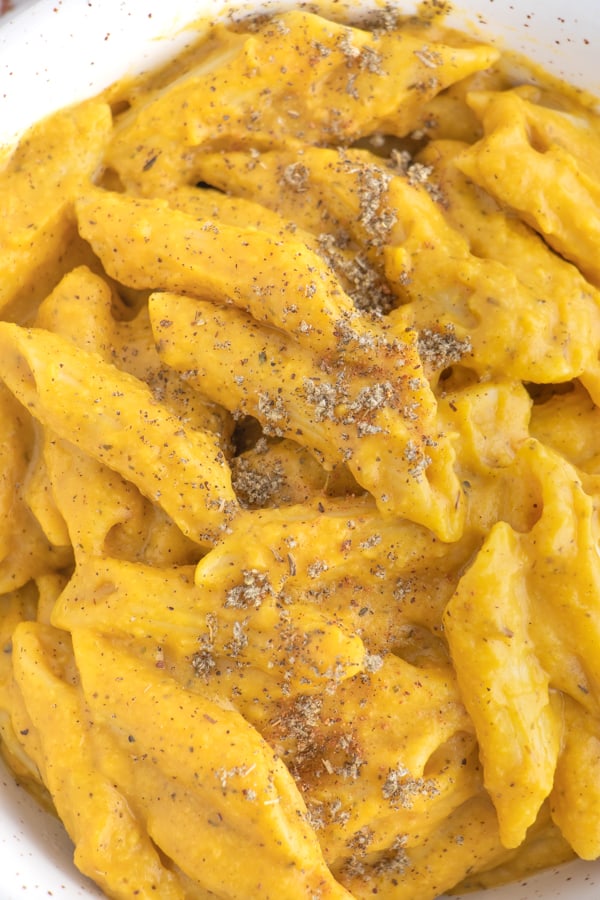 How to Make Homemade Pumpkin Pasta
Preparing the Pumpkin Sauce
To make this delicious pumpkin pasta, start by cooking your pasta according to its package, I've found penne to be the best, but rotini or other options are also fine!
Then add the olive oil, onion and garlic to a large pan over medium heat, and cook until the onions are translucent, about 3-5 minutes.
Add the delicious sage and thyme, and also sprinkle in the flour.
Cook for the two minutes while stirring constantly – you want to cook the raw taste out of the flour.
Now gradually pour in the full-fat coconut milk from a can, stirring constantly to avoid any clumping.
Once the full can is in, cook this for 2 minutes so it can thicken up a bit, stirring constantly.
Then add in everything else: the pumpkin puree, nutmeg, salt and pepper, and cook for 10-15 minutes, stirring occasionally.
Finishing and Serving Pumpkin Pasta
Now is the time I like to blend the sauce so that it's nice, smooth and creamy – this can be optional but I highly recommend it.
To do this, you can either use an immersion blender until the sauce is smooth, or let it cool for a bit and then stick it in a blender (just be sure to let it cool first, or else it could burst in the blender if it's super hot!).
Once it's smooth and creamy, pour the sauce over your cooked pasta and mix to evenly coat, and you're done!
I like to serve mine with another light sprinkle of sage and nutmeg on top, but some freshly chopped parsley would also be delicious!
You can keep it in the fridge, covered, for up to 3-5 days, but I always find it best fresh.
Best Vegan Pasta Recipe Ever
This easy vegan pasta recipe is perfect for enjoying pumpkin if you want to slow down on the baked goods!
It's especially delicious on a cold fall night, but these creamy pasta dishes are great all year round too.
I like to keep the ingredients on hand for this recipe, since they are all pantry friendly and come together in no time!
This recipe is:
Easy

Creamy

Flavorful

Simple

Delicious

Dairy-Free

Homemade

Vegan / Vegetarian
Check out these other easy vegan meals!
Pin this for later!
Pumpkin Pasta
Creamy and flavorful vegan pumpkin pasta with hints of sage and thyme. So easy to make and the best comfort food ever!
Ingredients
8 oz. Penne Pasta
1 15 oz. Can Pumpkin Puree
1 Can Full-Fat Coconut Milk
3 Tbsp All-Purpose Flour
1 Tsp Rubbed Sage
1 Tsp Dried Thyme
1 Onion
2 Cloves Garlic
2 Tbsp Olive Oil
1/4 Tsp Ground Nutmeg
1 Tsp Salt
1/2 Tsp Ground Pepper
Instructions
Cook pasta according to package.
In a large pan over medium heat, add olive oil, chopped onion and minced garlic. Cook for 3-5 minutes or until translucent.
Add sage, thyme and flour and continue cooking for 2 minutes, stirring constantly.
Add coconut milk slowly, constantly stirring to avoid any clumping. Cook for another 2 minutes until coconut milk thickens, stirring constantly.
Add pumpkin puree, nutmeg, salt and pepper and cook for 10-15 minutes, stirring occasionally.
Using an immersion blender*, blend pasta until smooth.
Pour over cooked pasta and serve, enjoy!
Notes
*If you don't have an immersion blender, let the sauce cool for a few minutes and then pour it into any blender you have (if it's too hot it could burst in the blender!). You don't necessarily have to blend the sauce, but it makes it much creamier and a bit thicker than if you don't, so I highly recommend blending!
Nutrition Information:
Yield:

4
Serving Size:

1
Amount Per Serving:
Calories:

417
Total Fat:

29g
Saturated Fat:

20g
Trans Fat:

0g
Unsaturated Fat:

7g
Cholesterol:

0mg
Sodium:

602mg
Carbohydrates:

37g
Fiber:

5g
Sugar:

5g
Protein:

8g