We may earn money or products from the companies mentioned in this post.
(Last Updated On: May 25, 2023)
Easy Vegan Baked Tofu Nuggets
These vegan baked tofu nuggets are perfect for adults and kids alike!
The most delicious "chicken nugget" alternative in terms of flavor and texture in my opinion, without getting too weird with the ingredients!
These have a yummy marinated tofu base that makes the center super flavorful and juicy, and a simple dairy and egg-free batter to help them get nice and crispy on the outside.
They are then baked instead of fried to make them a bit healthier as well – and you can serve them with any sauce you'd like!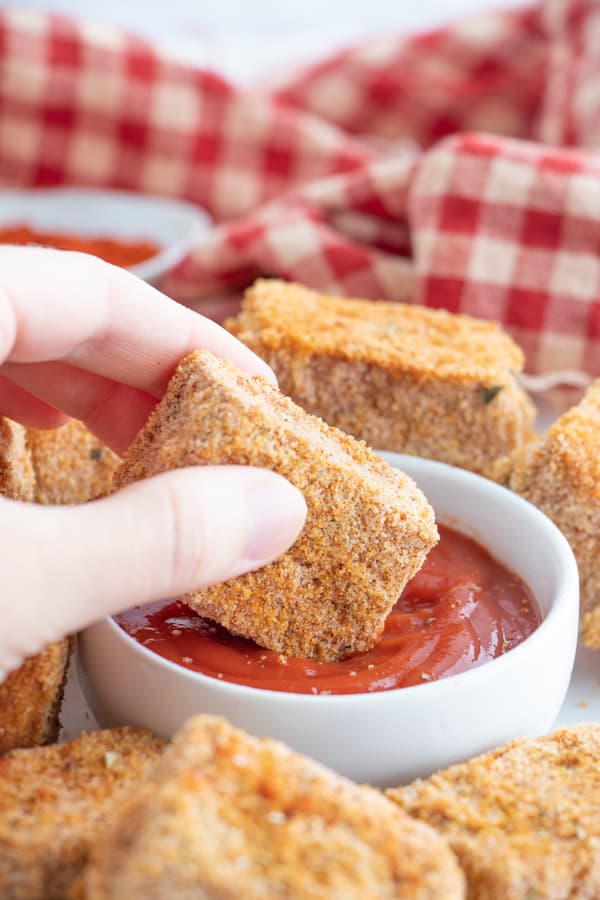 I usually opt for ketchup, BBQ sauce, dairy-free ranch or a secret sauce using ketchup and a smidge of vegan mayo (trust me it's amazing).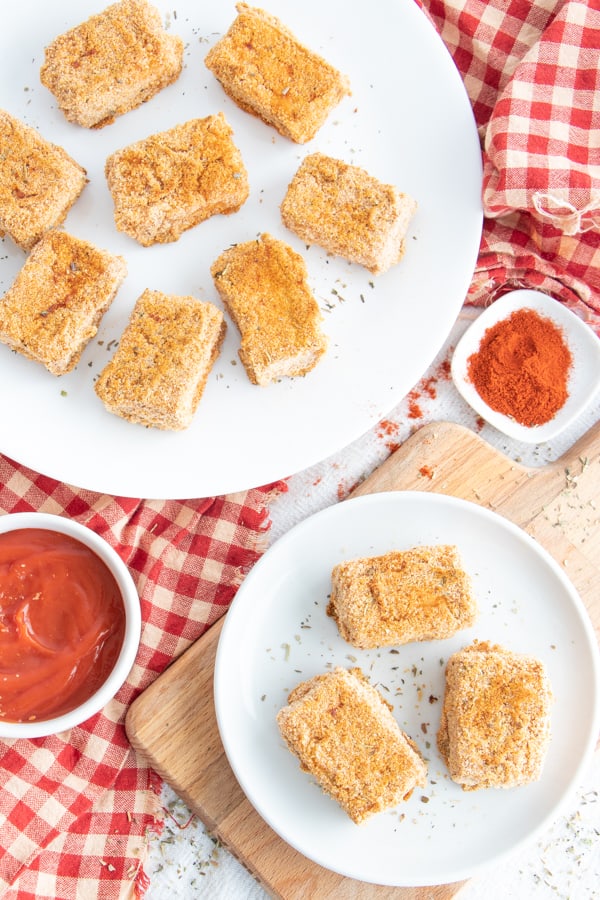 Best Crispy Tofu Bites Recipe
To get that classic chicken nugget flavor, I decided the tofu had to be marinated, and there needed to be some Italian herbs involved in the process.
Chicken recipes are often seasoned with various Italian herbs, so I knew the tofu would need some of that as well.
I also wanted the inside to not be too dense, so a bit of watered down soy sauce and some spices gave the tofu just enough moisture and flavor without becoming too crumbly.
Just be sure you only marinate them for 10-15 minutes tops!
My favorite part of this recipe is how quick and easy it is to make these, and they can be reheated by simply tossing them into a toaster oven or normal oven for a few minutes.
The batter for the outside crust is a simple spiced breadcrumb mixture that sticks to the tofu thanks to a little flour and plant milk whisked together.
This creates a super thick batter much like an egg would to help the breadcrumbs easily stick and make everything easy to handle!
How to Make Vegan Chicken Nuggets
Preparing the Tofu Marinade
The first thing to do to make these baked tofu nuggets is to marinate your tofu!
Be sure you press out as much moisture as possible by using a tofu press or by wrapping it in a towel and placing something somewhat heavy on top. Give it about 10 minutes before chopping!
Then chop the tofu into nugget sizes (I did about 1 inch by 1 1/2 inch, making them 1/2 inch thick and it was perfect!).
Mix together your marinade and add the tofu in – I found using a wide shallow dish to be the easiest way to marinate every piece.
Marinate 10-15 minutes, flipping half way through.
Preparing the Batter Mixtures
While you wait for the tofu to marinate, preheat your oven to 450 degrees F and grab two bowls!
In one, whisk together your dry mixture, and in the other your wet mixture!
Coating the Tofu Nuggets
Now, take one tofu nugget at a time and dip into the wet mixture to fully coat (use only one hand for this).
Then toss it into the dry mixture and use your other hand to sprinkle and toss the breadcrumb mixture all over the tofu.
Once done, place on a baking tray covered in parchment paper!
Baking and Serving Tofu Nuggets
At this point I like to spray some oil on the nuggets so they get crispier, but this is optional if you want lower fat.
Bake for 20 minutes, flipping half way through and spraying with more oil.
Allow the nuggets to cool for a bit and them you're done!
Serve with your sauce of choice, and a side of french fries or veggies.
Crisp and Juicy Vegetarian Tofu Nuggets 
These easy baked tofu bites are the perfect meal for a quick dinner or for packing your kid's lunch.
I love making them when I don't feel like doing too much, I just whip up the tofu nuggets and maybe some frozen veggies and call it a day!
I love that they are much lower in fat than normal nuggets, and that they are a simple meat-free way to enjoy a classic meal!
This recipe is:
Quick

Easy

High-Protein

Delicious

Crispy

Juicy

Flavorful
Try these other vegan meal ideas!
Pin this for later!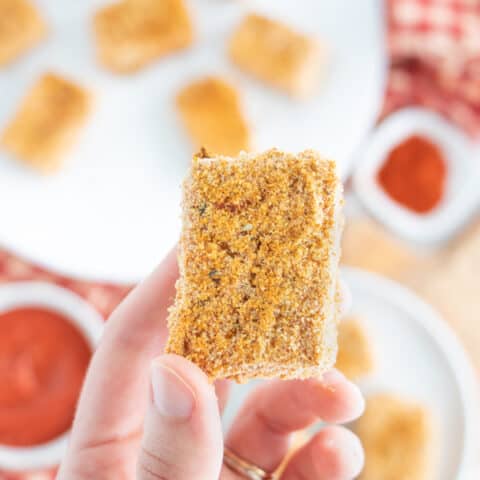 Baked Tofu Nuggets
Marinate Time:
15 minutes
These baked tofu nuggets are so quick and easy to make, and are packed with flavor! They have a crispy outer crust and a super juicy and flavorful center!
Ingredients
Marinade Mixture
1/4 Cup Soy Sauce
1/3 Cup Water
Dry Mixture
1 Cup Breadcrumbs
1 Tbsp Nutritional Yeast
1/2 Tsp Italian Herbs
1/4 Tsp Salt
1/8 Tsp Pepper
Wet Mixture
1/2 Cup Flour
1/2 Cup Plant Milk
Instructions
Press tofu* and chop into roughly 1 inch by 1 1/2 inch blocks that are 1/2 inch thick (this does not need to be exact). Whisk together marinade mixture and place tofu inside. Let marinate for 10-15 minutes carefully flipping half way through.
Preheat oven to 450 degrees F.
Grab two bowls and whisk together your dry ingredients in one bowl and your wet in another.
Once tofu is done marinating, carefully remove a piece at a time and place into the wet mixture to fully coat using one hand, then place in the dry mixture and use your other hand to coat with the breading.**
Place all nuggets on a baking tray covered in parchment paper and spray with oil to make them crispier (optional).
Bake for 20 minutes, carefully flipping them half way through and spraying with more oil.
Allow to cool a bit and then serve with your dipping sauce of choice!
Notes
*To press tofu and remove moisture, use a tofu press or wrap the block in a towel and place something somewhat heavy on top to squish out the water in the tofu so it's more dense.
**This helps the process go smoother and helps your hands not get so messy.
Nutrition Information:
Yield:

4
Serving Size:

1 Serving
Amount Per Serving:
Calories:

298
Total Fat:

9g
Saturated Fat:

2g
Trans Fat:

0g
Unsaturated Fat:

6g
Cholesterol:

2mg
Sodium:

1242mg
Carbohydrates:

38g
Fiber:

4g
Sugar:

4g
Protein:

20g