We may earn money or products from the companies mentioned in this post.
(Last Updated On: May 25, 2023)
Vegan Black Bean Burger Recipe
This homemade vegan black bean burger recipe is so quick and easy to make, and they are packed with flavor and protein!
With flavors of caramelized onion, garlic, smoked paprika, cumin and chili on a simple black bean, quinoa and breadcrumb base, these burgers are simple and so delicious.
The best part is you can whip these up in no time with a food processor, then just shape them into patties and lightly fry them on a pan.
It's a super quick and easy dinner for anytime of the year!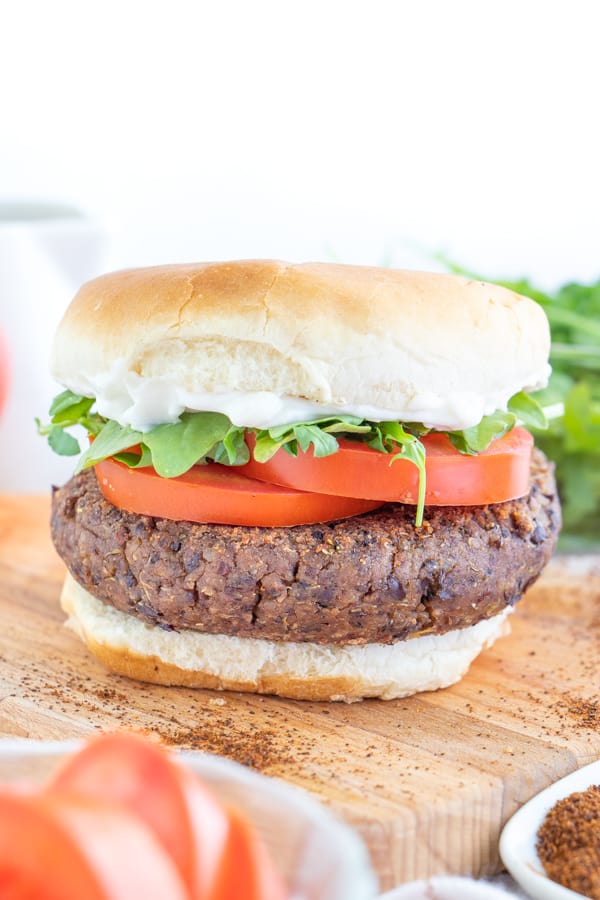 Making your own burgers can save a ton of money, and you also get to customize them with any beans, rice, quinoa or veggies you like.
They're also a great way to use up any leftover food in your fridge that would taste great in a burger, I like adding a little zucchini or bell pepper if I have them laying around!
Easy Homemade Vegetarian Burger 
Some veggie burger recipes are very elaborate and involve multiple steps, and while they're usually delicious, sometimes you just don't have the time.
These burgers have very few steps and are super easy to work with once everything is pulsed together, they don't crumble when you shape and cook them which is so helpful – the breadcrumbs and flax really help with this part!
I love the combination of quinoa and black beans in a burger, they compliment each other really well, have a similar texture and both offer protein and fiber.
Try this burger with my Vegan Chipotle Sauce!
How to Make Vegan Black Bean Burgers
Mixing and Cooking the Burgers
To make these burgers, you'll want to chop your onion and toss it in a pan over medium heat with a drizzle of olive oil.
Cook for 10-15 minutes, stirring frequently, until they begin to look golden brown!
Toss the onion into a large food processor (or blender, just be careful not to over blend the mixture) along with the breadcrumbs, spices and flax and blend until smooth – about 30 seconds.
Then add the cooked quinoa, black beans and two tablespoons of olive oil and pulse just until incorporated.
You want there to still be some whole beans in the mixture for some texture.
Then let the dough rest for 15 minutes (don't skip this part, it helps with shaping) and separate into roughly eight portions.
Shape into burgers with your hands and cook over medium heat with a drizzle of olive oil for about 3-5 minutes per side, or until cooked through and browned on the outside.
Assembling Your Sandwich
Once done, all that's left to do is to assemble your burger!
You can add whatever toppings you'd like, but my favorite way to serve these burgers is with tomato, arugula and a dollop of vegan mayo!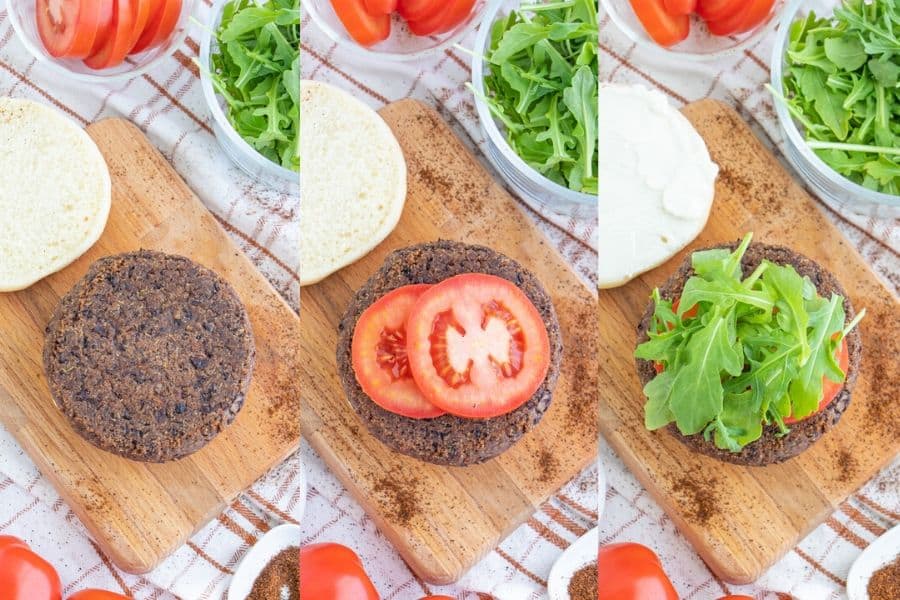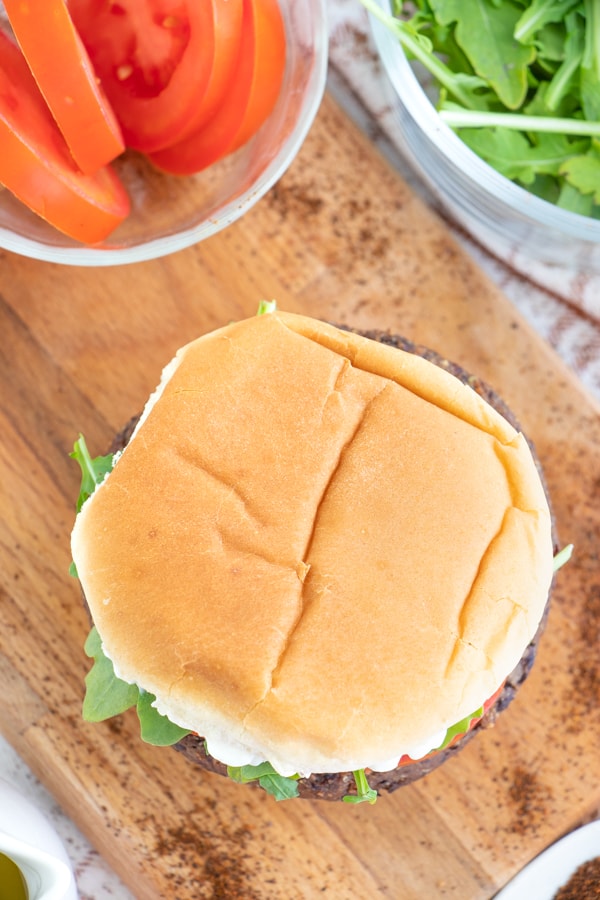 Best Veggie Burgers Made from Scratch
Store-bought veggie burgers (and especially store-bought mock meats) can seriously rack up your grocery bill, so if you have some time I would highly recommend making your own to have on hand!
I love doing this at least every month, especially during the summer!
You can also freeze these burgers for later – just make sure they are in a freezer safe bag and then once you want to heat one up, place it in the fridge to thaw and then reheat the same way you cook them in this recipe!

k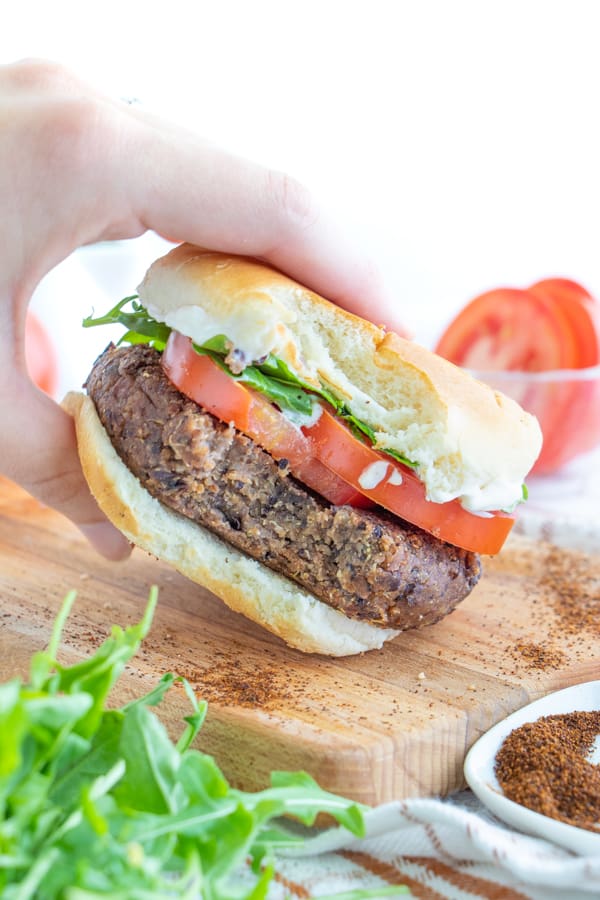 This recipe is:
Easy

Vegan

Delicious

Quick

Flavorful

Healthy

High-Protein
Check out these other vegan burger recipes!
Homemade Pepper Veggie Burgers
Pin this for later!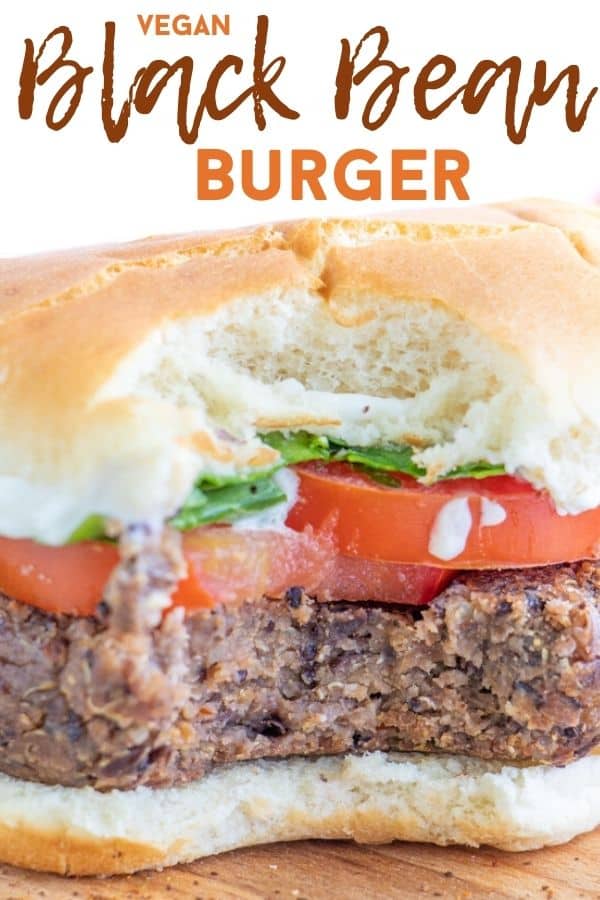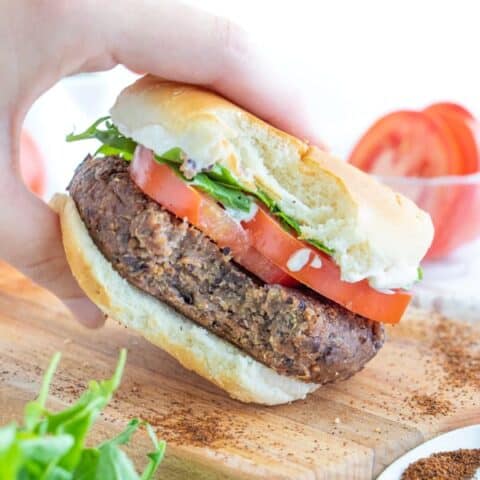 Vegan Black Bean Burger
Easy and delicious vegan black bean burger recipe made with quinoa, breadcrumbs, onion, garlic and spices! These are high protein and ready in no time!
Ingredients
1/2 Red Onion
1 Cup Breadcrumbs
6 Tbsp Olive Oil
3/4 Tsp Salt
1/2 Tsp Pepper
Instructions
Chop onion and cook with 2 tbsp olive oil for about 10-15 minutes or until they become a bit golden brown.
Add to a large food processor* along with the breadcrumbs, garlic, paprika, cumin, chili, salt, pepper and flax and process until smooth, about 30 seconds.
Add quinoa, drained black beans and 2 tbsp olive oil and process with just a few pulses to bring everything together, being careful not to over blend.
The mixture should stick together and be quite dense, if it's too crumbly you can add a little dash of water. Then let the mixture sit for 10 minutes.
Break into roughly 8 portions and shape into patties with your hands.
Cook over medium heat with 2 tbsp olive oil for about 3-5 minutes on each side or until cooked through and crisp on the outside.
Serve on a bun with desired toppings!
Notes
*If you don't have a food processor you can also use a blender, just be sure not to over blend once you add the beans as you still want some whole beans in the burger for texture.
Nutrition Information:
Yield:

8
Serving Size:

1 Patty
Amount Per Serving:
Calories:

227